FROM ENGINEER TO PROFESSIONAL TRAVELER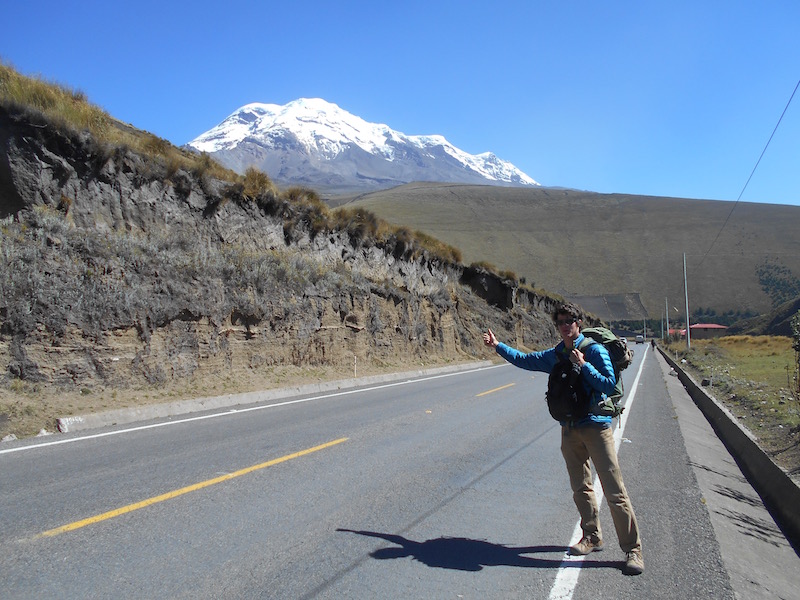 My first travel experience didn't come until I was already out of college in my early 20s. I took a few week trip to Europe with a friend from university which ultimately ended up having a big impact on my life. I was hooked on travel from then on.
For the next few years, I saved every hour of my vacation to take trips when I could get the time off from work, but the American two week a year standard just wan't enough. In 2014 I took my first trip to SE Asia, where I climbed outside of the US for the first time: Thailand and Taiwan.
In the spring of 2016, I had finally saved up some money, and had paid off my student loans. The time had come. To the eternal lament of my parents, two months later, I was gone.
An originally planned 3-6 month journey has since morphed into over 4 years, with no end it sight. Since leaving home I have seen more then 99% of this world will see in their lifetime. I have climbed my way through 6 continents, learned a new language, met countless people, and most importantly, I have ticked off some of the word's best climbing destinations.
My mission is to enable climbers from around the world to get out of the gym, their comfort zone, or whatever is holding them back to experience what is really out there.
Climb now, work later.
Get my best climbing tips for planning your own adventure sent right to you. PLUS get the following cheat sheet sent right to you: "Top 5 Climbing Towns" in South America.
Exactly where you should go
The easiest and cheapest ways to get there
What you should expect to find once you arrive
WHAT YOU'LL LEARN HERE
Here you will learn everything that you need to know to go climbing at some of the world's most remote and beautiful climbing destinations. This isn't a budget travel site, Nomadic Matt has got that covered. What you will find here is first-hand information obtained through years of traveling and climbing.
Though I have spend a lot of time climbing and traveling through North America and Europe, information on many of these climbing areas is already available online.
For that reason, this site will be focusing most heavily on South America and South East Asia, though I will occasionally include info from other places.
Most of the information found on this site is not available anywhere else not the web. This is a niche within a niche. Remote, off the beaten path, stunningly beautiful, world-class climbing.
On This Website You Will Find:
First-hand, relevant and up-to-date information
Highly detailed descriptions on climbing destinations from around the world
Detailed information on how to arrive at these places
Advice on where to stay, and what supplies and gear you should bring
Cost and time saving tips and information
A mix of personal experiences mixed in and other important information
What separates this website from other blogs?
Almost all of the information found this site does not exist anywhere else on the web. Or at the very least, not in English or to this level of an organized fashion. That makes this blog truly unique.
At the more popular destinations, where there already is information already to be found online (take Tonsai for example), I strive to make sure that my guides and articles are the absolute best available on the internet, period.
CLICK AN IMAGE BELOW TO START PLANNING YOUR NEXT TRIP:
WHAT PEOPLE LIKE YOU SAY ABOUT THIS WEBSITE
¿Qué peor sensación que encontrarse perdido buscando dónde escalar en un país que no es el tuyo? Gracias a este blog pude encontrar sitios increibles donde compartir con escaladores locales. Definitivamente lo recomiendo a todos aquellos que quieran buenas experiencias de escalada en Colombia - Álvaro F
When heading down on my first trip in Colombia, I found that there was a huge lack of information available online. Jacob's guides filled in the gaps. I found the information highly useful and straightforward. -Jim Lawyer, Author of: Adirondack Rock Climbing
I am a 20 something-year-old woman who just completed a four month solo trip through Central and South America. The information in your book was invaluable. I learned about many areas I had no idea existed and saved me a lot of money and more importantly time!  Your book gave me the confidence to go to a lot of these place I would never had dared otherwise. Thank you! - Danielle B
Over the past two decades, I have made close to 10 trips down to Latin America, and have climbed at many of the places mentioned here on this blog. I have to say that The Wandering Climber is one of the best resources I've ever used. Much of what is covered in Jacob's guides do not exist anywhere else online. - Will Sparks, Professional Guide, and Founder of SouthamericaRocks.com
After relentlessly searching the internet, We kept finding ourselves going back to The Wandering Climber again and again for help. We couldn't have done our travel without TWC! - Jochem & Karin