| | Name | "Score" out of 10 | Check Price |
| --- | --- | --- | --- |
| Top | La Sportiva Mantra | 10/10 | View Prices |
| | Prana Women's Halle | 9.5/10 | View Prices |
| | Prana Stretch Zion Pant | 9/10 | View Prices |
| | La Sportiva Men's Pueblo Pant | 8.5/10 | View Prices |
| | Ucraft Xlite Climbing Pants | 8/10 | View Prices |
Looking for the perfect pair of bouldering pants that look good both on and off the rock wall? Look no further!
We've listed the best rock climbing pants options for you below and have also written up a handy guide to buying rock climbing pants, so none of your questions will be left unanswered.
Whether you're looking for a sporty pair in a flashy color or something more low profile, our selection of the best climbing pants (or trousers, for the Brits) for bouldering offers something for everyone.
Hey! By the way… this page contains affiliate links. So if you make a purchase after clicking one at no cost to you we may earn a small commission. Thanks for your support!
Best Bouldering Pants
When it comes to pants for bouldering, there are a lot of different factors to consider, and of course, it is also a very individual choice. Everyone might be looking for something else, but rest assured that the market for bouldering and rock climbing pants is huge, and all tastes are catered for!
In our selection, we have covered the most amazing pants for men and women, the best baggy and stretchy model there is, and we've even included a pair for the fashion-conscious dirtbag out there who wants to look extra fly!
While some of these models are very sporty, there are also a few options that will look good during your climbing session but will work just fine for grabbing a drink afterward, too.
Best Women's Bouldering Pants
La Sportiva presents us with a nice, sporty, and colorful design true to their brand philosophy.
This pair comes with an elastic waistband with a drawstring closure for extra comfort while giving you the option to adjust the pants exactly how you want them to fit.
The material is a mix of 96% nylon with 4% spandex, giving it a lightweight feel with some extra stretch, which is perfect for dynamic and athletic moves while bouldering.
They have a gusseted crotch and articulated knees for even more mobility and feature a brush holder, so you can carry your bouldering brush with you at all times.
The bottoms have an elastic in the cuff, so you can easily adjust them and even convert them into capris if you get too hot.
The fabric is thick and durable, but flexible and stretchy thanks to the mixed-in spandex.
This is a classic choice in flashy colors and a sporty design that also comes in a men's version in more muted tones.
Best Hybrid Bouldering and Hiking Pants
prAna Women's Halle Pant
97% Nylon, 3% Spandex

Imported

Snap closure

THE EVERYDAY FAVORITE: The cross-functional Halle Pant is made to handle a 25-hour day; Our original Stretch Zion fabric and roll-up leg snaps work well when riding, hiking or mingling with friends

CASUAL STYLE: Elegant design in neutral colors pairs well with anything; This relaxed-fit pant has articulated knees and a slight boot-leg cut; Features a hidden zip stash pocket at upper right leg
These stretchy pants made from the brand's signature Stretch Zion fabric are a great all-rounder for outdoor bouldering, with articulated knees and an extra drawstring to get the perfect fit. 
Because of their durable fabric, they also work perfectly as hiking pants, even in cold weather. The Prana pants are good climbing pants with breathable material and look like regular pants.
It's made of 97 % nylon with 3 % spandex to give it some extra stretchiness, making it a comfy and durable pair of climbing pants for hiking and bouldering alike.
The Stretch Zion material is also:
quick-drying

water repellent

abrasion resistant

offers UPF 50+

travel-friendly (wrinkle resistant)
These are great hybrid hiking and bouldering pants that can be easily rolled up into capris and feature a lot of different pockets for all of your stuff, including zippered pockets on the thigh for your phone.
They come in three different seam lengths, making it easy to find a pair that fits you perfectly!
We all know it can be difficult to find a pair of pants that fits right around the waist and is not too long or short, so having the option of choosing between short, regular, and tall when it comes to the inseam is awesome news.
Best Stretchy Bouldering Pants
Ucraft "Xlite Rock Climbing Bouldering and Yoga Pants.
92% Polyester, 8% Spandex

Drawstring closure

AVAILABLE AS PANTS AND KNICKERS for hot and cold environment. We recommend having both. GREAT FOR ANY ACTIVITY like Climbing, Bouldering, Yoga, Hiking, Running, Tai Chi, Capoeira, Slacklining, Trampolining, Camping etc.

DESIGNED BY CLIMBERS for maximum performance: lightweight, stretchy, durable, adjustable, 4 outer pockets (2 zipper), chalk bag & brush loops.
For those of us out there who prefer a stretchy pair of pants, there are heaps of options available, but the ones we've chosen are just a tad better than the other pants we've looked at.
These comfy and stretchy pants by Ucraft are great for bouldering in warm weather (or indoors) and are very stretchy and offer loads of comfort.
They aren't the most durable ones but do have some great features like handy side pockets and a light material, which makes them a pair of very breathable pants.
There is an integrated chalk bag loop and brush sleeve for all your bouldering needs!
Articulated knees and a zippered thigh pocket further complete these climbing and yoga pants, which come in loads of fun colors.
They have elastic drawstrings on the ankles, and they even do a shorts-version, too!
A mix of 92 % polyester and 8 % spandex are responsible for the comfort of this pair of pants, and the company even offers a 2-year warranty if you're worried about durability. 
Best Rock Climbing Pants For Men
prAna Men's Stretch Zion Pant
97% Nylon, 3% Spandex

Imported

Button closure

Machine Wash

The original Stretch Zion fabric with durable water repellent (DWR)
The Prana Stretch Zion Pants come in a variety of nice earthy colors and are some of the best all-around climbing pants out there.
They are also made from the brand's signature Stretch Zion fabric we've raved about further up in the article and have loads of nice features.
They are made of 97 % nylon and 3 % spandex, which gives them enough stretch to be comfy while still looking nice and fitted when you aren't climbing. 
They are ideal for cool weather and able to resist sharp rock, so this model is great if you're looking into buying bouldering pants that are also suitable for a longer approach.
They have snap buttons on the leg so you can roll them up into capris, and it also has an adjustable waistband for extra comfort.
It features a cargo pocket with double entry on the tights and — we just have to say it again — looks really nice!
Best Indoor Bouldering Pants
This is our top choice for a pair of men's pants for indoor bouldering because of their light material and bouldering-specific features.
Unlike other designs from this brand, the Pueblo pants come in a muted look and simple design that looks great inside and outside the bouldering gym.
They feature an elastic waist belt, 4 pockets, articulated knees, and a gusseted crotch, so there's everything you might want from a pair of pants made for bouldering.
They are made from 96 % cotton and 4 % spandex, making them breathable and relatively stretchy, while also being very durable.
Best Baggy Bouldering Pants
These have been a staple amongst rock climbers in Europe for quite a while: the E9 Rondo climbing pants are a loose-fitting pair of pants, with the brand's signature round pockets with contrasting colors on the inside. 
This is basically the opposite of Boulder Denim's philosophy. These pants will make you stand out!
They are made from 96 % cotton and 4 % elastin, which means that they're very breathable and lightweight but not very stretchy. But the cut of the pants with a large gusseted crotch, articulated knees, and elastic waistband still allows for a full range of movement and makes for great climbing pants.
This is a very sporty design that lets everyone you meet know you're a climber, even outside of the climbing gym. E9 has a lot of different baggy trousers, so if this is your style of climbing pants, make sure to check out their website for even more baggy models.
The round pockets are surprisingly user-friendly and make for a nice detail on this overall quite-quirky design.
The brand also offers a wide range of women's and kids' clothes, shorts, tops, fleeces, and anything else you might need for a day out at the crag.
Most Stylish Bouldering Pants
The Korean brand CAYL (Climb As You Love) brings us corduroy bouldering pants in a deep midnight blue, a baggy fit with an integrated belt.
This minimalistic and stylish model is made of 97 % cotton and 3 % polyester, giving it some extra stretch.
They have a gusseted crotch and four roomy pockets for all the things you might want to bring along.
They also have a quick-release built-in waistband and quite a wide leg, so rolling them up a few inches might be a good idea (so you can actually see your climbing shoes).
Wearing these pants will make you look good almost anywhere, and their minimalistic design is a nice contrast to the other, more flashy designs that many climbing pants feature (we're looking at you, La Sportiva).
The Differences Between Bouldering Pants and Other Climbing Pants
Pants that are made specifically for bouldering offer you some unique features that not all rock climbing pants will include! This is what makes climbing pants worth their money because they are tailored specifically towards a climber's needs and are also an important piece of gear.
Here are some of these features explained in more detail:
Brush Holder and Chalk Bag Loop
This is a bouldering-specific feature on climbing pants. Because you aren't wearing a harness while bouldering, you can clip your gear to these special loops and hooks. 
It's very handy to have some extra 'storage' solutions built into your pants, so you can bring along your brush on your problem at any time.
If you don't like wearing your chalk bag on an extra belt around your waist, a hook on the back of your pants can be the perfect solution.
Harness-Compatibility
Climbing pants usually don't have a stiff waistband or buckles around the hips, so they can be comfortably worn underneath a climbing harness.
The brands also often place pockets a bit further down the thigh, so you can easily access your phone or whatever you might stash in there while wearing your harness.
Bouldering pants, however, do not have to take that into consideration and therefore feature built-in waist belts that sometimes have a buckle, for example.
Leggings vs Bouldering Pants
You might have seen quite a few women around the climbing gym smashing their problems while wearing leggings. So, what's the difference between wearing leggings or bouldering pants? (of course, there are also leggings for men!)
Pants usually are more resistant to abrasions and generally offer better protection from the rock, bugs, thorns, and so on, while leggings usually tend to be made of a much thinner material. 
Leggings are also more likely to rip when coming in contact with rocks, so this is important to keep in mind if you are planning on bouldering outside a lot. Like on your upcoming trip to Spain, who knows.
The best leggings for climbing:
are high waisted

are thick and non-see-through

have pockets
High-waisted leggings are best for climbing as they stay in place better while you're moving compared to low-cut ones. Usually, sports leggings also offer enough stretch so you have your full range of movement and don't come in the way while you're prepping for that big dyno. 
Also, the fabric should be quite thick so you can be sure it's not see-through and can climb with peace of mind.
Leggings usually don't have any pockets (and even fewer have zip pockets), and you most certainly won't find a brush holder or chalk bag loop, so if these features are important to you, pants might be the better choice.
What to Think About When Buying Bouldering Specific Pants
Here is a list of a few things you should keep in mind when you're going out to buy yourself the best climbing pants out there.
Fit
Climbing pants for bouldering should have a comfortable and loose enough fit, so you can do dynamic moves like high steps and heel hooks without being restricted by the fabric. 
Also, make sure the pant leg is wide enough so you can move it up when needed, and have one with an elastic waist belt for added comfort around your belly.
Whether you use the pants for indoor bouldering or outdoor climbing, make sure they're comfy and that you can always see your feet! Pants made for bouldering often feature an integrated belt that makes them easy to adjust so they fit just right. They'd also be overall athletic pants that would allow a great range of movement.
Materials
Next to flexibility, the material of the pants should also offer you protection from the elements and your environment, depending on where you climb.
To know what fabric you need, you have to consider if you will be wearing the climbing pants for sport climbing outdoors, gym climbing, off-width climbing, or even on an alpine climbing adventure.
This then determines what material your perfect pair of pants should be made of. There are super stretchy fabrics and others like cotton that don't stretch as much but are nice and breathable.
The ones used for trad climbing, for example, need to be very durable pants, as they are likely to get quite some contact with the rock. If you are mainly focusing on indoor climbing, a less-robust fabric will do.
To add stretch, most climbing pants have a specific type of material in the mix, such as:
Breathability is also an important aspect, especially if you plan on climbing in a hot climate. Cotton blends are naturally light and breathable, but make sure they have some of the above fibers mixed in for some added stretch.
Special Features
Let's look into some of the special features of climbing pants in some more detail.
Gusseted Crotch/Diamond Gusset Crotch
This means that a diamond or triangle-shaped piece of fabric is sewn into the crotch of your climbing pants to reduce the stress on the seams. This also gives you more range of movement for high steps or frogging, an important feature for climbing pants.
Unless the pants have very stretchy material or a loose fit, this is an important feature for climbing pants to have.
Brush Pocket or Brush Slot
This is a designated space for your bouldering brush so you always have it with you and are ready to brush away at that crux hold when needed!
Pockets
The best pockets are zippered pockets, so phones or keys don't fall out even when you're hanging upside down. A zippered thigh pocket is especially useful for bigger items like your phone, so it won't bother you while climbing.
Additional rear pockets are also great, and many climbing pants have top-notch nice and deep pockets! (even the women's models, which is awesome)
Articulated Knees
These are reinforced knees with some added stitching that give your rock climbing pant a naturally, slightly bent shape. These so-called articulated knees make it easier to bend your legs when wearing them and are a great feature to have.
Chalk Bag Loop
This comes in very handy if you don't like wearing your chalk bag with an additional belt. It helps you to keep gear minimal and non-restrictive.
Ankle Cuff
Built-in ankle cuffs or leg cuffs with either a drawstring or elastic are great to either turn your pants into capris or just generally enable you to see your feet!
It's a good idea to actually be able to see your climbing shoes when you're in the middle of it all, so make sure to roll or tie up your pant legs if they're loose.
"General" Climbing Pants
If you're not really into bouldering, and find that you're spending a lot of your time out at the crags, bouldering spefici pants might not be the best choice. I would suggest you take a look at our in depth article on the best climbing pants to find the perfect 'all around' option!
Q&A
What to Wear Bouldering?
It's best to wear bouldering comfortable and abrasion-resistant clothing to give you enough flexibility for dynamic moves while also protecting you from scraping your skin on the rock or gym wall.
Depending on the climate you will be climbing in, look for a more breathable or water-repellent material in your pants of choice.
How Should Bouldering Pants Fit?
How your bouldering pants should fit depends on preference. Some climbers prefer baggy pants over leggings and vice versa. What is important, however, is that the pants offer you great mobility for high steps or other big movements from the hips, so a diamond gusseted crotch is ideal.
Can I Wear Jeans Bouldering?
You can wear jeans bouldering if you like, but it might not be the most comfortable choice to go with normal jeans!
The stiff and non-stretchy fabric might stop you from doing the necessary moves to send your problem, so better go for a pair of jeans that are specifically made for climbing, like Boulder Denim, for example. Boulder Denim does extra stretchy jeans that are suitable for climbing while still looking like regular jeans.
Can I Wear Shorts While Bouldering?
You can wear shorts while bouldering. They might offer you a bigger range of movement and can be perfect for hot weather, but they also don't protect you from the rock.
Make sure the shorts are stretchy or loose-fitting to allow for those big moves needed on boulder problems.
Are Non Climbing Specific Stretchy Pants OK?
Yes, non climbing specific stretchy pants are ok for bouldering! However, you might notice that regular stretchy exercise pants might be made of thinner fabric that can easily rip when it comes into contact with the rock.
But of course, don't let yourself be deterred from climbing because you don't own "proper" climbing pants. But if you're in it for the long run, investing in a pair of climbing or bouldering pants will be worth it.
What Are Climbing Pants Made Of?
Climbing pants are made from a lot of different materials, depending on what the pants are made for: hot or cold climate, alpine rock climbing or indoor bouldering, etc. But most climbing and bouldering pants are made from a mix of materials that contains a small percentage of a stretchy fabric like spandex or lycra to allow for extra mobility.
What Are The Best Pants for Bouldering?
There is no pair of climbing pants out there that are perfect for everybody, but, above you can find a selection of some of the best bouldering pants on the market.
Whether you prefer loose or stretchy pants, colorful ones or a more subtle pair, there is something out there that will be the best bouldering pants for you.
How to Choose the Best Climbing Pants?
To choose the best climbing pants, think about what type of climbing you will be using them for and how often and in what climate you will be climbing. These factors will determine which bouldering pants are best for your specific situation.
If you go outdoor bouldering with a long approach, go for a versatile pair of rock climbing pants that also offers some features like abrasion resistance and is water repellent.
If you're just going to an indoor bouldering gym, a more lightweight pair will work just fine for you. These are just a couple of examples to help you figure out exactly what you want and need from your perfect pair of bouldering pants.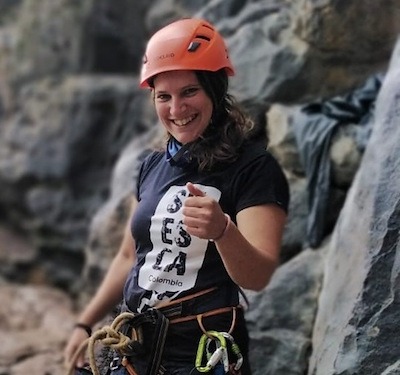 Hi there, I am Mirjam and have recently discovered rock climbing for me while backpacking in Colombia. Originally from Switzerland I currently live in Venezuela and work as a freelance writer and translator. I have always loved being in nature and the mountains and am stoked to explore more of the world's best climbing in the years to come!
You can find me at @mirigoesround or www.bosstranslations.com