| | Name | Score (out of ten) | Men/Women | Price |
| --- | --- | --- | --- | --- |
| Top | Patagonia Caliza Pant | 10/10 | Women | Best Price |
| | Black Diamond Anchor Stretch | 10/10 | Men | Best Price |
| | Prana Pillar 7/8 | 9.5/10 | Women | Best Price |
| | Prana Stretch Zion | 9/10 | Men | Best Price |
| | La Sportiva Talus | 8/10 | Men | Best Price |
| | Black Diamond Forged Denim | 8/10 | Women | Best Price |
| | Mountain Hardwear Dynama Pant | 8/10 | Women | Best Price |
| | Prana Halle Straight Pant | 8/10 | Women | Best Price |
| | Topo Climb Pants | 7/10 | Men | Best Price |
| | Black Diamond Swift | 6/10 | Both | Best Price |
| | Outdoor Research Wadi Rum | 6/10 | Both | Best Price |
| | La Sportiva Pueblo | 6/10 | Men | Best Price |
There are times when the stakes in a climbing pants purchase feel about as high as any in the climbing world.
So then…
How do you know which are the best climbing pants to choose from?
Your new rope or your crashpad, you'll always show up with them.
Even if you wind up never making that leap into trad climbing, you'll always find a buyer for that $75 C4 cam.
But if those $75 rock climbing pants aren't quite what you wanted, they end up at the far end of the closet, only to one day end up in a thrift store run.
Like most things in this sport, the right pair of climbing pants depends on the situation.
What you're looking for from your pants is going to be quite different if you're mostly going to be in alpine situations compared to if you're mostly bouldering.
If you're climbing in mostly hot, humid environments, that's going to make for different needs than the alternative.
Some other key considerations include things like travel, the amount of camping or hiking you'll be doing in these clothes, your preferred fit, and how stylish you'd like to look for that post-climb beer.
Hey! By the way… this page contains Amazon affiliate links. So if you make a purchase after clicking one at no cost to you we may earn a small commission. Thanks for your support!
Best Climbing Pants: Ultimate Buying Guide 
For this incredible guide, we've broken it up into two sections. Climbing pants for men and women's rock climbing pants.
If you're looking for women's options, head to the second part of this article!
Climbing Pants For Men
Check Price and Reviews On Amazon
The Anchor Stretch makes for a great go-to for your standard day at the crag and they're my favorite of the BD line, and our choisce for the best climbing pants. They're the ones that have the stretch and feel that you're looking for, zipped pockets in the right places, and the built in belt.
Their pockets sit upwards, making them easier to access from a harness. It comes with an integrated belt, allowing you to leave your standard belt at home. The tapered ankle is more suited for those who forego the roll, or just giving a twist or two.
But I think it looks a bit slicker in the non-climbing environment than many others that are more conducive for the roll.
Check Price and Reviews On Amazon
The Notion is another great men's option, as it has many of the same selling points of the Anchor Stretch but a lower price point.
The Black Diamond Notion is less burly than the Anchor, these climbing pants best used for casual gym sessions or crag days.
Also has a leg up on the Anchors in style, making it a little more versatile if you plan on using this pants not just for rock climbing.
Check Price and Reviews On Amazon
These are the classic Outdoor Research model among climbing pants. They give a nice stretch and the ankle taper is helpful, even if you're one who likes to give a roll (but better if you're not).
It also includes a brush pocket, a nice touch for bouldering – especially one who has a knack for leaving their brush behind.
Check Price and Reviews On Amazon
Not to mention, they look good enough for date night. 
Updates have made for mixed reviews, which is normal for climbers – we never like change. But it would be worthwhile to give them a fitting first. There seems to be a sentiment that the crotch and butt are a bit more snug than they used to be.
Check Price and Reviews On Amazon
This is a comfortable men's option that will be a lifer. It's a tough, comfortable fabric that offers plenty of freedom of movement. If you're spending quite a bit of time on sharp rock, this one should get a look.
The inseam runs long at 34 inches. That's nice for keeping your ankles protected when your cuff gets hiked up in the harness, but is worth taking into account if your legs are on the shorter side.
This climbing pant also features articulated knees and a gusseted crotch, keeping things nice and comfortable during those big hight steps.
They feel a bit like sweatpants. But even when you use them as your work-from-home-but-see-I'm-wearing-pants pants, they'll still look better than sweatpants.
Check Price and Reviews On Amazon
The Talus is the best of LaSpo's synthetic options. It passes the all-day test, so long as you're good with La Sportiva's tendency to put a bit more color into their design.
They fit a bit slimmer than most nylon options, but also includes 4 percent spandex to still give flex and freedom of movement. They're lightweight as well, great alpine missions, long approaches to the bouldering fields, or hot days.
It includes both a brush pocket and a chalk bag loop on the tail, both aspects keeping bouldering in mind.
Neither of the two La Sportiva models include belt loops, both instead utilizing a drawstring and locked snap closure. If a belt under the harness bothers you, that's a plus for either of these two.
This pant also includes some designs for improved mobility such as a gusseted crotch and articulated knees.
For both BD and La Spo, they build their climbing pants for rock climbing and that shows through.
Check Price and Reviews On Amazon
Be careful if you get someone talking about the prAna stretch Zion And to be honest, there's a reason for their enthusiasm. There's very little to not like about this climbing pant.
Though they're lacking the articulated knees of some other pant options, the gusseted crotch and the stretchy material offer the freedom of movement you're looking for at the crag along with the comfort and style of an every day pant.
And add this as a bonus: though they still carry the steep standard price of most climbing pants, you can often find them on sale.
They also boast a durable water repellent finish, upf 50 sun protection and abrasion resistant materials.
In addition to being water resistant, They offer excellent mobility roll up leg features with leg snaps, integrated belt, and includes a single zippered cargo pocket.
Such features, wow!
It's not the sexiest option for a leg pocket, but it does what you need for pocket access on a multipitch and doesn't look quite as dorky as those cargo pants you bought from Old Navy back in 1997.
They do run a little heavier than most climbing pants, so if you're spending a lot of time with warm weather climbing that's the only time you might rule these out.
All that said, the prAna stretch Zion is an excellent all-round pair of rock climbing pants and are a good fit for most climbers out there.
The features check most of the boxes. The cuff could stand to be a little more tapered or have a cinch, the hip pocket could use a zipper. The look is subtle, though the fit runs a bit large.
The biggest value of this pant option is, well, its values.
It's made using fair trade standards, organic cotton, and a mindfulness toward the synthetic materials used in the pant.
Not to mention…
The Patagonia Venga also features some nice, well, features! Like being water resistant with a nice DWR finish to keep the moisture wicking off of your skin if caught in a rain storm during an epic alpine climbing mission.
It also features articulated knees and a gusseted crotch for added movability.
Let's be honest, you can't go wrong with Patagonia.
Check Price and Reviews On Amazon
Topo's look isn't for everyone. They have a cult following and throwback style that would work on Stranger Things. But if that's cool with you, the pants are more than just a schtick.
They are legitimately functional climbing pants. They have the integrated belt, gusseted crotch, and chalk bag loop, though they do need an upper leg pocket.
Their material tends to be quite durable, and these pants have 2 percent spandex for a bit of flex.
Check Price and Reviews On Amazon
For those days on some frozen waterfall, you want something durable, something that keeps the chill out, something that fits well under your harness, and something that takes into account that you have sharp spikes on your feet. I recommend the Arc'teryx Sigma AR Pant.
These climbing pants best used as a cold weather option. They fit a little snug in the crotch and booty, but when you think about those hardshell options on the clearance rack, you'll take that over feeling like the Michellin Man in a harness.
They also feature some killer water resistant tech, designed to keep your dry during any ice, alpine, or multi-pitch mission.
Their upper thigh pocket is in the front which is great for accessibility and it zips, but it is probably going to be above the leg loop on your harness.
The stretchy material means that theres no ned for articulated knees
The zipped cuffs are great though. That's what lets these dial in closer to your boot to avoid getting caught on your crampon. Plus, it'll make them your go-to ski, snowboard and winter hiking pants. They're sleek, comfortable, and you won't get snow in your boots.
Cold Weather Climbing Options
Check Price and Reviews On Amazon
The Black Diamond Stance is packable, insulated, and a nice option whether you're belaying or bivvying.
They're made to be an outer layer and also include an elastic waistband and are water resistant as well, making them a solid option to replace your excessively baggy snow pants. It also partners with a parka, in case you like pairing everything up.
Check Price and Reviews On Amazon
The Mountain Hardware Yumalino fleece-lined climbing pant is an excellent "middle of the road" colder weather option.
Though the material isn't "stretchy" it does have gusseted crotch and articulated knees to keep you flexible on these cold days.
They're still comfortable enough to be worn for just about any type of outdoor climbing you might be doing, including bouldering or cragging.
If you're looking for a winter option that doesn't sacrifice performance, the Mountain Hardware Yumalino pant is the way to go!
Best Rock Climbing Pants: Women's Specific Styles
Finding the right pair of climbing pants as a woman feels like a never ending journey…
Like casual women's pants, they are often too tight or too loose in certain spots, ride up in unflattering ways, are not durable enough, and lack usable pockets.
They may also be manufactured with fabric material that is not ideal, despite costing an arm and a leg.
The best advice for someone seeking climbing pants in the ladies' department is to prepare for a long-drawn experimentation phase. Every individual has their own preferences and particular needs based on when and where they are rock climbing.
Trying on different types of pants is a great first step, although be prepared to have a realization after several rough uses that they are not so great after all.
It is also important to note that the best rock climbing pants are not regular pants. They are continuously subjected to scraping on rock, jamming in cracks, sitting in dirt, and having the legs spread apart in near, if not total, splits.
Although it is nice to purchase an expensive favorite pant or two, it may not be a good idea to invest in several expensive pairs. This is for a couple reasons:
 Wearing name-brands does not make you more of a real rock-climber. You are awesome whether you wear Black Diamond or whether you're still rocking the same years-old clothes from high school.
There is usually no price to durability correlation. Most, if not all, pants are likely to rip, tear, and stain. (Even the $90 Prana ones!) You'll notice that for every chick at the crag happily sending in their fancy name-brand bottoms, there are just as many crushing it in Old Navy spandex they found at Goodwill. Re-using and recycling clothing also helps to reduce waste. Check out Patagonia Worn Wear and clothing for resale on Poshmark for more ways to purchase used climbing clothes in great condition.
Knowing where, what time of year, and how often you are going to use them are key factors in determining what pants are best for you.
Doing single-pitch in moderate temperatures does not warrant anything heavy duty, whereas doing single-pitch in the cold might call for a thicker option, or even a pant that can accommodate base layer leggings underneath them.
If you are multi-pitch climbing, you may want pants that are extra durable, extra comfortable, and perhaps with zippered pockets if you don't like carrying a small day-pack.
The reality is, though, you probably won't like the feeling of stuff rustling in your pockets while making certain climbing moves. And trust me, it is not a good idea to put your phone in your pants pocket to take pictures on route. Every person thinks they won't drop it, until they do…and there have been many phones dropped off of routes!
While trad climbing, you may not want pants that will snag on pieces of gear and catch on the rock – and especially not in wide cracks and offwidths.
You also want to be extra wary of the waistband type and the material the pants are made of.
Although button-and-zipper pants are super secure, this is often to the detriment of comfort. The waistband can dig into your stomach, which can get very irritating over time and can even result in or intensify cramping. A tight harness on top of these sorts of pants can compound this issue.
Alternatively, elastic-waisted pants have stretch and generally don't suck into your belly too much if fitted correctly.
The material the pants are made of can be a big deal, too.
Cotton is not insulatory when wet, so be wary of it as a cold weather option. If you know you are facing chilly and potentially wet conditions, consider wearing a polyester or merino wool base layer underneath. Polyester and wool are the way to go, as they both do insulate when wet. Polyester and wool also do not hold stench as badly as cotton.
Hands down, the most trustworthy option for climbing is your favorite pair of leggings/yoga pants. They are flexible, breathable, and although not super durable, can be purchased at a low enough price point that replacing them every six or so months is a non-issue. Even a cheap opt from Amazon or TJ Maxx will do. The more comfortable the pair, the better. And, the thicker they are, the more durable they will be (but also less breathable).
Check Price and Reviews On Amazon
If you so desire, splurge on a option from prAna, like the Pillar 7/8. These are fair-trade certified, soft, made of a polyester blend, and cling to the waist without being noticeable. They won't last more than a year or two, though – especially if you do a lot of knee bars.
PrAna also makes a more durable, climbing-specific pair of leggings, the Rockland Legging.
Check Price and Reviews On Amazon
The price point is high, and the fabric is very thick (so they're not a good all-season pair), but they're a better option than the Pillar if you want a good, tear-resistant pant for the winter!
Leggings are great for indoor and outdoor single pitch sport climbing. That being said, actual climbing pants tend to better withstand scuffs against the rock, and protect against run-ins with bugs and itchy plants.
Their slightly bulkier and looser make-up also allows for better insulation and room for layers underneath. Here are a few pairs that strike a great balance between all the important necessities, or truly shine in their particular features:
Check Price and Reviews On Amazon
Although a cotton-spandex blend, these pants almost have the durability of a pair of jeans and the stretch and comfort of leggings. The waistband is like that of a soft pair of mid-rise yoga bottoms, and the legs are just baggy enough to be roomy while not unflattering. You know a pair of pants are rad when you can both happily climb and lounge around in them – and boy are these pants rad.
Check Price and Reviews On Amazon
A tried and true favorite rock climbing pants made with Prana's notorious Stretch Zion fabric, the Halle Straight pant comes with everything trousers-lovers could want for climbing.
They are stretchy as all get out, abrasion resistant, water repellent and quick drying, with plenty of pockets – including a hidden side zipper pocket big enough to fit a phone. The pants legs even have snaps inside which allow them to be rolled up into capris. Love climbing and hiking? These pants work great for both.
Check Price and Reviews On Amazon
Climbing in skinny jeans sounds like the worst idea ever. BD's Forged Denim, however, are a serious exception. Extremely flattering and way more flexible than you could ever imagine, these pants fit surprisingly well under a harness.
Its stretchy design makes them a great all around pant, for either hitting the crag or casual day our bouldering.
Worth a shot if you're feeling adventurous and open to trying a different style, as opposed to looking like a cool but still parachuted neon skittle (I'm talking about you, Sportiva!).
Check Price and Reviews On Amazon
A runner-up to the Patagonia Calizas, the Dynama pants are arguably even more comfortable than a pair of yoga pants (albeit with a sizable trade-off in durability).
The fabric is an ultra lightweight nylon-spandex blend, making them feel almost non-existent on your waist and legs. They are stylish without being skin-tight all over, providing for excellent breathability. If you don't want to even notice that you're wearing clothes while climbing, these are a great choice. A fantastic option for climbing in the summer and warm shoulder-seasons.
Finding the Best Climbing Pants: Things to Consider Before Buying Your Perfect Pant!
Stretch
Most rock climbing pants you'll find are going to be some sort of synthetic material blended with a smaller amount of spandex. The more spandex, the more stretch. But too much spandex, then you're getting into parachute pant territory.
Mobility
Look for a pair of pants that:
Fits well under your harness
Has a gusseted crotch and articulated knees ~ You can make a high-step in without resistance
Has a way to constrict the fabric around the ankles to keep solid foot visibility
Durability
Your pants will take a beating from rock climbing. It is simply unavoidable. From your rear scraping against chimneys, your knees jammed into rests, and your legs snagging on the occasional tree branch or lechuguilla, they will get holes and scrapes sooner or later. Decide whether you want cheaper options that won't hurt your wallet so much when you need to replace them frequently, or an expensive but ultra durable pant that will last longer (but definitely not forever if you're outdoors a bunch!). Look for pants that have reinforced knees and other areas most vulnerable to abrasion while climbing.
Style
Whether you live in a house or full-time in an old E-350 van, you need pants that will suit the needs of your lifestyle. It's a huge plus when the same pair works for going out to play in the mountains AND for pretending to be a respectable adult. But, it's also okay to rock out the bold colors and baggy looks of E9 or La Sportiva. Don't be afraid to have a functional pair and a FUNctional pair, if you get my drift!
Price
The weird thing about your search to find the best rock climbing pants is that you don't always get what you pay for. And you should only ever pay for what you need.
If you're making a trip to climb moderate grades on sharp rock for a fun weekend away, don't dwell on the quality of your clothes too much.
My climbing partner's favorite pair for the gym is a $20 pair of Wranglers from Walmart. And if that works for you, great. He could spend an extra $80 for one of the options below and find that the fit isn't quite right, then still wind up wearing the Wranglers out at the crag.
Ultimately, so much depends on your unique body type, preferences, and needs. The weather you'll be climbing in, the approach terrain, type of rock, and style of routes you're planning to do should also factor into your decision.
If you're already willing to pay $50 for a pair of pants, I recommend spending an extra $20-$30 if it means finding the perfect pair of pants. Who knows – they could end up being the pair that you wear every day and somehow still last fifteen years. They could also be the difference between an uncomfortable, cold trip and a great, problem-free one.
Think, What's My "Regular Rock Climbing Day"
When finding the climbing pants best for you, think: what's my stand day at the crag look like?
They should be comfortable, durable, breathable and be stretchy and fit you and your climbing.
For the guys, a fly that easily accommodates a bathroom break without having to take off the harness is an essential feature. But then if you don't do multi-pitches, probably doesn't even matter.
Gym Climbing vs Outdoor Climbing
If you're heading out to do a multi-pitch route or alpine, you might be looking to ditch a little more weight.
A pocket to carry topo maps could be necessary for you, as well as pant material witch are water resistant with a DWR finish. If you're a prone to burn, you'll want to consider a model with UPF 50 protection or higher.
Lower-thigh phone pockets that sit just below the harness are also great, but there's an element of risk you're accepting by bringing any of your devices more than five feet off the ground!
Zippered pockets take a little more work to open and can be annoying for everyday use. But if the zipper is what's keeping your phone from from the rocks below, the extra safety over the ergonomics of a simple snap closure should be appreciated.
Another consideration is if you're a pant's leg roller. I personally recommend a tapered ankle. There's plenty of merit to the idea of rolling a cuff to have greater visibility of your footwork. But does your cuff roll better from a snap button, a zipper, or a less tapered cuff? There's so many options. It's up to you experiment and discover what works best.
All of these little nuances in features can cause a shopping headache. But if you're dropping big bucks on a pair of britches, you want to get even the smallest details right.
For more reading like this see: "10 Best Climbing Gloves: A Crazy-Good Guide to the Best Belay and Crack Gloves" and "Climbing Helmets: Everything You Need to Know and Oh, So Much More" 
This article was last updated March 13, 2021.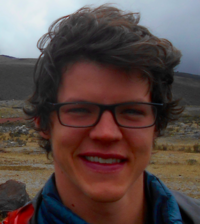 The Wandering Climber. Often seen at world class climbing destinations from around the world!