Love crack climbing but don't love bruised and bleeding hands? 
I get you. 
But don't worry, there is an easy solution to making your hand jams more comfortable: crack climbing gloves!
Crack gloves offer you some extra protection when crack climbing by covering the top of your hands and knuckles. 
If you're crack climbing, you're probably trad climbing, so it is important that you are as comfortable as possible so you can adjust your gear with ease.
In this article, we will tell you all you need to know about the best crack climbing gloves, what the different types are and which ones are suitable for each type of climbing. So, let's dive right into it! 
Hey! By the way… this page contains affiliate links. So if you make a purchase after clicking one at no cost to you we may earn a small commission. Thanks for your support!
Review of the Best Crack Climbing Gloves
For a long time, there have only been two main options when it comes to crack climbing gloves, the Outdoor Research Splitter Gloves and the Ocun Crack Gloves. 
But Black Diamond has also released their own model of a crack climbing glove in 2020. Therefore, we will review  all three of them here for you.
Without further ado, here are the three best crack climbing gloves on the market.
Ocun Crack Climbing Gloves
Excellent Protection for Jamming, Maintains Sensitivity and Improves Friction, Quick Release Hideaway Strap Closure

Stop spending 15 minutes reinventing new ways to tape your hands for each project, only to end up with scabby broken hands! Ocun crack climbing gloves are a durable, comfortable solution.

The microfiber suede stretches to conform to your hands, meaning these lightweight climbing crack gloves aren't bulky and actually help you climb better than tape or chalk alone.

Increased feedback and friction from highly sensitive rubber makes jamming such a breeze you'll wonder where these gloves have been all your life.

The shape of these gloves has been engineered for maximal comfort while crack climbing, and our quick closure Velcro tucks out of the way under rubber so they won't unfasten on a route.

Everything we do is connected to the need to constantly improve our performance, equipment and ourselves. If you aren't satisfied with your Ocun crack climbing gloves, get in touch and we'll make it right.
Price: $45

Weight: 57 grams

Sizes: XS, S, M, L, XL

 Materials: Microfiber stretch suede base with adhesive rubber patch
Ocun is a climbing gear manufacturer from the Czech Republic that is probably best known for their crack climbing gloves. 
These climbing gloves feature adhesive rubber over a microfiber suede base and offer ample protection even from the roughest of rocks. 
The Ocun crack gloves are ideal for cracks where tape climbing gloves just don't provide enough protection, and you need something a bit more robust.
The Ocun crack climbing gloves come with a velcro strap that really helps if you want to close them up in just a few seconds, and this strap is also covered in rubber, so it doesn't interfere in any way while rock climbing.
The rubber on these crack climbing gloves is quite thick, and they have extra padding on the knuckles, making hand jams a breeze.
The rubber also adds some extra friction and protects your skin from the rock. 
Because of the thick rubber, however, this pair of crack gloves does take away some of your sensitivity while crack climbing, which can sometimes be a disadvantage. 
Ocun offers different sizes depending on the width of your palm to accommodate a wide range of hand sizes. 
These crack climbing gloves run a bit tight, so when choosing your size, take your time to find the one that fits you best. 
The Ocun crack gloves are especially well suited for beginners who are just learning how to hand jam or people who climb in areas with very sharp rock, like coarse grain granite, or who climb for many days in a row. 
The Ocun crack gloves work for any type of rock and offer your hands and knuckles good protection. They also have the advantage of covering  the knuckles of the thumb.
In comparison to the Outdoor Research Splitter gloves, the Ocun crack gloves are a lot thicker and, therefore, add more volume to your hand. 
This is fine for climbers with small hands, but can be an issue when it comes to narrow hand jams or climbers who already have quite big hands.
But besides that issue, the Ocun climbing gloves are a solid choice and definitely one of the best crack climbing gloves out there.
Price: $40

Weight: 31 grams

Sizes: XS, S/M, L/XL

Materials: Synthetic suede base and synthetic leather cover
Outdoor Research uses synthetic leather on the Splitter gloves to protect your hands from the rock and, therefore, its gloves have a reduced volume compared to the Ocun crack glove. 
These gloves are more flexible and thinner, lightweight and less bulky than the Ocun ones but also offer less protection. 
The Outdoor Research Splitter gloves are, therefore, better suited for smooth rocks, like sandstone or can be used by people who have already built up a more considerable pain tolerance.
Because they are a bit thinner, the Splitter gloves also offer more sensitivity, which has been an issue for some crack climbers using the Ocun gloves. 
They are more similar to a tape glove, but durability can be a bit of an issue because of the thinner material.
Just like an Ocun crack glove, this climbing glove covers the knuckle of your thumb but doesn't offer any more protection on that finger, which can be painful in fist jams.
The Splitter gloves come in different sizes, but they tend to run big, so it is better to downsize here. 
All in all, this is a solid pair of crack climbing gloves that are more similar to the traditional tape glove while being more durable, and thanks to their synthetic leather upper, they are also less bulky than the first model.
Black Diamond Crack Glove
Synthetic suede for maximum abrasion resistance and breathability

3D patterning gives an articulated fit

Rubber adhesive film

0.6mm thickness for balance of protection, dexterity, and grip

Hypalon strap for a thin, low profile strong closure
Price: $39.95
Weight: 32.8 grams
Sizes: XS, S, M, L, XL
Materials: Synthetic suede and adhesive rubber patch
The newest addition to the team are the crack gloves from Black Diamond. The company released its crack climbing glove in 2020 and it already seems to be a popular choice among crack climbers. 
They are the most similar to a tape glove and, at first sight, seem to not have any rubber on them at all. 
However, this crack glove made from synthetic suede has a patch of adhesive rubber on the top of your hand, just where you'd feel the friction from the hand jam. 
The rubber is sticky without adding a lot of extra volume, making the gloves very lightweight.
They are relatively flat, which means that they don't add volume to your hands, and seem robust without being bulky, so they won't change the size of your hands. 
But again, because of the thinner material, they offer less protection from sharp rocks or when crack climbing for many days in a row.
But in comparison to the other two, these gloves cover almost all of your thumbs, making fist jams way more comfortable! 
This is especially nice for climbers with small hands, who might have to fist jam in crags that others can still use a hand jam in.
Black Diamond offers different sizes but does not bulk together as much as the other two brands. However, the gloves run small so better size up when in doubt.
The loop where you tighten the wrist strap seems to be the weakest point of the gloves and is prone to snapping. So, make sure to not overtighten the velcro closure to make the glove last as long as possible.
Types of Crack Climbing Gloves
The two main types of crack climbing gloves are: tape crack gloves made from climbing tape and ready-made climbing gloves (which you can use multiple times). 
Tape Gloves
Normally climbing tape is used to tape up your fingers. 
But, you can also make some makeshift crack climbing gloves to protect the top of your hands and knuckles. 
These can be taken off and used again a couple of times when crack climbing, depending on the intensity of the jams. But sooner or later, those will come apart, and you will have to make new ones. 
There are lots of different ways to make crack gloves from tape, and you can customize them the way you like.
Pre-Made Gloves
A few years ago, the first crack climbing gloves appeared in the climbing market, offering an alternative to the homemade tape climbing gloves.
These crack climbing gloves usually cover the back of your hand, have finger loops and a wrist strap, leaving the palm of your hand free. 
There are different models of crack climbing gloves from a variety of brands that use distinct materials, giving you a range of options to choose from to find the best crack climbing gloves for you.
Are Crack Climbing Gloves Worth It?
Crack climbing gloves are more suitable for beginners who are just starting out climbing trad and are learning how to do hand jams. 
The crack gloves can take away the pain so you can focus on your technique and can be a good piece of gear to keep your stoke high! 
And for someone who is a more seasoned climber, crack gloves can just make the whole climbing experience more fun.  
Especially if you plan on going crack climbing for a few days in a row or work on an intense project. Using gloves will mean more time on the rock, so they are definitely worth it!
 Pre-Made vs Tape Gloves: Time and Money
Buying crack gloves will set you back about $40. 
However, if you are used to making your own gloves, it will save you the time you spend creating them,  the money you use on buying tape, and most importantly, it will reduce the waste you are leaving behind! 
So, while it might sound like a lot of money at first, considering that the gloves will last you a long time, they come in at the price of about 10 to 12 rolls of climbing tape. 
They are quick to take off and put on and in comparison to tape gloves, won't rip out any hairs and don't leave behind any sticky residue!
Pre-Made vs Tape Gloves: How Often Do You Climb?
Getting reusable gloves means you spend less time taping up your hands at the crag and peeling off sticky tape from your hands when you are done. But depending on how often you go climbing, you might not mind the occasional tape-up.
However, other factors in favor of buying ready-made gloves are that you won't leave behind a pile of used tape each time your gloves are worn through and you can just keep using your gloves. 
They are built to last, so if you don't do a lot of crack climbing, look at them as a long-term investment, and who knows, maybe the extra protection will even make you fall in love with crack climbing!
How to Choose the Right Crack Climbing Gloves
Which gloves work best for you depends on your level of experience and on what type of rock you crack climb.
If you are new to crack climbing, the Ocun gloves might be the best choice for you as they offer the best protection and thickest rubber. While they do increase the volume of your hands, they are ideal for climbing on rough and sharp rock like coarse granite, for example.
If you are a more seasoned climber and/or climb on smoother rock like sandstone, one of the other two models might be perfect for you. 
Both Black Diamond and Outdoor Research have developed thinner gloves, giving you more sensitivity while still offering some extra protection and friction for your hands.
The Black Diamond gloves are the only ones of the three that almost completely cover your thumb, so if you have small hands or climb a lot of wider cracks, these might be perfect for you.
When it comes to building a trad rack less is more. As in, you will want everything to be as lightweight as possible. 
So why would you add another piece of equipment like gloves? 
Well, they bring many advantages and especially the newer models by Outdoor Research and Black Diamond are thin and lightweight and won't add much weight to your rack.
How to Make Tape Gloves for Crack Climbing
There are many different ways to tape up your hands for climbing, and here we will explain two of them in more detail.
It is important  that the glove works for you and the route you are climbing. 
If you know that there will also be some face climbing involved, use Method 2 that leaves your palm free of tape, and if you think there will be fist jams, maybe customize the wrap in a way to also cover your thumb.
For this, you can just use regular climbing tape and that's it.
When taping, make sure the glove does not sit too tight to make you feel pumped within a few moves. To achieve that, keep your fingers spread wide apart when taping, and tape without causing any wrinkles or bubbles that will just get in the way later.
Method 1
This will cover part of your palm too, but you can make the top as thick as you like if you need some extra protection.
Step 1: Wrap a piece of tape around your knuckles, starting on the outside of your pinky and passing through between your index finger and thumb finishing back at your pinky.
Step 2: Wrap the second piece of tape from the base of your middle finger, around the base of your thumb and across your palm, back to the base of your middle finger.
Step 3: Divide the tape in three, and tape the pieces from your wrist passing through the gaps between your fingers, and coming back down to the inside of your wrist. This will prevent the tape covering your knuckles from rolling up while climbing.
Step 4: Wrap a long piece of tape around your whole hand starting on the outside of your pinky again, covering the back of your hand, and base of your thumb, down to your wrist bone. Make sure to wrap smoothly, and without any bubbles. Also, the glove should not sit too tight.
Method 2
This glove leaves your palm free and if you cut the tape on your wrist, you can easily reuse it another day!
Step 1: Use three pieces of tape to cover the top of your hand from the outside of your pinky to your thumb, starting at your knuckles and ending at your wrist bone. Overlap them and make sure there are no creases.
Step 2: From the bottom of your wrist, tape across the side of your hand and around the pinky, coming back down to the top of your wrist.
Step 3: With another piece, tape from the base of your wrist around your index finger, coming down between your index and middle finger, and ending on the top of your wrist.
Step 4: Before you finish up, make a fist to make sure the tape is not too tight. Then wrap a final piece of tape around your wrist to secure everything.
Crack Climbing Gloves vs Rappelling Gloves
Rappelling gloves are different from crack climbing gloves because they are not meant to be used while climbing, but while you are manoeuvring the rope. 
They protect your hands from the cold or from rope burn while jumaring, rappelling or belaying and can be a very useful addition for your rack.
There are two types of belay gloves, full-finger or half-finger ones.
Half-finger gloves are smaller and easier to take along, but they offer less protection on the top of your finger. 
However, they also offer more tactility and sensitivity in your fingertips. There are a lot of different models out there, some of the most popular being by Black Diamond, Metolius and Outdoor Research.
Full-finger gloves offer more protection from the cold when you are out and during alpine climbing, but because your fingertips are covered, they don't offer  as much tactility and sensitivity. 
Again, big names like Black Diamond, Petzl and Metolius offer high-quality full-finger rappelling gloves.
Future reading
Want to know more about what gear to use? You came to the right place.
Check our are article on the best climbing gloves for more info!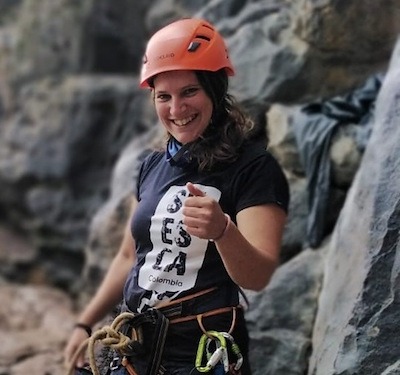 Hi there, I am Mirjam and have recently discovered rock climbing for me while backpacking in Colombia. Originally from Switzerland I currently live in Venezuela and work as a freelance writer and translator. I have always loved being in nature and the mountains and am stoked to explore more of the world's best climbing in the years to come!
You can find me at @mirigoesround or www.bosstranslations.com