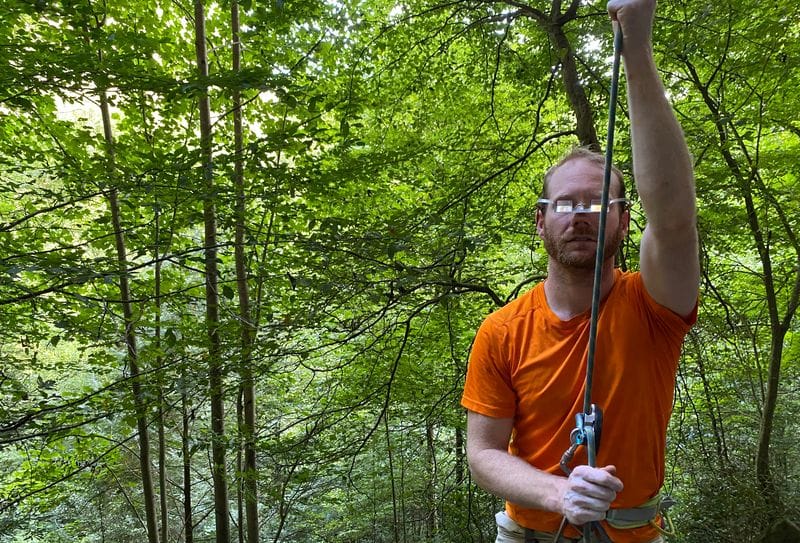 | | Name | Score | Bottom Line | Price |
| --- | --- | --- | --- | --- |
| Top | Y&Y Plasfun Belay Glasses | 10/10 | A perfect pair | Best Price |
| | Y&Y Classic Belay Glasses | 9/10 | Best metal frame option | Best Price |
| | BG Climbing Belay Glasses | 8.5/10 | Best cheap pair | Best Price |
| | Le Pirate Model III Belay Glasses | 7.5/10 | Very cheap and reliable | Best Price |
| | Crush Climbing Crush Vision Belay Glasses | 8/10 | Great metal alternative to Belaggles | Best Price |
| | Belaggles | 7/10 | Great price for performance | Best Price |
| | Belay Specs | 7/10 | No-thrills option | Best Price |
| | Metolius UpShot Belay Glasses | 7/10 | Can use with other glasses | Best Price |
| | Rockulus Belay Glasses | 6.5/10 | Solid low-cost option | Best Price |
| | Belay Optics Fully Adjustable Clip-On Glasses | 6/10 | Clip on glasses | Best Price |
| | Epic Peak Lightweight Pro Belaying Glasses | 5/10 | A gamble | Best Price |
Today, you're going to learn all things belay glasses.
Sport and trad climbers know all-too-well the strain a long day at the crag can have on their necks. The resulting soreness from looking high up at one's partner while they chuff on their project for a couple of hours is never pleasant.
It is, quite literally, a pain in the neck. Belayers also risk developing more serious spinal issues over time, like lumbar facet joint disorders. Yikes!
Thankfully, there is a brilliant and simple solution to relieve some of the bummer from belaying, small enough to fit in the smallest pouch of a crag pack…
On at least one visit to any climbing area, you may notice a belayer facing the rock, wearing some rather futuristic-looking spectacles. Their suave belay style and refusal to crane their neck up to make sure the climber is safe may come off as a bit unsettling upon the first encounter.
That is until you discover the belayer is wearing belay glasses.
Belay Glasses are special rock climbing glasses that climbers use while belaying. It eliminates the need to crane their neck upwards to watch their partner as they climb a route.
Belay Glasses Buying Guide
There are many different belay glasses on the market that cater to different needs. When finally committing to buying your first pair, make sure to review all the specifications (and even try them out!) to make sure they're the right fit for you.
The following is a list of some of the best pairs on the market:
The Plasfuns are just as lightweight and use the same prisms as the Y&Y Classics, but provide a comfortable plastic alternative.
These glasses are great for people who prefer the sturdier feel of a normal pair of glasses/sunglasses, as the frame has an adherent coating and is a bit less flexible than the metal version.
However, the frame is still thin so as to not impede peripheral vision. Although the Plasfuns do not have an adjustable nose pad, its nose pad does have a large contact surface area to add for greater stability.
These glasses also come with Y&Y's zippered anti-shock case with carabiner, lanyard, and microfiber cloth.
Key Features:
Thin and lightweight plastic frame
Cheaper than Y&Y Classics
Adherent coating
High-quality prisms
Large nose pad
Stackable
Y&Y Belay Glasses Classic – The Original Y&Y Classic Belay Glasses
LIGHT & STURDY | Stainless metal frame and glasses bows made of shape memory alloy. This combination makes the frame enormously flexible and durable.

COMFORT | Nose bridge and frame are adaptable to the individual face and head shape. Comfortable view with too fields of vision

HIGH QUALITY PRISMS | Zero defect prisms, each model is checked during a quality control

DESIGN | Designed in France by climbers for climbers

ACCESSORIES | These belay glasses come with a practical case with a double enclosure and carabiner, spare screws, a microfiber cloth and a cord
The frame material is made up of a light and flexible metal, but has hinges like normal glasses and are also sturdy where necessary. In particular, the glasses have an adjustable silicon pad that forms to the bridge of your nose and a great enough surface area so as to not rest too heavily on one spot.
Their high transparency BK7 prisms make for a clear and high-quality vision. They can also be stacked on top of prescription or sun-protective glasses.
When you purchase the Y&Y Classics, you also get a zippered anti-shock case with a sewed-in carabiner, as well as a lanyard and microfiber cloth, and replacement nose pads.
 Key Features:
Lightweight and super flexible metal frame
Adjustable nose pad
High-quality prisms
Stackable
Belaggles Belay Glasses
Large Viewing Area

Rugged hard case with clip

Elastic eyewear retainer cord

Microfiber cleaning cloth

30 days satisfaction guarantee
These glasses are often chosen for their extra wide-view and high-quality lenses, giving you a larger field of vision. Their frame comes in seven different colors and is quite durable – made of stiff nylon – though resultantly much heavier than other belay glasses.
They are also unique-looking due to some clever features that prolong their lifespan.
More specifically, the lenses are curved on the ends to reduce vulnerability to chipping. The frame also protrudes forward beyond the lenses and nose bridge to prevent damage to the prisms if the glasses are dropped.
Belaggles glasses also have eyelet holes at the end of the temples so that you can attach your own unique lanyard.
When you purchase Belaggles Belay Glasses, you also receive a zippered case, cleaning cloth, and lanyard.
Key Features:
Extremely durable
Wide-view lenses
Heavy
Unique features to protect its lifespan
Eyelet holes for personal lanyard attachment
One of the more expensive belay glasses
Belay Glasses for Rock Climbing
COMFORTABLE | Comfortable belay glasses for rock climbing with perfect vision on the climber and surroundings while belaying

STURDY | Only high-quality materials (zero defect BK7 prisms) are used and a strict quality control is applied.

PRACTICAL | Easy to use, hardcase with carabiner, neck strap, microfiber glasses cloth and spare screws included

TECHNICAL | The prisms are designed to have a perfect alignment. The BG belay glasses also have the perfect angle (60°) to belay your partner.

COMPATIBLE WITH GLASSES | Compatible with eyeglasses and sunglasses
BG uses the same high-quality BK7 prisms that Y&Y does, and charges a fraction of the cost.
According to BG's specs, these glasses still had their prisms in place after fifty falls from nearly six feet off the ground. The frame material is a lightweight polycarbonate (plastic), although it only comes in the color black.
When you purchase BG Belay Glasses, you also receive a lanyard (neck strap), zipper case, and microfiber cloth.
Key Features:
Lightweight plastic
High-quality prisms
Durable against falls
Single color
One of the cheapest
Belay Optics The Only Fully Adjustable Clip On Belay Glasses
COMPLETELY ADJUSTABLE - Avoid eye strain, nausea and headaches by fine tuning the prism placement for optimal vision clarity

AVOID BELAYERS NECK - helps ease neck pain from long belaying sessions

AVOID CHIPS & SCRATCHES - prisms are located in a protective durable plastic raised edge holder

BETTER FOCUS - easily focus on the climber above you while keeping track of your surroundings and slack in the rope
Belay Optics Clip-On Glasses clip directly to the bridge of your personal pair and also allows you to adjust the distance between lenses so that they can align perfectly to your eyes.
The prisms in the glasses are protected by tall plastic edges, so you don't have to worry as much about scratching them. It also comes with a protective carrying case and carabiner.
Key Features:
Clip directly to personal glasses
Adjustable
Protective features ensure better lifespan of prisms
These are one of those items you find on Amazon for a great, cheap price, but instantly feel worried about buying.
There is very little information provided by the seller about what materials they are made of, however, they do have high-quality prisms. They also come with a zipper case and lanyard, which is a plus.
Perhaps you may still be willing to take a gamble on these glasses after reading all the mixed customer reviews, and hopefully, find them worth it.
 Key Features:
Affordable
High-quality prisms
Metolius Belay Glasses
Low profile frames for enhanced peripheral vision

Optimized prism size

Lightweight for all-day comfort
The UpShots have a unique sporty look and a lightweight, stiff plastic frame.
They are advised for stacked use with personal glasses, as they have low-profile nose pads and the prisms provide a view at a higher-than-normal angle up on the wall. They also have a wide field of vision because of their wider lenses. If you don't like clip-on glasses but still need to stack on top of your own, then these are for you.
Hard zippered case, neck strap, and lens cloth are included with purchase.
Key Features:
Sporty styled plastic frame
Low-profile nose pads
Mostly used for stacking
These have a similar design to the Belaggles but are made of lightweight metal instead of heavy plastic. The prisms are 100% glass and scratch-resistant and protected by metal edging.
Crush Climbing also offers a lifetime satisfaction guarantee, which inspires confidence in the quality of the product.
Hard zippered carrying case with carabiner, lanyard, and lens cloth are included with purchase.
 Key Features:
Lightweight metal frame
High-quality, scratch-resistant prisms
Lifetime satisfaction guarantee
Rockulus PRO Belay Glasses +Hard Case +Neck Strap
Eliminate Belaying Related Neck Injuries

Always Keep an Eye on the Climber without Hurting your Neck

Protective Hard Case Conveniently Clips onto Harness when not in Use

Can be used over the Top of Sun Glasses and Regular Glasses

Built for the Crag- Sturdy and High Quality
Nearly identical in style and quality with the BG Climbing Belay Glasses, Rockulus glasses have a stiff, hinged plastic frame that only comes in the color black.
Another cheap, stackable option that can either be great or fall apart easily.
Hard zippered case and cleaning cloth included with purchase.
Key Features:
Lightweight, hinged plastic frame
Single color
Stackable
Cheap
A durable and brightly colored option for plastic, hinged belay glasses. Their high-quality prisms are encased in protective plastic siding, minimizing the risk of chips and scratches.
They also have a high-vertical viewing angle, great for belaying climbers on steeply overhanging rock climbs.
Hard zippered case, lanyard, and cleaning cloth included with purchase.
Key Features:
Durable plastic
Protective plastic siding around prisms
High-vertical viewing angle
Check Price and Reviews On Amazon
With their minimalistic metal design, Belay Specs are the lightest belay glasses out there. Unlike Y&Y's offerings, Belay Specs have no hinges; instead, the temples of the glasses reach directly out from the prisms like ultra-bendy arms. They also lack a significant nose pad.
Belay Specs come with a color-customizable "keeper cord" (small lanyard) and a hard plastic case that snaps open and shut. The case also has a protruding loop for personal carabiner attachments.
Check Price and Reviews On Amazon
Simple, cheap, stackable belay glasses with thick plastic frame material. It's a bit on the heavier side, and there seem to be occasional reports of issues with the hinges breaking.
If you can take good care of these and are only looking to give an occasional gym belay, they might last long enough to be worth the low cost.
JNW Belay Glasses also include a neck strap, zippered carrying case, and microfiber cloth.
 Key Features:
Very low-cost
Heavy
Stackable
Plastic frame
High-quality prisms
Single-color
Key Features:
Extremely lightweight metal frame
Flexible
Custom-color lanyard and hard plastic case
Affordable
Check Price and Reviews On Amazon
The Fantasias are extremely lightweight because of their flexible titanium frame. They greatly resemble Belay Specs, except for their hinges and more comfortable-looking silicon nose bed.
They also come with a hard zippered case, lanyard, and extra nose pad.
Key Features:
Ultra-lightweight
Hinged titanium frame
Silicone nose bed
What to Look For When Buying Belay Glasses
Durability
If you're only planning on using your belay glasses in the gym, then durability is not of the greatest concern. Unless, of course, you tend to leave your things where they might get stepped on.
On the other hand, outdoor gear takes quite the beating.
It is exposed to the elements, to your smelly trunk, a dusting by unsecured chalk bags, and sometimes even a bumpy ride down the side of a hill or cliff. If you plan on taking your belay glasses to the crag, it might be a good idea to get a more durable pair.
When looking to purchase belay glasses, be sure to keep in mind a couple of things:
What the Frame Is Made Of
Belay glasses frames come in two types: plastic and metal. Metal is far more durable than plastic and generally weighs less. However, metal frames can feel less securely fitting and uncomfortable to some.
If the Glasses Have Hinges
Hinges, although they make for a more normal and squared fit, provide a vulnerable breaking point
How Secure the Protective Case Is
You can always find your own protective case. But if you plan on relying upon the case that comes with your belay glasses, make sure it is well constructed, padded, and will not open on its own.
Portability
Climbers already have so much gear to carry on the way to the gym or crag. Finding a pair of glasses that collapse to a small size and have a simple, packable case will reduce clutter and weight.
Cases that have carabiners secured to them are a plus, as they can be clipped to a harness or the outside of a pack.
Also, be sure the glasses have a lanyard that is already attached or can be easily connected. Lanyards allow you to wear the glasses around your neck, and so avoiding having to frequently return them to their case.
Fit and Comfort
Fit and comfort are extremely important factors in buying belay glasses, especially if you belay frequently or for long periods of time.
If you must wear your own prescription glasses, be sure to find a pair of belay glasses that are stackable.
This means that they can be worn in addition to your own glasses. Most pairs are stackable, although some fit better than others or have prism angles that are specifically tailored for being stacked, and thus resting lower on your nose (like the Metolius Upshots*).
Or, look into clip-on belay glasses.
Can be directly attached to your own glasses
Great for climbers who like wearing sunglasses
Belay Optics' Clip-On Glasses are a great choice for this feature
It is a good idea to try on a stiff frame and flexible frame glasses to decide which of the two feels best, while also most secure. Metallic frames are often most flexible, but can feel slippery; whereas plastic frames can have adherent coatings on them.
Price
When buying gear, the most important factor of all is to know thyself.
Do you tend to have bad luck, and lose/break things a lot? Or are you rather meticulous about staying organized and keeping your things safe?
It's okay to be either way. But knowing which category you fall into can help your wallet and reduce stress.
A pair of belay glasses are rather small, and much like a belay device, it can be easily lost track of at the base of a climb. They can also be dropped and cracked, or crushed under the weight of you using your crag pack as a convenient seat.
Finding a self-suitable balance of affordability (with the risk of having to purchase another pair in mind) and quality is essential when investing in climbing gear.
Price Point
Price of belay glasses can range anywhere from $20 to $100 USD
The most popular brands tend to hover in the $50 to $70 USD range
If you're worried you'll lose the glasses, err on the cheaper side
Usability
Belay glasses are supposed to make belaying easier and more comfortable. These factors are what make them worth buying and using.
Therefore, you should be able to:
See through them well
Belay properly
Wear them for a while without feeling like you've swapped neck pain for a headache
Make sure to buy glasses that have high-quality prisms. This means that the image reflected into your eyes of your climbing partner will be clear, like watching a movie shot with a really nice camera.
Low-quality prisms can cause blurry vision, and even dizziness and headaches if you are prone to motion sickness.
It is also important that you are able to shift between looking at your climbing partner and looking in your peripheral (at your belay device, rope slack, and any potential risks on the ground).
And although thick frames are more comfortable, be wary: they have a greater potential to block peripheral vision.
Features of Belay Glasses
Let's look at the individual pieces of a pair of belay glasses, and it'll help when choosing one according to your preferences to find the best belay glasses for you.
Frame
Now, the frames can be thin or thick, which will affect their stability and weight, and it can have either set arms or hinges, which might be a weak point in its structure if the specs aren't handled with care.
Material
The frame material can come in either metal or plastic.
Metal – flexible, adjustable, more durable with frames less likely to break. More expensive, and tends to deform with use, although correctable.
Plastic – cheaper, stiffer, sturdier but less adjustable, and can be more grippy.
Prism
The size of the prism is an important factor to note and will greatly affect the function.
Bigger Prism
Heavier weight
Broader field of vision
Suits a larger variety of face shapes, because the distance between the eyes will vary
Reduces the feeling of dizziness
Smaller Prisms
Lighter
Increases your peripheral vision, which may be helpful when needing to watch your surroundings and the rope you control.
Now, the quality of the prism can have a huge impact on its utility. One with bad quality wears badly and even distorts the image, which may result in headaches.
Be sure to get a pair of specs with quality prisms for superior image quality.
Stackability
There will be belayers that need to use their prescription glasses, and the design of belay glasses may not allow that. However, there are specs that cater to people who wear them and are stackable.
So if you're in need of a pair that can, or just want to wear sunglasses too while belaying, then look out for those stackable glasses that will comfortably accommodate both.
Nose Pad
This feature is what determines whether the glasses are stackable or not. Specs with low-profile nose pads allow you to wear other glasses with your belaying ones.
Bigger nose pads also bring more stability when worn, while adjustable nose pads will conform to your nose and are great for a large variety of belayers.
How to Use Belay Glasses…Correctly!
Most glasses have a lanyard so you can drape them around your neck. If not, prop them up on your head as you set up to belay someone.
Do not immediately put the glasses on when your partner starts climbing.
This is for two reasons:
When you look through belay glasses, you will see what is above you. When your climber first starts, however, they will be in front of you – in your regular line of sight. You will likely not see your climber through the glasses until they have reached their first or second bolt (or piece of traditional gear).
It is important to spot your climber until they are clipped into their first piece of protection. You can not adequately spot your climber if you are looking through the glasses at the blank rock above them!
Once your climber has successfully clipped into their first piece of protection, use your hand that is not on the brake rope to adjust the belay glasses onto your face. Then, appreciate the wonders of belaying without having to crane your neck!
Do not be afraid to look into your peripheral vision outside the boundaries of the lenses to check how much slack you're giving out, and if there are any potential hazards on the ground nearby.
Why Belay Glasses Make You a Better Belayer
We all want to be the best climbing partner – to hold our buddies up on their long and tenuous project burns, and to be attentive so we avoid short-roping or giving an improper catch.
But looking upwards for more than five minutes can wear anyone's comfort and patience thin.
Especially on a steeply overhanging routte.
We all know how it goes…
Your jaw and neck start to ache, and potentially even your lower back. So, you start periodically having to look down and away from your climber, that way you can take a break and lower your chin to your chest.
In these moments, you are at a greater risk of missing an important visual cue from your climber to adjust slack or tighten your grip on the brake rope. This can result in:
Short-roping your climber when they need the critical slack to make a crux-y clip, or
Not giving your climber a soft and secure enough catch.
When you are unaware that your climber is about to fall, you also may not prepare your body position.
If their fall force is great enough, you can sometimes be sucked up towards the wall at such a speed that can cause serious injury, or even worse – release of the brake hand to instinctively brace yourself, which can result in decking the climber.
Wearing belay glasses eliminates the risk of such belay blunders by preventing their causes.
Safer and More Comfortable
Belay glasses allow you to watch your climber without craning your neck, and so without any of the ensuing aches and pains.
No aches and pains mean no reason to look down or be distracted from your job of keeping the climber safe. Your full attention to belaying also helps improve the climber's odds of sending the route, as they do not have to face an additional crux of being short-roped or feel nervous about their safety if they fall while making a committing move.
Having the right rope is important for making belaying easier and safer, too. If your rope is too thick and does not feed through your belay device well, you may end up needing to look under the rim of your glasses more than you should. To avoid this, check out our guide on all things climbing ropes.
How Belay Glasses Work
Belay glasses are worn like normal glasses, with the wires (or temples) resting on the ears and the bridge settled on the nose.
What separates them from regular glasses, however, is the shape and function of their lenses.
The "lenses" of belay glasses function as prisms, bending the light from up above the belayer so that it is reflected, or redirected, into their eyes. In this way, it feels similar to looking through a periscope in a submarine; you are able to see in a totally different direction despite facing your eyes and neck forward.
Watching your climber through these glasses is as enjoyable as watching a movie, yet without delaying your response time when the climber falls.
Why Use Belay Glasses?
When you learn how to belay, one of the first things you hear is that you have to stay attentive. But that can easily waver when there's a pressing ache drawing that attention away.
Neck strain will occur after long periods of staring up and belaying. And when that pain becomes too much, you'll tilt your head back down to relieve that tension and ache.
That's when the risks mount up and avoidable accidents occur.
Using belay specs allows the belayer:
To avoid the aches and pains that come with staring up at the wall for long periods of time.
To have a more comfortable experience, and it lets them stay attentive and focused on the safety of their climber at all times.
…And they'll look pretty suave while doing it too.
More on How To Belay
If you're new to climbing and still learning how to belay, I would check out our full article on the topic. It is a critical skill, and must be mastered if you plan on climbing regularly!
Q&A
What Are Belay Glasses?
Belay glasses are similar to regular glasses, but instead of the regular flat lenses, a prism is in its place, and this different lens shape gives a unique function that greatly aids belayers by keeping a view of the climbing partner on the wall without needing to crane their necks up.
Are belay glasses worth it?
Belay glasses are worth it because not only does it prevent any of the pains and aches that come with straining your neck muscles and back for a long time, but it ensures that your attentiveness to your rock climbing partner will never waver because of it.
How much do belay glasses weigh?
Belay glasses weigh around 35 grams to 80 grams.
What do belay glasses do?
What belay glasses do is essentially bend the light from above so it's redirected into your eyes, letting you see your climber while facing forward.
What are belay glasses for?
Belay glasses are for helping you avoid neck strain when belaying, giving you a more comfortable and enjoyable time belaying.
How to choose belay glasses
To choose belay glasses it all depends on your preferences, but the things to keep in mind are comfort, the field of vision you want, and other glasses you might be wearing with it too.
How to make belay glasses
To make a pair of belay glasses you can buy prisms and attach them to the frame to some sunglasses or readers and have your own pair. However, we wouldn't recommend using these long-term because the frame on these glasses will block almost all of your peripheral vision, making it harder to belay, and it can more easily induce dizziness.
What are Y and Y belay glasses?
Y and Y (or Y&Y) belay glasses are high-quality glasses by Y&Y, which are known for their great performance and quality design.
Did you find this guide useful? If so, share it with your friends, or drop a comment below and let us know!
What are belay goggles?
Belay goggle are the same thing as belay glasses, they're essentially a tool used to help rock climbers belay their partners.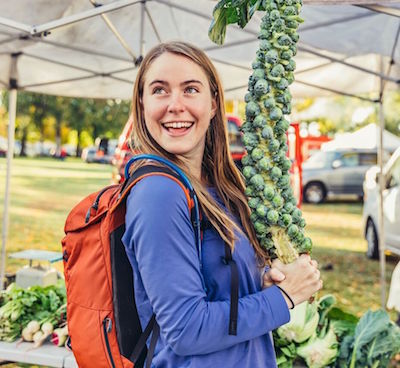 Melissa is a full time van-living outdoor enthusiast hailed from Florida. After deciding to spend her freshman summer of college living out of a tent to work and climb in the Red River Gorge, Kentucky, her life changed forever. She found her way to El Potrero Chico, Mexico in the winters, where she fell in love with travel and community. Post-graduation, she drove from Florida to Alaska to experience its world-class backpacking, then worked her way back south to explore climbing spots throughout the western U.S.
Meeting countless amazing people, hearing their stories, and learning the histories and struggles of local areas through minimalist travel, climbing, and hiking has inspired her to share these experiences with others. Her passions include improving intersectional access to the outdoors and responsible environmental stewardship.