| | Name | Score (out of ten) | Best price |
| --- | --- | --- | --- |
| Top | Scarpa Instinct SR | 10/10 | View Prices |
| | La Sportiva Miura Women's | 9/10 | View Prices |
| | Five Ten Anasazi Moccasym | 8/10 | View Prices |
| | Tenaya Tarifa | 7/10 | View Prices |
| | La Sportiva TC Pro | 6/10 | View Prices |
An all-around climbing shoe does what it says on the tin. It's suitable for many different types of climbs. An all-rounder! 
This is not the shoe you will be wearing to work on your project or to boulder in Fontainebleau, but it is the one you will take with you when you go travelling or want to invest in one pair that will serve you well in many different scenarios.
Let's face it, we're not all Adam Ondra and some of us are just in it for the fun.
So, we don't need a super aggressive shoe in our repertoire and investing in several different pairs is just not an option for all the climbers out there, nor is it necessary.
Here is our guide to the best options that will be good enough for most types and grades!
Hey! By the way… this page contains affiliate links. So if you make a purchase after clicking one at no cost to you we may earn a small commission. Thanks for your support!
Best All-Around Climbing Shoe Reviews
We have collected the 5 best all-around models in this handy table, so you can check out which one suits you best.
We divided it by different needs, according to your level of experience and favourite style of climbing. While all these models are suitable for a variety of styles, they all have one area where we recommend them the most.
Check Price and Reviews
The Scarpa Instinct is a very pretty-looking climbing shoe and it is our top shoe choice because it has more rubber surface on the toe box and around the heel, making it ideal for toe hooking and heel hooks.
While the heel is covered in Vibram XS Grip rubber for extra traction, the toe is wrapped in Vibram XS Edge rubber, which is sturdier and firmer, giving it a better edge for face climbing and small holds.
The shoe has a moderate downturn and asymmetrical shape, making it ideal for intermediate to advanced climbers. Thanks to their elastic design, they are easy to slip on and off. 
While these slightly aggressive shoes were designed for the indoor bouldering sport, they also perform well on trad routes and sport climbing, lending themselves well to overhangs, thanks to the toe panels.
Beginner shoes should be comfortable and should encourage you to climb as much as possible.
When starting out, a model with some extra support and a thicker sole is a good choice, as your foot muscles are still on the weaker side and your footwork won't be stellar (yet).
Check Price and Reviews
This comfy slipper-style from Five Ten is our top choice for beginners who are looking for an all-rounder option that will accompany them well into the intermediate grades.
The Five Ten Anasazi Moccasym is very comfortable and is good for crack climbing thanks to its flat profile, and for smearing with its softer sole.
When it comes to technical edging or overhanging routes, the Five Ten Anasazi Moccasym is not ideal because it has a neutral profile and no downturn to help you with toe hooking.
But this is not typically beginner's territory anyways.
For an entry-level climber, these are well suited for sport and trad climbs, as well as bouldering, making it one of the best shoes on the market.
The Five Ten Moccasym is made of unlined leather, which means extra sensitivity, but also means that it will stretch out over time.
As a slip-on model, a tight fit, especially in the heel, is very important. But keep in mind that it can go up a size once broken in because of the material.
The colour of the leather also tends to bleed onto the feet if you are climbing without socks, but that will go away after a few weeks of use.
We've covered and detailed the best shoes for women in a whole other article if you want to know more about the topic. 
But here, we've picked out the best all-rounder model among the women's specific ones on the market.
Check Price and Reviews
This is the women's version of the classic Sportiva Miura, featuring a low volume design and extra padding in the heel and tongue for an extra snug fit, even on narrow feet.
The Miura has a slight downturn and asymmetric shape, so it is not the best choice for absolute beginners.
It is slightly more aggressive than the La Sportiva Katana Lace model, which is more suitable for beginners. The La Sportiva Katana is also one of the best options out there, with a women-specific model too.
But the Miura is a great piece of gear for a more difficult route, while still being comfortable and versatile. It is less downturned than the La Sportiva Solution shoe, which is even more focused on high performance and has a more aggressive shape.
This shoe features Vibram XS Grip 2 sole, which is great for a vertical or steep climb because of its stickiness. The Velcro closure makes it easy to adjust and ideal for quick changes.
It also has a narrow toe box, ideal for pockets and a stiff-ish sole that is suitable for edging. This toe box also works well in finger cracks when trad climbing, even though these are not ideal for continuous foot jams because of their downturned and narrow shape.
If sized up, they can be a bit more comfortable.
The La Sportiva Miura VS is the Velcro model of this shoe, but because shoes with Velcro straps are not ideal for crack climbing, we have only included lace-up and slipper-style shoes in our selection of the best all-rounders.
Overall, the Miura Womens by La Sportiva is one of the best climbing shoe options out there that more than deserve to be among our selection of the best models.
Best All-Around Shoe for Sport Climbing – Tenaya Tarifa
When it comes to buying shoes for climbing, comfort is not going to be your first priority.
Of course, you should buy a pair that doesn't cause you pain, but especially when you're aiming to get into sport climbing or gym bouldering, your shoes should be about performance too
Check Price and Reviews
This shoe is ideal for climbers who are looking for shoes that will work well for different types of terrain other than just sport routes.
The Tarifa is made of a synthetic upper, so you don't need to break it in first and can buy it in the size you actually need it in.
This might not be your street shoe size, as climbing shoes vary in sizing, so it is best to try them on before buying.
The Tenaya Tarifa is one of the best climbing shoe options out there and is comfortable while being precise and structured for getting even the smallest footholds.
This makes them a good choice for sport climbs and bouldering.
With their curved shape and structured toe box and pointy toe, they are ideal for overhanging routes, vertical technical climbs, and more challenging sport routes.
These shoes have a very narrow shape overall, so if you are a climber with wide feet, this might not be the best option for you.
Best All-Around Shoe for Trad Climbing – La Sportiva TC Pro
Last but not least, this is the best all-rounder shoe for the trad climbers among you.
Developed by La Sportiva together with Tommy Caldwell, it comes as no surprise that this shoe does well across the board.
Check Price and Reviews
This is a robust, yet comfortable climbing shoe for both long multi pitches, crack climbing and precise footwork.
Designed for big walls, the TC Pro features some extra padding on the ankles and toes for more comfort in foot jams, with extra support on the sole for more stability.
But it also has an asymmetrical shape, making the La Sportiva TC Pro a powerful trad shoe with a surprising amount of sensitivity.
The rand of the sole has extra rubber, giving it a good edge for those small footholds, while its 4mm Vibram XS Edge rubber semi-stiff sole still allows for smearing.
Its flat profile fits into most cracks on a trad climb and its pointy toe works well even on the smallest holds, giving you extra precision on difficult sport routes.
Because of its neutral shape, it is not the ideal choice for overhangs, but it works well in vertical pockets.
The leather upper will stretch a bit over time, making it a very comfy shoe once it's broken in.
Why Choose An All-Around Shoe?
It's like "hitting two birds with one stone", but there are more than two birds you'll get in one go with an all-rounder! 
A versatile shoe allows you to climb a variety of styles and grades with just one pair, making it an affordable option for both new and seasoned climbers alike.
Which one to get depends on what types of climbing you will be doing, and your level of experience. But whatever your preference, there will be a shoe on the market for you.
Beginners
So, you are new to climbing and don't know yet, what type of climbing you like the most.
Investing in all-around shoes is a good idea to keep your options open and give you a suitable shoe for trad and sport climbing, as well as bouldering.
It is a good idea to get a shoe that can accompany you up to an intermediate level, so it will last you for a long time.
Beginner shoes tend to have more rubber and a more stable sole, to give you some extra support and not wear down as fast while you work on your footwork.
Travelling
When you are ready to explore climbing abroad and are packing up your bags to head to Venezuela or Laos, you would want to bring as little luggage as possible.
Having a single pair of shoes that is suitable for a wide variety of climbing will be perfect for the travelling climber.
This way, whatever type of rock you will find once you get to your destination – with an all-around shoe in hand – you can be sure you will be well prepared.
Versatility
If you are gearing up for a day out at the crag, there might be a variety of different climbing styles you are going to be doing.
Be it an easy trad multi pitch, followed by some boulders and technical sports climbs, having a shoe that works for everything is just… practical!
Those shoes are like a Swiss army knife, making sure you're ready for whatever the day will bring.
Save money
Buying climbing equipment and getting all the gear you need can be a costly process. While there is no need to buy it all at once and there are plenty of options to get stuff second hand, investing in multiple pairs of climbing shoes is just not possible for everybody.
What To Look For In All-Around Climbing Shoes
A shoe that works for every type of climbing has to be versatile and comfy, while also giving you enough power in the toes to smash some of the more difficult routes and boulder problems.
The specific features of the shoe depend on what style of climbing you will be doing most often and your level of experience.
But in general, an all-around shoe should be comfy enough for a multi pitch while also being snug enough, so you can conquer any tricky boulder problem with it.
Here are some more points to keep in mind when choosing your shoe:
Closure
When looking for an all-around climbing shoe, you should consider a lace-up or slipper model because shoes with Velcro straps can either be uncomfortable in cracks, or the Velcro strap can come undone when twisting your foot in a foot jam.
Fit
The fit of a climbing shoe you can wear for any type of climbing should be quite neutral. This is why none of the options above are a high-performance climbing shoe with an aggressive downturn, like it is sometimes the case with bouldering shoes.
Depending on just how much performance you want out of your shoe, you can always downsize on a model to get a tighter fit, but don't forget that you might wear them for hours at a time as well, so don't go too small on the sizing either!
There are different shoes that work for different foot shapes, so it is important to try on the shoe. Especially with slippers, the heel can move around, so a snug fit is even more important for those types of shoes.
Because the sizing is different from street shoe sizing, you can't just buy your usual street shoe size, and instead you need to try different brands to find your perfect fit.
Downturn
A moderate downturn is best for an all-around shoe as it allows for performance when you need it but won't be too uncomfortable on long climbs, either.
There are three subcategories of downturns, that all have their pros and cons.
Neutral
This is the most relaxed fit out of the three and especially suitable for beginners.
They keep your toes flat and also work well for multi-pitches and crack climbing because it's both comfy and allows your foot to fit into narrow cracks with the flat toe. They often also have a stiff midsole, giving your feet some extra support.
Moderate
These types of shoes work better for technical climbing than neutral shoes because they feature a slight downturn for more power.
They often also have thinner and stickier rubber, giving them more sensitivity for edging and stickiness for smearing. The stickier the sole is however, the softer and less durable it is, so such shoes are not suitable for beginners who might burn through the soft sole very fast.
A moderate climbing shoe should have this type of shape, as this makes it suitable for both sport climbs, trad routes and more technical climbs.
Aggressive
The racehorse type of rock-climbing shoe. This design is aimed towards high-performance climbing with a strong downturn and asymmetric, aggressive shape.
These aggressive shoes are not comfy but will help you smash your project.
They are not ideal for an all-around option, because they won't do well on long routes or crack climbs, nor are they suitable for beginners because they often feature a thinner and stickier, but less durable rubber.
Material
Upper
Climbing shoes are either made of leather or synthetic material. The "upper" is the main part that covers your foot.
If you prefer shoes made from leather or synthetic material, it comes down to personal preference, as there is no real difference in performance or durability.
Where they differ however, is the stretch.
Synthetics don't really stretch, and when buying them, don't buy them super small and count on them to get comfier over time, because they won't. Leather options, however, will stretch out over time. They can go up a whole size, so it is often recommended to buy them a bit on the smaller size at first.
Lined leather shoes are a bit of a mix between the two, with the lining preventing the leather from stretching as far as it normally would. These can stretch up to half a size.

Sole
You will want a sole that is robust, yet sensitive.
This means it should be thick enough to support your foot on longer climbs, while still allowing you to feel small holds!
The type of rubber also influences how well the shoes work for smearing and edging, two very important techniques when it comes to using precise foot placements.
A sticky sole is good for smearing while a harder edge makes it the better choice for edging.
A good compromise is a medium sticky sole and medium stiff sole that allows for edging, but also gives way to bend your toes for smearing.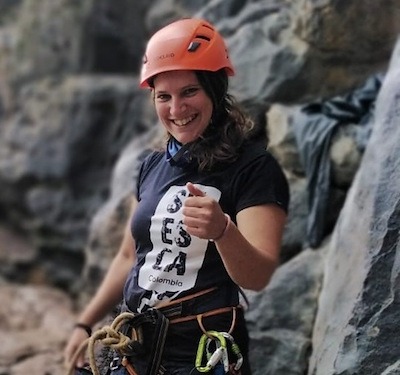 Hi there, I am Mirjam and have recently discovered rock climbing for me while backpacking in Colombia. Originally from Switzerland I currently live in Venezuela and work as a freelance writer and translator. I have always loved being in nature and the mountains and am stoked to explore more of the world's best climbing in the years to come!
You can find me at @mirigoesround or www.bosstranslations.com