| | Name | "Score" out of ten | Check Price |
| --- | --- | --- | --- |
| Top | La Sportiva Miura | 10/10 | View Prices |
| | La Sportiva Solution | 9.5/10 | View Prices |
| | Butora Acro | 9/10 | View Prices |
| | Scarpa Instinct VS | 9/10 | View Prices |
| | La Sportiva Futura | 9/10 | View Prices |
| | La Sportiva Otaki | 8/10 | View Prices |
| | Five Ten | 8/10 | View Prices |
Are you wanting to level up your climbing shoe game and are looking for the best aggressive rock climbing shoes out there? We've got you covered!
In this article, we not only tell you which climbing shoes are best, but also cover what aggressive rock climbing shoes are, why you need them, and what else you need to know to make the best climbing shoe purchase.
Hey! By the way… this page contains affiliate links. So if you make a purchase after clicking one at no cost to you we may earn a small commission. Thanks for your support!
Best Aggressive Climbing Shoes Reviews
Here is a list of the best aggressive rock climbing shoes so you can find the perfect fit for you! Keep in mind that depending on the material, the shoes can stretch over time, so it might be a good idea to downsize if you buy leather ones as those can stretch up to a full size.
Below our shoe recommendations, you will find more info on how to choose your ideal shoe. 
Top Pick: Best Moderately Aggressive Climbing Shoes
La Sportiva MIURA VS
100% Leather

Ideal terrain: Overhanging sport routes, bouldering, gym climbing and technical face climbing

Slingshot Rand and Powerhinge System gives you the ultimate edging power
The La Sportiva Miura VS does not look like a super aggressive shoe at first, but don't be fooled! It offers high performance while still being comfortable, which makes it a great moderately aggressive shoe option.
There is a lace-up and a Velcro version (VS) and a men's and women's version, so there is something for everybody out there when it comes to Miura!
It features a slight downturn and works for almost all types of climbing, from bouldering to crack climbing, vertical face climbing, or sport climbing on overhangs.
These shoes tend to stretch over time, so make sure to downsize when you buy them!
Best Pair of Aggressive Climbing Shoes for Bouldering
La Sportiva Men's Climbing Shoes
Combination of suede leather and microfibre, tubular construction.

Toe Pacific, tongue Lycra Lining

Hytrel anatomical support in the metatarsal area of the foot combined with P3 system midsole

3,5 mm Vibram XS Grip2 sole

Weight 510 g (pair, size 39), Sizes 33 to 46
This list would not be complete with the ultimate aggressive climbing shoe, the La Sportiva Solution.
This shoe has been around since 2007 and many good climbers swear by it. It has a large toe rand, aggressive shape, and 3D heel cup that make it great for overhangs, heel hooks, and also work well on vertical problems.
This bouldering shoe also performs well for sport climbing and is easily among the best climbing shoes out there!
There have been a few different versions of this bouldering shoe over time and the newest is the Solution Comp model, which is a tad softer and more sensitive than the original version. It also has even more rubber on the toe box and is great for precise foot placements and toe hooks.
Best Aggressive Rock Climbing Shoes for Wide Feet
Butora Acro
OUTSOLE - Butora NEO Fuse sticky rubber

CLOSURE - Adjustable, signature triple fork closure system for quick on off and the perfect fit

TOE - Large thin sticky rubber toe patch for excellent sensitivity and grip while toe hooking

MIDSOLE - Custom blend ABS injected mid-sole that maintains down-turn for the life of the shoe

FEATURES - High tension heel rand brings the power to where you need it; awarded best climbing gear by Rock and Ice
With a roomy toe-box and large toe-patch, the Butora Acro makes for a great aggressive climbing shoe that accommodates a wide foot with no problem.
It has a stiff midsole for some extra support and better edging, while still offering great sensitivity.
The shoe has a unique design feature that is a downcurl in the area of the mid-toe. This helps to put your toes in a bent position without having to downsize to achieve the same position. However, this is quite a special feature, so make sure to try on those shoes before you buy!
The shoe comes in a regular fit and wide fit, so make sure to select the right option at the checkout.
Best Aggressive Climbing Shoes for Morton's Toe
The La Sportiva Otaki is an aggressive climbing shoe that offers a comfortable yet powerful climbing experience for climbers with Morton's toe. It is said to accommodate this particular toe variation well and still works well as a performance shoe.
It is a versatile shoe that works well on a variety of conditions and is great for technical climbing using edging and also on overhanging or vertical terrain.
Best Neutral Aggressive Climbing Shoes
Five Ten Anasazi Moccasym
Split-grain Leather

Made in the USA and Imported

Rubber sole

Triple pull tabs

Side-exit heel seam

Slingshot heel
So you want an aggressive climbing shoe that is both neutral and comfy? This type of shoe is not easy to find, but there are some good all-around climbing shoes on the market that can satisfy both your wish for performance and comfort.
The Five Ten Anasazi MoccAsym is one of them. It offers the comfort of a slip-on shoe, while also being a performance shoe with a good grip on a lot of different rock types. The shoe is discontinued but you can still find it online.
Best Narrow Aggressive Climbing Shoes
La Sportiva FUTURA
Patented No-Edge Technology from the Speedster gives you the maximum edging advantage right out of the box

P3 technology lets you crank on overhangs

Fast Lacing System from the Solution gives you a snug, precise fit

Excellent sensitivity for extremely technical projects

AWARDS: Climbing Magazine - Editors Choice GREEN
La Sportiva Futura is part of the La Sportiva No-Edge line and is ideal for almost all types of climbing. It is downturned and aggressive, with a narrow shape and works perfectly on steep and overhanging routes, and is among the best climbing shoes on the market.
It has an asymmetrical toe box that works great on pockets and overhangs. Because of its aggressive shape, it is, however, not ideal for crack climbing and toe hooks. But it is one of the best bouldering shoes out there and works on a variety of foot shapes.
The upper is synthetic, so the shoe will not stretch out over time and it has a fast-lacing system that uses a single Velcro strap for easy and quick use.
Best Semi Aggressive Climbing Shoes for Wider Forefoot
Scarpa Instinct VS
100% Textile

Imported

Synthetic sole

Stiff and Supportive | Slightly softer than the Instinct, the Instinct VS sports a thinner sole for added sensitivity, letting you feel the rock beneath your feet.

Toe Rubber | A large patch of rubber on top gives you maximum coverage for toe hooks and bat hangs.
The Scarpa Instinct VS is a powerful shoe with a sturdy rubber toe patch featuring Vibram XS Edge rubber on the forefoot outsole, which makes it a great shoe for edging. The heel cup is covered in Vibram XS Grip rubber for some extra stickiness on a heel hook!
Scarpa tends to cater towards wider feet and this model has a narrow heel but wide toe-box, which makes them a great solution for people with a wider forefoot. It has an asymmetrical last for some extra power but a thin sole and slightly softer construction to give you a bit more flexibility and sensitivity.
What Are Aggressive Climbing Shoes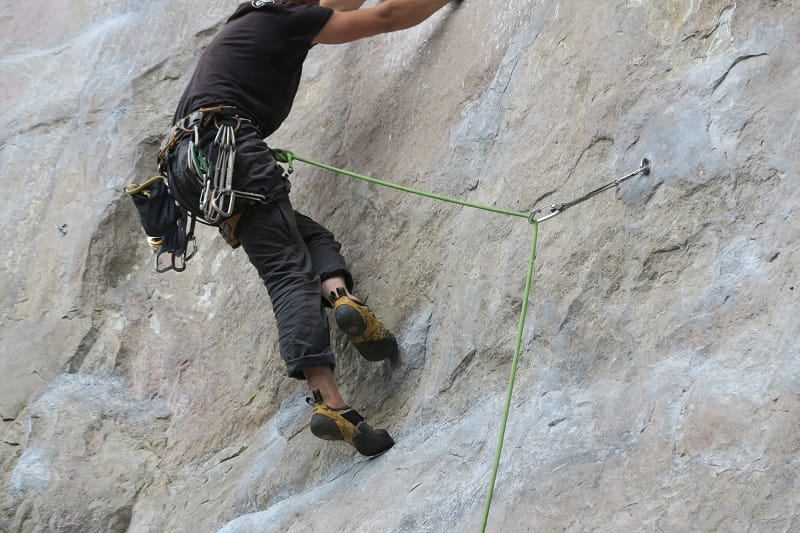 Aggressive climbing shoes are like the Ferrari of climbing shoes. They are beautiful, fast, but not the most comfortable, or let's say, versatile. But in some situations, they are a must-have! (The aggressive shoes, the Ferrari —not so much).
The Downturn
What makes a rock climbing shoe aggressive is its overall shape. 
So, this is determined by the "last" of the shoe, which is basically the mold it is made from that determines its downturn-angle, symmetry, size, and shape of the toe box and heel cup. 
Flat shoes are usually more suitable for beginners, while more aggressive and soft shoes are better for intermediate or advanced climbers.
The Symmetry
This type of shoe usually has a more asymmetric profile, which means that the focal point of the shoe is in your big toe. The shape of the shoe is designed in such a way to give you a single point of contact with the rock and more power on the inside edge of the shoe. 
Intermediate Climbing Shoes
We have a full article on the best intermediate climbing shoes, but as an overview intermediate climbing shoes generally have a little bit of downturn and asymmetric profile, but much more subtle.
Think Goldilocks, not too hot not too cold, just right.
Do You Need Aggressive Climbing Shoes?
To answer this question, we need to ask you some questions! Don't worry, they seem more philosophical than they are and will be very helpful in determining if you need to invest in a pair of aggressive climbing shoes or not.
Who Are You?
Not to get existential, but consider what type of climber you are. Aggressive shoes are for committed and experienced climbers who are willing to endure the discomfort of a tight and aggressive shoe in order to send their project.
If you are just starting out or are an occasional-just-for-fun-climber, an aggressive shoe might not be the right choice for you. A stiff shoe with more support might be the best climbing shoe for you.
What Are You Climbing?
There are lots of different climbing styles and variations out there, so ask yourself:
Do you want to focus on hard boulders and pocket that super difficult sport route?

Or do you love a good day out on a multi-pitch?

A

smooth slab

?

A crack climb that will leave you happy but with bleeding knuckles?
These are important questions because an aggressive climbing shoe is not suitable for every style of climbing.
An Aggressive Shoe Is Not the Best for Everybody
Aggressive shoes work best for single-pitch sport routes or bouldering. This shoe channels all your strength into your tiptoes, which makes them less comfy but also a powerful tool for difficult routes, small edges, overhangs, and heel hooks.
Rock Climbing Shoe Buying Advice
Now that you know what aggressive climbing shoes are, who needs them, and why, let's look into what else you need to know to buy your perfect shoe!
Types of Climbing Shoes: Trad, Sport, Bouldering, Gym
Different climbing styles require different things from a shoe. Let's have a look at some of the most common climbing styles and the shoe requirements that go with them. 
Trad
Trad shoes should be comfy and flat-ish, ideal for foot jamming and long days out. Even advanced trad climbers will probably spend a lot of time in their shoes when climbing, so this is not the moment for your most aggressive pair of shoes.
Steep Sport Climbing
Shoes for this particular style of rock climbing can vary a lot depending on your level of experience. A beginner will want a more neutral shoe to be comfy while they climb as much as possible to build up strength.
Intermediate or more experienced climbers will go for more aggressive shoes to send their projects or to just climb harder! 
Bouldering
Boulder problems are usually short but intense routes that require a lot of strength in a short amount of time. For this reason, there are a while range both beginner specific climbing shoes and advanced shoes.
Shoes for bouldering will focus more on performance than comfort as you take them off between your tries and boulder moves can often be very demanding.
An aggressive shoe with a stronger downturn and asymmetric shape can work well for bouldering. 
Climbing Gym
At a climbing gym, you will find routes that are mostly vertical and focus on face climbing. There will be no cracks and slabs, so an aggressive shoe can work well!
Downturn: Flat, Moderate, or Aggressive
In this article, we've only talked about aggressive climbing shoes, but there are other types out there, too.
Neutral/flat

Moderate

Aggressive
The downturn determines how much pressure the shoe channels into your toes, and therefore how aggressive they are and also how uncomfortable.
In general, a new climber will start with flat shoes or neutral shoes and slowly work their way up towards a more downturned shoe, going through moderate and then aggressive.
But keep in mind that not all types of shoes work for all types of climbing. 
An aggressive shoe does not work well for smearing and won't be a good choice for a slab climb, for example. Stiff and flat shoes are not ideal for pockets and overhangs, so choose wisely! 
Soft vs. Stiff
Depending on how stiff or soft the sole of your shoe is, it will determine the amount of support your shoe will give you. 
A stiff sole means more support for your feet and calves as they have a stronger midsole and don't tend to bend as much as a soft shoe. But the rigidity of stiff shoes also makes them less suitable for smearing as you won't be able to bend the shoe very easily.
Softer shoes are, well, softer, and often offer more sensitivity and better smearing than stiff shoes.
Closure: Laces, Velcro, or Slipper
Now, there are different options when it comes to the so-called closing system of the shoe. While they all do their job, there are some important differences between those three options.
Laces
You can perfectly adjust your lace-up shoe and tighten it just in the right spot. They do take longer to put on and take off, but once they're all done up, they will fit like a sock. 
They are recommended for crack climbing as they can't come undone in a foot jam.
Velcro
Quick and fast, easy and simple. Ideal for short routes and when you take your shoes off after every route. But because they only have one or two points where you can fasten them, they are not as adjustable as a lace-up shoe.
While they work for crack climbing, we usually don't recommend them as the Velcro strap can come undone in a foot jam and the buckles can add some volume to the top of the shoe.
Slipper
The comfiest of them all, and fast, too! While they are super easy to use, be wary of the stretch of the material that can make them feel loose over time. 
Because of their slip-on nature, these shoes often have a bit of wriggle room in the heel cup, which might not be ideal for an aggressive shoe.
Upper: Leather vs. Synthetic
The upper is what we see on the outside of the shoe. The shell of it, so to speak. There are different materials available which all have their up and downsides.
Leather

Lined leather

Synthetic
Depending on the material, the shoe can be more "adaptable" to your foot and have a different degree of stretch.
Leather shoes can get really comfy over time because the natural fabric adjusts to the shape of your feet. This also means that they can stretch up a full size over time, so keep that in mind when buying a shoe. 
Especially if you are getting an aggressive shoe, size is even more important, so maybe buy it a size smaller than you want it to be so it will fit you perfectly once it has stretched fully.
Synthetic shoes, however, do not stretch at all, so you can buy the shoe in the size you want it to be as they do tend to retain their shape and size.
Lined leather is a bit of a mix between the two, where the lining helps the leather to keep its shape a bit more and they only tend to stretch out about half a size.
There are other materials available like hemp-based linings and other vegan materials, so just look around to see what you like the most!
Rubber
The rubber of your climbing shoes will determine the stickiness, sensitivity, and durability of the shoe. The softer the rubber, the more sensitive and sticky, but it will also wear down faster because it gets rubbed away by the rock or holds at the climbing gym.
If you are going for a stiffer and more durable sole, the shoe will offer you more support, be better suited for edging, and also last you longer!
This is why beginners should get a more durable shoe first, as it offers more support and is more forgiving on sloppy footwork, so you won't be leaving all your toe rubber behind on an easy route because you're (literally) still finding your feet.
Fit and Sizing
Unfortunately, climbing shoes from different brands can vary a lot in sizing! A size 8 from La Sportiva might not be equal to a Black Diamond one and so on. This is why it is important to try on your shoes before you buy them. 
There are as many climbing shoes as there are foot shapes, so there is the perfect one for you out there for sure.
Unless you've used the same model before or just want to downsize, try to check it out in a physical store to make sure it fits you well.
When it comes to choosing your climbing shoe size, it will probably be different from your street-shoe size because climbing shoes tend to have a much smaller and narrower shape. Again, try it on! 
When it comes to the fit, there are a few pointers to keep in mind. We wrote a whole article about how climbing shoes should fit and here are the most important points:
The shoe should be tight, but not painful.

What features do you want and need? A Velcro strap or do you prefer laces?

Depending on your level of experience and the type of climbing you will be doing, you will either need a

neutral, moderate, or aggressive

shoe. These are the three main types of shoes and refers to their degree of downturn or the overall angle of the shoe.
Men's and Women's Versions of Aggressive Shoes
On average, women's feet are different from men's and many climbing brands have started to design shoes that are specifically made for women. 
There are a lot of classic shoe designs that are now also available in a women's version like the La Sportiva Miura VS above, for example, which is one of the best choices for women's climbing shoes out there. It has a downturned shape and makes for a versatile yet slightly aggressive shoe choice.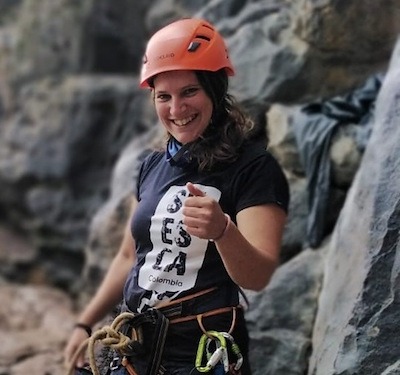 Hi there, I am Mirjam and have recently discovered rock climbing for me while backpacking in Colombia. Originally from Switzerland I currently live in Venezuela and work as a freelance writer and translator. I have always loved being in nature and the mountains and am stoked to explore more of the world's best climbing in the years to come!
You can find me at @mirigoesround or www.bosstranslations.com