| | Name | Score | Check Price |
| --- | --- | --- | --- |
| Top | La Sportiva Katana | 10/10 | Best Price |
| | Scarpa Instinct SR | 9/10 | Best Price |
| | La Sportiva TC Pro | 8/10 | Best Price |
| | La Sportiva Miura | 7.5/10 | Best Price |
| | 5.10 Anasazi VCS | 7/10 | Best Price |
| | Scarpa Vapor V | 6/10 | Best Price |
| | Evolv Shaman | 5/10 | Best Price |
*Updated as of September, 2023
Beginner shoes can get you quite far. They may even outlast your early days on easier levels of difficulty: their rubber soles are extra durable to handle numerous beatings from not-so-perfect footwork. But there comes a time when you're ready for an upgrade!
But hold on there…
Choosing the right climbing shoes can have a major impact on performance. If you buy the wrong shoes not only could it make you climb worse, but it could also cost you a lot of time and money. 
Consider purchasing a pair of intermediate climbing shoes when:
V2's and 5.9's become easily sendable

You plan on putting work in on more challenging routes
Feeling ready to find the best intermediate climbing shoes for you? Look no further. Here we will explore what makes an intermediate shoe, well, "intermediate", and which ones on the market won't let you down. 
Hey! By the way… this page contains affiliate links. So if you make a purchase after clicking one at no cost to you we may earn a small commission. Thanks for your support!
Top 7 Best Climbing Shoes for Intermediate Climbers
[10/10] Our Top Pick: La Sportiva Katana Lace
Perfect balance between performance and comfort

Legendary La Sportiva quality, high quality materials and construction

Stiff souls for superior edging

Synthetic so they won't stretch out

Universal performance, great for any type of climbing
La Sportiva is the most repeated brand on this list for good reason – they are arguably the best climbing shoe maker on the market.
The Katana is their premier moderate shoe, striking a good balance between comfort and performance. 
Having this balance is important for an intermediate-level climber, whose primary objectives are developing endurance and strength. This is best done by gaining mileage on easier climbs and projecting harder ones. 
Thus, a lot of time is spent in one's climbing shoes through the training process at the intermediate level. The Katana is a great choice because they are just aggressive enough without being unbearable when worn for long periods. 
Despite being slip-lasted, the Katana is stiff – a trait which, combined with the shoes' strong  Vibram XS Edge 4mm rubber, makes for great edging ability. As a result, this shoe is ideal for technical vertical climbing. Consider another option if you plan on bouldering and smearing a lot. 
And as of September 2023, the shoes price have been reduced. This means that for now the Katana's are the cheapest they'll ever be. Make sure to click the link below to make sure you're getting the best deal:

[9/10] The Close Second: Scarpa Instinct SR
Moderate downturn and asymmetry, the perfect mix

Vibram XS rubber is stiff and sticky for all types of rock and climbing

Flexan Dynamic Midsole: offering plenty of support and reducing foot fatigue on multi-pitch routes.

Bi-Tension Rand: connects your heel to your toe, resulting in a more comfortable fit and more power for edging

The reinforced band provided a fit that molds to the shape of your foot while maintaining shape
Scarpa runs neck and neck with La Sportiva in the race for best climbing shoemaker and top pick for best intermediate climbing shoe overall.
The Instinct SR is a hidden gem, upgraded from the cult classic, slip-on Instinct S.
Their toe box is generously covered in Vibram XS Edge rubber, while Vibram XS Grip coats the heel cup, making them high-performing shoe for both climbing and bouldering:
Vibram XS Edge is sturdy and firm for face climbing on edges and tiny holds

Vibram XS Grip is thinner and stickier for landing solid heel hooks
With a moderate downturn and moderately asymmetric last-shape, the Instinct SR checks all the boxes for an intermediate shoe. Not to mention, they are nice and easy to slip on and off!
If you are interested in a shoe like the SR but prefer velcro straps on the closure, take a look at the Scarpa Instinct VS.

[8/10] Ultimate Trad & Slab Option: La Sportiva TC Pro
Super sticky Vibram rubber is perfect for edging or smearing

Designed with high cut to protect heel during crack climbs

Extremely comfortable without sacrificing preformance: perfect for multi-pitch climbing

Designed by Tommy Caldwell
Don't let the neutral shape of the TC Pro dissuade you from recognizing them as a great choice for an intermediate shoe.
They are actually slip-lasted, and have great edges for precision footwork. Their sticky Vibram rubber works well for smearing, too. 
If you ever plan to do multi-pitch, or find yourself at the intermediate level in traditional and crack climbing, the TC Pro is a must-buy. They are almost as comfortable as a pair of Mythos, but have significantly better edging performance (in both crack and face climbs!). 
The high ankle-cut, combined with additional padding around the ankles and above the toes, help protect your feet when jamming in cracks. 
Not to mention, La Sportiva developed them in collaboration with big-wall professional, Tommy Caldwell. Need I say more?

[7.5/10] The High Performance Option: La Sportiva Miura
ADVANCED CONTROL: Grippy 4mm Vibram XS Edge rubber sole and a highly tensioned Slingshot Rand that transfers power to the toes let climbers smear, hook, and edge like pros

FAST LACING SYSTEM - Quick-pull lacing harness allows for precise regulation of inner volumes; Wrapping the foot snugly for excellent support, fit, and comfort

CLIMB IN COMFORT - From the gym to the crags, the classic leather upper is soft yet supportive; Moisture-wicking Dentex lining keeps feet dry and comfortable all day long

BUILT TO LAST - The indoor/outdoor Miura is constructed from industry-leading materials for high performance and durability
The Miura is a transitional option, great for intermediate climbers who want a high-performing pair and are unafraid of a more aggressive shoe.
Its precise Vibram XS edge and high asymmetry make the Miura a workhorse shoe that performs well in slab and vertical face climbing, but also on overhanging routes.
Sick of lace-up shoes?  Check out the Miura VS, the velcro version of the Miura.

The Five Ten Anasazi VCS is a tried-and-true classic intermediate shoe. They are one of the most versatile of all the shoes on this list, with a good balance of sensitivity and support. 
Although not ideal on super overhanging climbs, the Anasazi works well on routes that require edging, jamming in cracks, and prolonged wear on multi-pitches. 
The super sticky rubber on the shoe works best on gritty, high-friction rock versus slippery terrain. 
Note: The tan colored VCS's use Five Ten "Onyxx" rubber for improved stiffness and edging ability.  Whereas, the blue colored VCS's use  Five Ten "C4" rubber, which is softer and better for smearing. 
Supposedly, the quality and durability of 5.10's shoes have declined after being bought out by Adidas. Don't be afraid to allow yourself to be the judge. 

[6/10] A Good 2nd Choice: Scarpa Vapor V
Vibram XS Edge (3.5mm) sole: Stiff enough for edging with he softer M70 rubber in the heel for a shoe that can handle everything from short, technical boulders to long, vertical headwalls.

Versatile: Moderate downturn and slightly asymmetric profile, blending performance and comfort

Suede upper with a reduced tongue volume keeps the shoe supple and comfortable

Add custom text here
The Vapor V is a  Scarpa fan-favorite and quintessential shoe for intermediate climbers.
From slabs, to overhangs, to cracks, the Vapor V performs. Noticeable features include:
Split outsoles, providing maximum flexibility

High-quality Vibram XS Edge rubber on the sole

Large rubber patch over big toe area for improved toe-hooking ability

Velcro-style closure over ultra cozy padded mesh tongues
They are on the pricier side, and reportedly less durable in the most recent version. However, if they become your favorite shoe, these cons may not keep you away. 

[5/10] The One To Avoid: Evolv Shaman
Evolv's special design

Soft heel cup with indents to improve friction on heel hooks

Soft and super sticky rubber

Fits well on wide feet

Add custom text here
Compared to other aggressive shoes, the Shaman reaches an impressive degree of comfort
They are particularly a top pick for intermediate level boulderers, who spend far less time in their climbing shoes than roped climbers anyhow (so all day comfort is not so important).
The Shaman's reported lower sensitivity, combined with less-than-ideal edging and smearing capabilities, make them better for overhanging routes and boulder problems than thin, technical faces. If you prefer the latter type of climbing, you need a pair of shoes like the Miuras.
Thought the Shaman's are a good pair of shoes, they fall short in a few areas and for the price they just aren't worth it. We would recommend one of the other shoes mentioned on this article.

What Makes a Rock Climbing Shoe
There are many different things that make rock climbing shoes functional and unique. 
The primary traits that separate  rock climbing shoes from street shoes are their snug fit, down-turned camber, asymmetric last-shape, and special rubber coating.
Climbing shoes fall on a spectrum based on how they embody such traits: ranging from Beginner, Intermediate, to Advanced (aka. Aggressive). 
Beginner shoes are the most neutral, but still feel weird compared to regular street shoes. They tend to not have a noticeable down turn. They also shouldn't fit too tightly, as they are usually straight-lasted – allowing space for the toes to spread out inside the shoe. 
The more comfortable design of beginner shoes make them a great first option for new climbers as they adjust to special demands of the sport 
The  Recipe for Intermediate Rock Climbing Shoes
Intermediate shoes are noticeably less comfortable than beginner shoes, but aren't too hard to get used to after breaking them in and acclimating to their fit.
The enhanced features of intermediate shoes contribute greatly to improving footwork technique, and include the following:
Thin and High-Quality Rubber
Thick rubber lasts longer, but reduces sensitivity to the rock. 
Sensitivity is crucial for difficult climbs, as they often require you to place your feet on very particular spots on small holds. 
Intermediate shoes therefore tend to be made with thinner rubber. The best intermediate climbing shoe has thin rubber that is also durable.
The rubber could also be firm or soft. Get a shoe with firm rubber if you climb a lot of routes with thin edges and small chips for feet. A soft-rubbered shoe is ideal for smearing, as it can mold to the shape of the rock and not slip so easily. 
Downturned Toe
A climbing shoe's "shape" refers to its degree of down-turn (aka. "camber").
This is how much of a downturned toe the climbing shoe has: it angles the foot into a sharp arch, with the toe box curling downward. 
Generally, the more advanced or high performance a climbing shoe, the more aggressive its downturn.  The more aggressive the downturn, the less comfortable the shoe. 
However, your foot is in its most powerful position when arched in such a manner. The curved shape lends more force to the heel and the toe, which are crucial for balancing on tiny holds, and heel-hooking on big ones. 
The best intermediate climbing shoes have a noticeable, yet moderate, camber. For intermediate to advanced climbs, a moderate camber provides adequate benefits without being too uncomfortable to wear numerous times in a session. 
Slip-Lasted with an Asymmetric Last Shape 
In short, a "last" is a kind of mold which the climbing shoe design is based upon. There are two types of lasts: slip and board.
Slip lasts are less stiff than board lasts, making for a more sensitive and flexible shoe. As a result of their stiffness, though, board-lasted shoes are more supportive and comfortable. 
Intermediate climbing shoes tend to be made with slip lasts. 
Lasts also come in certain shapes. Intermediate shoes have an asymmetric last-shape, meaning the shoes are longer on the side of the big toe to direct power toward it and the inside of the foot. It is important to have power in this part of the foot for precise footwork on thin technical face climbs. 
Aggressive Climbing Shoes
We have a full article on the best aggressive climbing shoes, but in short the more camber ie downturn the shoe has the more aggressive it is considered.
Similarly, the more asymmetric a shoe is the more aggressive it is considered, though it is worth mentioning that not all aggressively downturned shoes are necessary asymmetrically shaped.
Beginner Climbing Shoes
As you might imagine, beginner climbing shoes have basically no downturn whatsoever and and are aways symmetrical.
If you're just starting off and looking for something a very neutral, check out our full article.
How to Choose Your Best Intermediate Climbing Shoes
When looking for an intermediate climbing shoe, all of the above listed traits are essential. 
However, there are other design specifics in the shoe that can vary based on your own preferences. 
Climbing Shoe Closure 
The type of closure that a climbing shoe has does not generally affect its performance. This decision is left to you, and  whether you like a lace-up, velcro (aka. "hook and loop"), or slip-on closure. 
Lace-ups can be annoying to tie each time, but allow for maximum adjustability. Velcro straps are a good in-between, although velcro wears out over time. Slippers are very quick to put on and take off, but you want to be sure they feel like they fit your feet well.  
There are many options of each type on the market. It's therefore a good idea to try each one on and see which suits you best. 
Best Climbing Shoes for Different Climbing Styles
Be aware of the sorts of climbing you do most. 
Bouldering and sport climbing have unique demands. So do multi-pitch climbs, and especially multi pitch trad! Heck, crack climbing is almost an entirely different sport.
The best intermediate shoe for you will vary based on the climbing style you do:
For crack climbing, an intermediate shoe is not normally recommended, as you tend to want a more neutral camber for jamming your feet in cracks.

For

multi pitch sport climbing and trad climbing routes, you  want a more comfortable shoe that can still perform well. Avoid aggressive downturned shoes, but keep an eye out for a near-neutral downturn with a high quality edge.

If you do a lot of steep climbing on overhanging sport climbing routes and boulder problems, find a shoe with an especially pronounced heel cup.

Rock climbing on technical faces through more vertical terrain requires climbing shoes with good edging performance.  Be sure the shoe has a decent edge on the sides and tip of the toe box so you can achieve the edging power you need.
Men's vs. Women's Climbing Shoe Designs
A lot of climbing shoes are unisex. 
In general, it doesn't matter which brand of shoe you get, regardless of gender. The only thing that matters is that it is comfortable on your feet and enhances your climbing performance. 
That being said, there are women's-specific climbing shoes out there. For many shoes, there is both a women's version and men's version.
Women's climbing shoes are usually designed to be low volume. The men's version of a shoe will be wider, whereas a women's shoe is made for more narrow feet.
Women's shoes also tend to have a shorter cut around the ankle and a less pronounced heel arch.
Such features do not always work better for women – and can also be preferred by men!
Sizing for Intermediate Climbing Shoes
When purchasing your first pair of climbing shoes, comfort is the most important factor. You can generally get away with choosing a size that is the same as your street shoe size.
Your street shoe size becomes less relevant, however, when sizing for high-performance shoes.
An aggressive shoe already has less room for your toes, but you also want to down-size so they can fit especially tight.
This is because the shoe's "upper" will stretch with wear over time.
What is Up with the Upper?
The upper consists of the fabric-like material on the top and sides of the shoe.
An upper can be made from leather or synthetic materials.
A leather upper tends to stretch more than a synthetic upper; also, unlined leather stretches more than lined leather.
If you are getting an intermediate shoe with a leather upper, be sure to downsize by a half to one full size below your normal street shoe size.
If you are getting a shoe with a synthetic upper, downsize by a half size at most.
The material used in a shoe's upper matters a great deal in how they'll fit your feet, so make sure to double-check what a shoe's material is before fitting them.
Achieve the Best Fit
The best fitting pair of climbing shoes is the one that is tight but not painful – in any spot.
This means there should be no particular "pressure points" in the shoe that you could foresee causing irritation and pain with prolonged use.
Conclusion
The moment you're ready to take climbing seriously is the moment you should take your gear seriously, too. 
Considering a pair of intermediate shoes is a testament to your commitment to push harder to achieve higher grades. Think of trading in your beginner shoes for intermediate ones as shedding the training wheels off a bike! 
You've got this. 
No matter which shoe you decide upon, you're sure to experience some gains. 
But after much comparison, we've found that the La Sportiva Katanas are the clear winners. Their seeming perfect balance of performance and comfort paired with legendary La Sportiva quality makes them a sure thing for anyone looking to take their climbing to the next level!
[10/10] Our Top Pick: La Sportiva Katana Lace
Perfect balance between performance and comfort

Legendary La Sportiva quality, high quality materials and construction

Stiff souls for superior edging

Synthetic so they wont stretch out

Universal performance, great for any time of climbing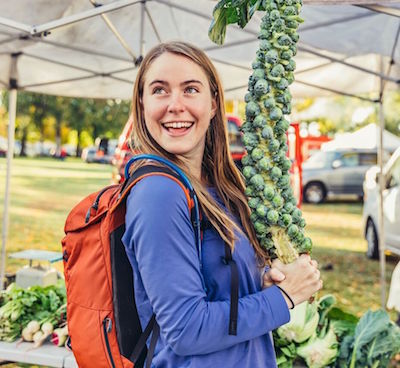 Melissa is a full time van-living outdoor enthusiast hailed from Florida. After deciding to spend her freshman summer of college living out of a tent to work and climb in the Red River Gorge, Kentucky, her life changed forever. She found her way to El Potrero Chico, Mexico in the winters, where she fell in love with travel and community. Post-graduation, she drove from Florida to Alaska to experience its world-class backpacking, then worked her way back south to explore climbing spots throughout the western U.S.
Meeting countless amazing people, hearing their stories, and learning the histories and struggles of local areas through minimalist travel, climbing, and hiking has inspired her to share these experiences with others. Her passions include improving intersectional access to the outdoors and responsible environmental stewardship.