| | Name | "Score" out of ten | Check Price |
| --- | --- | --- | --- |
| Top | La Sportiva Katana Lace | 10/10 | View Prices |
| | La Sportiva Miura VS Women | 9/10 | View Prices |
| | La Sportiva TarantuLace | 9/10 | View Prices |
| | Five Ten Anasazi Moccasym | 9/10 | View Prices |
| | La Sportiva Solution | 9/10 | View Prices |
| | La Sportiva TC Pro | 9/10 | View Prices |
| | Scarpa Helix | 8/10 | View Prices |
| | Butora Endeavor Wide Fit | 8/10 | View Prices |
| | Black Diamond Momentum Lace | 8/10 | View Prices |
In this article, we will present to you the top 10 climbing shoes of 2021 from the leading climbing brands in the world! But that's not everything. 
We've also done our homework and written up a buying guide for you so next time you're out and about to buy yourself a new pair of climbing shoes, you know exactly what to look out for to find the pair that is perfect for YOU.
Let's go!
Hey! By the way… this page contains affiliate links. So if you make a purchase after clicking one at no cost to you we may earn a small commission. Thanks for your support!
In This Article You Will Find:
hide
Best Climbing Shoes Reviews
Here are our top rock climbing shoes, for more info read the full review below:
Best Overall Climbing Shoe
La Sportiva Katana Lace Climbing Shoe
100% Synthetic

Vibram sole

UNIVERSAL PERFORMANCE - Ideal for every type of climbing, the Katana Lace overperforms from the gym to the boulders and craggs

ADVANCED EDGING - Vibram XS Edge compound allows you to focus your weight on the tiniest of foot holds; PD75 last means a pointed & downturned shape for proper weight distribution and support while edging

PRECISION & SENSITIVITY - The medium-asymmetrical toebox allows for great precision & sensitivity; Its aggressive enough for steeper pitches where edging is key, comfortable enough for gym wear, and super-sticky for smearing
Our top choice is probably no surprise to you. The La Sportiva Katana is one of the best climbing shoes out there and a classic choice for low intermediate up to experienced climbers. 
It comes in a lace-up and a velcro version, but we've chosen the lace version because of the added adjustability and longevity (and this means it's also great for climbing cracks!).
The La Sportiva Katana Lace is a versatile stiff shoe that makes it comfortable and durable but does lose some sensitivity because of that. Nonetheless, the shoe is an excellent choice that works well for almost every type of climbing. 
Shoe Specs, Fit, and Shape
This shoe model features the new Vibram XS Edge compound rubber, with a 4 mm sole and an added P3® technology by La Sportiva, which makes it even better at edging thanks to this new, tubular construction. 
The Katana features a slight downturn and asymmetric shape with a snug heel that channels all your force into your toes through its medium-stiff midsole. 
Climbing Styles
The shape of the shoe brings your foot in a slightly curled position, which is great for small edges and hooks on steep routes. This makes it a great choice for overhanging sport routes, bouldering problems, gym, and more technical face climbing. 
Even though it has a downturned shape, it is still a comfortable but powerful shoe that works well in pockets and on small edges. The shoe does remain quite flat though, so this is great for smearing and cracks and is comfortable for hours at a time. 
It has a similar overall shape to the TC Pros, which we will talk about in more detail below, but it is a tad more aggressive and thinner. So they work great for climbing cracks and can even get into thinner cracks, where the Pros can be a bit too bulky. 
This is one of the best rock climbing shoes on the market because it works great for a variety of climbing styles.
Best for Beginners Shoe
La Sportiva Men's TarantuLace Performance Rock Climbing Shoe
Rubber sole

FAST LACING SYSTEM - Quick-pull lacing harness allows for precise regulation of inner volumes; Wrapping the foot snugly for excellent support, fit, and comfort

ALL-AROUND PERFORMANCE - Designed to help intermediate climbers smear, hook, and edge like pros; The aggressive rubber heel rand, sticky FriXion RS rubber soles, and low-asymmetry RN45 build let climbers find purchase on edges with great sensitivity and without pain or cramping

CLIMB IN COMFORT - From the gym to the crags, the classic unlined leather upper is soft and comfortable; Lined tongue controls moisture and enhances breathability; Synthetic leather overlay adds just the right level of support
You'll see the brand La Sportiva quite a few times in this article because they are one of the best ones out there. And they don't just make climbing shoes for the pros, they also have some nice beginner-friendly models for sale too.
The La Sportiva TarantuLace are neutral lace-up shoes that are a great all-rounder choice for beginners. 
They are also super affordable and cost less than $100, so you really can't go wrong with these. 
These shoes came first in our comparison of the best shoes for beginners, and that's for many different reasons.
Shoe Specs, Fit, and Shape 
The TarantuLace are made from unlined leather, which means that they can stretch out with time, so make sure to buy them on the smaller side. Once they are broken in, they will fit you like a glove, and thanks to their aggressive heel and slightly asymmetric shape, these shoes can accompany you well into the intermediate climbing grades.
They have a neutral downturn, which is perfect for beginners, but thanks to their dynamic structure, it still gives you power on some more advanced moves.
The soles are super sticky and durable, which is great for beginners who are still working on improving their footwork. They are forgiving shoes as they offer good friction on the rock but are also durable. 
 Climbing Styles
These shoes are great for beginners and work well for what most beginners climb: easy vertical sport climbing routes and intro-level bouldering problems. They have a flat overall shape that works great for smearing and also do well in cracks and on steep terrain. 
There is a men's and a women's version, and a velcro one, too! 
Best Bargain Shoe
Black Diamond Momentum Lace Climbing Shoe – Men's
Rubber

Lace-Up closure

Featuring Engineered Knit Technology for exceptional breathability and our innovative proprietary molded rubber, the Momentum Lace is built for ultimate comfort and excels in performance

Designed as the perfect entry-level climbing shoe, this lace-up shoe provides ultimate adjustability for all day comfort at the gym or crag

Neutral, flat last for vertical climbing or all-day comfort
In our article about the best climbing shoes below $100, our top choice for a budget shoe was actually the one we've already talked about above: the La Sportiva TarantuLace!
So, let's look at the runner-up: the Black Diamond Momentum Lace Climbing Shoes, which is also a great bargain option!
Shoe Specs, Fit, and Shape
The Momentum shoes are available as a version with velcro straps or laces, and there is both a wide and narrow cut option for each of them! This makes it a great option for an affordable shoe that fits a wide variety of different feet. 
The upper of the shoe is made of a synthetic material that is made with a new "Engineered Knit Technology" and lined with hemp. This means the shoe is completely vegan, too! 
The breathable material stretches where you need it to, but the shoe overall won't go up in size like it can be the case with leather shoes.
It has a flat last and soft flex midsole for extra sensitivity on the rock. Also, the rubber of the 4.3 mm thick sole is extra sticky and thick so they are very durable for beginners and work well for edging even though it can be a bit trickier than with a more sensitive shoe. 
Climbing Styles
This shoe is made to be comfy and to be worn during long gym sessions or long days at the crag. Because of its flat last, it is ideal for moderate climbing both indoors and outdoors and long days out and overall is a good beginner shoe. 
Because of the round front, the shoe does not have an asymmetric shape with a point that you need for pockets and overhangs so they're not the best choice for more aggressive routes and climbing styles. 
Best Women's Specific Shoe
La Sportiva Miura VS Women's Climbing Shoe
Rubber sole

Ideal Terrain: overhanging sport routes, bouldering, gym climbing and technical face climbing

Upper: Leather; Lining: Dentex, unlined underfoot

Midsole: P3 with 1.1mm LaspoFlex; Sole: 4mm Vibram XS Grip2

Last: WPD 75; Fit: Performance w/ High Asymmetry
When we were researching the best climbing shoes for women, we quickly came to the conclusion that the best ones out there are the La Sportiva Miura VS women's shoes! 
The Miura has been around for a long time and is one of the best rock climbing shoes on the market. La Sportiva designed a model specifically with women in mind and for narrow feet, with a smaller heel box and padded tongue and heel for an even better and more comfortable fit. 
The result is the La Sportiva Miura women's and one of the best women's climbing shoes.
Shoe Specs, Fit, and Shape
The sole is covered in sticky Vibram XS Grip2 rubber and has a slight downturn. This shoe is a real powerhouse and works great for more advanced and technical climbing, aggressive vertical faces as well as powerful boulder problems. 
The sticky rubber provides friction for smearing and the aggressive shoe makes it a great choice for edging and small footholds. 
There is both a velcro (VS) or lace-up version of this shoe available. 
Climbing Styles
Because of their aggressive shape, these shoes are great for bouldering, overhangs during sport climbing, and technical steep climbing.
Best Gym Climbing Shoe
Five Ten Moccasym Shoes Men's
Split-grain Leather

Made in the USA and Imported

Upper: Leather; Lining: Dentex, unlined underfoot

Triple pull tabs

Side-exit heel seam

Slingshot heel

Stealth C4 rubber 4.2mm
In our review of the best rock climbing shoes for indoor climbing, we found that the Five Ten Anasazi Moccasym was among the top 3! 
Together with the TarantuLace and Black Diamond Momentum, this slip-on shoe is one of the best options for gym climbing out there. 
Shoe Specs, Fit, and Shape
The Five Ten Mocassyms are a classic shoe that you will have seen out and about many times! They feature a leather upper with a slip-on closure system, a flat sole with super sticky Stealth C4 rubber, and a simple design.
They are some of the most comfortable shoes out there and can be worn for hours on end, which makes them great for long sessions in the climbing gym. You can even just slip out of the heel for more comfort in between problems or climbs without taking them off completely. 
Their symmetric shape and blunt toe box make them even comfier, and the upper is completely made of leather, which means that they stretch quite a lot.
Sizing can be tricky as they loosen up quite a bit once they are broken in, so if you are looking for a more aggressive shoe, make sure to downsize when you buy. 
Climbing Styles
These five ten shoes are great for gym climbing, crack, and slab climbing because of their low-profile toes, smooth upper, and flat and sticky soles. They work well in small cracks because of it and are a popular choice in many classic crack areas like Indian Creek.
What they are not good for, however, is edging and overhangs. Because of their symmetrical, comfy shape and loose-ish fit (once broken in), your foot can move inside the shoe and won't offer you the hold you need for aggressive routes, heel hooks, or toe hooking.
But these five ten shoes work great for edging on granite or plastic holds. However, on smoother rock, they are not the best choice.
Best for Bouldering and Steep Roped Climbing
La Sportiva Men's Climbing Shoes
Ethylene Vinyl Acetate sole

Climbing shoes

Soft, crisp, revolution fit and adapts like a glove.

Quick and precise lacing system

Maximum performance for heel and toe hooks
When we were looking at the best aggressive climbing shoes out there, we found that both the La Sportiva Miura and the La Sportiva Solution were top choices. We already presented the Women's version of the Miura above, so let's check out the Solutions as our top bouldering shoes! 
Shoe Specs, Fit, and Shape
The La Sportiva Solution was released over 10 years ago and is still among the best aggressive climbing shoes out there that are great for sport climbing and bouldering on steep terrain or overhangs.
They feature a 3.5 mm Vibram XS Grip2 Role, a solid heel box, and a big rubber toe patch, ideal for toe hooking and overhangs. 
As it turns out, the tubular construction of these bouldering shoes really wraps the shoe tight around your foot and holds it in place, making it a great shoe for edging on the smallest of holds. 
Now, the rand around the toe is extra large for more protection and stickiness, and the heel cup is 3D lasted to keep its shape for a long time (and for "comfortable" heel hooking).
This is not a shoe for a relaxed long day multi-pitching, but an aggressive and asymmetric shoe with a strong downturn and pointy tip. The shoe is very sensitive and features velcro straps for a tight and secure fit.
Climbing Styles 
These shoes are great for overhangs, aggressive boulder problems, and technical climbing on overhanging walls or steep terrain.
If you are looking for a multi-pitching or slab climbing shoe, the Solution is not the one for you (but the next one is, so read on!)
Best Shoe for Trad and Crack Climbing
This will come as no surprise to you, but the best shoe for trad and crack climbing out there, in our opinion, is the La Sportiva TC Pro. Developed by climbing legend Tommy Caldwell for big wall climbing on Yosemite's granite, these shoes are comfy, sticky, and precise. 
Shoe Specs, Fit, and Shape
The shoe features a padded high top protecting your ankles, together with an asymmetrical shape, leather upper, and extra rubber on the rand for more edge on small footholds. 
The sole is made of 4mm Vibram XS Edge rubber, and the semi-stiff sole still allows for smearing while also supporting your feet on a long climb. The sole offers a surprising amount of sensitivity, and thanks to its pointy toe, it works well in a variety of crack sizes (and also small holds on sport routes!). 
Climbing Styles
This shoe is obviously great for long multi-pitches, crack, and trad climbing. But it also offers good sensitivity and edging at the same time, thanks to the special rubber and semi-stiff sole. 
It is a robust but comfortable shoe, with extra padding on the end where you'll need it most for foot jams. 
What makes it one of the best climbing shoes is that it also does well on vertical, more technical climbs and steep terrain, but because of its neutral shape and flat sole, it is not the best choice for overhangs or toe hooking.
Best Slab Climbing Shoes
SCARPA Men's Helix Lace Rock Climbing Shoes for Trad and Sport Climbing
100% Suede

Imported

Vibram XS Grip 2 (3.5mm) sole

Classic For A Reason | With more than a few awards to its name, the Helix offers a classic lace-up design that's a fan-favorite among climbing guides, beginning climbers, and anyone looking for an all-day climbing shoe.

Padded Heel Cup | Hugging your heel in all the right places, the built-in heel cushioning provides a secure fit without pinching your Achilles tendon.

Vibram XS Edge Rubber | Offering superb support, the XS Edge rubber is stiff, consistent, and durable — ideal for climbers learning the nuances of foot placements.
Our top choice for the best climbing shoe for slab climbing is a flat-last shoe by Scarpa with a very adjustable lace-up closure system, a padded tongue for extra comfort, and a symmetrical profile. 
Thanks to the Vibram XS Edge rubber, the Scarpa Helix works well on small edges too, and of course, is great for smearing. 
Shoe Specs, Fit, and Shape
The Scarpa Helix shoes feature Vibram XS Edge rubber that gives them a nice and solid rand for more comfort and support. 
They also have a good heel cup that adds some comfort and is designed in such a way that the shoes do not create a downward pull like it is often the case with more aggressive shoes, but works well for the upward angle of the feet often used in slab climbing.
Climbing Styles
These shoes are obviously great for slab climbing. They have a flat shape and symmetrical profile to help you smear your way all the way to the top. 
They also work well for crack climbing because of their flat profile and lace-up closing system, and because they're so comfy, they're great for a long day out on a multi-pitch adventure. 
But if you're looking for a powerful shoe for overhanging sport climbing or bouldering, this shoe is not the best choice for you. 
Best Shoe For Wide Feet
Butora Men's Endeavor Rock Climbing Shoe
ODOR CONTROL: 100% Organic Hemp lining to control stretch and odor

HIGH-QUALITY FOOTBED: Split leather footbed for comfort and performance

MOLDED MIDSOLE: 3D injection molded ABS midsole for precision edging and torsion rigidity

TWO-PIECE TONGUE: constructed of a highly breathable mesh for comfort and ventilation

FEATURES: Triple fork webbing for a custom fit; Butora NEO Fuse sticky rubber sole
The Butora Endeavor Wide Fit is our top choice for climbers with wide feet. It also comes in a "normal" fit, which is more narrow. Just pick whatever fit you prefer at the checkout. 
Shoe Specs, Fit, and Shape
The Endeavor is a budget-friendly shoe for beginners that is comfy while durable and slightly downturned. It is made of a synthetic leather blend with a hemp lining for better breathability and less stretchiness. 
It is just a little bit downturned, which is great for climbers who are just starting out but want to get a shoe that can grow with them into the more intermediate grades. 
The rubber is the sticky NEO Fuse rubber that is great for smearing but still solid enough for descend edging.  
Climbing Styles
The Butora Endeavor works for almost all types of climbing due to its sticky rubber with a solid enough rand for edging. It has a relatively flat shape that lends itself well to smearing, and it also works for crack climbing, even though we normally don't recommend velcro shoes for foot jams because they could come undone. 
Best All-Around Shoe (Also for Multi-Pitches)
Together with the TC Pros we'll present below, the Scarpa Instinct SR was one of the best all-around climbing shoes in our review. 
Shoe Specs, Fit, and Shape
These Scarpa shoes feature two different kinds of rubber, which just shows the amount of consideration that went into the design of this model. 
The heel is covered in Vibram XS Grip rubber for extra traction while heel hooking, whereas the toe is wrapped in another rubber: the Vibram XS Edge for better edging, durability, and easy toe hooking.
The shoe has a moderate downturn and slightly asymmetrical shape, which means they are on the more aggressive side and great for intermediate to advanced climbers.
They are a slip-on shoe but with a special design to make them extra tight-fitting so you won't move around in them like it is sometimes the case with the Five Ten Moccasym shoes we've talked about earlier. 
Climbing Styles
These shoes were made with indoor bouldering in mind but also work really well for a lot of other types of climbing like trad climbing and overhangs, especially due to the larger toe panel. 
This is a great all-around shoe for a more advanced climber who is looking for a shoe that offers performance and comfort. 
What to Look For in a Climbing Shoe
There are a lot of different factors to consider when you are choosing your climbing shoe, so here is an overview of the most important points you should keep in mind when you're off for your next climbing shoe purchase.
Types of Climbing Shoes
Depending on the style of climbing, you will need a different shoe. Here are the most common climbing styles and what this means for your shoe needs. 
Value – How Much Should You Spend On A Climbing Shoe?
A budget climbing shoe can be around $100, and there are plenty of awesome models like the Katana TarantuLace or the Black Diamond Momentum shoes that offer really good quality for a low price below $100. 
However, those are beginner's shoes. If you are a more seasoned climber and want to get a more aggressive model, things can quickly get a bit more pricey ($150 and more).
There are a few options here. You can either get a very specific shoe that works precisely for what you'll mostly be using it for, like overhanging sport climbing, for example, if that's your jam. 
Or you can get an all-rounder shoe. These types of shoes work for a lot of different scenarios and can save you the money for buying different pairs of shoes for different climbing styles. They are also super useful for traveling, so you don't have to carry several pairs of shoes!
But of course, an all-rounder does what it says on the tin, so keep that in mind.
The Sole Rubber and Support
The rubber that the sole of your climbing shoes is made of is a very important component of the shoe. There are different patented rubber compounds by different brands, but in general, there are two different types of climbing soles. 
Harder and thicker

(4-5.5 mm): these

wear down slower

and generally

offer more support

for your feet. They are better suited for edging (see below) and smearing but are less suitable for crack climbing and

offer less sensitivity

because they are thicker. These are usually

shoes for beginners

.

Softer and thinner

(3-4 mm): these soles are often made from softer rubber that

wears down faster

but also

offers you more sensitivity

. These shoes are great for smearing, crack climbing, and friction routes like a slab but also

offer less support

on steeper routes and are more demanding for your foot muscles. These are usually

shoes for intermediate to advanced climbers

. 
Edging – The Importance of Good Footwork
This is a very important climbing technique that focuses on your feet taking the stress off your arms. Edging refers to placing your feet precisely on a small ledge or hold, turning your foot so you either use the outside or inside rand of your shoe. 
The inside edge around your big toe is usually the best place to edge because this is where your feet are strongest and most climbing shoes are designed to channel all your force into that spot just by your big toe. 
To be able to edge well, your shoes need to have a defined rand for precise foot placement and also need to be sensitive enough so you can feel exactly where you have to step. 
Sensitivity
The more sensitive the shoe, the better you will be able to feel the rock beneath you. This is important if you are climbing on a route with very small holds that require precise foot placement and edging, for example. 
The trade-off here is that the more sensitive and soft the rubber is, the less durable it is. So beginner shoes usually have stiffer and thicker soles which reduce sensitivity but also increase durability so your shoes can last longer while you improve your footwork. 
A Soft vs a Stiff Shoe
This refers to the amount of support you get from the sole of your shoe and is dependent on the construction of it.
Stiffer shoes:
give you more support and take away some strain from your foot muscles. Especially when you're just starting out, your foot muscles will not be used to such intense use, and a stiffer pair of shoes can be very beneficial

prevent foot fatigue and soreness

are more rigid and less sensitive

are great for small footholds on vertical routes
Softer shoes:
work better for smearing or bouldering on overhangs

are more sensitive
Comfort and Fit
A climbing shoe should be tight and snug, but not painful. The correct fit of the shoe is essential for a good climbing performance and comfort during climbing.
The downturn of the shoe is one of the main indicators of its general shape and refers to the angle of the shoe's last (or mold) and how "bent" the shoe is naturally.
There are three different types of downturns: 
Flat shoes are, well, flat, and therefore the most comfortable ones. This is the kind of shoe beginner climbers will be looking for as they are similar to your natural foot shape. 
Now, these are not high-performance shoes but entry-level climbing shoes to spend a lot of time in, improve your technique, and have fun in. Shoes for crack climbing or trad climbing are also often on the flatter side, so they are comfy for hours at a time and can be squeezed and twisted into cracks.
Moderate shoes are kind of the in-between option. They're a bit more aggressive than flat shoes but not as downturned as the most aggressive shoes out there. 
Also, they're great for intermediate climbers who are still mostly climbing vertical or slab routes but might wish to get into some more demanding routes. 
The racehorse among climbing shoes is aggressive climbing shoes. These feature an aggressive downturn and asymmetrical shape. They are not comfortable but also aren't meant to be. 
Climbers with aggressive shoes are not looking to wear them all day long but just long enough to smash their project then release their toes again. These are the most uncomfortable type of climbing shoes and usually are very specific to the climber's preferred climbing style, grade, and project. 
These types of shoes often feature a large rubber toe patch for toe and heel hooking and a narrow toe box with a pointy finish, so to speak.
Closure Type – Laces, Velcro, or Slipper
There are three main closing systems for climbing shoes, all of which have their pros and cons. What system works best for you depends not only on personal preference but also on your climbing style and where you plan to climb. 
Laces

: the most adaptable form of closing your shoe but also the most time-intensive. Is recommended for crack climbing

Velcro

: quick and fast, but can wear out over time and when they get dirty, the velcros can come undone quicker. Not recommended for foot jams as they can open in the crack. 

Slipper

: the comfiest way of putting on and taking off your shoes for sure! These smooth slipper-style shoes leave your feet feeling nice and free without any restricting laces or velcro buckles but can also wear out over time (so correct sizing is key). The heel often has a bit of air, so if you need a super tight fit for heel hooks, slippers might not be the best choice for you. 
Upper: Leather vs. Synthetic
Depending on what the upper of the climbing shoe is made of, the shoes can stretch out with time. 
Leather tends to stretch the most once you have broken in your shoes, and they can go up to a whole size.
Synthetic shoes, however, don't tend to stretch, so you can buy them exactly in the size you want them to be. But keep in mind that this might not be your street shoe size as climbing shoe sizing can be a bit random, to say the least.
With leather shoes, it can be a good idea to downsize slightly so that when they have stretched out, they still fit you well. 
Lined leather shoes are a bit of a mix between the two and tend to stretch up to about half a size. But remember that the shoes can only stretch "upwards", or where the fabric is located. The sole will not change its shape or form. 
FAQ
Which Climbing Shoes Should I Get as a Gift for Someone Else?
Unless you are replacing shoes they are already using, it's better not to surprise your friend but take them to a climbing store so they can try on different shoes themselves!
Are Climbing Shoes Expensive?
Climbing shoes can be expensive, but don't have to be. There are both expensive and cheap climbing shoes on the market and depending on what your needs are, a more affordable pair can be just fine for you. 
How Long Do Climbing Shoes Last?
How long climbing shoes last depends a lot on your foot technique, how often, and on what kind of rock you climb. Beginners tend to wear through their shoes faster because their footwork is still quite imprecise and they tend to wear down the rubber faster. 
Are Climbing Shoes Comfortable?
Climbing shoes are not exactly comfortable, but should not be painful either. To find the right fit for your shoes, it's a good rule of thumb for them to be snug and tight, but not hurt your feet. 
Depending on the material, they can also stretch out with time and get comfier, but this only applies to leather or lined leather climbing shoes.
What Shoes Does Alex Honnold Wear?
For his "Free Solo" documentary, Alex Honnold was wearing TC Pros, which were specially designed for the climbing style at Yosemite: big wall climbing on granite, by fellow legendary climber, Tommy Caldwell. 
What Kind of Shoes Are Best for Rock Climbing?
The kind of rock climbing shoes that are best for you depend on your personal preferences, level of experience, and preferred style of climbing. If you are into crack climbing, get a flatter shoe with a lace-up closing system. If you are into hard boulders, get an aggressive shoe with a strong downturn and asymmetric shape and get sending.
Are 5.10 Climbing Shoes Good?
5.10 make some of the best climbing shoes out there! So yes, Five Ten climbing shoes are good. But this does not mean they are the best for you. Five Ten is a big brand and some of their models like the Five Ten Anasazi Moccasym have been a staple in the climbing world for a long time.
What Is the Most Aggressive Climbing Shoe?
Both the La Sportiva Miura and the La Sportiva Solution are great choices for aggressive climbing shoes. But there are loads out there! Check out our article on the topic to see our top picks of the best aggressive climbing shoes. 
Which Brands Rock Climbing Shoes Best?
There are many brands of climbing shoes out there and it is impossible for us to tell you which one is the best! There are many different styles of shoes as well that sometimes are specific to a brand, so with time and experience, you will find out which shoes work best for your feet and style of climbing. 
What Are the Best Rock Climbing Shoes for Beginners?
Some of the best and most comfortable rock climbing shoes for beginners are the La Sportiva TarantuLace and the Black Diamond Momentum climbing shoes. They both feature a flat profile and stiff sole, which give you extra support and comfort, an essential for new climbers. 
What Are the Best Shoes for Indoor Rock Climbing?
The Five Ten Anasazi Moccasyms is a great choice for a comfy yet powerful climbing shoe for indoors. It features an easy slip-on closing system with an extra sticky sole that works well on plastic holds and is comfy enough so you can wear it for hours at a time while you train.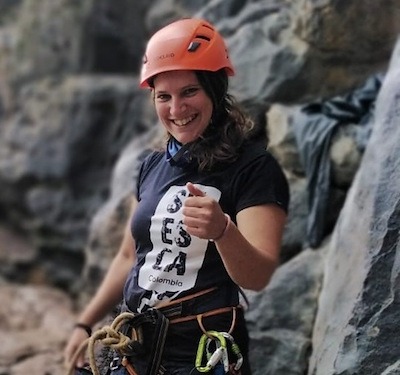 Hi there, I am Mirjam and have recently discovered rock climbing for me while backpacking in Colombia. Originally from Switzerland I currently live in Venezuela and work as a freelance writer and translator. I have always loved being in nature and the mountains and am stoked to explore more of the world's best climbing in the years to come!
You can find me at @mirigoesround or www.bosstranslations.com