| | Name | Score | Bottom Line | Check Best Price |
| --- | --- | --- | --- | --- |
| Top | Butora Endeavor Wide Fit | 9/10 | The best for excited new boulderers | View Prices |
| | La Sportiva Finale | 9/10 | Essential beginner shoe | View Prices |
| | Mad Rock Flash 2018 | 8/10 | Great bang for your buck | View Prices |
| | Evolv Defy | 8/10 | An ideal choice for the unsure | View Prices |
| | Women's Tenaya Ra | 8/10 | Good performance shoe | View Prices |
| | Evolv Shaman | 8/10 | More advanced option for fast learners | View Prices |
| | Black Diamond Momentum | 7/10 | Might be the one for you, might not | View Prices |
Although climbing shoes look similar in design, they are actually really diverse. Certain features can be incorporated (or not) to accommodate certain climbing styles and levels. 
Bouldering is one of such styles that has unique shoe demands.
Unlike a lot of roped climbs, boulder problems are sustained at a certain level of difficulty for every move. This means that each and every move is critical for achieving the send. Thus, bouldering shoes tend to be high-performing and aggressive.
Most boulder problems are also reasonably short (10-25ft), so having a climbing shoe that is comfortable to wear over longer periods of time is not so important. And, of course, you can put them on right before climbing the problem, then immediately take them off afterwards. 
As a beginner, however, you don't need to go too crazy with seeking out a high-performance pair of climbing shoes. You just need one that'll get the job done! 
Hey! By the way… this page contains affiliate links. So if you make a purchase after clicking one at no cost to you we may earn a small commission. Thanks for your support!
7 Best Beginner Climbing Shoes for Bouldering
Best Indoor Bouldering Shoes for Beginners
Check Price and Reviews On Amazon
The Finale earns a strong spot on the list because of its affordability, durability, and comfort. For a true beginner boulderer, these are the traits that matter most.  
The 5mm Vibram XS Edge rubber is sticky and sturdy. It'll last you through lots of use and bad footwork. 

Due to the rubber type, the Finale is most ideal for edging and smearing, but not so good on steeper problems. Don't worry, though – they'll do fine on easier steep problems. 

The shoe's neutral shape (minimal downturn) won't cause your feet to suffer during long training sessions. 
If you want a shoe that will help get you started at the climbing gym and last a long time, be sure to check out the Finale.
Best Beginner Climbing Shoes for Wide-Feet
Check Price and Reviews On Amazon
Reportedly the most roomy and comfortable beginner shoe out there, the Butora Endeavor is a popular option for people with wide feet. They are also easy to get on and off, with a padded two-piece tongue fasted with velcro straps.
The shoe's asymmetric last and slightly downturned shape lend the precision and power necessary to go for the send; even more so than the neutral-shaped La Sportiva Finale and BD Momentum. 
If you find yourself psyched by how amazing this shoe is but don't have wide feet, check out the regular Butora Endeavor.
As if these shoes couldn't get any better… their 100% organic hemp lining will keep the shoes' shape and help reduce odors!
Best Budget (Cheap) Bouldering Shoes 
Check Price and Reviews On Amazon
The Flash 2018 is super cheap despite being a solid beginner bouldering shoe that can also perform on harder problems. Do not be dissuaded by the lack of popularity and minimal reviews on the web; dedicated users swear by them. 
Their moderate performance-grade downturn and asymmetric last shape will definitely lend the shoe a noticeable feel, but not too much to the detriment of comfort.
Check Price and Reviews On Amazon
The Evolv Defy is a top pick for folks' beginner climbers due to their near bedroom-slipper level all day comfort and durability. 
They can be worn for long periods of time, making them a good pair for extended training sessions. Meanwhile, their slip-lasts and MX-P 1mm half-length midsoles still allow for flexibility and sensitivity. 
Their flat profile is not so ideal for overhangs, but works fine on vertical climbs. 
If you're wanting a fun bouldering shoe that can be put through the ringer on easy problems while you figure out whether or not climbing is for you, go with the Evolv Defy.
Check Price and Reviews On Amazon
The Black Diamond Momentum rose to fame in 2020, grabbing everyone's attention for being the quintessential beginner climbing shoe with a sleek, modern look. 
That look is thanks to the super breathable, synthetic knit uppers, which are great for sweaty days in the climbing gym. However, those uppers don't have much stretch – so don't get too excited about the Momentum if you have wider feet. 
This shoe's greatest strengths are their price and comfort level. Again, these traits tend to matter most to beginner boulderers, so you are generally safe to ignore their low performance ability. 
Another perk of the Momentum is their variety, as they are available in men's, women's, lace up, velcro, and vegan versions.
Best Women's Bouldering Shoes
Check Price and Reviews On Amazon
The Women's Tenaya Ra is not just a top pick for a women's beginner shoe for bouldering, but for climbing overall. 
Their moderate downturn and asymmetry provide enough precision on more advanced problems without sacrificing comfort. Not to mention, their Vibram XS Grip rubber soles are stiff for edging, with impressive traction to keep from slipping off well-trafficked gym holds. 
A high-rated, lower volume shoe, the Women's Tenaya Ra's are sure to not disappoint. 
Best Bouldering Shoes for Intermediate Climbers
Check Price and Reviews On Amazon
If you've progressed a ton at bouldering over a short period of time and are willing to pay a little more for a higher performance shoe, check out the Shaman – especially if you love bouldering on overhangs. 
Their indented soft heel cup and ample rubber coverage over the big toe are ideal for heel hooks and toe hooks. 
Despite being a more aggressive shoe, the Shaman is rather comfortable – making them a great shoe for transitioning into more advanced bouldering styles. As a result, they are one of the best shoes on the market.
Just remember: expensive, more aggressive shoes don't make your footwork better. Training does.
What Makes a Rock Climbing Shoe
If you've ended up here after one visit to the climbing gym, you may have a lot of questions. 
Even if you've gone gym climbing, and have just decided you're a bouldering only kind of person, you may still have questions. 
Well, you've come to the right place. 
Rock climbing shoes are weird but they are essential tools for anyone who plans to take climbing seriously.
Like cleats for soccer players, or ice skates for hockey players, climbing shoes make a big difference in performance.
Most – if not all – climbing gyms do not allow you to climb without shoes on.  Some places may allow you to wear your street shoes, but you will quickly discover that street shoes do not fare well once the footholds get smaller than the size of a fist. 
If you have plans of climbing harder than V0, you've got to get some climbing shoes. 
Do You Wear Socks With Bouldering Shoes?
Climbing shoes aren't meant to be worn with socks. (Although, if you're renting them, it might be advisable. Nobody wants to get Athlete's Foot!)
Climbing shoes are made to improve your sensitivity to the rock/footholds by having a snug fit and thin rubber soles. Wearing socks diminishes that sensitivity, as well as the flexibility of your foot within the shoe. 
To maximize sensitivity and control, you want the shoe to fit nice and snug. Your toes should brush up against the tip of the toe box. They should not be painful, though. 
Climbing shoes are also made to have a slight arch downward; a feature commonly referred to as a "down-turn" or "camber". This downturn puts your foot in a more powerful position. However, it is not so good of a position for walking around on flat ground. 
Thus, when you're done climbing on a boulder problem for a while, you should take off your climbing shoes. Your feet and ankles will thank you, and the shoes will last a lot longer, too. 
The Difference Between Climbing Shoes and Bouldering Shoes
There's actually a lot of crossover between rope climbing shoes and bouldering shoes because both styles of climbing can be performed on the full spectrum of terrain.
"Slabs" are walls that are less steep than vertical. Such climbs tend to have little-to-no holds for your hands and feet. Because the angle can be so low, smaller holds do not always make the climbing more difficult on a slab route. But they very well can!

Vertical climbs go straight up without an angle. On vertical and overhanging climbs, the smaller the holds, the harder the route tends to be.

"Overhanging" routes are steep, leaning toward the ground at any angle beyond 90°. As a result, climbing on overhangs can often feel like climbing upside down. Get ready to use your shoulders and core on an overhung route!
Slab, vertical, and overhanging climbs each require a different set of techniques to ascend. In many cases, these techniques overlap. 
Indoor gyms and outdoor bouldering areas both tend to have boulder problems of each kind. The best rock climbing shoe for a beginner is one that can handle them all.
The Bouldering Shoe Recipe
What separates a bouldering shoe from a regular climbing shoe is performance level. 
Every move on a boulder problem is a high stakes move. So, your climbing shoe needs to be high stakes, too. 
A climbing shoe is "high performing" if it has the following qualities:
Thinner rubber

– for greater sensitivity 

More aggressive downturn

– for a more powerful foot position

Slip-lasted

– for improved flexibility

Asymmetric last shape

– for directing power to the big toe and the inside of the foot
A well-rounded bouldering shoe also has:
A

precise inside edge

for balancing on thin footholds

A sturdy

heel cup

for heel-hooking

Extra rubber above the toe box

for toe-hooking, and 

Durable but sticky rubber material

 on the toe, sole, and edges with smearing capability.  
Best Beginner Shoes
If you would like to gain a super in-depth understanding of climbing shoe anatomy, vocabulary, and what to look for in beginner rock climbing shoes, check out the full article we have one it. 
The best bouldering shoes for beginners might not necessarily have all of the aforementioned features.  They might not suit your objectives just quite yet…
Finding A Beginner Climbing Shoe
When you first start bouldering, you have a lot of learning to do. 
You may not even know what a heel hook, toe hook, or smearing is. And that is totally okay!!!
Just like with any sport, there are things in climbing that take a lot of time to develop and get better at. This process is what makes the sport so fun and rewarding. Who doesn't love a good challenge?
To start on the path to progress ASAP, you must know your objectives and stick to them. 
In your first months of bouldering, those objectives should be:
Sending as many V0's to V2's as possible (and some V3's)

Getting on the whole spectrum of problems, from vertical to overhanging

Building strength

Fine-tuning your foot technique
Since you'll climb a lot of problems through this process, you actually may want to wear a more comfortable climbing shoe. 
Also, high-performance climbing shoes tend to cost more and have thinner rubber. Your footwork won't be too great when you're first getting started, so you'll burn through that rubber fast. The features on such shoes can be useful, but only when you learn how to utilize them properly.
Bottom line is: don't worry too much about getting that ultra-serious shoe you see the suave, strong climber at the gym wearing. You don't need it right now, and your wallet might not, either. The best beginner climbing shoes balance price and performance.
How Do I Choose Bouldering Shoes?
Try not to allow all the little details overwhelm you. If the shoe fits and feels great on the wall, then that's all that truly matters. 
The shopping process can be easy. Just let a few key factors guide your decision: your budget, the speed of your climbing progress, and your foot type.
Budget
As mentioned above, climbing shoes are not cheap – and they wear out fast in your early training. Also, price does not always equal performance quality. 
Whether you're strapped for cash, or unsure of whether you'll commit to climbing enough to make the investment in shoes worth it, don't sweat it. You can find a great pair of beginner climbing shoes that fits your budget and still works wonders on the wall.
Bouldering Proficiency
If you've been obsessed with bouldering from day one, find yourself putting in a lot of work, and are nearing V4's as a project level – get a more aggressive pair of shoes. At this point, you'd only be causing yourself inconvenience if you went with a beginner climbing shoe. Just be sure to stay on top of your footwork. 
Otherwise, there's absolutely no shame in getting beginner climbing shoes. They last longer, are more comfortable, and are thus better for getting the volume and fun you need on easier climbs to grow your skills.
Foot Type
Most importantly, consider your feet.
No matter how expensive or well-designed the climbing shoe is, if it hurts your feet, it's useless. 
Women's-specific climbing shoes are lower volume and designed for narrower feet. They are sometimes preferred by men with narrow feet, too.
Alternatively, there are many wide-foot specific shoes, as well as regular unisex shoes that tend to accommodate wide feet well. If you have wide feet, you want a shoe with a more spacious toe box.
Each brand and each shoe also has a unique fit and feel. If you can, always try them on – and even climb in them – before buying. 
How Tight Should Bouldering Shoes Be?
Beginner shoes tend to tip the balance between comfort and performance toward the former.
So, when sizing for beginner shoes, you'll know they don't fit right if they aren't comfortable. But remember – they should still have a snug fit.
This might seem simple, but there are also a few other factors that can affect what size you want to purchase your first pair of bouldering shoes in.
Should Your Toes Be Curled In Climbing Shoes?
When you're just starting off, it is not necessary for your toes to be curled in.
If they are curled in, they should only be slightly so.
Your toes should be snug, but not so tight that it hurts.
As you progress in climbing, it makes more sense to buy tighter fitting shoes. But for now don't worry about it!
Know the Materials the Climbing Shoes are Made From
Aside from rubber, climbing shoes are made with one of two sorts of materials: leather or synthetic. This material tends to cover the top and sides of the shoe – an area referred to as the "upper".
If a shoe has a leather upper, it is more prone to stretching.
Whereas, synthetic uppers stretch very little.
Leather uppers can also be lined or unlined. Unlined leather stretches more than lined leather.
But Why Does Material Matter for Climbing Shoes?
Knowing the material the shoe is made with is important because it affects what size you should choose.
Your shoes will naturally stretch as you climb in them, so it's important to know how much. You don't want them to stretch to a point where they lose their snug fit and perform less efficiently.
To prevent this from happening, it is common practice to downsize from your regular shoe size.
For synthetic shoes, you

might

be able to get away with your usual shoe size. If you do decide to downsize, go no further down than a half size – even if you are getting a more aggressive shoe.

For leather shoes, how far you downsized depends on the type of leather. If the leather is lined, go down a half size to a full size. If the leather is unlined, go down a full size to a size and a half.
Note: To downsize does not mean to pick a size that does not fit or is painful. The objective is to make sure they are tight enough. Now, for leather shoes, a proper downsizing may make for a less enjoyable break in period. But once they stretch out, they will feel a lot better.
Every brand and every shoe will have a different design, fit, and feel.
Conclusion 
Getting your first pair of climbing shoes is always an exciting process. After all, it is your first serious step towards diving into gym climbing.
It is especially exciting for boulderers, as shoes are their most important piece of gear.  Even more important than chalk! 
This is because bouldering is intense. It involves complex movement with special body positions that cannot be achieved without precise footwork and control. 
Bouldering shoes grant you the ability to achieve such movement, unlocking your potential to explore the endless amount of inspiring routes out there. 
Any pair of shoes on the list above can be your key to getting good at bouldering. All you'll need beyond that is psych.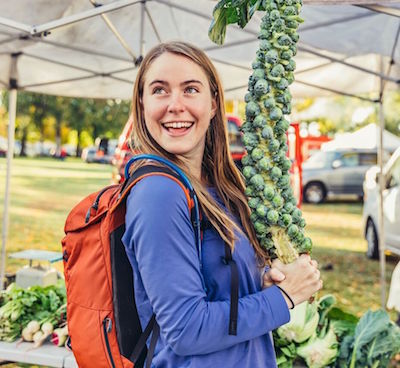 Melissa is a full time van-living outdoor enthusiast hailed from Florida. After deciding to spend her freshman summer of college living out of a tent to work and climb in the Red River Gorge, Kentucky, her life changed forever. She found her way to El Potrero Chico, Mexico in the winters, where she fell in love with travel and community. Post-graduation, she drove from Florida to Alaska to experience its world-class backpacking, then worked her way back south to explore climbing spots throughout the western U.S.
Meeting countless amazing people, hearing their stories, and learning the histories and struggles of local areas through minimalist travel, climbing, and hiking has inspired her to share these experiences with others. Her passions include improving intersectional access to the outdoors and responsible environmental stewardship.