| | Name | "Score" out of ten | Best Price |
| --- | --- | --- | --- |
| Top | Mammut Ophir Kids | 10 / 10 | View Prices |
| | Petzl Macchu Junior Harness | 9/10 | View Prices |
| | Edelrid Finn III | 9/10 | View Prices |
| | Black Diamond Momentum Full Body Harness | 9/10 | View Prices |
| | Edelrid Fraggle III | 8/10 | View Prices |
| | Black Diamond Momentum Kids | 8/10 | View Prices |
Looking for a kids climbing harness and not sure where to start? We've reviewed the best children's climbing harnesses to find you the perfect harness!
Hey! By the way… this page contains affiliate links. So if you make a purchase after clicking one at no cost to you we may earn a small commission. Thanks for your support!
The Best Kids Climbing Harness: Reviews
We've been all over the internet to find the best kids climbing harness for you.
Here we present the top 6, which include both sit harnesses and full-body harnesses ones, which we wrote a whole separate article about.
We compared both full-body and sit harnesses for this article, as well as some combo-options that you can add a shoulder harness to a sit harness to turn it into a full-body harness. As you can see, there are lots of options for you to choose from.
The different styles of kids harnesses
While a full-body climbing harness is a safe and a good option for your kids, their overall rating was a bit lower in this review, as they usually have a lower maximum weight and lack gear loops, which makes them less ideal for older kids.
A full-body harness is great for your kid to start out climbing as it offers additional stability and safety for young climbers. But if you are looking for a harness for a more experienced young rock climber, a sit harness might be the better option for you.
However, there is a compromise. Some brands like Petzl and Edelrid sell separate shoulder straps that can be used in combination with sit harnesses to create a full-body harness in two parts.
So, you will have the best of both worlds: a very adjustable sit harness that can grow with your child, combined with the safety of the shoulder straps that prevent your kid from flipping backwards when they are sitting in the harness.
Of course, a two-part harness is not ideal for everyone, as it is double the strap adjusting as compared with a simple full-body harness. At the end of the shopping day you will just have to see what works best for you!
There is no perfect climbing harness for kids, but we are sure that you will find the perfect option for you and your mini-climber in our selection!
And without further ado, let's jump right into our top 3 climbing harnesses for kids!
The Top 3 – Best Climbing Harnesses For Kids
Check Price and Reviews On Amazon
The Mammut Ophir kids is our top choice for a climbing harness for kids. It is suitable for kids up to 110 lbs of 50 kg and thanks to its easily adjustable slide block buckles, it can be used for several kids with ease.
It has abrasion protection at the tie-in point, meaning that there is a different colour material underneath the top fabric that will show when the harness is worn out and should be replaced.
The gear loops are big and stand off the harness, making it easier to clip your gear. At the back it features a small hook where you could clip the child's chalk bag if you are not using a separate belt for that.
The waist belt has a split webbing design to help disperse the weight and its perforated foam padding allows air to pass through and makes it well ventilated.
Additionally, the waist belt has two slide-lock buckles, so you can adjust the harness in a way that the gear loops stay square on the hips and don't move too much to either side.
This, however, happens when there is only a single buckle on the waist belt, like it is the case with the Black Diamond Momentum Kids harness, that ended up last in our selection.
The harness also offers an extra safety feature with a plastic reinforcement at the end of the webbing straps, keeping them from coming undone by themselves while climbing or playing around.
This climbing harness rises quite high and therefore has a high hanging point and tie-in point, which gives your little climber some extra stability when you lower them from the climb.
Check Price and Reviews On Amazon
The Petzl Macchu Junior Harness came in as a close second, because it also offers everything you might be looking for in a climbing harness for kids. However, the maximum weight for this harness is 88 lbs or 40 kg, so it will not be an option for older and heavier kids.
With 11 ounces the harness is more on the heavy side, but it is still very comfortable while climbing or playing around. The padded waist belt and leg loops are adjustable and offer great support while being comfortable as your kids tackle their first projects.
The belay loop has a different colour which makes it easy to tie in the rope correctly, even for more inexperienced parents or guardians. The two gear loops are spacious and accommodate all the gear you could possibly need, making this climbing harness an ideal choice for more advanced climbers who might lead a route and need to bring along quick draws.
This is one of the best climbing harnesses for kids out there and has lots of room to expand while your kids grow, and it is even an option for the smallest of climbers, as it can be combined with the BODY shoulder straps to turn it into a full-body harness.
Whatever your needs, this harness is a good fit for kids with a smaller frame in combination with the BODY shoulder straps and is suitable for children up to 40 kgs or 88 lbs.
Check Price and Reviews On Amazon
The Edelrid Finn III is the third harness we want to present to you. With just 270 g at 9.8 ounces, it is one of the more lightweight options and also offers two gear loops and well-padded adjustable leg loops and waist belt.
The tie-in point features abrasion protection like the Mammut Ophir model, so you can easily tell when your harness has come to the end of its days. The 3D mesh padding and its soft edges guarantee optimal comfort, without any pressure points.
The slide-block buckles make for quick and easy adjustment and a comfortable and secure harness fit. The foam padding at the waist can be moved freely so it is easy to centre and align the gear loops after you have tightened the harness.
Like the previous harness, the Edelrid Finn III can also be combined with a shoulder strap, called the Kermit by Edelrid, that turns this sit harness into a full-body harness in two parts.
The Kermit is lightweight and with its figure eight design, it is fully adjustable with just one buckle, making it quick to adjust and easy to use. It features breathable mesh for extra ventilation and like the harness, is bluesign ® certified. This is a Swiss label certifying textile products for their responsible and sustainable manufacturing techniques.
The harness is available in two sizes, so its adjustability is a bit more limited than with other one size harnesses.
Honourable mention of the full-body harnesses
The best full-body harness we found is the Black Diamond Momentum Full Body Harness.
We wrote a more detailed review about the full-body harnesses in our blog post here (link full body harness review), but to sum it up, this is a high-quality harness suitable for the smallest climber, offering stability and comfort. It is lightweight and breathable, easy to adjust and in general ticks all the boxes for a top-quality climbing harness for kids.
Things To Consider While Buying A Kids Climbing Harness
Before you go out and buy a harness, there are some things you should take into account. A climbing harness for kids has the same function as an adult one: keep the climber safe in case of a fall. However, because of their different physique and centre of gravity (COG), children have different requirements than adults.
Kid harnesses have a higher tie-in point to compensate for the higher COG in children, and focuses a lot on comfort and safety to make sure your young climber not only feels safe, but is also comfy while tackling their first climbs.
Your checklist for buying kids climbing harnesses
When you go out to buy a harness, make sure you know what you need. This means, think about how big and heavy your kid is, what type of climbing will you do and where, will you want to use the harness for more than one child? How old is the kid? How strong and experienced is the child who is climbing?
All those factors greatly impact your choice of harness because it determines, firstly, which style of harness you need.
Then, make sure to look closely at the size and weight range of each harness. They mostly have good adjustability in the leg and waist loop, but it is always worth double-checking, especially if you want to make sure your harness can "grow" with your child for quite a while. When you are looking to buy a full-body harness, you also have to look at the sizing of the chest strap.
The type of climbing you will do and the experience level of your child will determine the importance of gear loops on the harness, for example. So, this is another factor to consider.
If you want to use the harness for more than one child, this means it will have to be taken off and put on a lot. So fast and easy adjustable buckles will be essential. Especially when it comes to full-body harnesses, this should be a consideration as some models can be a bit confusing to adjust at first.
The Differences Between a Standard and a Full-Body Climbing Harness
Like the name implies, a kids full-body harness does not just have waist and leg loops but also includes shoulder straps, giving your kid extra stability and security while climbing.
Full-body harnesses are recommended for young climbers who do not yet have the core muscles to remain upright when they sit in the harness. Smaller kids, especially, have a heavier head compared to the rest of their body, which then moves their COG higher and impacts their ability to stay upright.
 Full-body harnesses have a higher tie-in point at chest level, which supports your child while climbing and makes sure they always stay in the right position without any effort. However, this means that the rope that is tied in is close to their face, which can be uncomfortable once they become more confident climbers.
Sit harnesses are generally lighter and have more features, as they are geared towards older or more experienced young climbers. Not every full-body climbing harness we have reviewed had gear loops, whereas all the sit harnesses had two well positioned gear loops.
 Now onto the million-dollar-question, which style of harness does my child need?
Unfortunately, there is no straightforward answer.
When should a kid use a full-body or sit harness?
The style of harness your child needs depends on a lot of different factors like age, size and the ability of the climber. Which style to choose is a difficult question to answer, so we divided our answer in two.
First, we will look at that decision when you buy the very first harness and then, when it comes to making the transition from a full-body harness to a sit harness.
 Let's go!
Buying the first ever harness
When you are buying a climbing harness for a child for the first time, the most important things are safety and comfort. So, you should make sure your child can try on the different types of harnesses and ideally hang in it, to see how they feel.
It is often said that from 10 years of age, a kid can use a sit harness, but sometimes even younger kids already use it when they are able to stay upright by themselves and feel safe without the shoulder straps.
Their COG starts to move lower when they grow and their head-to-torso ratio changes, but this is different in every child, so there is no one-off solution for this question.
A two-piece harness that consists of a sit harness in combination with shoulder straps can be a good way to start if your child is older, and you feel like they won't need a full-body harness for much time. Both Petzl and Edelrid offer those options to go with the Macchu and Finn III harnesses.
If your kid is smaller, and you plan to use the harness for other activities like exposed hiking or via ferratas, make sure to choose a full-body harness like the Petzl Ouistiti that has an extra attachment point in the back and makes it a more versatile piece of gear.
The transition to a sit harness
It is hard to set a specific age for when to make the switch to a sit in harness as it depends a lot on the abilities and experience level of your little climber.
One indicator is the maximum weight, which for most full-body climbing harnesses is around 40 kg or 88 lbs, while the sit harnesses can be used for kids up to 50 kg or 110 lbs. But this is just a rule of thumb, so always check the small print on the model you are looking to buy.
When the kid grows you can start to transition into a traditional sit harness, but make sure not to rush things.
To be safe and secure in a sit harness your kid needs pronounced enough hips that the harness can sit above them and won't slide down.
The child also needs to be confident that it can stay upright on its own when sitting in the harness as the tie-in point in sit harnesses is quite a bit lower than the chest-level one in a full-body climbing harness.
Again, the combination with the optional shoulder straps might be a good way to slowly transition from one style of harness to the next.
How to fit a child's climbing harness
So now that you've bought the harness of your choice, you're ready to go right? Not so fast. It is important that the harness is well-adjusted and fits your child correctly so it is actually safe.
A harness should be snug but not pinch. It should make your child feel secure without limiting their range of movement on the rock.
You should always try the harness on while wearing the clothes you are planning to wear while using it, so consider where you will go climbing and how many layers you will need.
 If you will be using any gear, make sure your child tries on the harness and practices clipping and unclipping gear to ensure they can easily reach the gear loops and all other necessary points on the harness.
The waist belt needs to sit above the hips and a good rule of thumb is to adjust the straps so you can still easily put two fingers between the belts and the body, to allow for room to move.
Kids Climbing Harnesses Features Explained
While kids' harnesses look similar to adult ones, they have some features that are more important than for grown-ups.
Adjustability
Kids grow. Fast. So you want gear that is easy and quick to adjust and can accommodate a wide range of sizes, so you don't have to go and buy a new one after every growth spurt!
The waist belt and let loops should be adjustable to guarantee a good fit and comfortable climb. Two separate buckles on the waist belt can be an advantage because they allow for a more symmetrical adjustment of the gear loops.
Check that the harness rises high enough to keep your kid upright and that the waist belt sits above their hips.
Fast adjustment is especially important if the harness is used on more than one child. Most modern harnesses have easy to use slide-block buckles that can be tightened and loosened without having to undo anything, which increases their safety.
Padding
Comfort is even more important in kids harnesses than adult ones because you want to make sure your little climber is having a good time on the wall without any pinching or uncomfortable pressure. Well padded and breathable leg loops and waist belts are essential for a good weight-distribution and ventilation so your kid can keep their cool.
Gear Loops
Most kid harnesses feature just two gear loops, which usually is enough for the style of climbing they will do. However, they should always stand off the harness, so they are easier to access and the gear can be clipped without any trouble.
If you have a more experienced climber on your hands, look for harness models with bigger gear loops. The Petzl Macchu Junior Harness, for example, has been praised for its big gear loops that can accommodate enough quickdraws for your mini-crusher. They should sit straight on the hips and make the harness well-balanced, even when it is loaded up with gear.
Leg loops
The leg loops should not only be well padded and easy to adjust, they should also have elastic leg risers, so you can adjust the height of them in the back for a more comfortable climbing experience. Especially when the kids are older and spend more time working on routes, well-padded and comfy leg loops are essential.
Belay loops
A belay loop makes the harness much more versatile than having just the tie-in points because it allows your climber to advance on to belaying themselves when they are old enough. A colour coded abrasion protection is a handy safety feature as it will make it easy to see when the harness is worn through and should be replaced.
Colour coding on tie-in points and belay loops is also a very good feature as it makes it easy to do a quick visual check up on the harness before your little one is off onto the wall.
Wrapping it up
Now you have everything you need to know about which harness to buy for the little climber in your life. Our selection of harnesses gives you an overview of the top 6 kids climbing harnesses out there, featuring all three available styles from the best brands.
Now get out there with your kiddos!
Further Reading
If you are looking for more information on which gear to buy, why not check out our article on the best climbing harnesses and best climbing harnesses for beginners.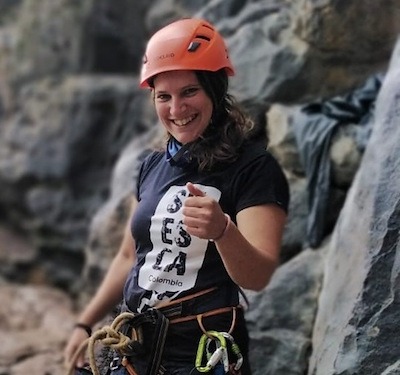 Hi there, I am Mirjam and have recently discovered rock climbing for me while backpacking in Colombia. Originally from Switzerland I currently live in Venezuela and work as a freelance writer and translator. I have always loved being in nature and the mountains and am stoked to explore more of the world's best climbing in the years to come!
You can find me at @mirigoesround or www.bosstranslations.com