| | Name | "Score" out of ten | Check Price |
| --- | --- | --- | --- |
| Top | Black Diamond Momentum Full Body Harness | 10/10 | View Prices |
| | Edelrid Fraggle III | 10/10 | View Prices |
| | Petzl Ouistiti | 9/10 | Click Here |
| | Petzl Simba Full Body | 9/10 | View Prices |
| | Trango Junior | 6/10 | View Prices |
We've browsed the internet far and wide to find the best full body climbing harness for kids so you don't have to! This is the ultimate guide for parents, uncles, aunties or anyone else who wants to take a child in their life on a climbing adventure. 
We have compared 8 full body climbing harnesses for kids from different brands like Petzl, Mammut, Edelrid and others, to give you a round-up of the best options out there for your little climber.
All those kids climbing harnesses are safe and will keep your little one secure, but the safest harness is always the one your child will want to wear. So it has to be comfortable! Make sure your little climber gets to try on a few different options to see which one suits your and their needs best. 
In this article we will look into why kids need different harnesses and why, especially for younger kids aged below 10, a full-body harness is the safest choice. 
So, let's get into it!
Hey! By the way… this page contains affiliate links. So if you make a purchase after clicking one at no cost to you we may earn a small commission. Thanks for your support!
The Best Full Body Climbing Harness For Kids
We compared 8 full body harnesses from all the top brands like Black Diamond, Petztl, Mammut and Edelrid, but also threw some lesser known alternatives into the mix like the Skylotec Buddy Pads and the Trango Junior to give you the best possible and most comprehensive review over kids full body harnesses at the time of writing. 
The best 3 full body harnesses we have found are the Black Diamond Momentum Full Body Harness and the Edelrid Fraggle III, closely followed by the two Petztl options (Simba Full Body and Ouistiti) as well as the Skylotec Buddy Pads.
So, let's dig into those top three favorites.
Check Price and Reviews On Amazon
Modelled after the well-known and popular Momentum Harness, the Momentum Full Body Harness is a full-body version for the smallest climbers, providing full support while being comfortable at the same time. 
It is very lightweight and its breathable, soft foam padding provides a lot of comfort both on and off the wall. A high tie-in point for extra safety and a calmer parent makes this harness a top choice for your mini-climber. 
Thanks to its semi-rigid foam shoulder piece and leg loops it is easy to put on and quick to adjust.
Check Price and Reviews On Amazon
The 2020 upgrade of the Edelrid Fraggle II, the Fraggle III boosts the semi-rigid structure that makes putting the harness on easy thanks to its padding and chest-clip. With its stiff construction, fixed leg loops and two Slide Block buckles the harness is easy to adjust to fit your kid perfectly. 
Thanks to the clip in the front, it stays closed even when the child is not tied in and allows for playing around without having to take the harness off or the danger of it slipping off. 
It comes in two sizes, XXS and XS which means that it does not grow with your child as well as other harnesses do and is not as adjustable. It also has an extra tie in point at the back so it can be used for other activities as well. 
Check Price and Reviews On Amazon
The Simba harness is ideal for kids from 5 to 10 years and up to 40 kg/88 lbs with fully adjustable shoulder straps and leg loops for the perfect fit. 
In contrast to the first two harnesses, this is made of webbing material and does not stay in its shape, but thanks to the color coding the harness is easy to put on without any mistakes. 
Thanks to its fully adjustable set-up it will grow with your child and the Doubleback adjustment buckles make for easy adjustment while your little one becomes less little.
The Petzt Ouistiti (although difficult to pronounce), as well as the Skylotec Buddy Pads got very good ratings, too and are solid and safe choices for your child. 
Why Climbing Harnesses Are Different For Kids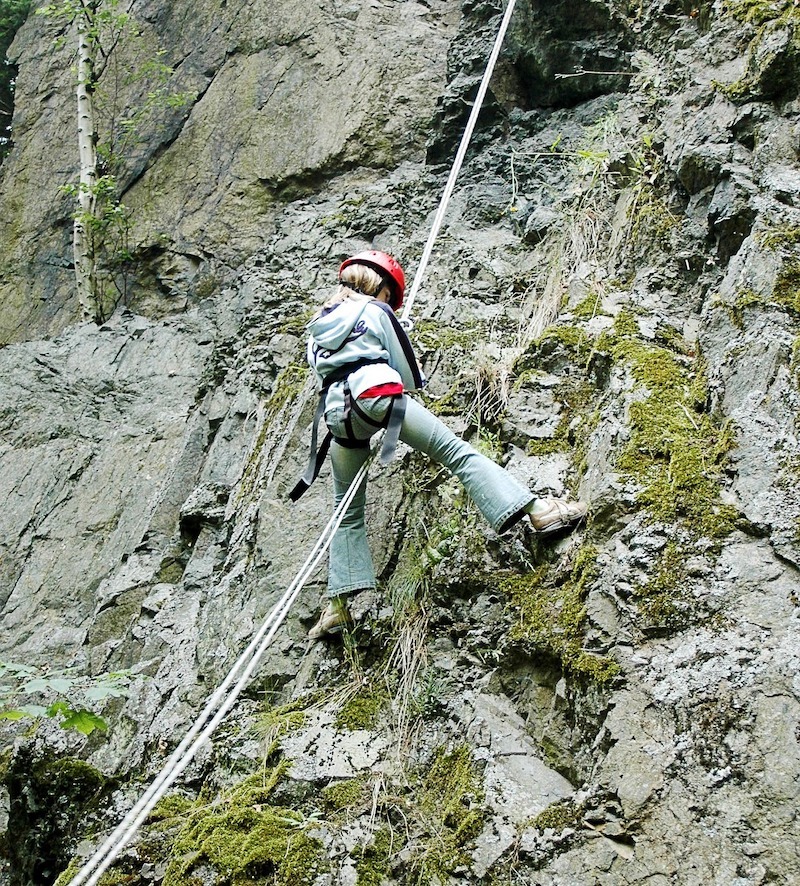 The purpose of a climbing harness is to keep you safe when you fall and to transmit the force generated so that it impacts the body in a gentle way. 
But there are some big differences between a harness for kids and for an adult, mainly based on the inability of small children to remain upright when they fall because of the proportions of their body and the lack of pronounced hips that help to hold them inside the harness. 
Kids climbing harnesses also often have a higher tie-in point than adult ones to offer more stability and safety as they lower. 
his supports their upright position even when they are not climbing and to prevent them from flipping upside down. 
For kids a light, adjustable and comfortable harness is even more important than for adults to ensure that they are well-situated and can enjoy their first rock climbing experience. 
The buckles, ideally, are quick to adjust and the tie in point should be clearly marked. These climbing harnesses often feature none or only 2 gear loops and, depending on the level of climbing your kid will be doing, these loops may not be necessary. 
If you are going to attach a chalk bag for your kid, it is better to tie it around the waist with a belt and not attach it to the gear loops, as the bag can end up hanging very low and dangling around your kid's legs while climbing. 
Because kids can grow so fast over the course of just a few years, their harness has to be much more adjustable than adult ones. So even a one-size model can fit your child for several years.
There is a maximum weight for kids harnesses, which are generally around 88 lbs/40 kg, but some are only up to 66 lbs/30 kg, so keep that in mind when purchasing. 
Some of these harnesses are also limited in their size range when it comes to leg loops or torso length, but this depends on each mode.l Check the small print, or, ideally, try on the harness to make sure your little climber is comfy and the harness fits well! 
Only if the harness fits well will it truly be secure. If your child feels safe and comfortable, they will also enjoy the climbing experience much more.
We have talked a lot about "kids harnesses" but the truth is, there are actually different styles!
A sit-in harness, which is like the mini-version of a normal adult harness

A full-body harness

There is the option to add a separate chest harness to a sit-in harness to turn it into a full body harness in two parts
Why Small Children Should Use Full Body Harnesses
In this article we will focus on full body harnesses because they offer an extra layer of security for your child and are especially suitable for kids between 5 and 10 years of age.
 Like the name says, a full body harness also involves chest and shoulder straps and does not just sit around the hips. This has several advantages for small climbers and, depending on the design, it can also be used for other outdoor activities like via ferratas or tree parks.
First, a full body climbing harness keeps children from going upside down. 
Because of their proportions, kids of that age often have a heavy head and their core muscles are not yet strong enough to maintain an upright position in case of a fall. 
A full body climbing harness automatically keeps them in an upright position and therefore keeps them from flipping upside down because the tie-in point of the rope is higher. It sits at the height of the sternum and not down at the hip, so the child automatically assumes an upright sitting position when they are not climbing, without tilting too far forward or backward. 
It also makes it easier for them to rest because they don't have to use any energy to sit upright, which can be tiring. They can simply lean back, relax and will be maintained in an upright position, ready to climb again.
Secondly, it stops the child from falling out of the harness. 
This sounds obvious but sit-in harnesses are maintained in place by our hips, which are often not pronounced enough in small children to prevent the harness from sliding off when they are upside down. The shoulder and chest straps avoid this potential sliding off of the harness and keep our kids safe at all times.
A full body climbing harness is therefore essential for the safety of your child, as it prevents them from tilting too far forward or backward and also makes sure that the harness does not slide off. 
There are a variety of different designs out there, but they all have a similar base structure with leg loops and shoulder straps. Some also have a chest belt with an extra clip to keep the climbing harness closed at all times, while some are only closed in the front while being tied into the rope.
Kids "Youth" Rock Climbing Harnesses
There is also a difference between full body harnesses and kids rock climbing harness. There are many kid or "youth" harnesses which are designed for children normally between the age of 8-16.
These are essentially 'normal' climbing harnesses which only go around the waist, just with different proportions.
Full Body Climbing Harness Fit
For the harness to be safe, it has to fit right. This influences the hanging position and comfort level of the child, and it is therefore important to individually adjust the harness to your kid.
 If you have a single harness for several children, make sure it is easy and quick to adjust so you can avoid unnecessary delays. If you have a harness for just one child, this does not matter as much as you'll only have to adjust it occasionally while your little one grows.
So, what to look out for when you adjust the harness: 
It should have a good fit around the waist

The hip belt should not be too high or too low

The leg loop should be relatively tight against the top of the thigh

The harness should fit snugly around the chest
Because kids' harnesses are made to grow with your child over several years, they are generally very adjustable and fit a range of different body types and heights. 
Check the maximum weight on each individual harness, which is 88 lbs or 40 kg in most cases, while there are some that only go up to 66 lbs or 30 kg.
The correct fit is an important part of your safety routine while climbing, together with adequate belay equipment and knowing the necessary techniques. If you need any more pointers on how to be safe while on the rock, check out our guide for belay devices. 
Style – color coding and gear loops
Most harnesses in this test are brightly colored and kid-friendly to look at. There are differences in design and style among the different models and brands, but most of the harnesses nowadays are color coded, to make them easy to put on, even for an untrained person. 
Some color coded models in our review include the Petzl Ouistiti and Simba models, as well as the Skylotec Buddy Pads or the Mammut Elephir, which has different colors on the left or right for example.
They also differ in the type of material they are made off. Some harnesses include foamy parts which are more rigid and help the harness to maintain its shape and makes them easier to put on. 
Some harnesses however, like the Petztl Simba or the Mammut Elephir, only contain webbing and no "solid" parts. While this does not influence their safety, it can make them a bit more fiddly to put on, especially on young children.
Looking at the design of the harnesses, some of them have more features than others. Out of the 8 harnesses we looked at, only two of them had gear loops: the Petztl Ouistiti and the Salewa Bunny Climb. 
The Petztl Ouistiti further stands out because of its extra attachment point in the back, which makes it suitable for other outdoor activities like hiking on exposed trails, for example.
You know best what you will use the harness for, so it is up to you to choose whatever design fits your needs best. The most important thing to prioritize in any situation is the correct fit of the harness and, of course, the comfort level of your child.
Comfort – from padded leg loops to worry- free playtime
Harnesses aren't always the most comfortable. But modern kids harnesses are a far cry from the awkward nets of webbing we might remember from our own childhood. Now they feature comfortable leg loops and shoulder straps and some even have a padded part in the back and on the hip belt.
Not all harnesses have padded leg loops, which could influence their comfort. For this reason it is important that your kid tries on the different types of harnesses you have picked out to make sure they feel comfortable and safe. 
How long the adjustment of the harness takes can also influence the comfort of your child, who might quickly get tired of the endless fiddling on the many straps and buckles. Make sure you get a harness that is easy to adjust, especially if you use it for more than one kid.
When kids are in the climbing gym, they certainly do a lot of things besides climb. Some harnesses have a small clip on the chest belt to keep the harness closed at all times so it doesn't fall off when playing around, even if the rope is not tied in. 
This is the case for the Trango Junior, the Edelrid Flaggle III and the Skylotec model, for example. Others, like the Petztl Simba and Mammut Elephir, do not have that feature and can therefore slide off when your kid is playing around without being tied into a rope.
These are some of the factors we considered when comparing these 8 harnesses to help you decide which one is the best choice for you.
So, what's best?
There are a variety of climbing harnesses out there, so you have a lot to choose from. In this article we showed you 8 safe and convenient full-body harnesses, while also sharing our top 3 favorites and some detailed info on each one of them. 
Black Diamond Momentum Full Body Harness

Edelrid Fraggle III

Petzl Simba
When choosing a harness for your child, make sure to read up about the maximum weight and size requirements for each one, and consider what extra features you want your harness to have. 
Do you need gear loops? Do you want to use it for other activities and need an extra attachment point in the back? 
Not all harnesses are equal but all the models above are safe to use and depending on your needs and budget, we are sure that the right harness will be in there for you!
Further Reading
For more reading, check out our article on the best harnesses in general, and on the best mountaineering trad climbing harnesses.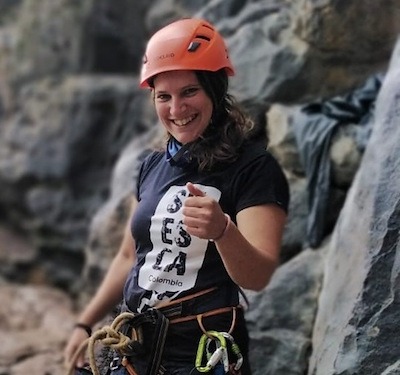 Hi there, I am Mirjam and have recently discovered rock climbing for me while backpacking in Colombia. Originally from Switzerland I currently live in Venezuela and work as a freelance writer and translator. I have always loved being in nature and the mountains and am stoked to explore more of the world's best climbing in the years to come!
You can find me at @mirigoesround or www.bosstranslations.com