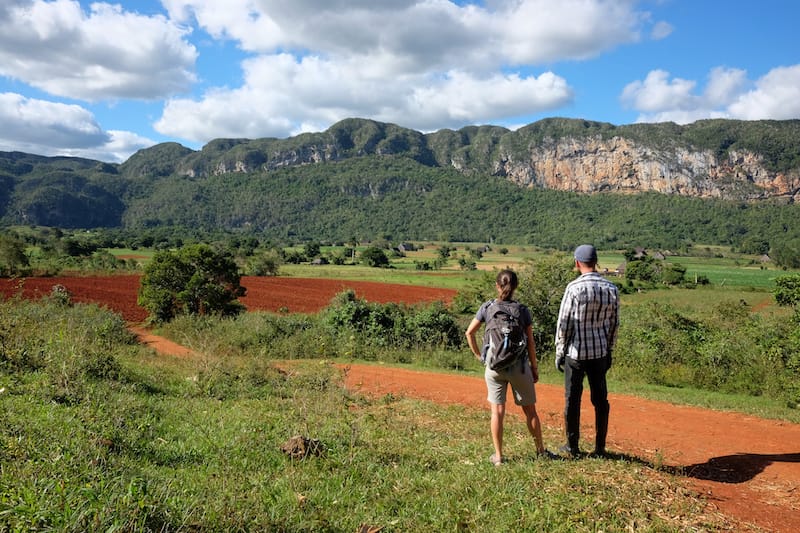 Today we'll show you a climber's perspective on rock climbing Cuba.
Submitted by one of our readers, who happens to be in the middle of driving across the planet in his truck.  
You'll get a first-hand perspective on traveling to Cuba, the culture and of course, the climbing. 
I think you're going to love it.
Enjoy!
In the Beginning: Arriving In Havana
This is not a guide to climbing in Cuba. It is a guide to what you can expect from Cuba, for climbers who want to visit. 
As the plane wheels slap the scorched tarmac at the José Martí Airport, 15km south-west of Havana, Cuba, I look over at Claire with a feeling of bemusement. 
After six months driving from Canada through the United States and eight months driving through the lion's share of Mexico, it is unsettling leaving our truck camper behind, tucked in the corner of a campsite in Cancun, Mexico.
I should preface this post by stating we are beginner climbers with only a 4-day course under our harnesses. 
We have now completed a small number of solo outings and lead climbing on two or three 5.8 routes. 
When we landed in Cuba I had barely climbed and Claire had completed two indoor try-it-and-see climbing gym sessions several years prior.
It should be noted that climbing in Cuba has been described as sublime; perfect weather and stunning lines. 
The irony of going to a celebrated climbing location, without the chops to climb vast quantities of it, is not lost on me. 
Cuba draws praise and dislike in equal measure. Some people love it, some don't. 
Now that I climb, I'd say a few days spent in Havana, combined with a stopover on the way to Vińales would suffice. 
Add on to those couple of days the extra time you want to spend climbing the 300 or so routes.
Planet Mountain describes Cuba as follows: ".. The climbing is superlative, cracking jugs and pockets in chiseled karst limestone on improbable lines through stunning overhangs of stalactites and tufa columns .. Its multi-pitch classic climbs define big wall sport climbing with their remote locations and mandatory techniques like tag ropes and back clipping on rappel .." 
Glowing reviews rain down on Cuba's climbing scene.
One day, I will return as an experienced climber to tackle some of the wonderful terrain. 
In the meantime, you will have to head to other sources for beta, maps and route descriptions.
Cuba: A Layered Society
Cuba was something of a last-minute dash. 
Realizing that it was close to Mexico's Yucatan peninsula and that the flights were cheap, we ended up on a plane sipping a rum and coke and scanning the in-flight magazine. 
Mexico had been an epic road trip, Belize next on the list and the remainder of the Pan American highway beyond that. 
Infamous Cuba was a sideshow wedged in between.
Havana's airport is a hint of the strange world to come. 
If you're looking to find climbers, head on over to our FB GROUP and drop a post with your dates!
The female airport staff in disturbingly 'sexy' grey uniforms with fishnet tights, long queues at cashpoint machines, and a general sense of confusion from tourists as they begin to learn the many intricacies of Cuban society. 
For climbers heading to Cuba, this dual-layer society is going to be the foundation of your experience.
There is 'Official Cuba'. The communist country inevitably having a set list of rules and guidelines by which the country should be run. 
Then there is the 'Actual Cuba', the rules and guidelines by which people actually live. This will affect your entire time in the country and is part of the unique Cuba experience.
Your first dual experiences will be money and taxis. 
The cashpoints will dish out tourist money. People use Cuban money. 
The taxis will be official yellow taxis. People use unofficial local taxis and collectivos. 
There is always an official, there is always an unofficial. 
The government has to 'not see' the unofficial because the country would not work if only the official services were allowed to exist.
It's a communist catch 22.
Getting Online In Cuba
Travelers landing in a new country will reach for their phones. 
In Cuba this will result in a wholly offline experience. 
The internet is strictly controlled to key internet zones. 
One of these zones is usually park areas with a neighboring kiosk and customary line of people waiting to buy a scratch card. 
Scratch cards are cheap and allow access to the Wi-Fi signal at the park location.
Grab a card, scratch to reveal your code, and settle down on a bench alongside the other data addicts busy catching up on life outside Cuba. 
Thanks to the (of course, illegal) use of Wi-Fi extenders, some of the accommodations that advertise Wi-Fi might have Wi-Fi. 
Some of the larger hotels will have Wi-Fi and grabbing a coffee or beer inside will get you access.
Cuba Climbing: Considerations
Climbing highlights the stark layers of official versus unofficial Cuba. 
Climbing is legal in Cuba. 
You have to use an official guide. 
You have to use the official equipment. But it is legal.
The catch? There are no official guides. 
There is no official equipment. 
Climbing is officially legal. 
Climbing is impossible to do officially, but does unofficially exist. 
The government pretends to control everything and Cubans pretend to be controlled. It keeps things harmonious.
So, how do you climb in Cuba? 
You find an unofficial guide, who openly promote themselves as Cuba climbing guides. 
And you use the unofficial equipment (a considerable array of used climbing gear) that has been donated to the guide by visiting climbers who have either left him some gear or who have purposefully brought used climbing gear to leave with him.
Then you head to what is considered by many to be some of the world's best climbing. 
Or, if you are beginners like us, you head to an easy 5.6 to learn about ropes and belaying and watch in awe as those who have mastered their craft scale amazing multi-pitches.
It is difficult to avoid feeling wary of this double layer. In reality, everyone knows that it needs to exist. 
Unless you do something wrong, the powers that be will not use it against you. 
As deterrents go, it's a good one. 
Tourism and tourists seem to have an easy time and foreigners are 'allowed' to climb. Cubans are not allowed to climb but are simply 'not seen' by the authorities who may or may not be looking.
In instances where Cubans have been arrested for climbing with foreigners, the foreigners have been allowed to continue climbing.
The guidebooks can give you a tour of Cuba and list places to stay. But for climbers, rather than tourists, you're going to want to focus on Havana, because it's an amazing city, and Vinales, because that's the main focus for Cuba climbing.
Back to the dual layers. 
Don't be surprised to be hustled at the airport by someone asking you if you need a taxi into Havana. Just run with it. 
They are pretty friendly, but need to hustle inside the airport because their unofficial taxi is not allowed in the official taxi line. 
The price from the airport into Havana isn't cheap, so don't expect it to be.
Where To Stay? With The Locals
For places to stay, skip the official hotels. 
These are likely to be expensive and terrible. 
Instead, head to the unofficial 'Casa Particulares' which openly advertise on AirBNB and also have signs outside. 
There are a considerable number of them so you will not be stuck for accommodation. Casa Particulares are effectively rooms in someone's house but, usually, feel a bit more like a small, intimate hotel or AirBNB.
Or it could actually be a room in someone's house. 
It will be obvious on AirBNB which is which, so go and pick your poison.
Navigating Havana
Havana is split into areas. 
By far the most interesting, to the more curious traveler, is Havana Centro and I recommend finding a place to stay there. 
Travellers used to a glamorous street atmosphere might, at first glance, feel a bit intimidated, but roll with it. 
It is raw, it is gritty, but it remains one of the world's most unique places. 
I can't even start to describe the visceral feeling of wandering Havana Centro but it is wonderful and a street photographer's paradise. 
You will be right in the heart of real Havana. 
Street hawkers, families clustered outside their homes chatting, radios blaring salsa music, old-timers playing dominoes in the street.
It's an assault on the senses and your traditional traveler radar may be telling you it's a slightly sketchy place to be, but wander over to the shady groups of shouting, tattooed guys playing dominoes and one of them is sure to strike up a friendly conversation and maybe even ask if you want to play.
This area can seem rough and ready but it also has a heart and soul and very friendly people. 
I can't stress enough how fascinating I found this district. 
Overall, I can take or leave Havana, but the Centro District is amazing.
Another area to look out for is the Malecon. A somewhat jaded area that has some good people watching at popular times. 
Havana Viejo, old Havana, is a gentrified area of cafes and restaurants with a ton of cruise ship visitors crowding overpriced restaurants. 
My tip for those on a tighter schedule would be to spend a day or two in Havana and then head out from there.
Cuba And Those Old Cars
Now seems a great time to mention the ubiquitous, colorful old American vehicles that crawl around Havana's streets. 
These range from renovated tourist sightseeing machines to the much cooler local taxis that are barely holding themselves together. 
These vehicles were left by the Americans that fled when the whole Cuba thing blew up. Their homes and cars were repurposed by Cubans. 
Faded glory is a term that, when applied to Havana, may be unmatched anywhere else in the world.
The vehicles may or may not be safe, may or may not have holes in the floor where you can see the road, may or may not have anything other than seats and a steering wheel… you get the picture.
They do ooze character, and, despite getting a boring proper bus to Vińales, we got several of these back to Havana and used them for hops from city to city as well as around town. 
They are cheap and usually just roll by on the road asking if you need a lift.
One thing to be aware of, Cuba is longer than it might seem. 
The trip from Havana to Vińales is around 12 hours, so I recommend checking out a stop or two along the route to spend a day / night. 
Breaking the journey into a couple of 6 hours jaunts, or even two stopovers and a few 4 hour stages might be preferential. 
If you do decide to cover some serious ground to get to the climbing spots faster, then a nice comfy bus is your best option for a long journey.
Getting from city to city in one of the colorful, old wrecks is a bit harder, as the dual layers of official and unofficial comes back into play. 
Buses are obvious: find the station, book a ticket, hop on. 
Trying to find where the long haul 'collectivo' taxis gather, as a tourist, can be difficult. The collectivos are usually for locals only and hide out in a certain part of the outskirts of a town nowhere near the bus station or more obvious official transport. 
Keep asking and eventually you'll succeed.
Arrange a private ride or, more usually, group together with a friendly but confused Cuban family wondering why you have not paid for the bus. 
You may end up with a child in your lap, but it will cost next to nothing.
The short of it is that buses are more comfortable, quicker, more reliable. 
The old taxis or collectivos are more of an experience and could possibly see you stuck by the roadside while the driver either tries to fix the car or have someone come to pick you all up.
Rock Climbing Vinales
For climbers, Vińales is the big draw. 
The location is beautiful. Rolling fields of tobacco (you have heard of Cuban cigars, right?) give way to big mounds of limestone. 
The town itself is simply a few roads of well presented, single story, small houses. 
When Cuba realized the benefits tourism was bringing, they took the rare step of relaxing the restriction on owning a private business, allowing a home to take in a guest or two. 
When a communist country throws its citizens a bone, that bone is met with unparalleled enthusiasm.
Vińales is a small, pretty countryside town/village with rows of compact, well maintained houses. And almost every single one is a B&B. 
If you're looking to find climbers, head on over to our FB GROUP and drop a post with your dates!
The sheer quantity of places to stay stands in stark contrast to the number of people actually in the town.
The opportunity to make a few dollars meant that everyone converted their properties. Some have done it better than others, and some have the families living there too. 
My recommendation would be to head slightly off the two small main roads and pick one that backs onto fields with a nice view.
The restaurant scene in Vińales is good. It's a low key town, but touristy. 
Food is plentiful, the choices varied. 
Bars offer a range of cocktails, the Cuban Old Fashioned a favourite. 
There are a couple of stores, and also a small street market, but don't expect to go on a shopping extravaganza.
Vińales is all about the outdoors and the small excursions to caves or tobacco farms. 
I usually avoid these types of organized fun, but the experiences were surprisingly authentic. 
The cigars will likely take some getting used to for non-smokers but have a puff just to say you did.
Climbing Information
For climbing info AirBNB has an activity section, which we booked through. 
A better option might be to contact the guides directly through [email protected] or call +53 71 5614.
I know that some of the guides have accommodations too. 
If you're looking to find climbers, head on over to our FB GROUP and drop a post with your dates!
The 'experiences' can range from straight up climbing to a hike and climb while taking in some of the surrounding area. 
So, if you are climb focused, ensure you make that clear. 
As a newbie and unsure of what to ask, the AirBNB option seemed like a safer, easier one. 
Knowing what I know now, I would go straight to the guides and ask for whatever suits your plan and budget.
Weather
Vińales can be hot but not too humid. 
It can rain but, even then, the overhangs and climb areas provide climbing in all but adverse conditions. 
Nights can get cooler, so a sweater or fleece may be useful. 
December to March are said to be the best months.
Conclusion
I'd love to be able to advise you on which crag to climb or which epic route should not be missed. But, frankly, that was – and probably still is – outside the scope of my experience and ability.
Hopefully I have piqued enough interest that you might look into Cuba's bewildering, sometimes frustrating, uniqueness and world class climbing.
For more information specific to climbing in Cuba, you can check out the Cuba Climbing website. 
It also provides essential information on how you can donate much needed equipment to the Cuban climbing scene.
After selling everything they owned, James and his wife, Claire, embarked on an epic global road trip in their truck camper. They got the climbing bug in Cuba and Costa Rica, before getting firmly hooked in Colombia's mountain ranges. They have now been on the road just under three years.