Going climbing in El Salto?
We got all the beta in one place in this incredibly awesome guide. Directions, accommodations, climbing & more!
El Salto is one of the most popular climbing areas in northern Mexico and is without a doubt the epicenter of the hard climbing in this amazing country. 
Every strong climber in Mexico who wants to get better, as well as many serious climbers internationally, eventually book a flight to challenge all the amazing routes that El Salto has to offer.
This guide was written from the experience of living within an hour drive of this amazing destination and visiting many weekends over the years as the beloved local crag.
El Salto Overview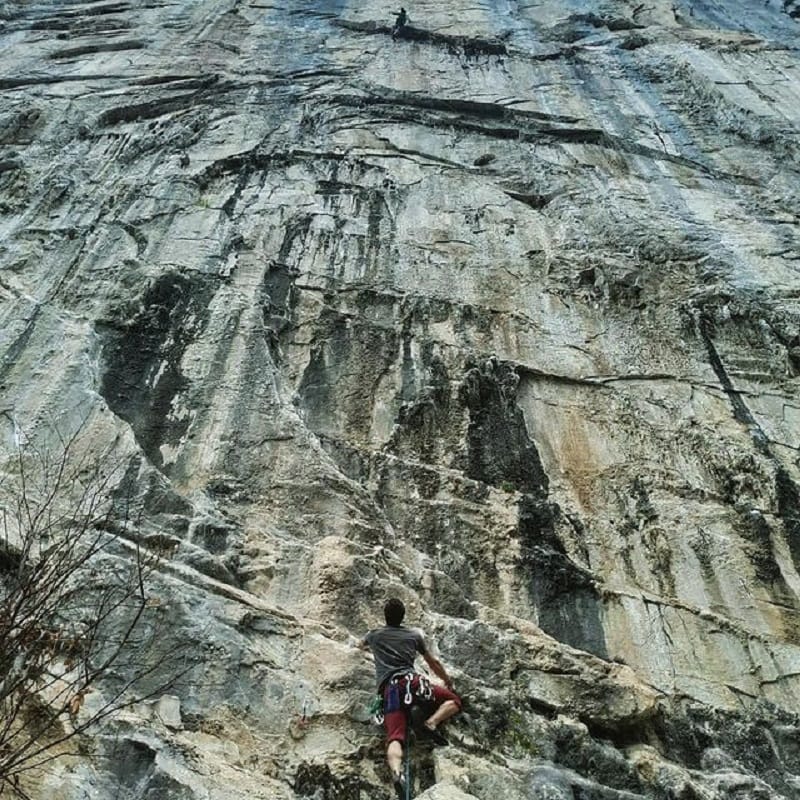 El Salto is without a doubt the best crag in Mexico for experienced climbers, and one of the best crags in North America. 
It is an overhanging paradise of limestone. It has tufas. It has caves. It has technical faces. It has steep climbing. But what stands out the most is that all of these are in the upper ranges of the difficulty grading scale.
El Salto is home to the highest concentration of difficulty climbing in Mexico. It has more than 150 routes graded 5.12 or higher, and over half of those are 5.13 (or higher). So it is quite frankly the ideal location for every intermediate to advanced climber who wants to have an amazing time.
This, combined with the fact that El Salto is in a tiny Mexican town with a very cheap cost of living and slow pace of life, makes it a marvelous location to spend a couple of days, a couple of weeks or an entire season.
I am an average weekend warrior living in Monterrey and I have been regularly climbing in El Salto over the past 5 years, so trust me when I tell you: you must visit El Salto! You will not be disappointed.
Why Go To El Salto?
To put it shortly, one should visit El Salto plainly and simply because it is a world class sport climbing destination. It is a hidden gem that has inexplicably stayed under the radar of the wider climbing community. 
The area is home to more than 300 routes within walking distance of the town and its multiple campgrounds, and it still has tons of potential for development. It could easily house thousands of routes as it continues growing over the following years.
Another very important reason to visit El Salto is to experience the true potential of the Mexican climbing scene. Due to the sheer amount of high-quality, 5-star lines it has to offer, it is the place where the strongest climbers in the country gather to have the greatest of times and get even stronger together. 
In fact, El Salto is an important location for Mexican climbing history since it is where Fery Rodríguez became the first Latin American female climber to climb 5.14 when she sent "La Bomba H" (The H-Bomb). 
Climbing here consists mostly of single pitches, but routes are very long and pumpy and many even have extensions. 
If this sounds too intense for you or if you ever want an easier time with a lot more multi-pitching, the nearby crag El Potrero Chico is another world-class easy-to-moderate multi-pitch destination located less than 2 hours away in the opposite direction crossing Monterrey.
As mentioned earlier, El Salto is located in a very small town, so it allows one to have access to the comforts of civilization while still providing a very relaxing environment. 
Conditions-wise, el Salto is located up in the mountains, so it allows for perfect temperatures in what is otherwise usually a very hot country. Due to its convenient altitude, days are dry and crisp, making for perfect temperatures. 
In the winter seasons things can get a bit colder. But what might be considered cold for some locals as myself (around 0-5 °C) could be the prime sending conditions for others.
The climbing community here is very strong. It is centered around its campgrounds and the local goods shop "Mini Super Doña Kika". 
Also, as you might imagine, it is relatively cheap to stay here. With camping fees being around $10 a day at the time of writing it is easy to live comfortably with no more than $20 a day. It used to be half of that less than a year ago, but with the rise of popularity prices have gone up as well.
A true paradise for dirt baggers, but with the option for those who want to upgrade their stay into something a tad more comfortable.
When Is The Best Time To Rock Climb at El Salto
El Salto sits at an elevation of about 4,800 feet, which is fortunate for climbers as it helps keep the conditions cool and dry in an otherwise very hot and humid region. 
The weather in El Salto is for the most part cool, dry and sunny. And even on the rare rainy days it is possible to climb in the main wall if it is not pouring hard, due to the steepness of the climbs.
The main climbing season for El Salto is during winter since that is when conditions are the best in what is usually a hot country. However, it is always cool and dry up there due to the altitude and one can climb there all year long without any issues. 
In fact, even though winter has the prime conditions, locals usually prefer to visit El Salto during the warmer months because other nearby crags tend to get too hot during these times in comparison to El Salto.
If planning to climb around Monterrey for longer periods, it could be wise to divide your time between 2 (or 3) of the nearby big crags: El Salto and El Potrero Chico (and a less popular crag, La Huasteca). El Potrero Chico can get too hot during summer, so if wanting to visit both it could make sense to visit EPC during winter and El Salto during the rest of the year.
However, even though Mexico can be hot during the day, it does get cold at nights and can reach freezing temperatures, so make sure to be prepared and bring some warm clothes for the night.
Due to its proximity to the US, and with Monterrey being the industrial city of Mexico, it is very cheap to fly there any time of the year.  
Where Is El Salto and How To Get There
El Salto is a sport climber's paradise in the northern state of Nuevo León. It is located right next to a small town named Cienega de Gonzales, which is about an hour drive away from the state's capital, Monterrey. 
Its massive canyons are up there in the mountains of the Sierra Madre Oriental mountain range. El Salto itself is named after a waterfall which is usually dry and abseiled from, but  can get water during rainy seasons.
Cienega de Gonzalez
Cienega de Gonzalez is a small and quiet town, so it is very relaxing, but you can find everything you need to have a comfortable stay. It is surrounded by forests and mountains so it is a very scenic destination. 
There are different options of accommodation, stores for basic groceries, and restaurants if you get tired of cooking for yourself.
One thing you should have in mind is that there is no cell phone signal in Cienega de Gonzalez, nor any 3G or 4G internet. But you will find Wi-Fi at pretty much every accommodation option up there. Or you can rent temporary Wi-Fi at Doña Kika's.
How To Get To El Salto From Monterrey Airport (MTY)
If you arrived in Monterrey by plane, there are various options to get to El Salto from the airport. MTY airport is located in the outskirts of Monterrey and is about a 30 minute ride to the city center, or about a 2 hour drive to El Salto.
The cheapest, but hardest and most time-consuming way to get there is using the public transport system. You can take a bus from the airport to the Monterrey bus central. Then from the Monterrey bus central you take a bus to El Cercado. Afterwards, from El Cercado you can take a bus to Laguna de Sanchez. 
Finally, while on this bus you should ask the driver to tell you when you reach El Salto in Cienega de Gonzalez, so he lets you know when you get there, and you do not miss it.
Another option is requesting one of the various shuttle services offered by local climbers. They pick you up directly at the airport and drop you in the crag.  "Be driven by climbers".
This option may be convenient because ubers or taxis will not take you to El Salto because it is too high up the mountains, the road is too steep, and there is no phone signal. 
Besides that, some of the people offering these services are quite knowledgeable about the climbing at El Salto. 
Take Joe for example, he is an active route developer, as well as the owner of one of the camping spots and some of the cabins for rent. So riding with him on the way to the crag might be the perfect opportunity to learn all you want to know before you even get there.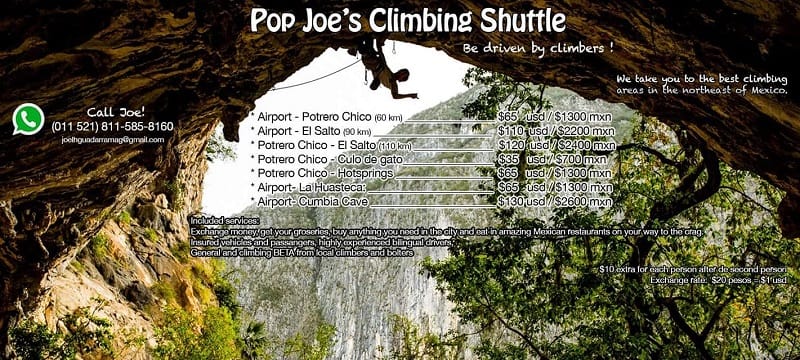 And the same applies when trying to get back to the airport, although you could find a ride to Monterrey and then get a cab or uber from there.
Finally, in case you get your own car, you can drive yourself up to El Salto.
How To Drive to El Salto
If you go to El Salto from Monterrey you need to get into one of the main streets of the city, Eugenio Garza Sada Ave, and exit it to the south. 
The end of Garza Sada is the beginning of the Federal Highway or Carretera Nacional. Follow it for about 25 kilometers and then some meters after a town named El Cercado start paying attention to your right. 
Look for a sign that says "Cola de caballo" and turn to the right there into the Laguna de Sanchez road. 
Continue straight this road for about another 25 kilometers, you should pass the Cola de Caballo waterfall on the way and once you pass the El Manzano area, you will reach a small town with many cabins and houses. You will have reached Cienega de Gonzalez.
In case you want to try your luck to find a ride there, or to split costs on your way to or from El Salto, you could try joining any of the El Salto Climbing communities on Facebook a few weeks or days earlier and attempt to find someone there.
El Salto Safety
Mexico has had a lot of bad press in terms of safety due to the drug cartels. However, it is the consensus of locals and climbers that Monterrey and El Salto are both pretty safe.
But as a foreigner in any given country, it is recommended to take caution and use your own judgment. The Australian embassy has an excellent page with more information and recommendations so you can judge for yourselves.
Rock Climbing At El Salto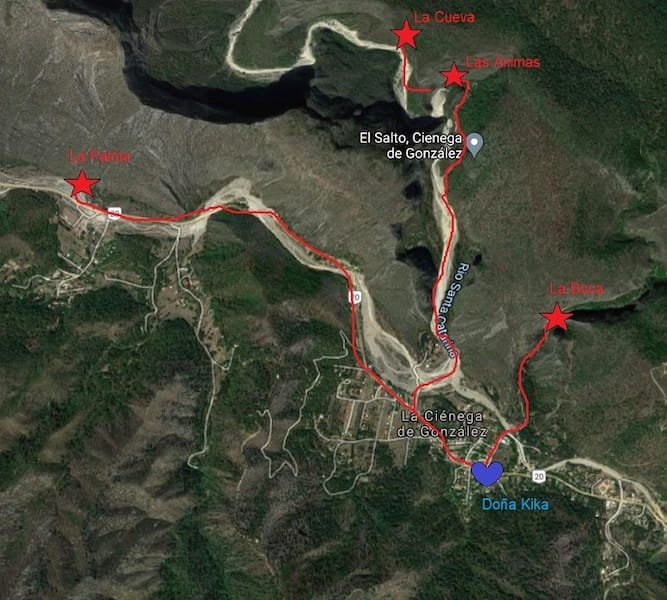 Finally, time to talk about the good stuff. El Salto offers some of the highest quality routes in the country, which is why people come from all over Mexico, the US and the rest of the world. 
Between the hundreds of routes at El Salto, those at El Potrero Chico and at La Huasteca, Monterrey is the climbing mecca of this north American country and it could easily keep any climber entertained for years and years to come. 
And even though there are already thousands of routes combined between those three areas, there is still tremendous potential for further development to add thousands of routes of the highest quality, as well as smaller crags besides the 3 big ones scattered around.
Climbing at El Salto consists mostly of long single pitches, most around 30 meters long but some extending up to 50 meters in length. The longer ones are extensions of shorter routes, so they have midway anchors to lower off from.
To fully enjoy El Salto, climbers must be comfortable climbing routes graded 5.12 or higher. While there are over a hundred routes graded 5.11 or lower, the sweet spot of El Salto classics lies in the 5.12 and 5.13 range, with a few 5.14 routes for those that are up to the challenge.
There used to be a guidebook available at Rakkup but it does not seem to be available anymore at the time of writing so I will not be sharing the link, but keep it in mind in case it becomes available again. 
However, most of the routes are very well documented at thecrag free online guide. 
Anyway, I will include some personal recommendations of routes you definitely have to get on further in the guide.
The climbing here is concentrated around four main crags and a couple of smaller and less transited crags:
La Boca – Main Wall:
La Boca is the most popular wall at El Salto. It is a gently overhanging limestone wall with many of El Salto classics. 
Due to the wall inclination, whenever there is a rainy day, water will not hit the wall nor will it drip from the holds, unless it is really pouring. This wall will receive sun during the day but will then receive shade shortly after noon and until it gets dark.
On the way to La Boca, before reaching the main wall, you will find 2 tiny crags with easier climbs. La Boquita and La Escuelita. These contain around 20 routes combined, graded in the 5.8-5.10 range. A few meters ahead lies the main attraction, the main wall.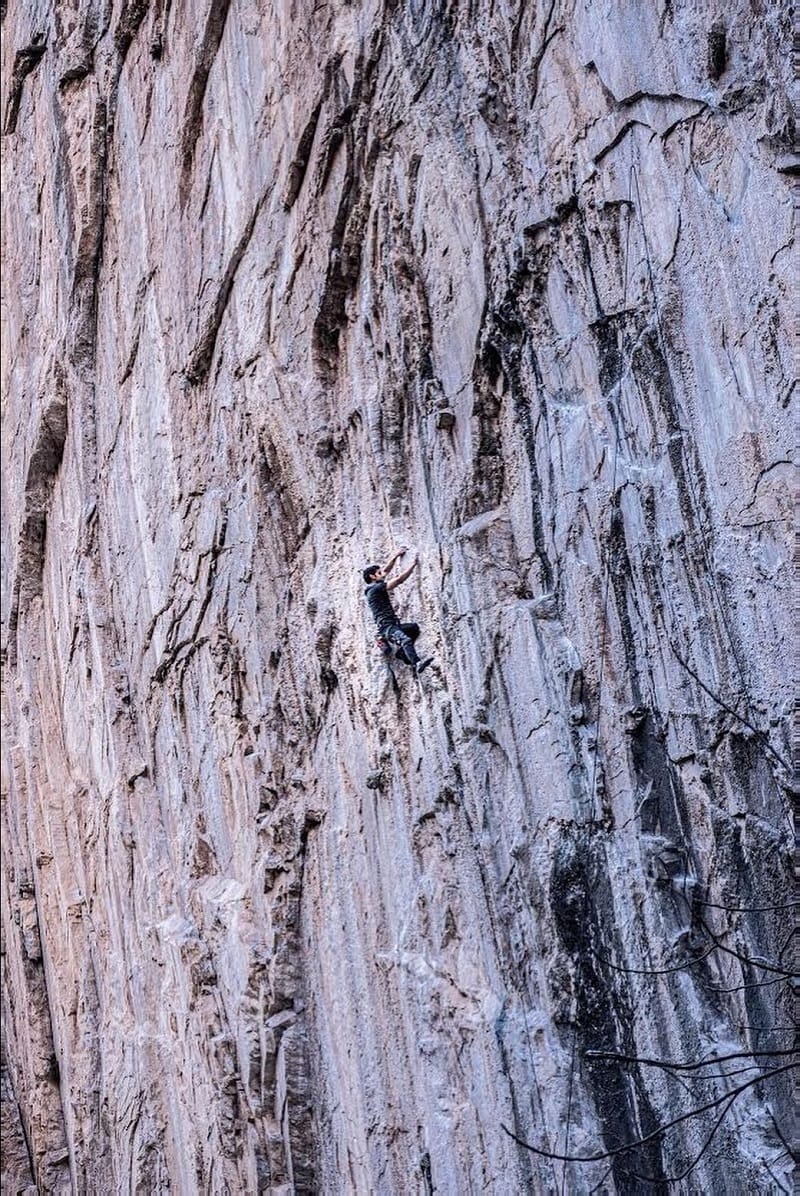 The main wall of La Boca has a few moderate lines graded 5.10 and 5.11 on the left, perfect for warming up for the harder stuff to the right. Trying to include routes for climbers of all levels, these are 5 of the best climbs in La Boca.
El Tecolotito (5.11d): Starting on a big block separated from the wall, El Tecolotito is probably the most transited line in El Salto. It is both the go-to warm up route for those climbing hard, and the mega-classic project for those projecting around that level.

Honeybear (5.12b): Technical and slightly overhanging line following a slabby flake into a series of tufas at the top.  Classic with a 5.13d extension for those up for a challenge.

Hijo de puta (5.12c): Route to the right of Honey Bear, climbing on a clean face with tufas, with a crux up high.

Lounge puppy (5.13a): Stellar route with easy start up to the fourth bolt, then great move after great move up to the very last.

Ayotzinapa (5.13b): Steep route trending left, ending just below a small roof. The strong can stop at the first chains, which mark the end of Ayotzinapa, but the very elite con continue trough the roof for another 20 meters of climbing until you reach the chains of "La Coyo y El Mictlan" (5.14c), one of the hardest climbs in all Mexico that has only been sent once at the time of writing, by local climber and developer David Ramiro.
Some people like to camp next to the dirt road that leads to La Boca. Please be advised that while common practice, it should not be done on private property without the owner's permission. 
For those staying in town, reaching La Boca takes a short walk of around 10 minutes on mostly flat terrain.
Las Animas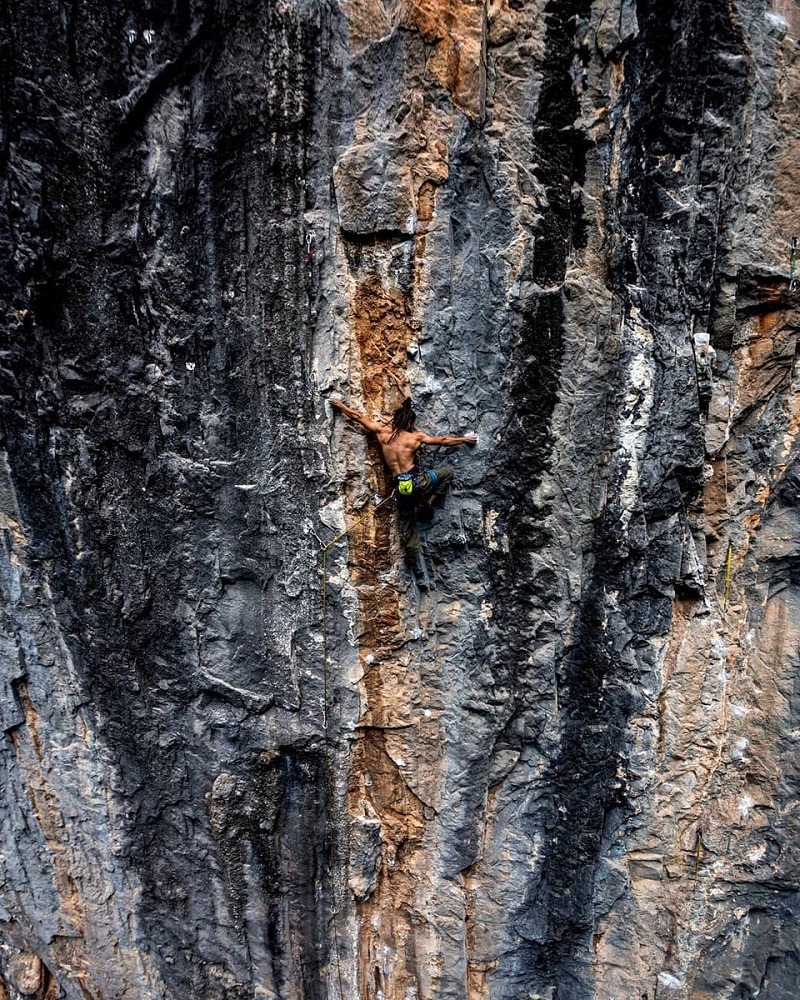 Las Animas is another overhanging limestone, full of tufas and flakes. This is another very popular wall of El Salto full of classic projects ranging from 5.12 to 5.14. Most of the wall is conveniently located close to the trees so the belayer gets shade even at sunny times. 
Las Animas used to be a big continuous wall, but the center section was banned some years ago because it contains some rock art deemed to be preserved. Please respect the closures. 
Luckily for climbers, they did not shut down the entire wall and we still have access to amazing climbs on both ends.
The left of the wall has some softer climbs, while the right houses some very hard climbing. Once again, trying to cater to every level of climber, some of the most terrific lines up the wall include…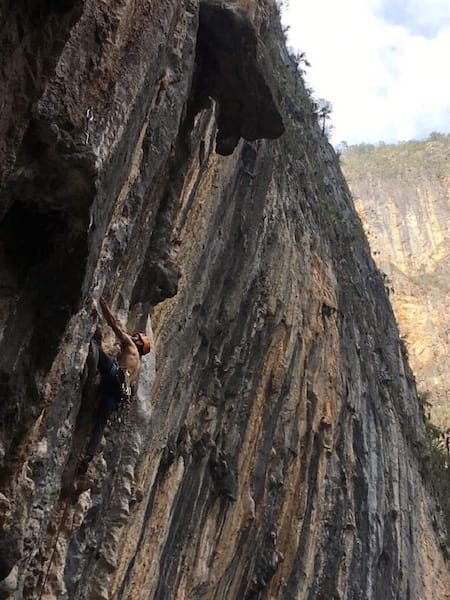 On the left section…
 

Alien Tufa (5.11c): The perfect warmup. It is very nice climbing on very good holds ending inside a tufa cave. Mega classic. Must climb. Has 5.12c extension for those who want to venture for another 4 bolts of great climbing.

Culo de Negra (5.12a): Climb your way up and through tufas on what is one of the first routes developed in Las Animas wall. Also a must-climb classic.

Tufa Luna (5.13a): Climb the obvious tufa to the right of the big tree where the road forks.
And on the right section…
Bizarre contact (5.12b): Route that goes between the two gray streaks. Shares chain with Dias Purgatorio to the left.

El Camino del Chino (5.13a): Dance up the golden stripe for a long technical climb.

Dantes Inferno (5.13c): Climb up the thin gray streak. Can continue for another 10 meters for Dante's Inferno extension (5.13d).
Please be advised that this area is right next to a dirt road used by tourists and locals to visit the famous waterfall it is named after, El Salto. For this reason, Las Animas can get quite noisy and dirty since there will be razer trucks going around, specially during the weekends. 
For this reason, I would recommend climbing in Las Animas during weekdays when there is more peace and it is just the climbers there.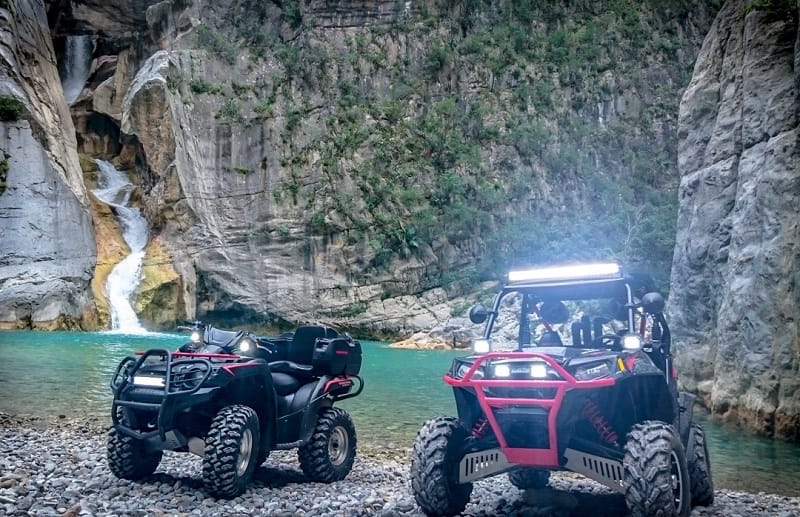 For those wishing to camp nearby, if you continue down the road and a bit past the waterfall, you will find some areas where you can set up your tent. 
Both Las Animas and this potential camping zone would require a tall 4×4 vehicle, so climbers usually climb from town to las Animas, which is about a 40-minute walk.
La Cueva del Tecolote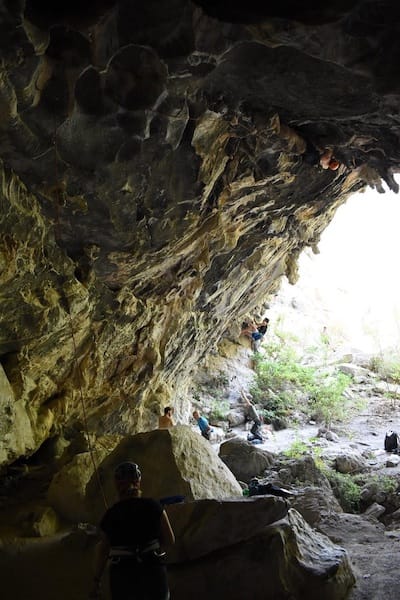 Following the road that leads to Las Animas and then up a short hike you will reach La Cueva del Tecolote. 
La Cueva is home to some classic cave style routes with big tufas and extreme overhanging. It is the farthest out of the main crags, about 20 minutes past Las Animas, but it is well worth the hike since it is home to some mega classics. 
Besides some hard climbs, it holds what is considered by many the most magical 5.10a/b line in the state of Nuevo Leon.
Top routes to get on in La Cueva:
El Culo de Merlín (5.10a/b): An absolutely must do for everyone regardless of their level. Magical line that goes through a cave, and then continues on the other side of the tunnel up some tufas to end below a roof.

Tu Felicidad (5.11d): Route inside a cave to the left of the crag. Starts inside a cave and ends outside next to a big tufa.

Nosferatus (5.12c): The first route you see when you get up into the crag. Amazing 3D climbing starting on the right side of the cave and up some steepness and tufas.
El Techo del Tecolote (5.13a): Classic route starting on the very back of the cave and then full horizontal roof climbing up to the anchors.

La Bomba H (5.14b): The hardest line at La Cueva where the Fery Rodriguez made her historic ascent that made her the first latin american female climber to send 5.14a.
For those wishing to camp, the floor here is quite soft because it is basically loose dirt, so you could set up your tent below the cave. This camping spot even gets protection from rain due to being inside a cave.
La Palma
Following the main road after Mini Super Doña Kika for a few kilometers you will reach a steep and beautiful cave right next to the street. This has both hard steep cave routes and some moderate climbs on the sides. 
Besides holding amazing climbs, La Palma is a very popular morning crag because it has shade all throughout the morning up to around noon. So, it is quite common to start your day at La Palma and then move to another wall once it gets sunny.
Another thing that makes La Palma popular amongst some climbers is the fact that it has the highest concentration of moderate and easier climbs in El Salto.
Finally, one thing to note is that there is a campsite literally crossing the street from La Palma. So it is potentially the shortest approach in El Salto if you are staying there.
Top routes to try at La Palma include:
Santisaurio (5.11c): Possibly the most popular climb in the wall due to being the perfect project for those projecting around this grade and the perfect warmup for those preparing to jump on something harder. Bouldery start followed by pocket climbing.

Plesiosaurio (5.12a): Hard start up into a small cave, ending right as you get out of the roof after a very exposed move. Can continue for a few more meters on pockets and crimps to make it a 5.12d.

El Arbolito (5.12c): Nice holds and tufas all the way up to an anchor in the middle of the wall. Can continue up on very nice pockets to make it an amazing 5.13c.

Diplodocus (5.13a): Traverse starting on the back of the cave and ending on the chains of El Arbolito.

Las Perlas de la Virgen (5.13c): Incredible climbing with a bouldery overhung start through tufas and long moves for some fun climbing.
Other Crags and Multi-Pitching at El Salto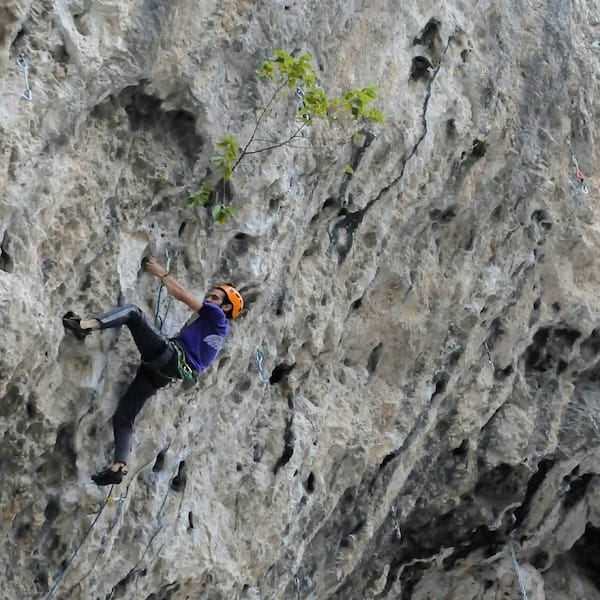 Those that I mentioned before are the main crags in El Salto, but there are a few other walls that might be worth the visit, however, they either have a longer approach or might even require a car due to not being located precisely at Cienega de Gonzalez. Just to quickly mention a few…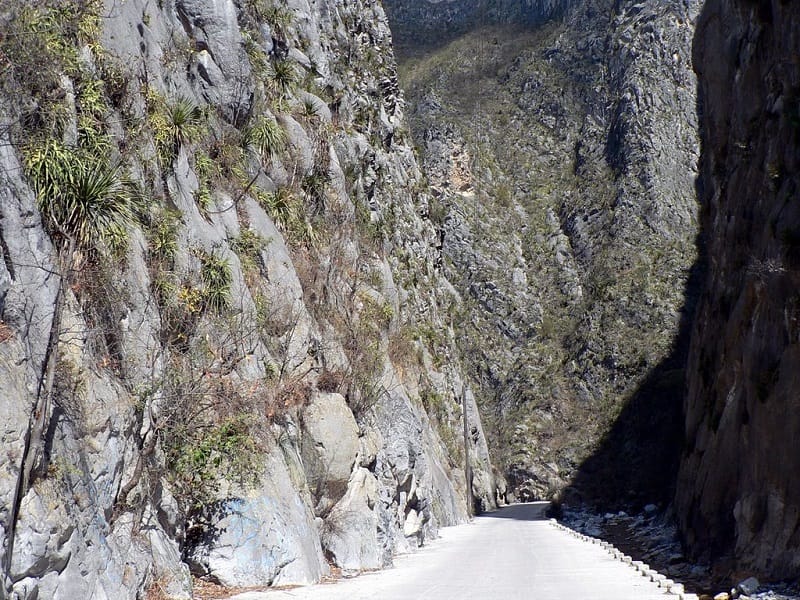 There is the San Isidro Canyon, which in 2020 was developed by some locals as a school area, so it has some beginner level routes meant to be used to teach people how to climb.

The deeper La Boca. If you continue walking through the canyon of La Boca, you will reach additional walls.

About 500 meters in you will find Santo Bohorquez wall, which has climbing on tufas and crimps and offers shade during most of the day.
About 300 meters past Santo Bohorquez wall and then up a short marked trail you will reach The Arcade, which contains routes in the 5.11 and lower 5.12 range.
About 30 minutes past la boca you can find La Sabrosa. It is a cave-like wall with about 20 routes of all grades ranging from 5.9 to 5.14 projects.

All the way to Las Animas there are a few routes scattered around, mostly in the low and moderate grades.
While El Salto is not a multi-pitching crag it does have a few very hard multi-pitches and enormous potential for new development of big-wall lines. In 2020, Canadian climber Sam Tucker bolted and climbed a 7-pitch 5.14 and named it "The Ibiza Club Weapon". 
Besides this masterpiece for the elite, on 2019 Sasha DiGuilian on-sighted the 13-pitch "Samadhi" a big wall, first Free Ascent by Alex Honnold and Christopher Weidner. Here you can see as she climbs the route and does some cragging during her stay in El Salto. 
However, for those interested in this discipline but with lower difficulty you should definitely visit El Potrero Chico. It is approximately a 2-hour drive from El Salto, and it is a multi-pitching paradise. 
And while multi-pitching is not developed in the area yet, there is huge potential for amazing big wall lines there in case someone is excited to develop them. 
Finally, another option for climbing near Monterrey is La Huasteca. It is another huge crag with hundreds of routes conveniently located within a 20-minute drive from the city center.
What to Bring To El Salto (Suggested Packing List)
Climbing-wise El Salto is purely a sports climbing paradise. It has potential for a little bouldering but at the time of writing it has not been developed. 
For this reason, you should only require gear for sport climbing. No crash-pads and no trad racks required. However, make sure you bring everything you need to climb safely as there is no climbing shop in El Salto. 
If you happen to miss anything you would have to drive to Monterrey to get what you need.
So just to verify you have everything you need, make sure you pack…
A Helmet
I believe a helmet is always necessary when sport climbing, since it is our own life that is on the line.
While rock fall is not commonplace in El Salto, it does happen from time to time, and since most walls are slightly overhang, falling rocks are a danger even for people further away from the wall. 
This means that it is highly recommended to wear a helmet at the popular crags even while you are not climbing.
Harness, Belay Device and Quickdraws
As for any non-bouldering rock climbing destination you should bring your harness, your belay device and a set of quickdraws. Since El Salto is entirely a sport climbing destination, there is absolutely no need to bring any type of trad gear or crash pad here. 
And since the routes are long and some have extensions with big falls, you should definitely bring at least 15-18 draws or even up to 20 if you are keen on getting on the very long and hard extensions.
Since you will be doing single pitch climbing, any basic belay device like an ATC or a GriGri2 should be fine. No need for any fancy device you could require in multi-pitching, trad climbing or other related disciplines.
A 70m Rope and a Rope Bag
El Salto is known for having many long routes. So even though there are some routes where a 60m would suffice, many routes are long enough to require a 70m rope so I would definitely recommend bringing a 70m one. 
There are some lines where a 80m rope could be useful or convenient, but since most long routes have intermediate anchors it is by no means necessary.
At El Salto, you are going to want to take extra special care to keep sand and dirt off of your rope, specially at the dirtier crags like Las Animas and La Cueva del Tecolote which have very fine dirt that can make things messy.
Climbing Shoes
Knowing what climbing shoes to bring with you on a trip is always a tough choice.
At El Salto, most of the climbs very or slightly underhung, so you really want some aggressive shoes to keep your feet on the wall. 
Besides that, most of the routes at El Salto are graded fairly highly. So, if you are looking for some shoes to have optimal performance, the La Sportiva Miura is the most used shoe in El Salto.
Camping Gear
Most people that come to El Salto stay in the campsites. So, in case you are one of those, be sure to bring a tent, a sleeping bag, a blanket for the cool nights and whatever you usually take when you go camping. 
Both campsites have communal cookware so you would not need that, but feel free to bring your own stove or kettle if you prefer cooking by yourself since the kitchens do get a bit crowded.
Travel Insurance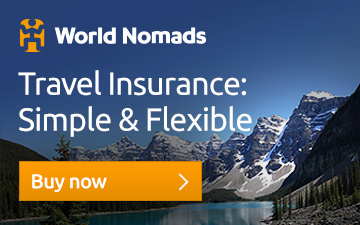 For those of your coming from the US, be aware that most of your health insurance plans will not cover you in Mexico.
Couple this with adventurous activities like rock climbing, risk of lost baggage or theft, and the all-too-common food and waterborne illnesses, makes a recipe for disaster.
Furthermore, many travel insurances say that they cover "adventure" sports like climbing, only to discover that once you read the fine print, they add in special inclusions like requiring you to climb with a certified guide to be covered.
The fastest, easiest and most respected travel insurance in the world which covers rock climbing is World Nomads.
Be sure to select the "Explorer Plan" on the next page so that you'll be covered for outdoor rock climbing!
Go here to read more about travel insurance and you can't travel without it!
El Salto Accommodations
There are basically 2 main choices for staying in El Salto: camping or renting a cabin.
Most of the people that visit El Salto tend to camp, which is a great option since it is cheap, there is always room, and there are good quality campsites in the vicinity. There are 2 campsites, and both have bathroom, kitchen, Wi-Fi, and they allow staying in your van or car for the same rate as for camping. 
And if you prefer to camp for free but without the commodities that a campsite offers, you can stay at the spots where I mentioned in the crag-by-crag section.
RockCamp
Close to La Boca canyon you can find the RockCamp. This is probably the most popular campsite right now due to several factors including its proximity to the canyon. 
It has clean bathrooms, showers, a kitchen, with communal cookware and storage. They have a designated fireplace as well as a big open space for tents. 
They also sell some home-made pizzas in case you want to dine in some nights.
Camping here costs 200 pesos a night, but they also rent 2-person cabins if you want a bit more comfort. 
Prices for the cabins vary throughout the year so you should contact them in advance to check price and availability. But for you to have an estimate, they were at 1800 pesos a night at the time of writing. 
Due to its popularity, if you happen to be traveling solo, this is the ideal spot to find a climbing partner. It has a nice atmosphere, but they have a lights-out policy to prevent people from partying at night and disturbing other's rest.

The newest addition to El Salto's campsites is El Salto Crag Ground. It started running in 2020 by local climber and developer, Joel. He also offers shuttle service from the Airport so if you contact him you can get from your plane straight into the campsite.
This campsite is literally crossing the street from La Palma wall, so it is quite convenient for those that want to start early or end late and get to the campsite quickly.
As one would expect from a good camping, it comes with nice showers, bathrooms, kitchen, and insulated facilities. Camping here costs 150 pesos a night, but Joel also has cabins for rent, so you should contact him in advance in case you want a fancier stay in El Salto.
Rental Cabins
Besides the campsites, La Cienega de Gonzales has a big business of cabin rentals for people that want a holiday trip up in the mountains. Since most of these rentals are with holidays in mind, prices can be quite steep, however, there are a few rentals catered specifically for climbers that have lower prices.
Since this is a heavily seasonal business, prices vary a lot throughout the year so you should call in advance to ask for price and availability for your planned date of travel. Here are some of the parties offering rental services catered at climbers.
 

Kika's Cabins

: Owned by Doña Kika's family, Kika's Cabins offer a space for climbers to feel welcomed and comfortable.

Vado's and Downtown Cabins: Are rental houses offered very close to Mini Super Doña Kika. You may contact [email protected] for more information about these.
Where Do You Buy Food At El Salto
El Salto has options for you to cook for yourself, or to dine out. There is no big store or market in town, but the store with the best assortment of basic groceries is definitely "Minisuper Doña Kika". It has basic groceries, but you will not find vegetables or many specific foods. 
For vegetables you will need to be aware of when the vegetable truck passes by, I believe it is on Tuesday mornings, and buy them directly with them. 
You might want to consider weekly or fortnightly grocery runs to supermarkets on the highway to better meet your needs. You can do that as a rest day activity.
You might also want to eat outside, and there are many options for that.
Right outside of Mini Super Doña Kika you can get some tacos and gorditas in the morning, or some drinks and corn at later hours. These are ran by Doña Kika's daughter.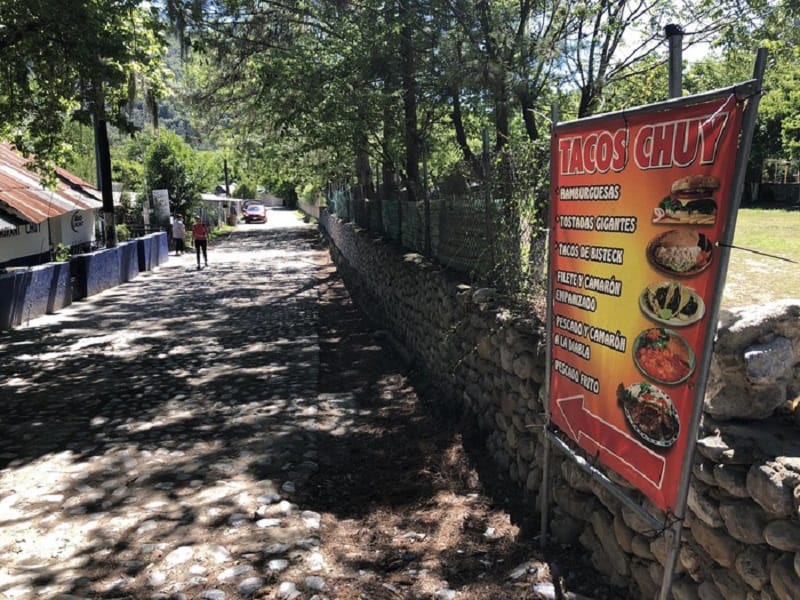 Further down the road you can find Chuy's. He sells tacos, burgers, fish, and many other delicious dishes. For something between 50 to 100 pesos you will have a taste of excellent local food.
There are other options further down the road with similar options such as Herminio's and Fito's.
Also, besides restaurants, you can order pizzas from the RockCamp campground. They even cater vegan.
El Salto Rest Day Activities
La Cienega de Gonzalez is a very popular holiday destination for people from Monterrey. It is the place they go to escape the city life. So as you may imagine, it can be quite peaceful during the weeks but a bit crowded during the weekends.
Sightseeing
Sightseeing is what most non-climbers come through Cienega de Gonzalez for, and there are several places you can do it. If you continue driving past Cienega de Gonzalez you will reach the San Isidro Canyon, then Laguna de Sanchez a bit further down the road, and finally Puerto Gringo. All of these are tourist hotspots due to their views, but the last one in particular might be of special interest for those into adventure sports. Puerto Gringo is a common jumping spot for those practicing paragliding, so many locals go there to watch people jump off, or to practice paragliding themselves. 
So, if flight is something you practice feel free to bring your flying gear to El Salto and you could fly on one of your rest days.
Canyoning in the waterfall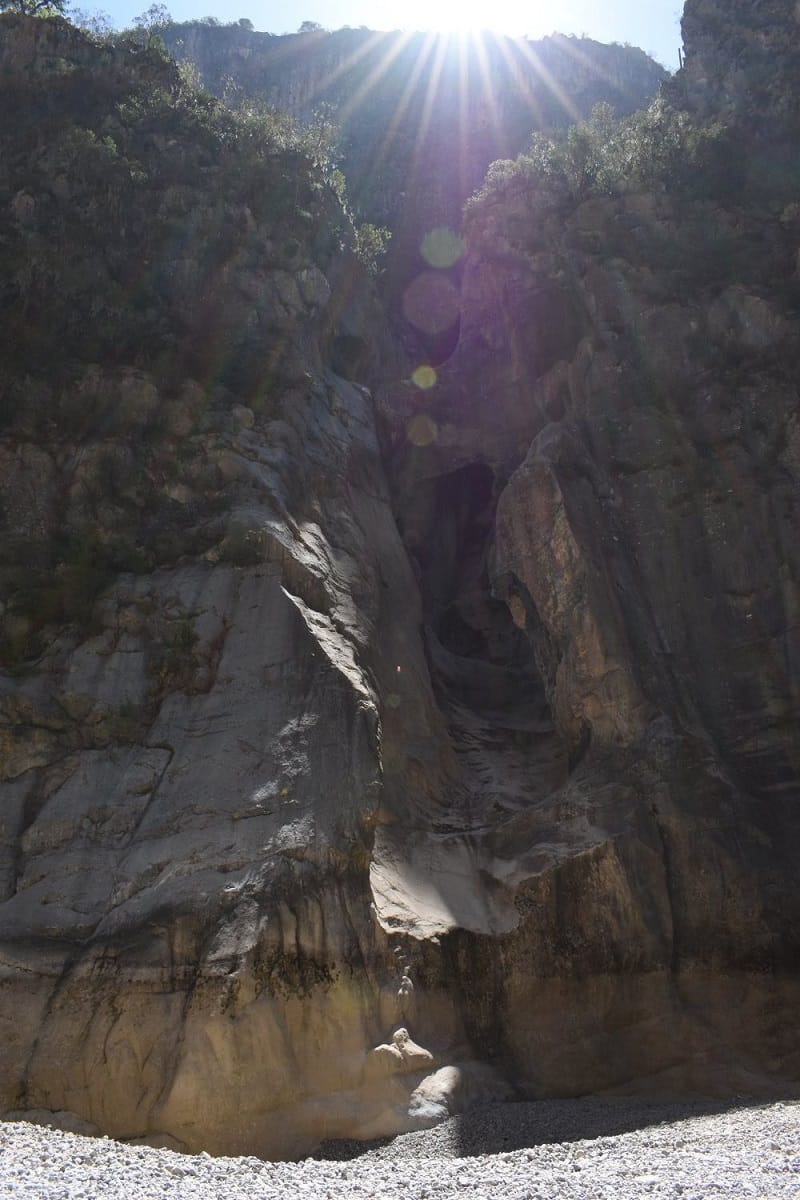 El Salto is named after a waterfall near Las Animas wall. Many people visit it just for sight-seeing from below, but it is possible, and a popular activity, to go canyoning from above and abseil down it. 
If this is something you enjoy, you could do it on one of your rest days. This is possible most of the year when the waterfall is dry.
Hiking
For those of you that like to take long hikes during your rest days, El Salto has a very famous hike that goes through the Sierra Madre mountain range and ends up in La Huasteca near Monterrey. 
It can be biked or hiked, but in either case it would be a full day or even a two-day activity. It is a very scenic route and completely recommended for those with a good level of fitness. 
However, be aware that you would end up in Monterrey, so you would need to set someone to pick you up on the other side or be prepared to get back to El Salto somehow.
If you are into hiking but do not want a full or two-day activity, you can always simply continue exploring hikes around the canyon. The view is beautiful all around.
"Pueblear"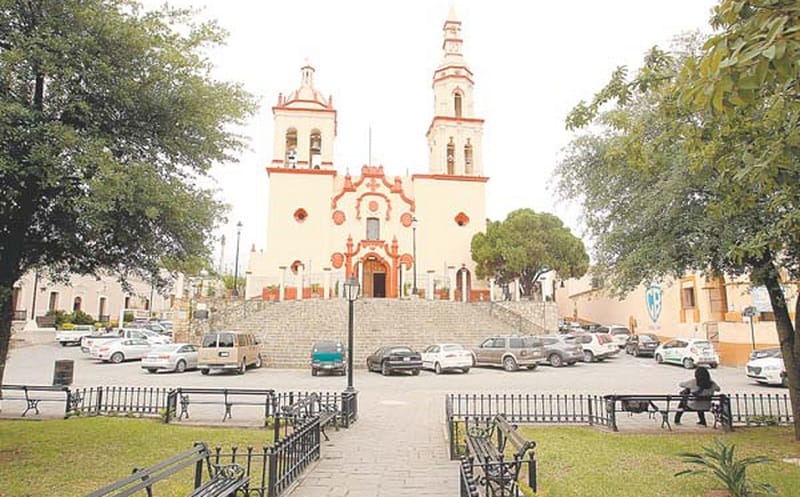 Some people, like myself, want to truly rest on rest days rather than just letting the skin on the fingers grow back. And the perfect way to really rest is to simply enjoy the super slow-paced town life la Cienega or nearby Santiago have to offer. 
Town in Spanish is pueblo, and pueblear is the word we use to describe simply chilling in town. If you go down to Santiago or to El Cercado you can simply chill at the plazas or go get some craft beer or ice-cream, visit some churches, among other small town tourist activities.
Grocery Runs
Since La Cienega does not have a supermarket, it could be insufficient for many people. For this reason, a common rest day activity is to do grocery runs. You can do this in Santiago, in El Cercado or in any big supermarket on the way back to Monterrey. 
Also, if you want to combine grocery runs with some city life, you could go back to Monterrey for the whole day before coming back. It is a metropolitan area so you can find any civilization-related commodity there, including mountain gear shops, in case there is something you are missing for your climbing.
El Potrero Chico
It's of course worth mentioning that El Potrero Chico, Mexico Nuevo Leon's sport climbing mecca is located a few hours drive from El Salto. If you have a car you can easily pop between the two. It defiantly worth checking out EPC if you're in the area.
La Hausteca Climbing Area
In addition to EPC, there are a ton of other "smaller" or better stated lesser know crags near to El Salto and Monterrey as well. The La Hausteca climbing area is an example of one of those.
Located on the edge of the city, La Huasteca has around 600 routes of various grades and difficulties. Being surround by two world class climbing areas means it tends to get overlooked, but if you're looking for a more local crag close to Monterrey La Hausteca is the spot.
Final Thoughts on El Salto Climbing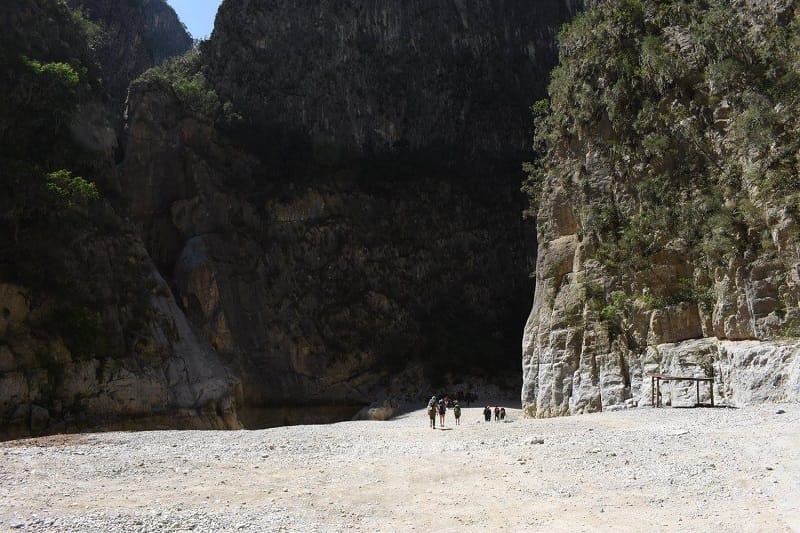 El Salto has some great things going for it. It has year-round climbing season with a big selection of highly graded, high-quality routes mostly within walking distance of the campsites. 
The prices have been going up a lot lately, not to mention the cost of camping pretty much doubled this year alone. This is a good signal that shows El Salto is finally gaining recognition as a world-class climbing destination and locals are making the most out of it. 
Another good thing that El Salto has going on is that it does not get super flooded with Internationals as other famous places do. It can get crowded during the weekends, but it is mostly locals. So, foreigners climbing here and staying throughout the week get to enjoy the whole crag for themselves.
One small bad thing about El Salto is the lack of an official thorough guidebook. There used to be one uploaded in Rakkup but it does not seem to be the case anymore at the time of writing. 
However, even if there is no online or print version of a guidebook it is very easy to find your way around either by asking local climbers, people running the campsites or by checking on thecrag. So it is not a big issue at all when compared to the amazing time you will have here.
One last thing that I consider worth mentioning is that El Salto is very close to another world-famous crag, El Potrero Chico, as well as some other less popular smaller crags. 
So even though El Salto alone is well worth the flight, the added value of having two world-class crags with combined thousands of high-quality routes makes it the top destination for international climbers wishing to experience the best climbing in Mexico.
And don't forget to purchase travel insurance for Mexico to protect you against illness, injury, and theft. This is a super important thing to have on hand. We recommend World Nomads Travel Insurance and you can get your custom quote here.
Extra: Help El Salto in Its Time of Need
As an exceptional, but very important note. The year 2021 has been a very hot and dry year in Mexico. This started a huge spawn of wildfires all around the country during March. One of the most serious wildfires was in northern Mexico, and it came very close to burning down Ciénega de González and El Salto.
Over the last weeks of March, the fires got so dangerously close to El Salto and Ciénega de González that the area was closed and all the locals had to be evacuated.
The extent and proximity of the fires can be seen in this side-by-side comparison of a google maps view and a satellite image from the Nasa Fire Information System. Left part of the image shows nearby communities, and the right-hand side shows the extent of the fires and specifically El Salto.
Luckily, rain poured in time to help slow down the fire before it reached them, so both el Salto and La Ciénega managed to remain mainly unaffected. However, there is still risk of a rekindling of the fires.
Tens of thousands of acres have burned to ashes, and hundreds if not thousands of homes in the area were burned down as well. As a precaution the area will remain closed for climbers at least until mid-April 2021, but once things pass you would greatly aid local economy recover by coming down to El Salto on one of your future travels. Be aware though, that the ecosystem might have changed, and some hikes or approaches might have been affected, but it is still too early to know the extent of the damages to nature in this regard.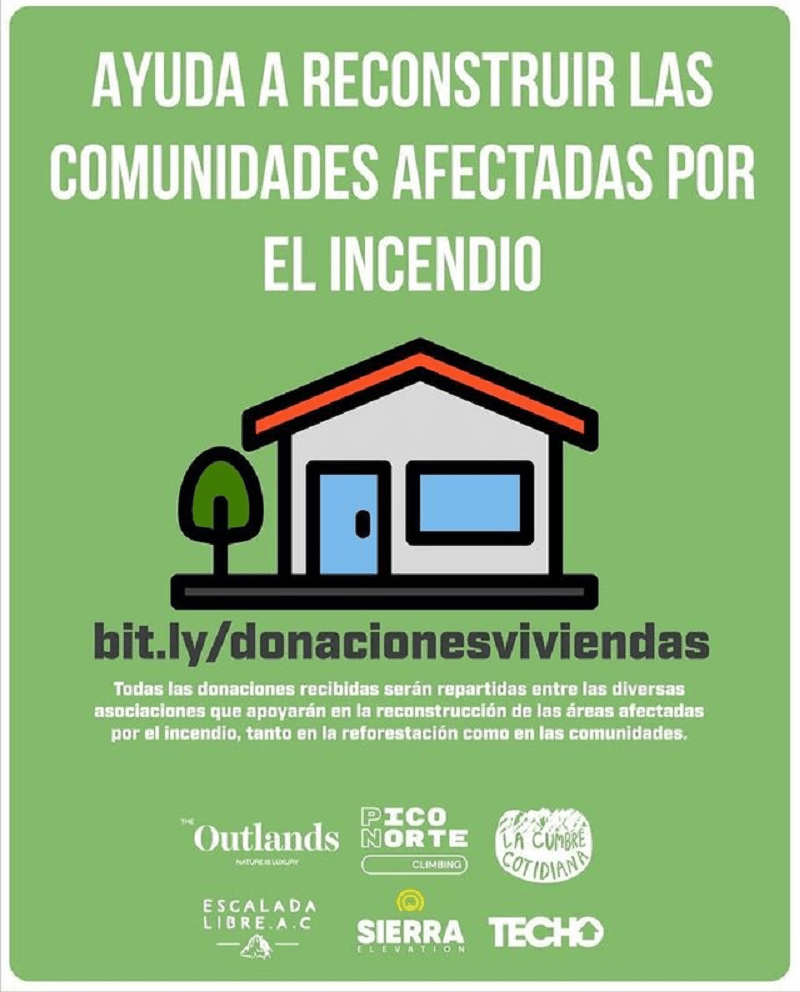 Additionally, if out of the goodness of your heart you would like to financially aid in rebuilding Sierra de Santiago's communities and help people recover their homes, there are currently collaborations actively working to aid them and help them get their homes back. As well as slowly begin reforestation of this massive, burned areas.
Local gyms, regional climbing and natural associations, as well as the internationally present NGO, Techo, are devoting great efforts towards reconstruction and reforestation of the area.
Their flier is in Spanish since it targets locals, but for everyone willing to aid out of solidarity, you can donate on this crowdfunding collective. Your money would go mainly towards Techo, which is an NGO specialized in building homes for people who are left homeless after natural disasters, all around the world, and partially towards reforestation efforts.
Hope you come to El Salto soon once everything is better, but all help in times of need is deeply appreciated.
Alex is a computer scientist from Mexico currently studying a PhD on cancer genomics. He is a full-time researcher, a regular weekend warrior, and someone who enjoys sharing his thoughts through writing. He first started climbing at uni, where he fell in love with the beautiful places it took him. So, he promised himself he would someday experience the beauty of climbing and nature in every continent. Nowadays, after several years with this motivation in mind, school and work have taken Alex to 4 different continents already. This has given him the opportunity to make friends all over the world, experience different cultures and their communities, as well as the chance to listen all the stories these people have to share. Alex hopes these adventures will continue for many years, and is eager to share his experiences as a wandering climber.