El Potrero Chico (EPC) is one of North America's most popular winter sport climbing destinations. 
It is the place to go rock climbing in Mexico. 
This article is the result of months of on-site research (read: dirtbagging). 
If you're looking for a one stop shop, telling you absolutely everything you need to know about El Potrero Chico, you've come to the right place.
Hey! By the way… this page contains affiliate links. So if you make a purchase after clicking one at no cost to you we may earn a small commission. Thanks for your support!
El Potrero Chico (EPC), Mexico: Overview
After taking my first trip down to EPC, I was able to experience first hand what it has to offer.
And I have to tell you, El Potrero Chico has it all.
What stood out for me in particular was the sheer quantity of super accessible multi-pitches and the close-knit climbing community. 
El Potrero Chico sits uniquely close to the USA, meaning that there are a lot of seasonal travelers there looking to escape the cold from the north.
This, combined with the low cost of living in Mexico, makes it an excellent location for a short vacation or even to stay for the whole season.
Check it out – you won't be disappointed. 
Why Go To El Potrero Chico?
El Potrero Chico is a world class sport climbing destination. There is a huge amount to climb there at every grade. It actually has one of the largest selections of "moderate" (5.9-5.11a) climbs in the world. 
If such grades are too easy for you, there is another area nearby called El Salto. 
El Salto has emerged as one of the world's premier steep limestone crags, with tons of 5-star lines starting at 5.11+ and going all the way up to 5.14+.
However, El Salto does not have the special thing that draws so many to El Potrero Chico:  some of the easiest and most accessible moderate multi-pitches in the world, many with almost non-existent approaches. 
In addition, most of the more difficult classic multi-pitches there are aidable, meaning that anyone who can comfortably lead 5.10 will have a lot to choose from.
If you're looking to find climbers, head on over to our BRAND NEW FB GROUP and drop a post with your dates!
In winter, the days are dry and crisp, making for perfect temps.
In the shoulder seasons, things can heat up quite a bit… But once you learn where the shade is, you can pretty much climb there every day from October to May (and even longer if you're keen). 
Also, as you might imagine, it is very cheap once you get there. If you're camping, it is easy to comfortably live off of about 10$ a day. 
A true dirtbag's delight.
The climbing community here is also super cohesive and one of the best I've ever seen. 
If you happen to be traveling alone, you will have absolutely no problem finding someone to climb with at pretty much any grade.
Oh, and did I mention that climbing at El Potrero Chico is great? And there are varying styles across the different crags to fit almost anyone's tastes. 
Though sometimes the rock there can be "chossy", most of the well-traveled routes are bomber.  
Just be sure to wear a helmet while climbing and hanging out at the wall, as rocks get kicked off from the multi-pitches above regularly.
When Is The Best Time To Rock Climb EPC?
The weather in El Potrero Chico is most often arid, dry and sunny. 
It sits at an elevation of about 1,800 feet, which is fortunate for climbers as the higher elevation helps keep the temperatures way down.
The main climbing season for El Potrero Chico is the North American winter – from about November to February. The shoulder seasons are October – November and March – April. 
Due to its close proximity to the US, you can get super cheap flights there even during the peak season.
Be warned, though: just because it is Mexico, does not mean the weather is always warm! It can get pretty cold, and especially at night.
It is not uncommon for temperatures to reach below freezing, and there is the occasional snow! Make sure to pack appropriately or you will have some very cold nights ahead.
In the winter, you should expect to find cold crisp days. While it will be chillier in the shade, expect to heat up a lot in the sun. 
Perfect climbing weather! 
Also, keep in mind that during the holidays, El Potrero Chico can get super busy. So be sure to plan ahead and make reservations if you're not intending to camp in a tent or car. 
Where Is EPC and How To Get There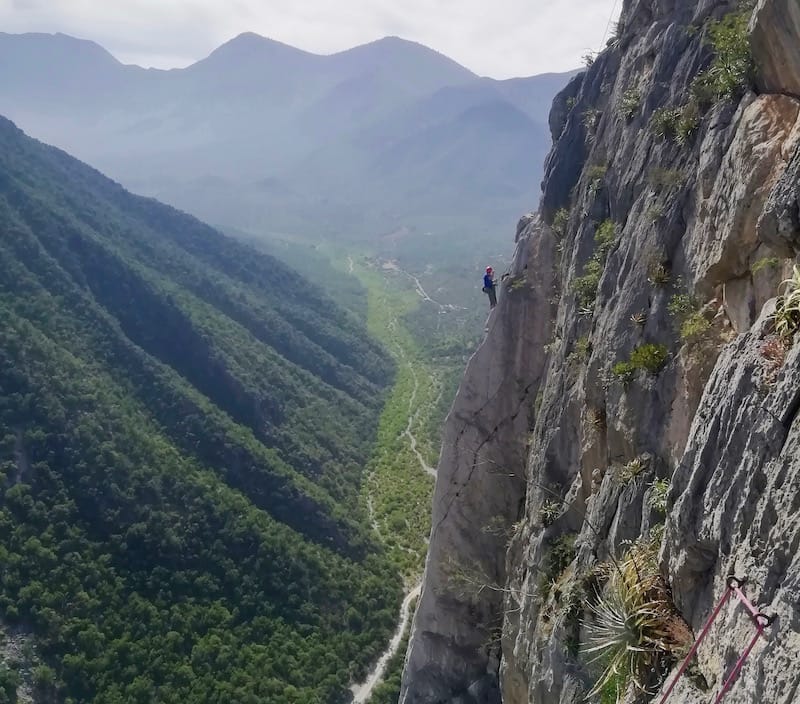 El Potrero Chico is located in one of Mexico's most northern states, Nuevo Leon, and sits about two miles outside of the town of Hidalgo and about 45 minutes away from the state's largest city: Monterrey.  
How To Get To El Potrero Chico From Monterrey Airport (MTY)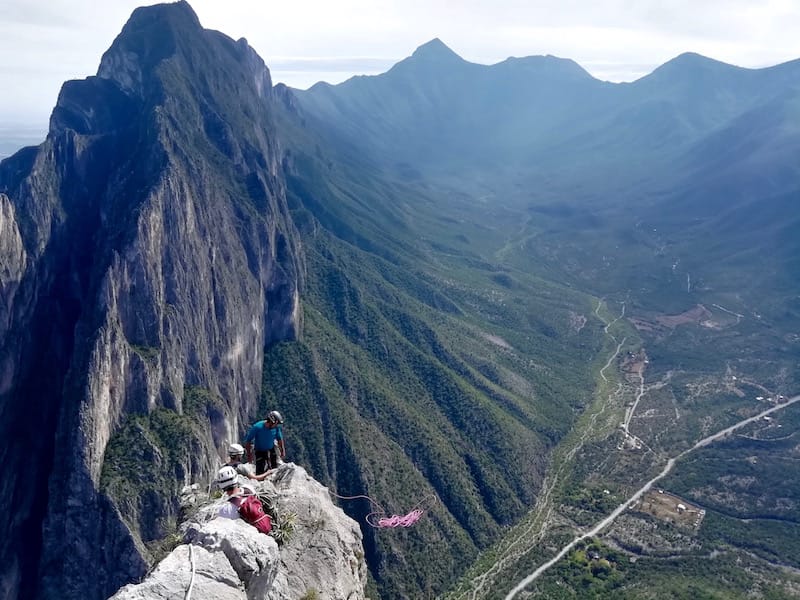 Many folks fly in from the Monterrey International Airport (MTY). This is located on the outskirts of the city of Monterrey, and is about a 45 minute drive from the town of Hidalgo.
MTY is a big airport, and you can get cheap flights there from most places in the US or beyond.
You technically have two options to get to town from there: bus or taxi/Uber. 
The bus to Hidalgo takes 2.5-3hrs (if you know where you're going) and will require a relatively high level of Spanish, as many people from Monterrey have no idea where El Potrero Chico is. 
To do this, take the bus from the airport direct to Monterey's transport terminal. From here you will be able to ask for directions for getting on the local bus to the town of Hidalgo. 
Make sure you specify the town of Hidalgo in the state of Nuevo Leon (otherwise they might think you're talking about the state of Hidalgo much further south). 
The bus will cost you about $3 USD.
If you take an Uber, you can be driven directly from the airport. This is by far the easiest option – especially if your Spanish isn't all that great.
If you don't have international phone data, you can use the free WIFI in the airport to order some. The cost is anywhere from $525 to $600 Mexico Pesos (MXN).
If you're looking to find climbers, head on over to our BRAND NEW FB GROUP and drop a post with your dates!
If you want to get to Hidalgo by taxi cab, they have a number of automated kiosks at the airport.
Simply type where you'd like to go, and the cab will arrive a few minutes later to take you to your destination. This costs around  $650-700 MXN.
To return to the airport in MTY from El Potrero Chico, you can either navigate the local bus system, or hire a cab as there are zero Uber drivers in Hidalgo. 
The easiest way to do this is to ask at any of the campsites, as they all hire their own taxi services. This costs around 1000 MXN.
You can also ask at Leo's or Taco Loco, as they provide taxi services as well. 
Their rates are more economic, as they charge around 600 MXN. I would suggest posting on EPC's FB page a few days before if you're hoping to split the costs.
How to Drive
It is also super common for people to drive down to El Potrero Chico from the US. 
The closest border crossing is only about 2.5hrs away. 
But driving in Mexico is a little different than it is in the US, so for that reason you need to take special precautions if you're choosing to come in your own car. 
El Potrero Chico Climbing Guides has a page with all the info you need including insurance, directions, and general rules and precautions.
EPC Safety
Mexico has gotten a lot of bad press from the drug cartels over the past few years, especially the border states (like Nuevo Leon).
However, it is the general consensus of the climbers and locals alike that the Narcos have no reason to be in Hidalgo. Serious crime is rare there, and it is considered safe for travelers. 
There is also a very high police presence in Hidalgo, and they are constantly patrolling the climbing areas.
Keep in mind that, with any foreign country, exercise heightened caution and use your own judgment. 
The US embassy has an excellent page and interactive map where you can decide for yourselves.
Where Do You Buy Food
There are a few logistical things that you should be made aware of to both help save you money and time. 
This includes the beta on the supermarkets in town, ATMs and the local street markets. I've also included some info on the popular restaurants.
Hidalgo Street Markets
The town of Hidalgo has two weekly street markets. 
The first is held every Friday (and is therefore called the "Friday Market"), and is located on Calle Niños Heroes, right next to the police station. 
Here there is a nice assortment of fruits, vegetables and street food. The prices are slightly lower than the local supermarket.
The other market, referred to as the "Tuesday" market, runs along Calle José Domínguez, and is about a 10 minutes walk closer to the climber campgrounds than the Friday market. 
The Tuesday market is also larger, and has lower prices than the Friday market. For that reason, it is an excellent idea to plan your shopping days according to this one.
I would like to point out that both of these markets are very "local", meaning that they are not the place to go if you're looking for Mexican souvenirs. Only food and other household items are sold at the markets.
Actually, Hidalgo is in no way a tourist town, meaning that if you're looking for souvenirs you'll most likely have to venture into Monterrey.
Hidalgo Supermarkets
The street markets are great for getting fresh foods. But, for anything packaged, you'll have to take a trip to one of the supermarkets in town. 
The closest supermarket ("La Mexicana") is located on Calle Anquiles Serdán and has a small but good selection. They also accept credit cards, which is nice.
If you have a car or if you're willing to walk a bit further, I suggest going to Bodega Aurrera, as it has a much larger selection and better prices than the aforementioned market.
El Potrero Chico's Best Restaurants
As we all know, Mexico has some of the tastiest food on the face of the planet. 
So for that reason, I have assembled a small list of some of the best food options nearby. 
Note: Each year, restaurants open and close, and often their hours are not very consistent.
El Taco Loco
One of the best options around El Potrero Chico, and also, the closest to the rocks. Recently moved to their new location right outside the entrance to the climbing, they have some of the best burritos and tacos in town. 10 MXN a taco, 50 MXN a burrito.
Checo's
Located across the street from La Posada, Checo's is probably my favorite food near the campsites, Checo's has a good selection of local food. The mole sauce is out of this world. Closed on Sundays.
Leo's Tacos Grill 
If you want to stuff your face with a delicious buffet of homemade Mexican fare and fresh grilled meats, Leo's your guy. His humble dining spot is left of the entrance to Posada. While his hours are inconsistent, he usually serves dinner throughout the week and makes posts in the FB group when he does. 
Leo is beloved by climbers for his good food, great hospitality, and his wonderful birthday and New Years parties, where you might climb the infamous Tecate pole to win free Mezcal shots or ride a mechanical bull!
Tamales Esperanza, Hidalgo
Located near the police station on the same street as the Friday market, Tamales Esperanza offers the most delicious and cheap tamales in town (only 7 MXN each). The bean tamales are the way forward.
El Buho, Hidalgo
El Buho is the only proper cafe in town, offering great locally sourced coffee and a good range of food. 
They also have a pile of board games, climbing magazines and multiple bookshelves to keep you occupied on your rest days. Not to mention, they have a unique origin story and some of the friendliest volunteer staff around.
It's also a great place to meet people from the climbing community. They have regular social events, such as barbecues every Tuesday night, Thanksgiving and Christmas dinners, and the occasional movie night. 
Rock Climbing At El Potrero Chico
The reason we're all here in the first place!
 El Potrero Chico offers one of the largest and most accessible concentrations of sport climbs in the world. 
The guide book boasts more than 700 routes, with new development ongoing.
If you're looking to find climbers, head on over to our BRAND NEW FB GROUP and drop a post with your dates!  
Combine that with nearby El Salto, and this place makes for years of climbing. El Potrero Chico is certainly somewhere that keeps you coming back for more.
Multi Pitch at EPC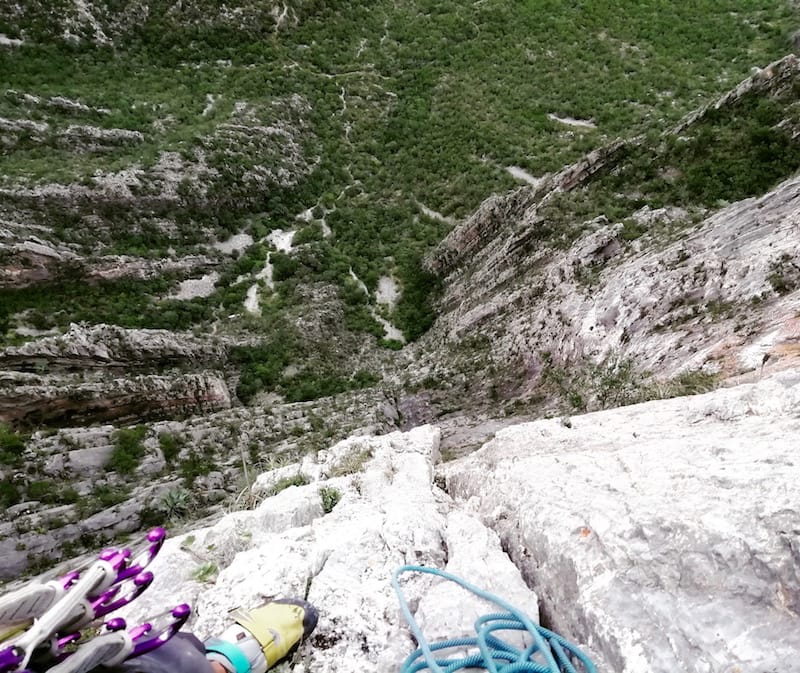 What I found separated El Potrero Chico from most climbing areas is the quantity and quality of excellent moderate multi-pitch routes. 
Anyone who can comfortably lead 5.10 will have no shortage of things to do. 
In addition, most of the difficult pitches are aidable, and the rappels are generally very straightforward – meaning that you'll always have the option to bail off if things get out of your comfort zone.
Though the routes themselves are generally quite clean, it is worth mentioning that there is a lot of loose rock surrounding the routes, which means it is easy to kick off a piece at any time. Even on the classics.
For this reason, a helmet is absolutely essential while climbing in El Potrero Chico.
As many of the multi-pitches climb over the popular cragging areas, always wear a helmet while you're single-pitch cragging too. The potential for injury is constantly present.
Also, due to the moderate grades, EPC attracts many beginner climbers, so it is common for people to come here to try their first multi-pitches (which only adds to the danger). 
The guide book offers great beta and topos of all the classic routes and is a must have for anyone climbing in El Potrero Chico. I'll defer to that for detailed information. 
However, here is a small collection of routes which I found to be particularly worthwhile:
Treasure of the Sierra Madre 5.10c 7 pitches – Mota Wall (afternoon sun)

Snott Girlz 5.10+ 7 pitches- Mota Wall (afternoon sun)

Pitch Black – 5.10+ Sport 6 pitches – Conundrums (all day shade baby!)

El Sendero Diablo – 5.11c 6 pitches – Outrage Wall (afternoon sun, one of my favorites)

Yankee Clipper – 5.12a 15 pitches – La Selva (Jungle Wall) – Pretty boring until you get to the last two pitches, and get some serious exposure facing the front side. Also worth mentioning that the final crux pitch only has a few hard moves, and is easily aidable.

Time Wave Zero – 5.12a 23 pitches – Timewave Buttress – Pretty much the highest you'll ever be able to climb with sport gear alone. The view is worth the journey. The 5.12a crux pitch can be mostly aided, however you'll have to at least pull through one or two hard moves to clip the next bolt.

Land of the Free – 5.12b PG-13 10 pitches – One of my favorite multis I climbed here. I warn you though, the bolts on the easy pitches are spaced out and quite dirty. However, the climbing between pitches 5 to 9  was the most consistent stretch of superb 5.11+ climbing I have ever encountered. The last pitch, also the crux, wasn't very memorable, I suggest just skipping it.

El Sendero Luminoso – 5.12d 15 Pitches – The king line at EPC. Made famous by Alex Honnold after his 2014 free solo, the route has become an essential hard multi pitch test piece. Hype aside, the climbing is excellent. One of the best EPC has to offer. If you wish to bivy, there is a perfect camping space after pitch 5, which greatly lowers the level of commitment needed to climb the whole thing in one day.
This should give you a good mix of styles and grades to start with. There are many more worth trying! Once again, I defer to the guide book.
Single Pitch (Cragging) at EPC
Though overshadowed by the abundance of multi-pitches, I found the single pitch climbs there to be just as excellent.
And trust me, you get tired of hanging in your harness all day, so you'll eventually want to try out some of the single pitches EPC has to offer.
Now once again, I'm not going to go into too much beta on the routes. I'll simply give a few areas I found to be of higher quality. 
Surf Bowl – Steep and powerful, tufas, knee bars, and heel hooks galore. This is limestone at its finest. 
Not to mention, Surfer Rosa (5.13a/b) is arguably one of the best routes in North America. So if you climb at the 5.13 grade, it is an absolute must do.
Club Mex Wall (Las Estrellas) – One of the highest concentrations of 5 star classics at EPC. 
The rock is bomber vertical technical face climbing at its finest. Fear of Flying (5.12a) is 30m of absolute perfection… possibly the best 5.12a at EPC. 
Nearby there are other classics at similar grades to choose from, such as Salty Dog (5.12a), Conflict (5.12b, excellent), The Sword (5.12a) and Club Mex (5.12c). 
Also, it is in the shade all day, meaning that it is a great crag to go to on hot days.
Outrage Wall – Another one of the highest concentrations of 5 star routes at EPC, also home to Sendero Diablo (5.11c), an excellent 6 pitch multi. 
As far as single pitches go, some of the must do's are: Celestial Omnibus (5.12a, also arguably the best at the grade at EPC), British Invasion (5.12a) and Habanero (5.12b). 
The only real downside of climbing here is that Outrage gets cooked in the direct sun for most of the day, so you'll have to save it for when the temps are right.
El Fin de Semana – Located right off the road (about a 2 min approach), Fin de Semana doesn't seem to get the attention it deserves. 
The climbing here is vertical and very technical. Hombre de Rifle (5.13a) is one of the best climbs I've ever done, and is another must do for the grade. 
The wall gets shade until about 1pm, then goes back in the shade around 4pm.
TNT Wall – An excellent crag, with a good mix of grades. Pretty much every climb here is worth doing, Baked Fresh Daily (5.10c) and Band of Brothers (5.10c) are excellent moderate climbs, and Inglorious Bastards (5.12a) is another harder classic. 
Has shade until about 2pm, then goes back into the shade at about 4:30pm.
Mota Wall – Probably the best place to find moderate climbs, with most of the classics ranging from 5.9 to 5.11c. Just pick your grade and enjoy. 
For this reason, this crag can get pretty busy during the peak months. Sun from about 10:30am on.
Virgin Canyon – One of the first crags developed at EPC, and arguably, still one of the best. It is home to a few absolute classics like Selam (5.10a), Milk Cow Blues (5.10c), Mexico in Flames (5.11c) and Don Quixote (5.11d). 
There is something here for everyone. This, coupled with all day shade, makes for a super popular crag. It is an absolute must visit.
I could go on – but like I said, I suggest taking a look at the guidebook before you arrive.
Guiding Services At El Potrero Chico
The best guiding service I found was "Potrero Chico Climbing Guides". I was able to spend a few days with one of their guides named Rudy, and I really enjoyed the experience. 
If in need of a partner, lessons, or just looking for someone to show you around, I recommend giving him a call.
If you're looking to find climbers, head on over to our BRAND NEW FB GROUP and drop a post with your dates!
He offers a 4hr and 8hr multi-pitch guiding service, in addition to 4hr group classes if you're looking to learn some of the skills needed to safely get you up and back down the climbs safely.
For those of you with zero multi-pitch experience, I recommend his 2 day "crash" course. 
Here you'll learn the basics of anchor building, setting up hanging belay systems, how to transition the rappels and some basic self rescue techniques.
What to Bring To EPC (Suggested Packing List)
Though the routes at EPC are all bolted, it is not always a walk in the park when it comes to the climbing. 
Injuries happen regularly here. Though the reasons are numerous, many times it comes down to a fundamental lack of understanding of multi-pitch safety processes and incorrect gear. 
Make sure to take the proper precautions to protect yourself. 
Always double check your systems, and more importantly: always tie knots at the ends of your rope when rappelling. 
There have been multiple deaths in EPC simply due to folks rappelling off the end of their ropes. These accidents could have easily been avoided with a couple of simple knots.
Shaving off some time from your rappelling by not tying knots is not worth the potential cost of your life. 
Also, having the right gear can greatly reduce your risk of injury or accidents. 
Unfortunately, there is no climbing shop in Hidalgo. 
The essentials can be purchased at La Posada's campground. However their selection is limited so I'd purchase everything before your trip. 
When you go to EPC, be sure to have the following:
Check Price and Reviews On Amazon
Fresh from the 2019-2020 season, Frank Madden has released a second and updated edition of "EPC Climbing". 
Now, I must  admit, I haven't had the chance to pick up my copy yet. 
However, the first edition of EPC Climbing was extremely well done, with detailed route info, approach beta, topos and hundreds of excellent photos. 
I can assume that the second addition is only an improvement of the first, so it is absolutely worth the money. 
Make sure to pick up your copy before you arrive, as it is possible that it will sell out this year during the peak season. 
There is also a great interactive digital version of the guidebook available on the Rakkup app. 
For those of you coming from the US, be aware that most of your health insurance plans will not cover you in Mexico. 
Couple this with adventurous activities like rock climbing, risk of lost baggage or theft, and the all-too-common food and waterborne illnesses, and you've got a recipe for disaster. 
Furthermore, many travel insurance agencies say that they cover "adventure" sports like climbing… however, when you read the fine print, they add in special stipulations like requiring you to climb with a certified guide to be covered (IMG Global and Liaison Travel – I'm looking at you!). 
The fastest, easiest, and most respected travel insurance in the world which covers rock climbing is World Nomads, and is what I use every time I travel. 
Be sure to select the "Explorer Plan" on the next page so that you'll be covered for outdoor rock climbing! 
Go here to read more about travel insurance and you can't travel without it!
All that being said, healthcare in Mexico is significantly more affordable than in the U.S. 
It is no wonder many folks travel down from the States just so they can get dental work or surgery done. 
But if you do go without any insurance, you'll want to have enough money in the bank to foot the bill if anything goes wrong.
Check Price and Reviews On Amazon
A helmet is ABSOLUTELY NECESSARY at El Potrero Chico. 
Rock fall is extremely common here, even on the well traveled classics. 
In addition, many of the multi pitches climb over other routes. This means that a helmet needs to be worn at all crags, even when you're not climbing. 
Mota Wall is particularly dangerous for rock fall, as a few of the multi-pitch classics follow the chossy ridgeline directly above the popular crag below. 
It doesn't really matter what helmet you get, but if you're looking for an all around, comfortable fit and great value for your money,  the Black Diamond Half Dome is a solid choice. 
The helmet feels great on, and is adjustable to fit just about any head shape. 
Check Price and Reviews On Amazon
A 70m rope is 100% necessary at EPC. 
Though there are routes which can be climbed with a 60m, most of the routes can only be climbed with a 70m, so it is absolutely worth buying one. 
In addition, to save time on climbing and rappelling on multi-pitches, it is common practice at EPC to link pitches and do double rappels. 
These are both essential techniques to climbing EPC to save you a ton of time, neither of which are possible without a 70m. 
Note: You cannot always do double rappels. Be sure to consult the guidebook before doing a route to know which pitches and rappels you can and cannot link. 
If you're on a budget, the EDELRID Eco Boa rope is the best bang for your buck out there. 
However, to save weight and rope drag, a thinner diameter rope like the Mammut Infinity is a good option as well.  
Check Price and Reviews On Amazon
At EPC, you're going to want to take extra special care to keep sand and dirt off of your rope. 
It is an essential piece of gear at El Potrero Chico. 
The best way to do this is with a crag friendly rope bag like the Metolius Speedster. 
It is small, durable, and the perfect size for the days out cragging around EPC. 
It has space for a 70m rope, with just enough room to carry the rest of your basics like your quickdraws, harness and chalk. 
Not to mention, its clever center-zipper design gives you quick access and easy packing of your gear! 
Check Price and Reviews On Amazon
El Potrero Chico is a sport climbing destination. There is absolutely no need to bring any type of trad gear here. 
Because the routes are long, and it is so common to link pitches, you'll need a combined rack of at least 20 quickdraws at ECP. 
For that I suggest a rack of heavy duty, sport climbing specific draws like the DMM Alpha. 
They're particularly good fits at EPC because they are super easy to clip and clean, are designed to ergonomically fit your hand, and they are very resistant to abrasion. 
For a slightly cheaper option, the Black Diamond PosiWire are an incredible value for your money, and have most of the advantages of the Alpha at about half the price!
Check Price and Reviews On Amazon
The only real option for belay devices at EPC is a GriGri. 
At EPC, you can use your GriGri not only to lead belay and multi-pitch belay from above, but also, it is the only way to safely double rappel. 
Some people like to bring a GriGri for belaying ground-up, and an ATC-Guide for top down belaying. 
It is also a great idea to have an alpine backup belay device with you like Mammut Smart Alpine. 
You can either use a two belay device system to do multi-pitches, or at the very least have an extra on your harness in case you accidentally drop your GriGri!
Not to mention, Smart Alpine is an engineering masterpiece, and is one of the best lightweight and functional multi-purpose belay devices on the market. 
Anchor Building Gear
If you intend to do any multi-pitches, you will need to know how to build an anchor for top-down belaying, and have the gear necessary for doing so. 
There are many options for climbing anchors, but the best one I've found for sport multi-pitch at EPC is the quad anchor. 
Although it is not the most lightweight method, it is extremely redundant, reliable, and quick to set up. 
For information on building a quad anchor and the materials you will need for it, check out this article. 
Check Price and Reviews On Amazon
Knowing what climbing shoes to bring with you on a trip is always a tough choice. 
At El Potrero Chico, the majority of the climbs are vertical and techy, with lots of edges, crimps, and pockets. 
There are a few overhung routes, such as what can be found in the Surf Bowl, but they are a rarity.  
At EPC, you also have the added factor of needing your shoes to be comfy for long days of mult-pitching. 
The La Sportiva TC Pro is an extremely popular shoe for the area, due to its great balance of comfort and edging performance. 
El Potrero Chico Accommodations
There are a range of choices for accommodations available, though they're all quite similar. 
A very large portion of the people who come to EPC either tent or van/car camp, which is a great option. Camping is cheaper, there is always space, and you have full access to the bathroom and kitchen facilities.
Note: for all of you van lifer's out there, all of the campgrounds I'm about to mention allow people to stay in their cars and charge the same rates as camping.
Hotels Around Hidalgo
There are a ton of hotel options available in nearby Monterey, and a few good options available in the town of Hidalgo itself. 
If you're looking for a more comfortable experience away from the dirt and noise of the campsites, these are the way to go.  
I highly suggest booking a hotel beforehand if you plan on going during the peak season (November to January) or you will not have a place to stay when you arrive!!
El Potrero Chico La Posada
La Posada is the most popular spot for climbers to go. For that reason, it is also one of the busiest and most expensive. 
Camping costs about 150MXN a night, and rooms cost close to 20-30 USD a night. Prices are subject to rise as the area becomes more popular.
Rooms get booked well in advance, so make a reservation if you plan on this option.
In January of 2019, they completed a new kitchen, which was well overdue. 
My main complaint about this place is that it is a little more "social" (i.e. loud) at times.
It tends to attract the weekend warriors or vacationers who are there not only to climb but to let loose. 
Their restaurant has some of the best coffee at EPC.
El Potrero Chico Rancho El Sendero
Located about a 15 minute walk from the climbing, Ranchero El Sendero is one of the better campsite picks at EPC. 
Rancho tends to attract a slightly more dedicated climbing crowd, and is also slightly less busy when compared to La Posada.
They have an excellent kitchen set up, with massive refrigerators, ample storage space and about 10 different stove tops to spread out the load during the dinner rush.  
If you're looking to find climbers, head on over to our BRAND NEW FB GROUP and drop a post with your dates!
They also recently opened up a bar/restaurant, and have all you can eat buffets every Friday night for 150 MXN ([email protected]#$ing delicious).
Their costs for camping are as follows: 120 MXN a night for the first 10 nights, and then goes down to 110 MXN a night at 11, then decreases further to 100 MXN a night after 30 days.
Again, prices are subject to change on a season-per-season basis.
They also offer dorm rooms, private rooms and have a full house available for rent.
I would reserve a spot early if you're going during peak season, as these do fill up every year.
El Potrero Chico La Pagoda
By far the least known of the three, La Pagoda has a lot of things going for it. For one, it sees almost zero crowds, even in the busy seasons. 
This means you'll actually be able to get some rest here and not have to battle for kitchen space during peak hours.
Also, it is much cheaper than the other options, as they only charge about 70 MXN a night to stay.
There are also rooms available there for around 20-30USD a night.
The downside is that the amenities are more basic, although they are in no way inadequate. 
If you're looking for a more simple, quiet, "rustic" option, La Pagoda is the way to go.
El Potrero Chico Rest Day Activities
We can't always climb everyday (sadly), but luckily there are a few good rest day activities to keep you busy.
 I have already mentioned El Buho and the Tuesday and Friday markets. 
But if you're looking for something more, here is some info on a few other fun things to do.
El Torro Hike (The Front Side)
An excellent (and steep!) 3-5 hour hike. 
It gives you breathtaking views of the front side of EPC. 
This hike is definitely worth it; especially if you don't plan on doing any of the multi-pitches which give you the same view (such as Land of The Free, Yankee Clipper, Sendero Luminoso, or Timewave Zero). 
Be warned that it gets cooked in the sun, so bring lots of water and sunscreen.
To arrive at the trailhead, head on the same road that goes into the canyon. Once you have crossed the cattle guard, the trailhead will be on the right after a few minutes' walk. The trail is well marked with signs.
A topo of the hike can be found here.
San Joaquin Hot Springs
Located only an hour's drive from Hidalgo, the San Joaquin Hot Springs are nearby to El Potrero Chico, and offer a great way to relax and recover sore muscles. 
Not a bad way to spend the afternoon. For more information check out their website.
And last but not least.
Don't forget to purchase travel insurance to protect you against illness, injury, and theft.
This is a super important thing to have on hand, especially when rock climbing!! I use and recommend World Nomads Travel Insurance. Use the link for a customized quote.
Did I Miss Anything?
Now I'd like to hear from you. 
Which part of this article did you find most useful?
Is there anything I missed or that you're just dying to know?
Either way, comment below, I'll get back to you within 24hrs!!
Climb on.
For further reading see: "Rock Climbing Colombia – The Internet's Most Ridiculously Awesome and Complete Guide" and "The Absolutely 5 Best Places to Go Rock Climbing in Peru [Updated]"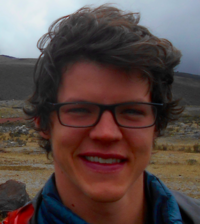 The Wandering Climber. Often seen at world class climbing destinations from around the world!