There is no shortage of exercise clothing for sale these days, so it might be a bit overwhelming to think about what to wear rock climbing indoors or outdoors! 
But don't worry, here we discuss what kind of clothes you need to go rock climbing, what you don't need, and the most important question: Can you wear jeans for climbing? 
What to Wear Rock Climbing at the Gym
For indoor rock climbing or bouldering, you don't really need to buy any special climbing clothes, but there are some things to keep in mind when choosing what to wear climbing. 
The clothes to wear indoor rock climbing should be:
comfortable 

should not restrict your movement

breathable
Tops for Climbing Indoors
Climbing tops should be long enough to comfortably fit under your harness and not ride up when your hands are up in the air. If you have any pockets on a jacket or hoodie, for example, they should ideally have a zipper and be higher up, so you can still access them while wearing your harness. 
Lightweight and comfy tops are best, but they should not be too baggy or they may get stuck in your belay device while climbing indoors.
Pants for Indoor Rock Climbing
For indoor bouldering and climbing, you won't really need special climbing pants at first. A pair of thicker yoga pants will do just fine! Just remember to go for longer shorts so they fit comfortably under your harness, and capris are also a good option if it gets hot.
With time, you can invest in a special pair of pants for indoor rock climbing, which has some unique features like a gusseted crotch and maybe even a chalk bag loop. 
Jeans can be good to wear indoor rock climbing because the material is nice and durable. But make sure to go for a pair of stretchy jeans so you can actually move! There is nothing worse than not sending a problem because your pants were too tight, so go for a looser fit. 
Climbing Shoes
Buying climbing shoes is a big decision and should be done with some consideration! 
We wrote heaps of articles about the best bouldering shoes for beginners, the best bargain shoes, and the best climbing shoes for women, so have a browse around our blog to find out which shoes are best for you!
At first, you can easily use the rental shoes at the climbing gym until you know if it's worth investing in a pair of your own. But there are some nice budget options like the Black Diamond Momentum Climbing shoes that won't cost you an arm and a leg and will also mean less sweaty rental shoes for you!
Men vs Women
While there is specific clothing for both men and women to wear rock climbing, they have quite a few things in common: Both a man's and woman's rock climbing outfit should be comfy and lightweight, breathable, and durable. 
Loose-fitted climbing pants and a tank top work great for anybody who wants to give climbing a go!
Do You Wear Socks?
The age-old question: can you wear socks in your climbing shoes? Yes, of course you can. But should you wear socks in your climbing shoes? Well, yes you can if you like how it feels!  
While socks can take away some sensitivity because they create an extra barrier between your toes and the rock, they can also make your climbing shoe more comfortable and climbing a more enjoyable experience.
Here's a thin ankle sock that's a good choice. 
When you rent climbing shoes or borrow them from a friend, socks are a good idea in shoes that are not yours. 
What Else Do I Need to Bring With Me?
For a fun climbing session, there are a few other things you should chuck into your bag before you head to the climbing gym.
Bring a water bottle.

It's very handy to have your own

chalk

and chalk bag. If you are becoming more and more interested in bouldering, a

chalk bucket

might also be a good investment. 

Slippers or other clean indoor shoes for in-between climbs or while you're on belay.
What Do I Not Want to Wear at the Gym
Remember that when indoor rock climbing, you might get yourself into all kinds of funny body positions and that people will either look at you from below or above.
There are no rules about what you can and can't wear indoor rock climbing, but for me personally, I climb best when I know my clothes are not see-through and everything I want to be covered is covered, even when I'm sweating away on an overhanging boulder problem.
With peace of mind, you'll automatically climb better!
What to Wear Rock Climbing Outdoors
When it comes to what to wear outdoor rock climbing, the same advice still applies: make sure the clothes are comfy and breathable. 
But for outdoor adventures, you need to also consider the weather, climbing style, and approach to the crag when packing your bags. 
The Approach
An important consideration is your choice of footwear. If the crag is hard to get to and involves some scrambling, put on some solid approach shoes just to be on the safe side. You can always pack some slippers for the belaying and for in-between climbs.  
The Weather
Here is where layering comes into play because you will need clothes to keep you warm in between climbing but also be able to take them off when you're on the wall.
If you are layering, make sure to not wear cotton base layers as you'll sweat and then get cold as soon as you stop moving. A synthetic or wool base layer is better.
The Climbing Style
If you're going bouldering in a sunny spot, some shorts and a T-shirt might be a good choice for clothing. But if you're planning for a multi-pitch, crack climbing, or off-width climbing, you will need some more protection.
Tops
Like indoor climbing, your tops should be long on the torso to fit below your climbing harness and allow for a full range of movement. Additionally for outdoor climbing, bring several layers! Here are the basic ones you should bring along:
Base layer

from a moisture-wicking material like a synthetic or merino/wool one.

Mid-layer

for insulation and fits under your harness, like a fleece hoodie.

Upper layer

for protection against wind and rain while still being breathable like a softshell jacket.
Pants
There are loads of different climbing pants out there and the choice really comes down to your personal preferences and needs. 
Depending on the climate and style of climbing, some simple leggings will do, or maybe you might need something more heavy-duty like softshell pants or climbing pants with an abrasion-resistant material. 
Shoes
Next to your climbing shoes, the shoes you will use to get to the climbing spot are also important for outdoor climbing. 
In fact, depending on the duration and difficulty of the approach, you might need hiking boots, sturdy sneakers, or even approach shoes. If you're just off the car park, some flip-flops might be just fine! 
Do your research to know what to expect and always bring some slippers or flip-flops for belaying or in between climbing. 
What Else Do I Need to Bring With Me?
You might have already noticed it, but climbers really like to get new toys. There is a piece of climbing gear for almost anything, so this list can get quite long. 
But the most important thing for when you are starting out is that you have all your own gear to be safe and independent when climbing. 
This means you should get:
Harness

Climbing shoes

Climbing helmet 

Belay device

Rappelling device like an

ATC

Chalk and chalk bag
These are just some of the most basic items. Additionally, always bring water, some snacks, a first aid kit, and a headlamp, as well as an emergency biwak bag to the mountains; you never know when you might need them. 
Once you get a bit more into climbing, climbing gloves and belay glasses are some very practical things to own for yourself, too. 
If you are getting more into other styles of climbing like trad climbing, you will soon need more and more gear for your rack, but when you're just starting out, there's no need to worry about that just yet. 
What to Wear Bouldering
Bouldering is a form of climbing where you climb without a rope and shorter routes of 3 to 5 meters. You therefore also need less gear and your clothes can just be any kind of comfy and breathable gym clothes.
Some leggings or shorts with a T-shirt will do just fine if you are bouldering indoors, for example. If you get more into it, you might want to get a chalk bucket, bouldering brush, or special pants with a chalk bag loop and brush holder. 
Now, these things are nice to have, but don't be deterred from starting to go bouldering just because you don't have the right gear yet! Any exercise clothes will do to start with, and you can probably rent shoes at the climbing gym too, so give it a go! 
Climbing Pants
As you climb more and more, you may want to consider pants which have been designed specifically for the stresses in climbing. If you're interested, check out our full article on the best climbing pants.
What to Look For When Choosing Rock Climbing Clothes
The Fit
Pants
Not too baggy or long (most climbing-specific pants meet those criteria)
Shorts
Long enough to fit comfortably underneath a climbing harness and high rise
Tops
Long on the torso so they fit below your climbing harness and don't ride up when you lift your arms
The Summary of What to Wear Rock Climbing
Clothes that are loose-fitting but not baggy or some stretchy pants/gym clothes

Shorts on the longer side for more comfort

Tops long enough to be comfy under the harness
The Fabric
The fabric these clothes are made of usually has some special properties like:
Removing moisture away from your skin (moisture-wicking)

Breathable 

Wind and waterproof for extra protection from the elements when climbing outside

Quick-drying so you don't have to bring any spare clothes 

Hard-wearing so they don't rip at first contact with the rock and protect your skin from scraping
Climbing Specific Features
Climbing Pants
A

gusseted crotch

in your pants is essential for more comfort without being baggy and gives more range of movement in the legs and hips! 

Articulated knees

are also a helpful feature as they make it even easier to bend your legs for high stepping, for example, and often the knees are also reinforced to be more durable. 

Pockets are low enough

, so they sit below your leg loops on the harness, and you can still access whatever you have in them. 

A

climbing bag loop and brush holder

are extra nice for bouldering pants, so you have everything with you without needing an extra belt.
Climbing Tops
The hood should have a low profile and lie flat against your head so it fits comfortably underneath a helmet

Long enough to fit below a harness without riding up when lifting your arms

The pockets on the hips are high enough so you can grab your stuff without having to squeeze your hand underneath the hip belt of your climbing harness
FAQ
Can I Wear Jeans Rock Climbing?
Yes, you can wear jeans for rock climbing. But make sure they are stretchy and high rise to avoid showing off your behind and not being able to lift your legs because of the stiff fabric!
While there are some special climbing jeans like Boulder Denim or some jeans models by La Sportiva, normal stretchy jeans also do the trick.
What to Wear on a Rock Climbing Date?
Going on a rock climbing date and not sure what to put on? Our advice is to just wear whatever you feel most comfortable in for your rock climbing date! 
A pair of durable leggings and a tank top or a pair of knee-length shorts and a T-shirt — it really doesn't have to be fancy. And hey, you'll also climb better if you wear comfy clothes.
What to Wear for Bouldering?
Bouldering is a more dynamic form of climbing, so loose and comfy clothes are the best choice. Special bouldering pants often feature a chalk bag loop and brush holder, so you have all your gear on you at all times without needing an extra belt for the chalk bag. 
If you are bouldering outside, bring enough layers to stay warm in between the problems, and depending on the approach, appropriate footwear. If you're somewhere warm, some yoga pants and a sports bra might be fine, too!
Can You Wear Shorts for Rock Climbing
Yes, you can wear shorts for rock climbing. Just remember that it is more comfortable to wear longer, slim-fitting shorts under a climbing harness. A pair of leggings or some capris also work well in hotter climates and offer some more protection from the rock if you are climbing outside. (indoor bouldering, climbing clothes)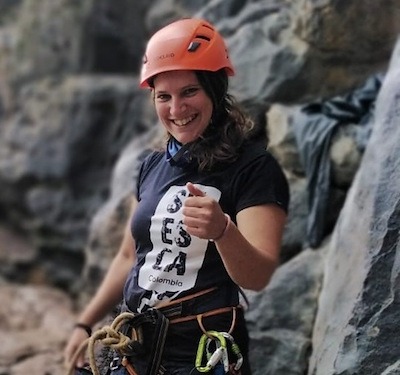 Hi there, I am Mirjam and have recently discovered rock climbing for me while backpacking in Colombia. Originally from Switzerland I currently live in Venezuela and work as a freelance writer and translator. I have always loved being in nature and the mountains and am stoked to explore more of the world's best climbing in the years to come!
You can find me at @mirigoesround or www.bosstranslations.com