| | Name | "Score" out of ten | Best Price |
| --- | --- | --- | --- |
| Top | Petzl Adjama | 8/10 | View Prices |
| | "Black Diamond Momentum " | 8/10 | View Prices |
| | Petzl Sama | 7/10 | View Prices |
| | Mammut Ophir Slide 3 | 7/10 | View Prices |
Choosing the right rock climbing harness for your needs can be challenging.  
We know. 
So to make your life easier we have all the details you'll ever need to know about the best mens climbing harnesses available right now.
We'll also cover some of the most commonly asked questions, including things to consider when buying a climbing harness, how to fit a climbing harness properly and what's the difference between mens and womens harnesses.
Hey! By the way… this page contains affiliate links. So if you make a purchase after clicking one at no cost to you we may earn a small commission. Thanks for your support!
Best Men's Climbing Harness
Best Beginner Rock Climbing Harness
Check Best Price and Reviews
Features
Flexible waistbelt 

Elasticated leg loops

Padded waistbelt

Low price
The Petzl Sama climbing harness is our first offering from this brand and we think it would make the perfect harness for first time climbers.  
It takes our pick for the best beginner rock climbing harness, and it's popularity is easy to see out at the crag or down at your local gym.
Petzl advertises this as a harness for climbing in the gym, at the crag, or on multi-pitch routes, and whilst you could theoretically use it alpine or ice climbing, it definitely hasn't been designed for that!  
Designed for sport climbing, the Sama harness is comfortable for both gym and outdoor climbing thanks to the elasticated leg loops that provide a dynamic fit. 
Whilst you can't adjust these, they will be fine for most sport climbers.  The waistbelt is flexible and slimmer in front so that it gives a greater freedom of movement.  
It is also padded and utilises Petzl's Endoframe Technology that allows for optimal pressure distribution.
The four gear loops provide sufficient space for the required gear.  We like that the two front gear loops are rigid for easy clipping and unclipping of quickdraws, and that the two rear gear loops are flexible, angled to bring gear to the front and comfortable when carrying a backpack.  
However, the space on them is not really large enough to comfortably carry a trad rack – for this we'd look at other options.  There is an additional rear accessory loop for chalk bag, shoes, quick link, trail line or other necessary gear.
Best Intermediate Climbing Harness
Check Best Price and Reviews
Features
Padded waist belt and leg loops

Adaptable

5 gear loops
The award for best mens climbing harness for intermediate climbers goes to the Petzl Adjama thanks to its versatility and all round comfort and adjustability.
The Petzl Adjama is a climbing and mountaineering harness with adjustable leg loops for single and multi pitch climbing, and can be seen as the more technical version of the previously described Sama.  
Whilst the Sama climbing harness was focused on sport climbing, the Adjama is designed for technical mountaineering and trad climbing.
The adjustable leg loops are adaptable to anticipate climbers wearing different clothing depending on the season, or simply for different body types.  They feature "Doubleback" buckles to prevent them coming open through user mistakes and are padded for comfort.
The same Endoframe Technology, as used in the Petzl Sama, is used to allow optimal pressure distribution for comfortable hangs at belays.  
In fact, the waistband looks almost identical to the Sama's with the exception of an additional large, center rear gear loop for racking gear used at belay stations or other accessories.
Combining the same excellent features of the beginner friendly Sama, the Petzl Adjama adds a few more features, making it the perfect companion to more intermediate climbers.  
Whilst not specifically a sport climbing harness, many climbers will have no trouble using this for multiple disciplines.  
Best Gym Climbing Harness
Check Best Price and Reviews
Features
Pre-threaded Speed Adjust Waistbelt Buckle

TrakFIT Adjustment

Four Pressure-molded Gear Loops
Black Diamond's most popular all-rounder, the Momentum harness is one of the best rock climbing harnesses for gym climbing in our guide.  
Its balance of price, features, durability and comfort are a favourite among climbers everywhere.
It is not a harness that likes to fit in a box; it is designed for all-round climbers who put an emphasis on saving time. 
The Black Diamond Momentum delivers a time-saving design for all styles of climbing thanks to its pre-threaded Speed Adjust waist belt buckle.  This feature also eliminates errors when tying in, something your partner should pick up on with their buddy check, but important none-the-less.
The TrakFIT leg loops, apart from having a silly name, actually look like they'd be easy to use.  These would be handy if you migrate from gym climbing to climbing outdoors where the temperature can fluctuate more.
The shape of the waist belt is worth mentioning too.  Black Diamond describes it as a bullhorn shape, built using Dual Core Construction.  
This gives an emphasis on comfort and whilst it may look a bit bulky, the whole climbing harness only weighs 302 g or 10.7 oz.
We really like the combination of durability and comfort this harness offers, making it perfect for those looking for a gym climbing harness.  The only potential downside we can imagine is how it would smell after a year of use in the gym!  Not great!  
Thankfully you can wash gear! Just check out Black Diamond's helpful and important information here first.
Best All-round Climbing Harness
Check Best Price and Reviews
Features
Offset Gear Loops

Two-part webbing technology
The Mammut Ophir Slide 3 mens climbing harness is our pick for the best all-round harness.  Whether you plan to spend days projecting hard sport climbs at your local crag, or go out on a mission ice climbing in the winter, this harness will support you.
The two-part webbing technology and the successful, asymmetrical design contribute to the maximum freedom of movement, top comfort and optimum breathability according to Mammut.  
Whilst this harness does not excel at any one of these things, it does a good job with all of them and has no real discernible features.
Other features worthy of note include a reinforced lower tie-in point, which is nice to have as this is the part of the harness that generally wears out the quickest, thus prolonging its life.  
Also, the offset gear loops are large enough for a range of gear and low profile enough not to get in the way when you don't need them.
As the name suggests, this harness is fully adjustable and comes with a large range of options to suit your individual body size or adapt to what you are wearing.  
The buckles are not the only part of the harness given an upgrade from the last model – other newly improved components include the indicator belay ring, improved seat solution and a lighter protector in addition to a bold new look.  
All guaranteeing pure climbing fun in the gym or out on the rocks!
Best High Performance Climbing Harness
Arc'teryx C-Quence
Features
Warp Strength Technology

Stretchy mesh storage bag
The first product that launched Arc'teryx was a harness, so it's no surprise that so many years later they produce one of the best mens climbing harnesses on the market.  
Their innovation and attention to detail is unsurpassed, and their harnesses are favourites among many.
The Arc'teryx C-Quence (pronounced "sequence") is the last in a long line of harnesses that have travelled down a particular evolutionary path.  
The contoured Warp Strength Technology – the result of extensive refinement, engineering and testing – utilizes a new, tapered swami and leg-loop geometry to create a harness that improves hanging comfort by specifically fitting men's bodies.
In non-marketing babble, this translates to the innovative waist belt design that has made Arc'teryx climbing harnesses so popular.  
Instead of padding out the harness waist belt like traditional harnesses, Arc'teryx designed a system where the padding itself was rated as the safety system.  In effect, this spreads the weight of the climber efficiently over the entire harness structure, making hanging more comfortable.
The C-Quence rock climbing harness is the latest from Arc'teryx, and it takes performance, safety and comfort to new levels without sacrificing mobility, durability or weight.  
The waist belt is slightly thinner than previous models and is claimed to be even more comfortable.  The same elasticated leg loops look just as comfy as the previous model and it retains the safety markers on the belay and tie-in points.
The gear loops have had a slight redesign – they have a less aggressive angle than before, but still look as easy to use and functional as before.
All in all, this harness is for those who require, or simply want, the best gear from a trusted manufacturer. 
Like all Arc'teryx products the workmanship, design and execution is of the highest quality and understandably, this is reflected in their prices.
Things To Consider When Buying Your Harness
Safety
It kind of goes without saying, but as there are many new people getting into climbing it might be best said, that climbing is inherently dangerous, and as climbers we rely totally on our gear keeping us safe.  
For this to work, each piece of gear must attain a certain safety standard set out by independent bodies.  The governing bodies may vary depending on your location, but be sure you are purchasing your gear from a reputable manufacturer, and that it meets the required standards!  
Check out the links below for more information:
Rock and Ice – Making Sense of the UIAA, CE and 3-Sigma Ratings
Fit
When considering which of the harnesses in our guide you want to buy it's important to remember that no amount of fancy features or innovations will make a badly fitting harness comfortable.  
Getting the right size and finding the right shape is the most important thing. 
The only reliable way to do this is to try the harness on before you commit to buying.  
Take a trip to your local climbing store and ask to try on a range of harnesses. You'll soon find that they are not all created equal, and, likewise, all our bodies are different shapes and sizes.  
IE what works for one climber may not work for another.
Price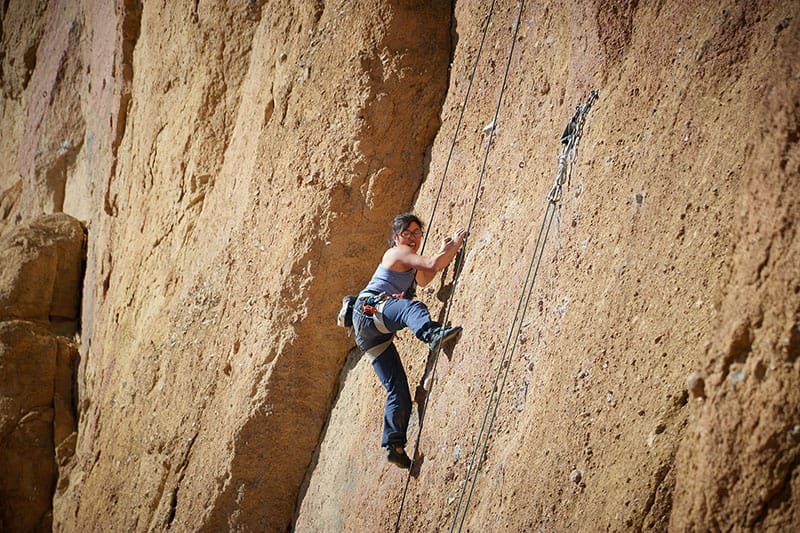 The price of a harness will depend on a number of things.  The quality of the materials, the quality of the workmanship and the amount of research and design all affect the price.  
Work out how much you can afford, how much use you will get out of it and then try to find a happy medium.
What Is The Difference Between Mens' And Women's Climbing Harness?
There are several differences between mens and womens climbing harnesses, but they mainly come down to size and shape.  
Mens climbing harnesses will often have a shorter rise – the length between the waist belt and the leg loops.  This is because women generally have wider hips than men, so the harnesses are designed differently to accommodate differences in sizes and shapes.
However, many harnesses are 'unisex' and there is no reason that a man couldn't use a women's specific harness or vice versa.

It simply comes down to comfort and preferences. 
How To Properly Fit A Men's Rock Climbing Harness
When you come to try on a harness to see if it fits properly it's important you know what you're doing.  
For this we recommend talking to one of the trained members in your local climbing store who will be able to guide you through the correct way to wear a climbing harness, including any safety features specific to certain models.
For further reading see: our reviews on the best beginners harnesses and best women's harnesses. 
UK born and bred, once a passionate dirtbag Neil has finally traded it all in (read sold out!) for a comfortable life behind a desk in the climbing paradise of Siurana.  He still dreams of his years spent living out of a tent / car / backpack and shunning the whole world (wide web) in glorious destinations from Taiwan to Thailand, Squamish to South Devon and many, many more.
Aside from climbing Neil is attempting to learn Spanish (despite living in Catalonia), thinks the environment is worth saving and his favourite food is toast with tomato, garlic and oil (Pa amb tomàquet).