| | Name | Score (out of ten) | Check Price |
| --- | --- | --- | --- |
| Top | Petzl Sitta | 10/10 | View Prices |
| | Misty Mountain Cadillac - Women's | 10/10 | View Prices |
| | CAMP Supernova | 10/10 | View Prices |
| | Black Diamond Momentum Women's | 9/10 | View Prices |
| | Black Diamond Solution Guide - Women's | 9/10 | View Prices |
| | Arc'Teryx AR-385a - Women's | 9/10 | View Prices |
| | Mammut Ophir 3 Slide - Women's | 8/10 | View Prices |
| | Edelrid Jayne III | 8/10 | View Prices |
| | Petzl Luna | 8/10 | View Prices |
Finding the right women's-specific outdoor gear is never easy. 
I mean, come on – it's 2021, and it's still almost impossible to find durable, flattering trekking pants that have pockets big enough to put your hands in. 
Thankfully, there is no shortage of climbing harnesses for women equipped with features for tackling objectives on any type of rock climbing terrain. 
Also,  just because a harness isn't labeled for Women does not mean it's off-limits. Never be afraid to try on both men's and women's styles and see which one works best for you. 
In this article, we'll go over all the things you should look for when buying a harness, and the best climbing harnesses for women on the market!
Hey! By the way… this page contains affiliate links. So if you make a purchase after clicking one at no cost to you we may earn a small commission. Thanks for your support!
Top 10 Best Women's Climbing Harnesses

 
See our quick top 10, or go further down and read our in-depth reviews.
Black Diamond Momentum
Black Diamond Solution Guide
Petzl Selena Sport
Misty Mountain Cadillac
Arc'Teryx AR-385a
Petzl Sitta
CAMP Supernova
Mammut Ophir 3 Slide
Edelrid Jayne III
Petzl Luna
Check Price and Reviews On Amazon
There is no harness that can beat the price-to-performance ratio of the Black Diamond Momentum. 
Although it may not be the most versatile harness, the Momentum is a perfect choice for beginner to intermediate sport climbers without all the bells and whistles of higher-priced options. 
It has exactly what you'd need for single-pitch sport climbing: four mid-sized gear loops, easily adjustable TrakFIT leg loops, and a rear haul loop. 
The Momentum does utilize Black Diamond's Dual Core Construction technology, which is fancy wording for a two-strand webbing design for the waist and leg loops.
As a result of it being only two strands, the harness is not the best in terms of comfort – and especially not on long hanging belays.
But, if you don't plan on taking it multi-pitching and avoid spending too much time projecting routes, this won't be an issue. 
Check Price and Reviews On Amazon
If trad climbing is the name of your game, then the BD Solution Guide should be your next harness. 
Not only is it super comfortable – thanks to  Black Diamond three strand webbing "Fusion Comfort" design –  but it is also made with very durable padding. There is no doubt it can survive numerous sessions of scraping up offwidths and chimneys. 
(Note: the Fusion Comfort technology is more comfortable than the Dual Core Construction because it has the added strand of webbing.)
Also, the Black Diamond Solution Guide's 5th gear loop will provide ample gear-carrying capacity. From single to multi pitch, it'll hold your rack without issue. 
Check Price and Reviews On Amazon
The Petzl Selena is a close runner up behind the Black Diamond Momentum for best budget pick that also has a two-strand webbing design. 
With 4 gear loops and a rear accessory loop (most ideal for clipping a chalk bags to), the Selena is ideal for gym climbing and sport single-pitching outdoors. 
Its dynamic elastic leg loops, combined with the waist belt's slimmer front, provide for excellent mobility. 
However, this harness has a reportedly shorter rise than usual for a women's-specific design and some also complain of the rear gear loops being hard to reach.
For women with a short rise (smaller distance between waist and tops of thighs), this harness works perfectly; for others, not so much. 
Check Price and Reviews On Amazon
Size matters…especially if you're climbing big routes! And the Misty Mountain's Cadillac harness is not messing around. 
The Misty Mountain Cadillac has a wide, generously padded waist belt and leg loops, which are protected by an ultra durable Cordura shell. 
Its waist belt even has two buckle systems for maximal adjustability; and the leg loops are adjustable, too. 
Not to mention: if you get this harness, you'll never have to worry about not having enough gear-carrying space again.That's because it also has six gear loops. Six!!! Which doesn't even count the additional ice clipper slots and ¾" rear haul loop. 
Needless to say, if you have big objectives and multi pitch trad in your sights, go with the Misty Mountain Cadillac. It will also work for basically every type of climbing.
If you like Misty Mountain but aren't sure the Cadillac will cut it, you can even build a custom harness to get the specific features you need through their website.
Check Price and Reviews On Amazon
Four sizable rigid gear loops? Check. 
Four ice clipper slots? Check. 
Loops adjustable? Check
The Arc'Teryx AR-385a is equipped with all the features you need to tackle just about anything (except big wall climbing). 
Its serious design quality is on par with all other Arc'Teryx harnesses, which incorporate their trademark Warp Strength technology.
The Warp Strength design makes the waist belt and leg loops into wide low-profile bands that evenly distribute weight from edge to edge. 
Due to the lack of padding, the 385a is a super lightweight harness.
 But, users are divided over whether it is very comfortable –  reporting that the leg loops tend to dig in when hanging in the harness for long periods. 
If you can, give the Arc'teryx 385a a test run on the wall to see whether it suits your comfort preferences. Otherwise, it might not be worth the $160 price tag. 
Check Price and Reviews On Amazon
Speaking of price tags…
The Sitta is the most expensive harness on this list. 
But it is also the best climbing harness on this list: being the most lightweight, high-quality, shockingly versatile option on the market.
While the Sitta does not have a women's specific design, do not let this dissuade you. It can still be your next favorite, with: 
Four large gear loops that have movable separators 

Two slots for Petzl Caritool holders (for ice equipment)

Rear haul loop

Fixed elastic leg loops
But what really takes the cake about the Sitta harness is its use of Petzl's top-notch WIREFRAME technology, which uses numerous strands of high-modulus polyethylene throughout the waist belt and leg loops to evenly distribute weight and reduce need for bulky foam padding. 
This is what makes the harness lightweight and ultra flexible, allowing it to be easily stowed away in a mountaineering pack. 
It is also pretty dang comfortable for being so minimal. 
If high stakes send-burns and big mountaineering trips are on your to-do list, the Sitta is worth the investment. 
Check Price and Reviews On Amazon
Not only is the Supernova lightweight, but it is also nearly as versatile as the AR-385a. (It is only not as versatile because it only has two ice clipper slots, versus the 385a's four.)
The clipper slots and adjustable leg loops are what make this harness particularly ideal for icy terrain. 
The no-twist belay loop helps keep things organized as well during an ice, sport or trad climbing mission.
Its low profile, 3mm EVA foam padding makes the Supernova wearable underneath a backpack as well. 
What makes the Supernova especially unique is its intentional, women-focused design. 
Whereas many brands often seem to just simply "feminize" the color of its mens' harnesses and call it a women's harness without changing its anatomy, CAMP did the complete opposite. 
They started from ground zero and came up with one of the best women's harnesses on the market; the Supernova. 
Check Price and Reviews On Amazon
Another two-strand webbing harness, the Ophir 3 Slide can get the job done on any sport or trad single-pitch adventures. 
Although Mammut advertises the Ophir 3 Slide as ice climbing compatible, it does not have ice clipper slots. 
However, it's wide, flexible gear loops can still accommodate plenty of carabiners. The adjustable leg loops can also make room for layered winter clothing. 
This harness also has a couple of cool special features like synthetically reinforced tie-in points with wear indicators in the belay loop in addition to the lower tie-in point being double reinforced with plastic as well. 
Check Price and Reviews On Amazon
The Edelrid Jayne is the women's version of the popular Edelrid Jay, and is the epitome all-around harness with: adjustable leg loops, four gear loops, two attachment points for ice screws, and a chalk bag loop. 
As a result, the Jayne is a bit more versatile than the Momentum and the Mammut Ophir 3. 
What also makes the Jayne stand out is its movable foam waist padding, which even has a pouch for an RFID chip.
This is a great way to have medical and emergency contact information stored on your person in the event of an accident. 
The Jayne is also made with "bluesign certified" materials, which are sustainable and environmentally friendly. 
If you want a harness you can stand in and stand behind, the Jayne is a great option (without making a big dent in your wallet, too). 
Check Price and Reviews On Amazon
The Petzl Luna is very similar to the Petzl Selena, albeit with adjustable leg loops and an additional gear loop. It is also capable of racking Petzl's CARITOOL EVO holder for ice climbing equipment.
However, the Luna is a bit heavy, and not especially more comfortable than its pricier competitor, the Arc'Teryx AR-385a.
That being said, it is a solid low-price choice for a harness that can handle mountaineering and ice routes.
Difference Between Men's and Women's Climbing Harnesses
Until recent years, harnesses were strictly unisex. Although men's and women's gear have a few key differences, their fits are not drastically dissimilar. We have a full article on men's climbing harnesses if you're looking to learn more. 
You can use one or the other, no matter your gender, and get practical use out of it without issue. 
That being said, men and women tend to have unique body shapes and centers of gravity; and gear that is tailored to your particular shape can be more comfortable and safe than one that is not. 
As a result, climbing harnesses for women are different from men's in the following ways:
Longer distance (aka. "rise")  between the waist and leg loops

. Thus, the waist belt rests on the waist versus the hips. Women have a lower center of gravity, so wearing the waist belt higher on the body helps prevent flipping over while falling. 

Smaller waist belt and wider leg loops.

This is to accommodate the curvier nature of the female body (i.e. smaller waist and wider hips-to-thighs area). 

Waist belt angles out from narrow to wide.

As the waist belt of a women's harness is designed to rest higher on the waist versus the hips, the belt itself has a curved shape to have a more ergonomic fit (since many women's waists tend to gradually widen into the hips). 

Different colors.

Women's harnesses tend to have different color options (albeit not always more "feminine" colors). 
Just because you are a woman does not mean these traits will work for you; every woman's body is special, and thus some may be better suited for a unisex/men's harness. 
Like rock climbing shoes, be sure to try different sorts of harnesses on if you can to maximize your potential of finding the perfect one. 
What To Consider When Buying a Women's Climbing Harness
Comfort
One's need for a comfortable harness tends to fall on a spectrum….
The more time you plan on spending in your harness (hang dogging, belaying, and hanging belays), the more comfortable the harness you should buy. 
The comfort of a harness is largely determined by the construction and foam padding of its waist belt and leg loops. 
A lot of harnesses are made with "split webbing" technology. This means that the waist belt has a foundation of 2 or more strands of webbing that distribute weight. The leg loops are usually made the same way as the waist belt. 
Generally, the more strands of webbing, the more comfortable the waist belt. 
Maximum weight distribution is important, because it reduces the amount of pressure points the harness will have on your body when you hang in it for long periods.
Padding can also make a huge difference in comfort. However, it also adds weight and volume to the harness. Depending on the style of climbing you need it for, you may need to prioritize one quality over another. 
Performance
A high performance climbing harness is necessary for accomplishing high stakes objectives (e.g. sending your project or summiting a serious alpine route). 
In such instances, three traits matter most:
Weight

Packability

Easy On and Off
For redpoint sport climbing, a harness that is super lightweight with streamlined, minimalist features is considered high performance.
For alpine climbing and mountaineering, a harness must be easy to put on and take off over heavily layered clothing and crampons or skis. It must also be low-profile, so it can be worn underneath a backpack – or compactly crammed in one. 
Price
The best climbing harnesses are not always the most expensive.
For example, if you only plan to climb at the gym 2-3 times a week and maybe even make the occasional trip to a single-pitch sport crag, a low-cost option will work out great. 
High-performance climbing harnesses and harnesses that have a lot of features tend to cost more. But, if you're comparing two of the same sort, don't always assume the more expensive one is better. 
Gear Loops
When shopping for a climbing harness, you want to be sure it has enough gear loops to suit your needs for the type of climbing you plan on doing. Extra climbing gear calls for extra gear loops!
For single-pitch sport and short single-pitch trad,

four gear loops

will do the trick. All you need to carry is some quickdraws (or a single rack) and a belay device.

For multi-pitch routes, trad, and long single-pitch trad, get a harness with

four to five large rigid gear loops.

Larger gear loops hold more large gear like big cams, and just more climbing gear in general.

For big wall climbing, you want

at least five sizable gear loops

. A

haul loop

is also important for carrying taglines, etc.

For ice climbing, make sure the harness also has

ice slots

on top of having an adequate amount of gear loops. 
Adjustable Leg Loops vs. Fixed Elastic Leg Loops
There are one of two types of leg loops on a harness: adjustable and fixed. 
Leg loops have buckle and strap systems like the harness's waist belt. This makes for easy tightening and loosening, which is especially important for accommodating multiple layers of winter clothing. 
Leg loops cannot be adjusted. However, they are usually made of elastic so that they have some stretch. 
If you know how to fit the harness correctly and don't intend to do ice, alpine, or mountain climbing, fixed leg loops are great – they allow you to quickly slide on your harness without needing to adjust your leg loops every time. 
Versatility
If you are the type of climber who dabbles in more than one of the many types of  climbing (e.g. sport, trad, ice, alpine, mountaineering), then it might benefit you to prioritize finding a versatile harness. 
Many harnesses are made with the adequate amount of features to handle almost every sort of terrain – with ample large sized gear loops, a haul loop, and ice slots – while also being relatively lightweight and comfortable.
Getting a versatile harness can save you the money and hassle it'd take to buy individual harnesses for every different climbing situation you might get yourself into. 
Further Reading 
All of the rock climbing harnesses in this article are designed for women, but not every woman's body type is the same. 
While you should definitely explore the recommended options in our list, don't be afraid to try others out, too – even their men's versions. 
Also, make sure you get the right size. For sizing advice, check out our Best Sport Climbing Harness article. 
Not satisfied with the list in this article? Check out the Wandering Climber's Best Climbing Harnesses.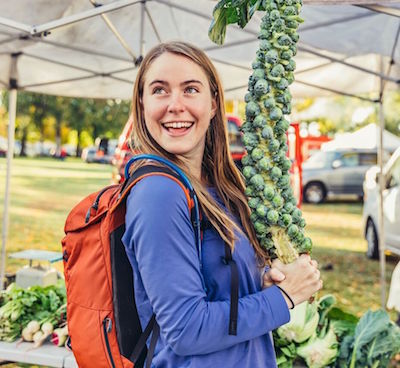 Melissa is a full time van-living outdoor enthusiast hailed from Florida. After deciding to spend her freshman summer of college living out of a tent to work and climb in the Red River Gorge, Kentucky, her life changed forever. She found her way to El Potrero Chico, Mexico in the winters, where she fell in love with travel and community. Post-graduation, she drove from Florida to Alaska to experience its world-class backpacking, then worked her way back south to explore climbing spots throughout the western U.S.
Meeting countless amazing people, hearing their stories, and learning the histories and struggles of local areas through minimalist travel, climbing, and hiking has inspired her to share these experiences with others. Her passions include improving intersectional access to the outdoors and responsible environmental stewardship.