Want to climb a beautiful trad route while hearing monkeys and tropical birds jump around in the forest below you? Rock climbing in Venezuela, in particular La Chorrera, a crag near the town of Mérida in Venezuela, offers you just that. 
Venezuela boasts beautiful nature and amazing climbing, so keep this bookmarked for when COVID-things calm down. There is a proper adventure waiting for you out here! 
It is advisable to go climbing with a local guide and climber, as many of the sites like La Chorrera can be hard to find and navigate on your own. However, there is an active local climbing community who will be more than happy to show you their favourite spots. 
Outside of the town of Mérida in Venezuela, a road snakes its way through a lush green valley. Just where you see the waterfall cascading down from the cliff above, starts the trail to the climbing area La Chorrera.
La Chorrera is a small crag, hidden away in the cloud forest at about 1600 meters above sea level.
It offers several trad and sports routes, single and multi-pitches with amazing views and a proper jungle-climb experience. 
The most difficult sports route is a 5.12 and trad about 5.11, so it is more on the easy side, but the beautiful location and wild surroundings make it a very special place indeed. 
In this article you will learn everything you need to know to climb this beautiful and secluded spot in the middle of the jungle of Venezuela including: 
How to Get to Merida In No Time!
Mérida is a town near the border to Colombia, in the southwest of the country. To get here you can either fly into Caracas and then take an international flight to the airport in Mérida, or, if you are already in Colombia, as I was, you can travel here by bus.
I was in the climbing area La Mojarra in Colombia, and from there you can get to Mérida relatively easily. It will take about a day of travelling by public transport.
Take the bus to the central bus terminal of Bucaramanga, where you can catch the night bus to the border town Cúcuta. We took the last bus at night, which left just before midnight, and got to the border at around 7am. 
After crossing the border, which is only possible by foot, get on another bus to Mérida, where you can get off at the main bus terminal in the centre of town. This journey takes another 6 hours, depending on traffic. 
The descriptions below are on how to get to La Chorrera from Mérida itself.
Public Transport
There are currently busses twice a day that run from Mérida to the town called Jaji. Get off this bus at the bridge over the river that comes down from the waterfall. This is where the trail begins. 
The bus goes back to Mérida around 2:30pm so make sure you get back down to the road on time. Otherwise, hitchhiking is a very popular and common way to get around in Venezuela, so you shouldn't have a problem catching a ride. 
By Car
Another option is to arrive by car. There are a few farms and houses along the road and since there is no official parking, your safest bet is to ask one of the locals to park in their yard. Don't forget to leave a tip when you pick your car up again. 
The Trail
While the rock itself is public, the forest leading up to it, however, is private land belonging to one of the farmers below. It is the house with the big metal gate.
Before you start your journey and go climbing, it is advised to seek permission when you hit the trail that goes across the farmer's land. 
If you're looking to find climbers, head on over to our FB GROUP and drop a post with your dates!
The beginning of the trail is not easy to find, but keep on the right hand of the river and climb up the boulders that follow the river.
Up in the forest yellow ribbons tied to the trees mark the trail, which takes you up to the wall in about 20-30 minutes of steep scrambling.
This is a good first impression on how the climbing will be: wild, adventurous and a bit dirty. But totally worth it. 
I recommend wearing long trousers and sleeves, not only to protect from the mosquitos and other insects, but also from the many overhanging branches and other plants that crowd the path.
Good shoes are a must, so stick with hiking boots. At this altitude, even if it does not rain, heavy fog comes up around 5 pm and everything gets damp, which can make the trail very muddy. 
Rock Climbing Venezuela: La Chorrera

Infrastructure & Conditions
The area is well-known in the local climbing community and the bolts are new and in good condition. There are some permanent carabiners and chains installed at the top of the routes, but mostly you will need to build your own anchor at the top of your climb. 
So make sure to bring some large slings and sufficient quickdraws. We will talk more about the necessary gear below. 
The material used at this climbing spot is financed by the local climbers themselves and the area is constantly getting improved by the local community who invest a lot of their time and money into improving and setting new routes. 
With that said, there is still a lot of work to be done, and some of the setup is basic, but you will be able to climb safely with the gear that is in place.
Infrastructure wise, well, there is nothing. No shops or bathrooms nearby. You are climbing in a remote part of the country in a jungle, so make sure to bring food and water with you. 
You can fill up your water bottles down by the stream before you start the hike to the wall. Once we found a ripe bunch of wild bananas, but don't count on that because there are many monkeys around, too. 
Routes and Grades 
There is currently no guide book available, although I know that some local climbers are currently working on it. There are about a dozen routes, ranging from easy trad routes to more tricky sport routes ranging from 5.9 to 5.12 (sport) and 5.7 to 5.11 (trad). There are a few multi-pitch routes, too, both sport and trad, some mixed. There is something there for everybody and the views are just incredible.
The main climbing area is the big slab just on the left side of the large overhang at the end of the trail. There are about 5 routes starting from the bottom. 
When you get to the ledge above it, there is a bolted rope that leads you around the corner to the right where there are many more routes to be discovered, or keep going straight up and follow the multi-pitch route at the left-hand side of the wall. 
If you turn right when you get to the wooden sign "climbing area" when coming up the jungle-trail, there are some more trad routes to be explored. But bring a brush and be ready to clean off some of the jungle plants first. Not to worry, you will be rewarded with beautiful routes and an adventurous experience.  
When you begin the trail down at the bridge, you can choose to hike more to the left and get to the base of the waterfall that you can see cascading down from below. There is one more sports route (5.12) on the yellow rock next to the waterfall. However, this is difficult to access if you are not with a local climber who can show you the way. 
Suggested Packing List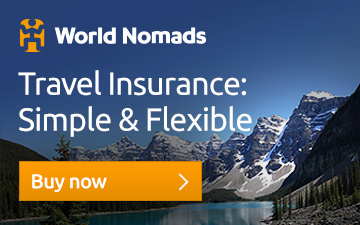 Be aware that your health insurance will not cover you in Venezuela.
Being uncovered while doing a "high" risk activity like destination adventure rock climbing is a recipe for disaster.  
(Not to mention)
Many travel insurance say that they cover "adventure" sports like climbing, only to discover that once you read the fine print they add in special inclusions like requiring you to climb with a certified guide to be covered.
The fastest, easiest and most respected travel insurance in the world which covers rock climbing is World Nomads. 
Be sure to select the "Explorer Plan" on the next page so that you'll be covered for outdoor rock climbing! 
Go here to read more about travel insurance and you can't travel without it!
Gear talk: A 80m rope will serve you very well, especially if you want to do multi-pitches. 15 quickdraws will be enough for most of the routes you'll encounter in La Chorrera. 
If you're into trad, bring a complete rack to make the most of these almost untouched routes and get ready to get dirty! Bring some longer slings to avoid snagging of the rope when passing the overhangs.
Don't forget sunscreen, bug spray, lots of water and sufficient food and snacks to make the most of your day out in the jungle.
When Is the Best Time to Rock Climb in Venezuela?
Mérida has a quite moderate climate all year round with cool nights and mostly sunshine during the day, so you can climb here almost all the time.
From July to August is the rainy season, raining more but mostly at night. Be advised, the jungle below the crag might turn very muddy, which makes the access more difficult. 
Like mentioned above, it is best to hit the crag early in the morning before the sun gets too strong so you can climb for as long as possible in the shade of the trees. In the afternoon, it often gets foggy and colder but usually doesn't rain. 
Where to Stay When Climbing La Chorrera
In Mérida and the villages along the road to La Chorrera there are lots of options for accommodations.
The so-called Posadas, small and often family run pensions, can be a good option, or you could contact a local guide for a recommended accommodation.
He might even help you organise it. 
Jesús Chávez, whom I met while he was working at La Mojarra in Colombia, is a local climber who can hook you up with many recommendations or even help you organise a trip. 
He also offers accommodation at his house and works as a guide taking people climbing at La Chorrera or other local spots.
Drop him a line if you're interested:  [email protected]
It is possible to camp below the crag. There is a small, horizontal patch about 5 minutes below the climbing area with a makeshift fireplace underneath an overhang and space for a 2-3 person tent.
We once camped out there for 4 days and it was a truly amazing experience. 
If you decide to do that, make sure to leave no rubbish or any other trace of your stay behind and be respectful of the natural surroundings.
We brought our tent, sleeping equipment and food for a few days and settled into a nice routine of getting up early to fetch water at the river, climb in the shade and then have a late breakfast while the sun started to heat up the rock. 
In the afternoon we did some multi-pitches in the shade and ended the day at the campfire down in the forest.
We also did a rest-day hike to the bottom of the waterfall where we went swimming in the rockpools and discovered some monkeys watching us from the trees!
What Else To Do Around Merida
If you want something else to do while you're in Mérida, there are heaps of options. The city stretches along a valley between the Sierra Nevada de Mérida and the Sierra de la Culata.
It is 1,600 meters above sea level and famous for its universities, many surrounding mountains and the highest cable car in the world.
Built in cooperation with many European companies, the "teleferico" brings you from 1,640 meters (5,380 ft) to 4,765 meters (15,633ft) at Pico Espejo with 5 stations dotted along the 12,5 km long journey.  
There is a climbing gym with a good and challenging boulder section as well as a 20-meter overhanging climbing wall.
Everyone from the best climbers to the small kids hang out and train. 
The sierra Nevada de Mérida, which flanks the city, contains the highest peak of Venezuela, the Pico Bolivar at 5007 meters.
This lies next to other peaks waiting to be climbed like the Pico Humbolt (4942) and Bonpland (4890), the 3 highest mountains in the country. 
There are a lot of hiking opportunities in the Paramos surrounding the city and other adventure sports like cycling, mountain biking and canyoning are also available.
If you're looking to find climbers, head on over to our FB GROUP and drop a post with your dates!
So, climbing at La Chorrera is an adventure that you won't forget and I can highly recommend checking it out, especially if you're already in neighbouring Colombia. 
Did you find this article useful?
If so, share it with your friends, and help get the word out about Venezuela's incredible climbing destination!
Climb on.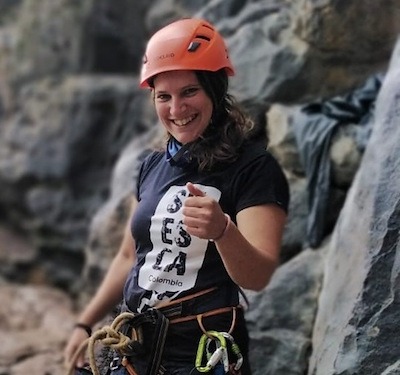 Hi there, I am Mirjam and have recently discovered rock climbing for me while backpacking in Colombia. Originally from Switzerland I currently live in Venezuela and work as a freelance writer and translator. I have always loved being in nature and the mountains and am stoked to explore more of the world's best climbing in the years to come!
You can find me at @mirigoesround or www.bosstranslations.com