In the past few years, La Peña de Abejorral, (most commonly referred to as Abejorral) has risen from obscurity to be become one of Antioquia's top climbing destinations. I took my first trip here in January of 2019, and I have to say that I was very pleasantly surprised by Abejorral.
La Peña has slowly been gaining steam over the past few years since it was purchased by new owners in 2016. Jerson Areiza (also the owner of El Muro in Medellin) has purposefully been investing countless hours into making this place a success.

But wait, didn't you just come out with another article featuring the best places for climbing close to Medellin? Here's the thing, in my opinion, Abejorral is 100% the best place to climb near Medellin, I'd even say it is the best in all of Antioquia for that matter.
That's right, I said it.
My previous article focused on the three areas closest to Medellin in terms of time needed to travel. These areas all require less than 1.5hrs on bus to arrive, so if you're looking for day trips from Medellin, go there.
Abejorral, however, is anywhere from 2.5 to 4+ hours to arrive by bus from Medellin, and there are only a few buses to and from the town every day. This makes day tripping from Medellin out of the question. If you have a car, that is a different story, but most of my readers are travelers without transport, so I always focus my articles to best serve them. For this reason, it didn't make the list.
So now that all those details are settled, here it is: everything you need to know to climb at La Peña de Abejorral.
In this guide you will find:
Where is La Peña de Abejorral
The town of Abejorral is located in Antioquia Colombia, about 80kL south of Medellin. La Peña, or the climbing area itself, is located about 16kL outside of the town. It is very important to note that you do not have to arrive at the town of Abejorral to go climbing, and doing so will add about two hours to your journey.
At 80kL, you might think that it would be much faster to get here since in many countries, this distance could be covered in less than an hour. Don't let this fool you! The main highway once you leave Medellin is only one lane, and the last 45min-1hr of the journey is on a poorly maintained gravel road, making travel very slow.
See the "How to Get to Abejorral" section for more details.
Why Go Climbing at Abejorral (La Peña)?
Abejorral without a doubt has the some of the best climbing around Medellin, and, in my opinion, the best. Though it doesn't have the "most" routes (that claim goes to El Peñol), I would say that Abejorral has the highest quality of climbing near the city.
Generally speaking, the routes here are vertical to slightly overhanging on solid granite… my favorite style. There are a nice mix of grades, with routes starting at 5.6 and going up to 5.14, which means that there is something here for just about anyone.

In addition, there are a few open projects on El Dado which have the potential to be some of the hardest climbs in Colombia.
The climbing is located high on a rocky section of a otherwise smooth hill, giving you spectacular views of the surroundings. Also, most of the climbing has a northern exposure, giving many of the routes all day shade. Perfect for craging!
The cherry on top is the nice hostel located at the base of the mountain. All of these factors put together makes the stay here very enjoyable.
How to Get to Abejorral (La Peña) from Medellin By Bus
So if you're going to Abejorral from Medellin, you have two different options. From Terminal del Norte, the company Sonar leaves every day at 5:30am, 8:30am, and 1:15pm. From the Terminal del Sur, the bus company Cootrabel leaves every day at 2:30pm and 4:00pm.
Depending on traffic, it will take you anywhere from 3 to 4.5 hours to arrive. The exact location of where you get off the bus can be seen here. The only real land mark you will see before arriving is the Tienda La 80, located a few minutes before you reach La Peña. The hostel is about a 5 minute walk from the road.
Returning back to Medellin, Sonar will pass by La Peña at 5:40am, 1:10pm, and 3:40pm. Cootrabel will pass by at 5:30am, and 11:00am. These times are estimates, and change frequently. I would suggest confirming the return times when you get to La Peña.
Rock Climbing At Abejorral (La Peña)
Ok cool, this is why we're all here. The climbing is broken up into 5 different areas, and an updated guide can be found here.
The Approach
From La Peña hostel, the approach to the climbing is relatively straightforward. Follow the well marked trail up the hill toward the obvious rock formations above.
After about 20min, you will reach the first fork on trail marked by a sign. Most of the climbing is located to the left.
After another 5-10 minutes, you will hit the second fork in the trail. From here you will choose based off of your desired destination.
The approach will take you about 25-30 minutes depending on your fitness level (it is quite steep). It has morning shade but gets cooked in the afternoon sun.
Abejorral Climbing Areas
Mirador – The "beginner" area with spectacular views. The routes here range from 5.6 to 5.10a. Morning shade.
Multilargo – The multi-pitch zone. As of this writing there is only one multi-pitch climb in this sector, but there is the potential for more. Development is always ongoing. The multi is a nice 6-pitch route with one move of 5.11a, and the resta 5.10 or easier. It gets afternoon sun, so I'd get this one done early if I was you.
El Bosque – A very nice crag located in a wooded area, giving the routes all day shade. The grades here go from 5.8 to 5.13c, and are good quality. Worth checking out for sure.
El Dado/Los Dados – Generally accepted as the best crags at Abejorral. The climbs are located on huge square shaped blocks (dado means "dice" in Spanish). The climbs at El Dado are almost completely vertical, and very technical, while the climbs at Los Dados start off steep, and then mellow out near the end. All day shade!!
Where to Stay At Abejorral
The only place to stay is the hostel located at the base of the climbing, La Peña. You can either camp for 18,000COP a night (if you want a space on one of the wooden platforms) or for 15,000COP for a place on the flattened gravel areas. If camping, you still have full access to the hostel's services and climbing.
If you'd like to stay in the dorms, the cost is 26,000COP a night. They also have cabanas if you're looking for a more private option.
The hostel is simple, but very clean and has everything you need. The kitchen is actually quite good, and has a huge refrigerator for your use. There is no wifi, but a normally you can get some cell reception.
Supplies and What Gear to Bring
The climbing here is 100% bolted. A sixty meter rope with 15 quick draws (plus station) will get you up every climb, including the multi-pitch.
You're going to want to bring your own water or some sort of purification method, as the water at the hostel isn't considered safe for drinking. Reception does sell some drinks and cold beer, but besides that there are no shops (Tienda La 80 has a few limited choices), so you'll want to make sure to stock up prior to arriving.
Final Thoughts
I was very impressed by Abejorral. It sort of saved Medellin's outdoor climbing for me, giving me a perfect weekend getaway spot from the city and tons of hard projects to keep me busy.
There are a good range of routes from 5.6 to 5.14, including a multi-pitch. The hostel was very nice, and though it doesn't get busy (yet), there are usually a good group of locals that go every weekend.
I do wish that it was a bit easier to get to, and that there were more developed routes (only 30 at the time of writing). That being said, La Peña has the potential to grow into one of the main climbing destinations in Antioquia. I think that this place will keep me coming back for years to come.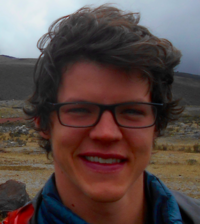 The Wandering Climber. Often seen at world class climbing destinations from around the world!