So you want to go rock climbing in Colombia but you don't know where to start?
Look no further. 
You have stumbled upon the internet's most complete resource for Colombia rock climbing. 
The information found here is the result of over one year of collective climbing experience in Colombia. 
After reading this, you will know exactly where to climb, why you should go to each area and how to get there. 
This guide also includes resources to more in depth guides to every area in case you're interested in learning more about Colombia's rock climbing. 
Let's dive in.
Suesca, Cundinamarca – Colombia's Most Developed Rock Climbing Area
Suesca Colombia is the birthplace of the country's rock climbing. Located only an hour from Colombia's largest city and capital, Bogota, it is the country's most developed area and also the most popular. 
In addition to being the most popular place to climb in Colombia, it has around 400 routes in the guide book, but with new development since publishing it is possible that there are close to 600. 
This gives Suesca claim to having the highest concentration of routes in the country, and one of the highest in all of South America. 
Why You Should Go Rock Climb at Suesca
To start, Suesca has the "most" climbing in the country in terms of routes. Not only does Suesca have the most routes in Colombia, it also is the most "complete" area, meaning that it has a good mix of all styles of climbing: sport climbing, trad, and mult-pitches. 
Suesca is well known for its trad climbing, and I would consider its cracks "higher" quality when compared to its sport climbing. 
That being said, if you don't have gear, there is a ton of sport climbing including bolted multi-pitches to keep you busy. 
Aside from the high-quality climbing, Suesca has a good selection of climbing shops, local guides to take you out and all the amenities you might expect from a town with a population of around 20,000. Here you will find a nice mix of restaurants, shops, cafes and other rest day activities. 
For those digital nomads out there or those of you who can't be detached from wifi for too long, most places in town have internet in the 2-5 Mbps speed range. 
The Rock Climbing Community at Sueca
Another thing which sets Suesca apart from other climbing areas in the country is the community, as Suesca has the largest climbing community in all of Colombia. 
There is a big community of local climbers who are there during the week, and floods of locals from Bogota who commute to climb on the weekends. 
In addition to the locals, there are also a regular stream of backpackers and travelers who come there year round, which means this is a great place to look for partners if you're traveling solo!
Where is Suesca and How to Get There
Suesca is located in the Cundinamarca department of Colombia, about 60km north of the city of Bogota. 
The climbing is located about a 20 minute walk from the town of Suesca. Luckily, most of the hostels, good restaurants and climbing shops are located outside of town very near to the climbing. 
From Bogota, it is easy to arrive at Suesca. There are hourly busses which leave from El Portal Norte in Bogota and go to Suesca every day. 
The most important thing to note is that you will want to get off the bus before you arrive in the town of Suesca, as it is about a 20 minute walk from the climbing/hostels. 
All of the climbing follows a single cliff band which starts about a 5 minute walk from the highway and extends for a few kilometers. 
How Do I Get To Suesca by Bus?
Suesca is easy to reach via bus or car.
If you are coming by bus from Bogota take the Transmilenio bus system to the station Terminal Norte. From there exit the station and go to where you see a line of buses heading north on the main road.
There will be busses every 30min or so heading to Suesca (they will say Suesca on the windshield). Usually the bus ticket guys will be hanging outside the bus yelling destinations at the crowds. The bus fair as of 2016 was 5-7,000 COP depending on the day and your Spanish skills.
The bus will take about one hour or so depending on traffic. The roads are in good condition.
If you want to go straight to the climbing tell the driver to drop you off when you pass the hostels. They are the first set of buildings. Walk down the alley next to the Monodedo climbing shop and turn left. Take a look on googlemaps here.
Macheta, Cundinamarca – Mega Long Sport Routes and Steep Caves
Located about 80km north of Bogota and about 30km east of Suesca we have Macheta Colombia. One of the country's largest rock climbing areas, Macheta has about 300 routes in total. 
The climbing at Macheta is split up into two separate areas, Old Macheta (Viejo Macheta) or New Macehta (New Mechata or El Salon de La Justicia). 
Though it lacks a nearby town and large climbing community like Suesca, it does have some of the highest quality rocks in the entire country. 
It is an absolute must visit for anyone rock climbing in Colombia. 
Why You Should Rock Climb at Macheta
The rock climbing at Macheta is excellent, and in my opinion, the best in Colombia. 
Old Macheta is broken up into seven different sectors, each with routes of various difficulties. Most routes at Old Macheta are classified as steep, pumpey routes. 
Though located on the same cliff band, the climbing styles at New Macheta vs Old Macheta are completely different. 
If you like roof climbing, Old Macheta is the place for you. 
If you like long vertical techy face climbing, head to New Macheta. 
The routes at New Macheta are super long (80m+), vertical, crimpy and balency. My favorite style. 
The cliff band at New Macheta also drops away sharpy right after you start climbing, which gives you a ton of exposure right off the deck. 
When you're at the first bolt, many times it feels like you're climbing 100m off the ground! 
In both areas, the rock is strong sandstone. The bolts are in good condition and the falls are safe. 
The Rock Climbing Community at Macheta
In general, there isn't much of a climbing community located at Macheta itself, as most of the climbers live at nearby Suesca or Bogota and do day trips to the crag. 
There is newly opened climbing hostel at the base of the rocks, near the entrance to New Macheta called El Jardin de Los Super Amigos. 
You might be able to find a few climbers if you're lucky, but if you're looking for partners, you'd be best off going to Suesca first and looking there. 
The cost to stay is 70,000COP a night with breakfast included at time of writing [2019]. Slightly expensive for Colombia, but well worth it. 
The hostel has wifi which they charge about $4 a day to use. 
Where is Macheta and How to Get There
The town Macheta is located in Cundinamarca department of Colombia, about a two hour bus ride from Bogota. 
The climbing itself is located about 15 minutes past the town of Macheta. You will see a very obvious cliff band rising up from the left. 
It is easy to arrive at Macheta by bus. If you are coming from Bogota, take the Transmilenio to the Terminal Norte. It is one of the last stops going north.
From here, you have to exit the station and take the walkway to the bus terminal itself. In the terminal, there are two different companies which go to Macheta, Valle de Tenza or Macarena. 
Both companies are similar in prices and quality. 
Most of the buses which go to Macheta will continue past the town towards the climbing. You can always ask the bus driver if the bus continues to Manta or Guateque if you're unsure. 
If you are going to Old Macheta, get off here when you see the sign which reads "Finca el Paradiso". Walk up the driveway and ask at the finca where the trail is to get to the climbing. 
You may be asked to pay an entrance fee ($2-$4). 
If you are climbing at New Macheta, will want to continue about another kilometer down the road until you pass this grouping of houses. 
Get off the bus there and walk down the road another few minutes until you find the trail on your left. 
Zipa, Cundinamarca – Bogota's Local Crag
*2019 Update – Zipa is currently closed to climbers due to an archeological excavation. 
Located only 30 minutes outside the Bogota, we have Zipaquira (Zipa for short). It is the closest area near Bogota to climb, and has about 80 different routes to choose from. 
Its proximity to Bogota has made Zipa one of the most popular places to rock climb in Colombia.
The routes have better friction when compared to nearby Suesca, and are super fun to climb. Most are also in the 5.10-5.11 range, meaning that there is a route for almost everyone. 
The routes are relatively short, requiring only 6-10 quickdraws. 
Why Go Rock Climbing At Zipa?
Zipa is the ultimate spot for those of you in Bogota looking to get a quick day of climbing in. 
There is a surprisingly good variety of climbing styles including vertical and techy, steep and even a few cracks. 
The routes are closely bolted and of high quality. Most are short as well, between 10-15m, meaning that you can crank out a lot of routes in a day if you choose.

Zipa sees lots of visitors from Bogota, especially on the weekends. Expect the crags to be busy if you go on the weekend, especially Sunday. 
It is a great place to meet local climbers. 
Where is Zipa and How to Get There From Bogota
Zipa is located about 30km directly north of the city of Bogota. 
The climbing is located about 8km to the east of the town of Zipaquira. The exact location of the crag can be found here. 
To arrive at Zipa, first take the Transmilenio to the Portal Norte. From here, you can take on the municipal buses to the town of Zipaquira itself. 
Once you arrive in Zipaquira, get off when you reach the main east/west street, Calle 8. Once at Calle 8, you want to take the bus which goes to "Tocancipá – La Fuente". This will pass right by the crags. 
Alternatively, you can take the bus from the Portal Norte to Tocancipa. From Tocancipa you can then take the bus towards Zipaquira. 
This second option is slightly faster, but Tocancipa is a smaller town so the busses run less frequently. 
For that I've always taken the bus to Zipaquira first, though you are backtracking about 20 minutes. 
If you're in a rush, you can always take a cab!
El Peñol de Guatapé – Medellin's Best Rock Climbing Day Trip
About 1.5hrs from Medellin you'll find rock climbing at el Peñol near the town of Guatape.
Guatape and the surrounding area is stunningly beautiful, and has long been a vacation destination for rich Colombians from Medellin. Most notably being Pablo Escobar, who's destroyed mansion is now a popular tourist destination. 
Why Go Climbing at El Peñol?
Of all the areas within a few hours from Medellin, El Penol most likely has the best climbing.
El Peñol has a good mix of about 100 routes at various grades, ranging from 5.6 to 5.13+. It has single pitch sport, trad climbs and a few multi-pitches. 
It is possible to climb all the way to the top without taking the stairs! 
The rock is a unique coarse-grained granite, which is super techy but fun to climb. 
This is a perfect trip for those of you who are visiting Medellin and were already considering visiting Guatape or the surrounding area. 
The same bus which takes you to the entrance to Guatape passes by the entrance to the climbing. 
It makes for a great weekend trip, and gives you a rare look at this iconic landmark that few will ever get to experience. 
On the weekends, especially Sundays, there are almost always people climbing. During the week, expect to have the crag to itself. 
There is also a local guide who lives near the rocks, maintains the routes, and takes tourists out climbing. 
He requested me to not post his number here, but if you're interested comment below and I'll put you in contact. 
Where is El Peñol's Rock Climbing and How To Get There
El Peñol is located in the Municipality of Guatape, in the department of Antioquia. It is located about a 80km or two hours drive from the City of Medellin. 
Due to the popularity of the El Peñol as a tourist attraction, there are regular busses which head to El Peñol. 
The buses all leave from the Terminal del Norte transportation station in Medellin. 
To arrive by metro, simply get off at the Caribe station and take the pedestrian bridge over the highway which leads directly into the station. 
At the terminal, there are multiple companies which run buses every 30 minutes or so directly towards El Peñol/ Guatape. 
The most tricky part is that you need to get off before you arrive at the back end of El Peñol where the tourist stairs are. 
After about 1.5 hours on the bus, get off in front of the restaurant "La Mona" at this location. You will be able to see El Peñol by that time, so you'll have plenty of warning. 
From here you can follow the stairs and obvious path which leads up towards the rock. 
La Peña de Abejorral – Antioquia's Best Rock Climbing
La Peña de Abejorral, or just Abejorral for short, is Antioquia's premier climbing destination. The climbing in Abejorral is not only is it the best climbing in Antioquia, Abejorral is some of the best rock climbing in Colombia.
Though it currently only has about 100 routes developed, the rock quality is superior to that  which can be found anywhere in the Antioquia department of Colombia. 
Abejorral has seen a large rise in popularity over the past few years after the owner of one of Medellin's climbing gyms Jerson Areiza and his partners bought the land back in 2016. 
Through his (and many other members of the community) hard work, the area has seen many new routes go up, in addition to seeing huge improvements in the trails to access the climbing and the hostel located at the base. 
Abejerral has the potential to become one of Colombia's leading rock climbing destinations.
There tend to be very few climbers at Abejorral during the week, so expect to have the crag to yourself. On the weekends, especially Sundays, there are almost always local climbers there. 
Why Go Rock Climbing at Abejorral?
Abejorral has a range of granite cliffs of varying styles and difficulty, making it easy for any type of climber to find something to try. 
Most of the cliffs enjoy all day shade, and a few are overhung giving you protection in case of rain, which is common year round. 
The rock is granite and for the most part very solid. The routes at Abejorral are the highest quality which can be found anywhere in Antioquia, both in rock quality and quality of movement. 
Abejorral has the highest quantity of hard (5.12+ and higher) routes in Antioquia, including a few routes in the 5.14 range. 
The style of the routes are vertical to slightly overhanging with varied hold sizes and shapes. It makes for a nice mix of balancy technical climbing mixed in with pure power and endurance moves. 
In addition to the high quality climbing, the landscape around Abejorral is rural, lush and untapped. 
There are no major cities near Abejorral, and for this it is dead quiet. A rarity in Colombia. It makes for a great place to escape the city for a few days to unwind. 
Where is Abejorral and How To Get There?
La Peña de Abejorral is located about 80km south of Medellin. This is not to be confused with the town of Abejorral itself, which is located another 15km or so past La Peña. 
If you are arriving at Abejorral by bus, there are two options. From Terminal del Norte, the company Sonar leaves twice a day at 5:30am and 8:30am. 
From Terminal del Sur, the company Cootrabel leaves every day at 2:30pm and 4:00pm. Depending on traffic, it will take about 3-4 hours from the terminal to arrive at La Peña de Abejorral hostel. 
La Mojarra, Mesa de Los Santos – Colombia's Best Sport Climbing Destination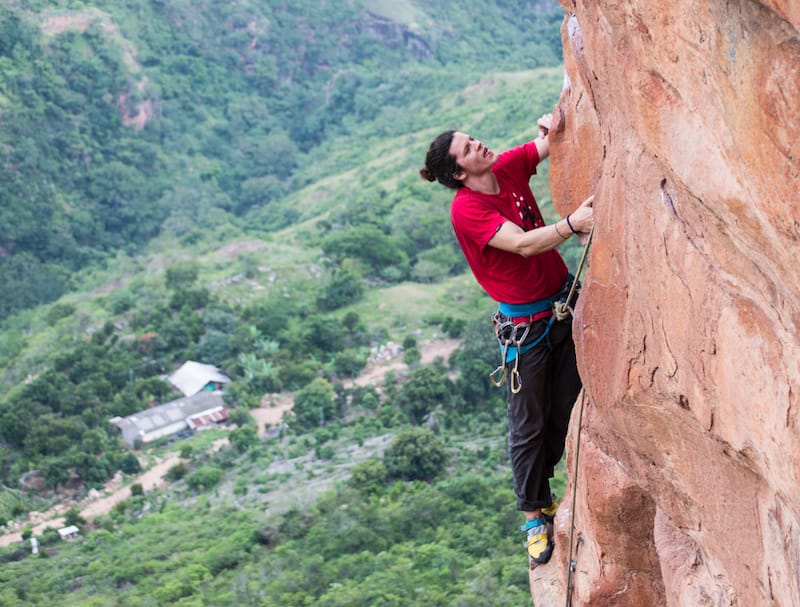 Located a few hours outside of the town of Bucaramunga in the Santader department of Colombia, we have La Mesa de Los Santos, or just "La Mojarra" for short. (Click the link for our full article on La Mojarra's climbing)
 Boasting over 300 routes across 20 sectors, it is the spot in Colombia to go rock climbing if you like sport routes! 
In addition to some Colombia's best rock climbing, the nearby climbing hostel El Refugio is one of the best places in Colombia to meet local rock climbers and chill out after a long day. 
This mixed with the short approaches and easy access to the climbing makes La Mojarra one of the best spots in Colombia to rock climb and an experience that you don't want to miss. 
Why Go Rock Climbing at La Mojarra?
Suesca technically has "more routes" but out of Sueca's 400+ routes, about half are trad, meaning that La Mojarra has the highest concentration of high quality single pitch sport routes in Colombia.
The rock is heavily featured sandstone with very good friction. Most climbs are either technical faces on balency crimps, or overhung pump fests on "big" holds. Two of my favorite styles. 
In addition to the excellent climbing, the nearby Hostel, El Refugio, is an absolutely incredible place. Located on the plateau looking down in the Chicamocha Canyon, it is an off the beaten path destination and a perfect place to relax for a few days (or weeks). 
There is a strong climbing community at La Mojarra, most of the people staying at the hostel and many of the employees are climbers, so it is a great place to just show up if you're looking for someone to climb with. 
On the weekends, there is usually an influx of local Colombian climbers from Bucaramunga and other local vacationers looking to get away from the city. 
During the week, there are pretty much always a few local Colombian rock climbers or backpackers to meet. 
Where is La Mojarra and How to Get There
El Refugio is located about 55km outside the city of Bucaramunga. It is up on a large plateau which is simply referred to as "La Mesa". 
If you are coming from Bucaramunga, first you need to arrive in the town of Piedecuesta, where there are hourly busses which will take you up the plateau. 
To get to Piedecuesta, you can either take the local bus system or take a cab. I found the bus system to be slow (taking about 1.5 hours from Bucaramunga), and poorly organized. 
Not to mention if you have a lot of gear it is possible that there will be no space for you. 
For these reasons, I suggest just taking one of the many cabs in the city. It will cost about 20,000COP to arrive from Bucaramanga to Piedacuesta and about 30,000COP to arrive from the airport. 
From Piedecuesta, go the the Transport La Culona bus station and take the bus heading to the town of "Los Santos". 
After about 1.5-2 hours, this bus will pass directly by the entrance to El Refugio, about 15 minutes before the bus reaches its final destination at Los Santos. 
If you are coming from the south in the directly of San Gil or Bogota, you can either get off at entrada Los Curos, and wait for one of the hourly buses which pass heading towards Los Santos or continue a bit further and get off at Piedecuesta and go from there. 
Florian – Colombia's Limstone Stalactite Cave Climbing – Santander
Located high in the Colombian Andes, secluded from the rest of the world we have the stunningly beautiful town of Florian. 
Only accessible by a 3 hour 4×4 jeep ride, this is the ultimate Colombia adventure rock climbing experience. Only about a decade ago, the area was still controlled by the drug cartels and was completely off limits to outsiders. 
But luckily those days have past, and now the town welcomes foreigners with open arms. 
Why Go Rock Climbing At Florian?
Floraian and the surrounding area is an amazingly beautiful part of Colombia, the nature is for the most part undeveloped and untapped. With no cities, the only industry in the area is farming, and farms are accessed only by tails made for humans and donkeys. 
Florian is one of Colombia's hidden gems – still raw, untouched and undiscovered. 
The town's surroundings aside, there is a good amount of climbing to be had near the town. 
There are currently 4 different climbing sectors near Florian, but the most unique climbing is Ventanas del Tizquizoque cave.
The cave has massive stalactites, which makes for fun and unique 3D rock climbing, a rarity in Colombia, usually only found in places such as Thailand. 
All of the areas around Florian have over 100 combined sport routes, with a huge potential for more routes. 
In the past few years, a new climbing hostel Refugio Munay has opened up, which has provided a great place to meet local climbers and get beta for the climbing in the area. 
Due to the relatively low amount of traffic this area sees, at time the routes can be dirty, and it is common to break holds.
For this reason, the overall quality of climbing is lower here than when compared to places like La Mojarra or Suesca. But Florain is just so unique that I still suggest you taking the trip if you have time. 
Where is Florian and How to Get There
Florian is located in the southern part of the Santander, with the nearest major town being Tunja. 
From Tunja, there are a few daily buses and Jeeps which leave from the city and head directly to the town of Florian. 
The road is a rough gravel road, and it takes about 3 hours from Tunja to arrive at Florian. 
From the town of Florian, it is about a 30 minute walk to the Ventanas del Tizquizoque cave. The other sectors are further outside of town so it is better to take a bus or hitchhike. 
Did I Miss Anything?
Now I'd like to hear from you. 
Which area stood out to you the most? 
Or was there something missing from this guide regarding Colombia's rock climbing that I just have to add? 
Either way, let me know by leaving a comment below!
Happy climbing. 
For more reading check out our article on South Americas's Best Climbing.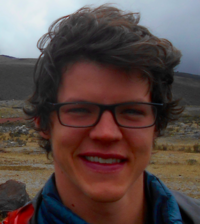 The Wandering Climber. Often seen at world class climbing destinations from around the world!