The Dawn Wall vs Free Solo. Two of rock climbing's most awaited and critically acclaimed movies of all time.
Free Solo even went on to win the Oscar for the best documentary of 2019, rocking the film to outright fame.
So then that means Free Solo is better… right?
Hold on there.
There's a lot more to the story then that, and there are many who beg to differ. In this article we'll be discussing the two films, their perspective backgrounds, and uncovering once and for all which film takes the crown as the top climbing movie.
In this article you'll find:
The Dawn Wall vs Free Solo – The Beginning
These two absolute monster climbing movies were both released just 2 months apart in 2018. This double-header of awesome propelled rock climbing even further along its trajectory from fringe dirt-bag pastime to Olympic sport, respected form of outdoor recreation and fitness pursuit. 
Climbing has been growing and growing in popularity, with multiple bouldering gyms popping up in city after city. Many fitness fanatics are deciding to ditch the traditional gym for a more fun and entertaining form of workout. 
There are many factors to attribute to this growth, but it was the release of Free Solo and The Dawn Wall that turned knowledge of El Capitan into public domain, and the conversation of what it must be like to climb El Cap into a dinner table conversation I could have with my Mum. 
The Dawn Wall vs Free Solo's widespread popularity enhanced stoke levels worldwide. Watching professionals perform at their absolute peak, taking on challenges that no human had ever previously done, filmed in such a cinematic and intimate way… I was just itching to get back to the rocks!
These movies created a monumental hype, both around their release and the accomplishments achieved from the climbs themselves. But the question is… which movie is better?! 
El Capitan, Yosemite National Park, California
To begin answering that question, let's first discuss the star featured in both movies: El Capitan. El Cap is a granite monolith standing at approximately 3000ft (914m) from base to summit.  
The name itself was given by the Mariposa Battalion who explored the valley in 1851. This is a sad tale of conquest, where a California State Militia was tasked with battling the native people of the area. The name comes from a loose Spanish translation of the Miwok name for the rock face, 'To-to-kon oo-lah', roughly meaning Chief.  
The mountain took its shape from glacial movements carving out the valley. What is left are 100 million year old pale granite rock walls enticing climbers, hikers and onlookers.
El Cap is one of the most recognizable walls in the world, due to its being the birthplace of modern rock climbing, easily accessed from San Francisco and from being featured as a Mac desktop background. Most people would recognize it without even knowing. 
Free Soloing vs Free Climbing – What's the Difference?
First, we best all get on the same page about what Alex Honnold actually did in the film Free Solo. 
Free solo rock climbing is the practice of climbing up a cliff face without the use of fall protection, such as a safety rope. It is often done in isolation to avoid distraction, and as you can imagine, can be incredibly dangerous due to the severity of taking a fall at such a height. When people free solo climb, they do so on routes at a much lower grade than their usual limit. This is a way to somewhat mitigate chances of a slip. 
Alex Honnold's ascent of El Cap was so impressive due to the sheer nerves of steel that it must have taken to hold it together at such heights, on such an exposed (ie, super high and scary) route. 
Free climbing includes the use of fall protection such as ropes, gri-gris or crash pads for bouldering. The climbing itself is still unaided and relies on your own skill and physical ability. The term itself comes from 'free from direct aid'. 
Aid climbing involves devices to help you up the rope such as ascenders. This is useful for scouting routes that you may wish to come back to and free climb later. 
About Free Solo
Free Solo is the jaw dropping account of Alex Honnold attempting the first ever free solo of El Capitan.
It would be a sin to mention Free Solo and not first speak of the astonishing cinematic visuals and achievements of the film crew, headed by E. Chai Vasarhelyi and Jimmy Chin. What they pulled off in the filming of this is nothing short of remarkable.
Filming in a National Park comes with its own set of hurdles, such as restrictions on flying aircraft and drones. On top of that, the crew managed to get themselves in position across this 3000ft wall in order to film the crux moves. 
Yet they didn't entirely know the timings of Honnold's ascent. They vowed to let him climb undisturbed, as any distraction could, of course, be fatal. They were teetering on the very fine line of encouraging their friend, yet not wanting to push him over the edge to his death.
That meant having eyes on the ground with telescopes monitoring his position, relaying this information via radio to the crew on the wall and getting them in place at the right moments. 
The documentation of his climb may be some of the most nail bitingly tense sequences in any film I've ever watched. And it's no spoiler to say that even though you know he makes it to the top, having that information does not for one second help slow down your heart rate or help you relax into your seat. 
The film rightly went on to win numerous Emmy's, a BAFTA and an Oscar. 
Alex Honnold
Honnold is an American climber known for taking on big walls quickly. He has the record for the fastest ascent of the Yosemite Triple Crown (The Nose, Mount Watkins, Regular Northwest Face of Half Dome) – 18hr 50min. His dedication to climbing had him spending over a decade living the sweet, sweet van life. This was a means to be amongst the mountains. 
He is also a philanthropist, and has set up The Honnold Foundation, where he donates ⅓ of his income to solar projects helping to increase solar-power worldwide.
His quirky personality and interesting outlook to life has led to some absolute belter quotes, such as: 
"I've done a lot of thinking about fear. For me the crucial question is not how to climb without fear-that's impossible- but how to deal with it when it creeps into your nerve endings."

"No matter the risks we take, we always consider the end to be too soon, even though in life, more than anything else, quality should be more important than quantity."

"There's a constant tension in climbing, and really all exploration, between pushing yourself into the unknown but trying not to push too far. The best any of us can do is to treat that line carefully." 

"I love red bell peppers. Bell peppers in general, really. I like to eat them like apples. They're so crunchy and delicious."
Free Solo has a lot of appeal even to the non-climbing audience, as it follows the more personable story in preparation for the climb.
His training, his route planning, his own doubts on whether it's even possible or not and his understandably concerned girlfriend (now fiancé). 
By showing the entire process, including his first failed attempt that he called off early, showed how great this feat truly was. By hearing Honnold recount exact moves like a chess game also showed just how much preparation had to go into this.
It helps put the entire thing into perspective for those who may have never even touched a rock in their life. 
Where Can I Watch Free Solo?
The movie is available to stream online from a Hulu subscription. It is also available for rent or purchase from iTunes, Amazon Prime Video, Youtube, Google Play and NatGeo's TV app. 
The Dawn Wall
The name 'Dawn Wall' comes from the moment the sun rises in Yosemite. It is the first section of El Capitan to be illuminated by the light. This moment sparked an almost spiritual connection from Tommy Caldwell, back in 2007, that began a relentless 7 year pursuit to climb it.
At the time, Caldwell was in a deep depression following his divorce. He was about to attempt a near-suicidal 1000ft free solo of a Yosemite spire.
Seeing that first light gave him optimism for a new goal. Taking on the previously unclimbed, once-thought-impossible, Dawn Wall. 
About The Dawn Wall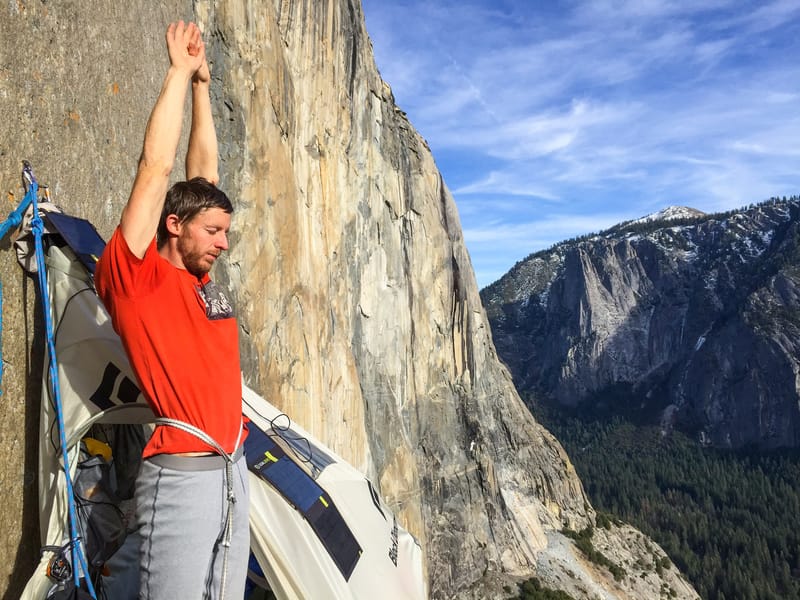 The Dawn Wall is not only the story of Tommy Caldwell and Kevin Jorgeson's attempt to climb what would be the hardest completed route in the entire world, but also that of Caldwell's epic life tale.
He is the driving force behind the climb, it was his passion that made it happen. 
The relentless persistence necessary to reach the top had been nurtured throughout Caldwell's life. From being held hostage by rebels in Kyrgyzstan, accidently chopping off a finger, as well as the emotional damage from a marriage falling apart.
The accumulation of a lifetime's worth of defeating obstacles and beating the odds is what helped the team through their 19 day onslaught of The Dawn Wall. 
The Dawn Wall 5.14d – 32 pitches of slabby granite, this route holds more 5.14's than the rest of El Cap combined. 
You are taken along on this remarkable journey of persistence and join the climbers as a fly-on-the-wall of their portalege, where they lived for 2.5 weeks. In order to count a successful free climb each section must be done in a continuous attempt, without returning to the ground.
This meant a whole community effort was needed to support them. Food, water and supplies were either hauled up or repelled down to them. Interviews with global news crews were broadcast live from their cliffside abode as their story started to generate hype across the world. 
This went beyond the realms of the climbing community.
What Caldwell and Jorgeson were doing was a push forward of the limitations of humanity. Pushing the boundary ever further of what was possible. 
The entire world was on their side, and there to see the highs and lows, the comradery between the two, for Caldwell to turn to Jorgeson and let him know he is there to support him no matter how long or how many days it takes – is really spectacular.
We all need to find someone who looks at us the way Tommy did to Kevin. 
Adam Ondra and The Dawn Wall
In the climbing world, there is unwritten code that goes into the development of a new route. Once someone starts 'projecting' a new climb – putting in the work to develop the route, see if it's possible, then working on completing it – it is off limits to other climbers.
It is their project and therefore they get to be the first to redpoint it, or to call it off and open it up to anyone else to try. 
Caldwell put blood, sweat and skin up on the wall to develop this climb. Most people thought it was impossible, but after 7 years of reconnaissance he managed to find a continuous route to the top.
It's worth noting that according to the National Parks Service rules, bolts must be drilled by hand, without use of cordless drills. 
After completion it was now fair game for others to try. 
Enter Adam Ondra, world champion Czech climber. The climb had been proven possible and the sequence of moves necessary to crack the puzzle were unlocked.
This allowed Ondra to deliver an absolutely mind-blowing performance to complete the Dawn Wall in just 8 days… on his first ever visit to Yosemite, with just one months prep. 
He was equipped with the knowledge that what he was doing was actually doable, as well as having a dedicated belayer – Pavel Blazek. On top of this, Caldwell shared with him beta (information) on how to complete the route, over Skype and meetings in person in Yosemite. 
This is a truly astonishing achievement, from Caldwell's vision to Ondra's performance. The climbing world takes another monumental leap forward. 
Where Can I Watch The Dawn Wall?
The Dawn Wall is available to stream on Netflix, as well as rent or purchase from most major online services such as Amazon Prime.
What's Difference Between Freerider vs Dawn Wall
Freerider is the route which Alex Honnold free solo climbed in "Free Solo" while the Dawn Wall is the route free climbed by Tommy Caldwell and Kevin Jorgeson in "The Dawn Wall".
The Dawn Wall vs Free Solo: Which Film Is Better?
Now the questoin we've all been waiting for… The Dawn Wall vs Free Solo: Which is better?
I have pondered this question heavily. I've rewatched both movies in preparation of writing this article and even proposed this across my social media for help finding the answer. 
It wasn't much help, as my fairly small research group was split near enough down the middle. 
Free Solo is a breathtaking ride, with humour, tense action and awesome visuals. It appeals to the masses as the dangers are clear and apparent. 
But for me, The Dawn Wall, just just just, takes it. It is more than a climbing movie. It's a memoir of a true visionary.
The emotional rollercoaster that was the climb itself but also across Tommy Caldwell's unbelievable life journey. A stunning example of grit and determination, throwing oneself fully at a project that for a long time, no one else believed to be possible. 
In these two films you will find incredibly inspiring stories and feats of climbing performance. If you haven't seen either of them yet, I don't know what boulder you've been living under, but you're in for a hell of a ride! 
So now I want to hear from you. 
Which film did you like better and why? Drop a comment below and let me know! (Dawn wall, vs Free Solo)
Thanks for taking your time and reading all the way to the bottom of the guide! I hope you found the information you were looking for, as well as some bonus stuff you may not have known about. My name is Chris and I am an adventure travel writer, photographer, snowboard instructor and sea kayak expedition guide. Outdoors is what I do. You can find more of my work over on my website or keep up with the latest on my Instagram @global_shenanigans. Enjoy!