| | Name | Score (out of ten) | Check Price |
| --- | --- | --- | --- |
| Top | DMM Edge Boulder Chalk Bag | 10/10 | View Prices |
| | Black Diamond Mondo Chalk Pot | 9/10 | View Prices |
| | Metolius Dust Bin | 8/10 | View Prices |
| | 8BPlus Chalk Bag for Climbing | 6/10 | View Prices |
*Article Updated September 2023*
Has this ever happened to you?
You're bouldering at your local gym, you look across at one of the local crushers. They're generously caulking up their hands to the wrist in one smooth, comfortable motion in their massive, stylish bouldering bucket.
You reach into your puny chalk bag, empty, as you hopelessly feel for chalk, willing that more would just magically appear.
We've all been there.
(Or maybe not)
But either way, if you're starting to go bouldering on a regular basis or are already a seasoned boulderer, you'll be thinking about getting a chalk bucket sooner or later.
They are the perfect companion for your training sessions at the gym or outside and will make your life a lot easier. And so, in this article, we'll tell you how they differ from chalk bags and why you might want to invest in one! 
We've also reviewed the best chalk buckets out there so you don't have to with this handy guide.
Hey! By the way… this page contains affiliate links. So if you make a purchase after clicking one at no cost to you we may earn a small commission. Thanks for your support!
Best Chalk Bucket For Bouldering
Here is our selection of the best bouldering chalk buckets, including the classics as well as some more funky options.
DMM Edge Boulder Chalk Bag – The High-Quality All-rounder
DMM Edge Boulder Chalk Bag
New updated design for improved performance

A massive amount of carrying capacity for all your bouldering needs

Brush holders to make sure they're always where you need them

Zippered pocket for accessories (tape, finger nail cutters, etc...), never forget them again!

Super lightweight material that won't weight your bag down
Our top recommendation is a classic: the DMM Edge Boulder Chalk Bag.
Why?
It is the

most advanced design

 in our selection, and features two carrying handles and a clever double closure system to avoid spillage of your precious chalk!

The closing system of this bag consists of

two drawstrings

, which double up and close the top. Keep your chalk where it belongs! 

The inside of the bucket has a

fleece lining

, where the chalk sticks to and helps with chalking up your hands, even when there's little left at the bottom of the bag.

Very stable, with easy access at the top to make chalking up quick and smooth! 

This is a proper

all-in-one climbing chalk bag

, with two brush holders and two pockets that are big enough to fit a phone or any other personal items, keep all of your bouldering gear in one bag.

Timeless design and robust (but incredibly lightweight material), you will be able to use this bag for years. 
Not to mention that in August 2023 we found the price had been reduced from when this article was originally written. This means that it's not cheaper than ever to get this top of the line chalk bucket!

Black Diamond Mondo Chalk Pot – The Incredible Closure
Black Diamond Mondo Rock Climbing Chalk Pot
Stable, upright design, no chalk spillage!

Magnetic closure to keep your chalk contained

Roll top and seal for when you want it extra secure

Zippered pocket for storing all your extra gear

Brush pockets to keep your tools where you need them
Black Diamond has developed a climbing bucket matching their crashpads with the Black Diamond Mondo Chalk Pot. It is one of the more budget-friendly options in our selection and still offers you something very special.  
Magnetic Closure Advantages
This bag has a magnetic closure that automatically closes the top of the bag whenever you're not chalking up your hands. That's great because it means virtually no spillage in case your bucket falls over!
This model also features:
Double closing system

, where you close the roll top off like a dry bag (which is the most secure closure system in existence).

Once the magnets are shut, you can roll down the top of the bag and clip it together in a circle. This

reduces chalk spillage

even more and also makes for a practical handle at the same time. 

The material is the

same as the Black Diamond Mondo crash pad. ***Buy with care***, this bag is never going to wear out.

The bag in general has a more

narrow and steep shape

, which can be a bit inconvenient for people with bigger hands when they try to chalk up both hands at the same time. 

Features

two expandable zip pockets

and two brush slots to keep all the little bits and bobs you're planning to bring along while climbing in one place. 

Metolius Dust Bin – The Budget-Friendly Option
Metolius Dust Bin
No spill design, keep all your chalk in your bag!

Large mouth to make chalking up oh so comfy

Dual pockets for stashing your gear
The Metolius Dust Bin Bag not only has a punchy name, but also a smart and simple design, offering you everything you need in a chalk bucket. 
A

budget-friendly option

with a single drawstring closure and two velcro pockets.

Comes with

eight different-sized brush slots

for all kinds of stuff you might want to bring along to the climbing gym. Whether it's brushes, tape, or liquid chalk, you will find a space for it.

Has a small

carrying handle

and is very spacious, so you won't run out of chalk in the middle of your session!

8BPlus Chalk Bag for Climbing – The One To Avoid
Want something a bit more special and feel like bringing along a stuffed animal to the crag?
Look no further.
8bplus makes cute monster-like chalk bags, and also has chalk buckets in four different furry monster designs!
They are a bit more expensive but definitely an eyecatcher, and the tech specs also make it a convincing purchase. 
Has a flat base design for

extra stability

and features a zipper pocket in the base. It also has two more pockets on the sides.

Features a total of four brush holders so you sure won't run out of space anytime soon, and can even share your little Yeti friend with your other climbers.

Like the DMM chalk bag, it has a soft fleece lining to keep your chalk where it belongs and make chalking up even easier.
Even though this buckets scores a 10/10 for style, we feel it just doesn't have it where it counts for functionality. So if you're looking for performance, we'd suggest you take a look at one of the other recommendations on this article.

Make It Your Own
There's no way we could talk about all these buckets without mentioning this one: the Organic Lunch Bag Chalk Bucket.
When in doubt, customize:
You can

completely customize

the colors of this classic climbing chalk bucket from Organic Climbing, making it truly your own.

Has a

velcro closure system

that rolls down like a dry bag and is secured with a solid metal hook, keeping your chalk where it's supposed to be. 

A

spacious design

with a wide opening, perfect for even the biggest of hands and large enough to carry all the chalk you will need. It also features zip pockets and two brush slots for all the personal items you want to bring along with you. 
Why Use a Chalk Bucket Anyway?
This essentially is a giant chalk bag and is super useful when you go climbing a lot and want to be able to bring along lots of chalk. But what else makes these chalk buckets so useful?
Advantages of the Chalk Bucket
It's very handy to easily and quickly chalk up both of your hands at the same time before you're trying your problem one more time.
They're practical, easy to use, and have extra features like a brush holder and little pockets so you can fit all your essentials in the chalk bag itself.
This means:
You have everything with you while you're out climbing and don't need a second bag to carry your brushes, tape, or other hand care items.

These extra zipper or velcro pockets often also fit your phone and other personal items, too. 

These extra-large chalk bags often come with a drawstring closure or roll top to securely store your chalk where it belongs and keep your other climbing gear clean.
What Is Climbing Chalk and Why Use It?
Friction is an important part of rock climbing or bouldering. You need your hands to be dry and ready to crimp away, not sweating and slipping off a sloper.
And chalk is the solution to that problem.
Reduces Sweaty Hands
There is liquid chalk, chalk in powder form, or chalk in a block, but essentially, all it does is reduce the amount of sweat on your hands.
However, it won't magically make you a better climber (no matter how much chalk you've plastered on).
But the act of taking a breather on the wall and chalking up before tackling the crux can be a good way to keep your head in the game and regain focus. 
Chalk bags and buckets are, therefore, what you need to bring your chalk along on your climb – unless you're using liquid chalk, of course. But there are some important differences between these two pieces of gear:
Why Use a Chalk Buckets vs "Normal" Chalk Bags
A chalk bag is the traditional bag used while rock climbing that fits about a handful of chalk and is tied around your waist with a little belt.
While you chalk up before you start climbing a sports or trad route, most climbers will also reapply chalk during their climb, taking a moment to relax and give their arms a break.
But this mostly only applies to climbing, not bouldering. 
While bouldering, you most likely won't be wearing your chalk bag and won't be re-chalking on the problem.
Leaving your chalk bag on the mat below you is a no-no, and I'm sure we all know the annoying spillage that happens when you drop your chalk bag after you've chalked up for the next problem ahead.
So, here are some more differences between a traditional rock climbing chalk bag and a chalk bucket. 
Fits More Chalk and Is More Practical
I'm Swiss, and I love practical things. And a chalk bucket is just that – practical!
Thanks to its

greater volume

, you can bring along

way

more chalk than you would in a normal chalk bag, and so you can chalk away for ages without having to worry about running out of supplies.

Because of its

wider shape

, it's also easy to chalk up both hands at the same time in between boulder problems, and you won't have to fiddle with the small opening of your chalk bag. 
Saving The World From Loose Chalk
Leaving your chalk bag lying on the ground in the bouldering gym can be annoying because if you leave it open, you'll spill your chalk, and if you leave it closed, you have to open it up every time you want to use it! This is where the chalk bucket comes in extra handy:
A chalk bucket normally

stands on its own

because of its wider cylindrical shape, and even if you do have to open and close it, it is generally easier to do so because of its bigger size. 
 The bags in our selection have different top closure solutions that range from a drawstring closure to velcro or magnets.
Some of them are also lined with fleece to keep your chalk sticking to the inside of the bag.
Less Chalk Waste
This might sound counterintuitive at first because the buckets have bigger openings than chalk bags, but you will waste less chalk using a bucket!
You Actually Use Less Chalk
This is because both of your hands fit in the bucket and you can chalk them up at the same time. Any extra chalk will just fall away and stay in the bucket.
But with a traditional chalk bag, you chalk up each hand separately and then dust or blow off your extra chalk from each hand outside of the bag, essentially chalking the air around you. Sounds like a waste of chalk to me, right?
More on Chalk Bags
If you're still not sure if a bouldering bucket is for you, check out our article on the best chalk bags to make sure you find choosing the right gear!
How To Pick the Right Chalk Bucket
Most buckets are very similar and simple in design. They have a cylindrical or square shape that closes at the top, with some pockets and a brush holder that should hold everything you need for climbing.
However, the devil is in the details and there are a few factors for you to consider to find your perfect bucket. 
The Materials
The outside material of the bag does not matter too much, as long as it's sturdy and durable. However, the inside should ideally have some kind of lining to keep the chalk sticking to the inside of the bag.
Various Material Options For The Outside
Most chalk buckets are made of nylon or another stiff fabric, to keep them standing upright and resist the wear and tear of being chucked around a gear bag and the climbing gym.
A chalk bucket comes with a price tag and can seem like a big investment, but they usually last you for many years.
A Fluffy Inside
The inside of the chalk bag should be a soft material that won't get caught on any calluses or rough edges on your fingers, while also keeping the chalk inside.
A soft fleece is especially nice because the chalk sticks to it and you can easily chalk up, even when you have little chalk left at the bottom of the bag.  
The Closure Type
The closure system should be easy to open and close for everyday use, but also seal the bag well enough so you don't lose any of your precious chalk.
There are different options, from a velcro closure to a zipper, and even a magnetic or drawstring closure, all of which have their advantages and disadvantages.
Drawstring Closures
A drawstring closure system like we know them from regular chalk bags is:
Pros

: Quick and easy to open and close.

Cons

: Tends to leave a small hole in the middle where the chalk can fall out. That's especially annoying if you toss it in your bag with all your other gear!
The DMM edge chalk bag solves this problem by using two drawstring closures on top of each other, therefore minimizing the amount of chalk that gets lost.
The Roll Top
Similar to waterproof dry bags, many chalk buckets, like the one from Black Diamond, feature a roll top type of closing system.
Pros:

Quick to close and when clipped, turns into a carrying handle or on-the-go shoe storage.

Cons:

If the seam doesn't close very tightly, chalk can still spill out
This roll top can be combined with a velcro, zipper, or magnetic closing mechanism at the seam of the bag for extra chalk security. 
The Zipper
The most basic and traditional of closing systems, but it just works!
Pros:

Easy to use and fast to undo.

Cons:

Especially at the end of the zipper, there is often a little gap where the chalk can escape. This closure type is best combined with a second type of closing system to reduce chalk spillage.
Size And Shape
There is no standard size for the buckets, so the different models vary in size and shape.
Make sure you choose a size that allows you to comfortably chalk up both hands at the same time and fits all the chalk you might need on a long day of bouldering or climbing.
Depending on their size and design, the chalk buckets can roll or fold down quite small, making them easy to bring along with you. 
Price
The models we have presented above vary from 30 to 40 USD, which might seem a lot at first. But consider that this item will serve you well over many years, and especially if you go bouldering in the gym with a group of friends, it's a very nice addition to your gear collection. 
[Our Recommendation] DMM Edge Boulder Chalk Bag
New updated design for improved performance

A massive amount of carrying capacity for all your bouldering needs

Brush holders to make sure they're always where you need them

Zippered pocket for accessories (tape, finger nail cutters, etc...), never forget them again!

Super lightweight material that won't weight your bag down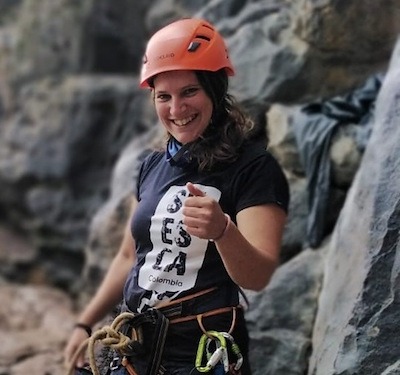 Hi there, I am Mirjam and have recently discovered rock climbing for me while backpacking in Colombia. Originally from Switzerland I currently live in Venezuela and work as a freelance writer and translator. I have always loved being in nature and the mountains and am stoked to explore more of the world's best climbing in the years to come!
You can find me at @mirigoesround or www.bosstranslations.com