*Article updated September 2023*
So you're looking to go rock climbing at Tonsai? Well played.
Through the magic of the internet, you have arrived here, at the most complete guide for Tonsai climbing available online.
This guide will answer all your questions you have about Thailand's most famous rock climbing destination: Tonsai.
Tonsai Beach is without a doubt Thailand's best spot for climbing, though with the rise of Crazy Horse in Northern Thailand and Mae Hong Son in Central Thailand some people may disagree with me. 
Nevertheless, Tonsai has it all: beautiful beaches, friendly locals, amazing food, cheap beer and great climbing. In March-April of 2018 I made my second trip to Thailand.
This place is so amazing, I feel that I would be doing the world a disservice by not sharing my experience. 
For the time being Tonsai remains king. It is the most developed and well-known, and for that reason it sees the majority of Thailand's climbers.
The rock is a very high quality limestone, and there is a nice mix of grades from 5+ to 8c.
Tonsai is one of the world's best know climbing spots for a good reason. Make the trip, and you won't regret it.
Overview of the Climbing at Tonsai
If Thailand wasn't so relentlessly hot, it would probably be the best place in the world to climb. But as with most of SE Asia, the heat and humidity can be oppressive.
Though it does cool down a bit in the winter, don't expect 'perfect sending' temps.
It's also worth mentioning, the popular routes become increasingly more polished each year, especially on Tonsai's beach.
That, mixed with the heat, can make for some slick foot holds. But don't let this stop you! With a bit of adjustment you'll be crushing in no time.
The climbing can be divided into two main areas, Tonsai and Railay. I've broken the climbing down the best I can to give you a good place to start from.
On an interesting side note, Tonsai used to be one of the world's top deep water soloing spots. However, due to a death caused by a massive belly flop (no joke), most of the areas have been permanently closed off to tourists.
It is still possible to visit some of the closed spots via kayak (a bit illegal), however the guided tours will not.
Daily deep water solo tours still run from Tonsai or Railay, but the locations are more limited than in the past. To Basecamp Tonsai to inquire about DWS tours. 
Now the best deep water solo in SE Asia has to go to Cat Ba Island. If you have the time, I suggest taking the trip.
Tonsai Beach Rock Climbing 
Most of the climbers stay in Tonsai (as opposed to Railay) and for that reason the crags here tend to get more crowded.
However it is only about a 20 minute walk between the two beaches, meaning you could stay at either and climb at any crag you choose. 
In the morning head to the beach (Tonsai Wall, Dum's Kitchen and Tyrolean Wall) to catch the early shade and fresh breeze.
The beach areas are the quintessential Thailand climbing experience. You're literally going to be belaying off of the pristine sand.
It is a one of a kind adventure which has to be experienced to fully understand. I would suggest starting off here (the beach that is), and spreading out as time goes on. 
Here are a few suggested routes (too many good ones so say them all).
Tonsai Wall
Viking in Heat (6c, a great warmup)

Tidal Wave (7b+, great but beware of that left heel hook, this route has caused a lot of injuries)

Tonsai Playboy (7a+, Steep and pumpy)

Tantrum (8a+, for those of you trying to show off to the crowds, this is the one!)

Gaeng Som Pla (7c+, probably my favorite, powerful pockets with a mono for good measure)
Dum's Kitchen
The Lion King (6c+, some say a sandbag, just trust the shitty feet)

Jai Dum (8b, if you're an animal)
Tyrolean Wall
Tyrolean Air (7c, super good, felt soft to me)

No Have (7b+, starts off steep, crux is a small finger crack)

Missing Snow (6b+, the area's warm up, oh so nice!)
Now, for the afternoons, you have a lot more options and I actually enjoy these climbing areas more.
Most of the areas are good, so just take a look in the guidebook to get a better idea of all of the options.
If you're looking for a good 'mix' of routes (beginner and intermediate climbs) I would suggest Fire Wall.
The longest and most impressive climbs are located on Melting Wall. This is only a few minutes past Fire Wall.
If you want the highest quality rock, I have to suggest Cat Wall, which is without a doubt one of the best crags in Tonsai.
Suggested Routes:
Fire Wall
The Groove Tube (6a, super soft, bolts are a bit spaced out, but excellent)

Fire Starter (6c, it's well nice)
Melting Wall
Cross Eyed (7b, a super long pumpfest, fantastic)

Affenhitze (7a+, a slightly easier version of Cross Eyed)
Cat Wall
Gilles No Limits (7c, the best 7c in Tonsai, yeah I said it)

April Fool's (7b, one of the best 7b's!!)
One thing to mention is that Tonsai doesn't have a huge quantity of 'easy' climbs (we'll say under 7a).
If you are a beginner climber, there will be much more for you to do in Railay.
Railay Beach Rock Climbing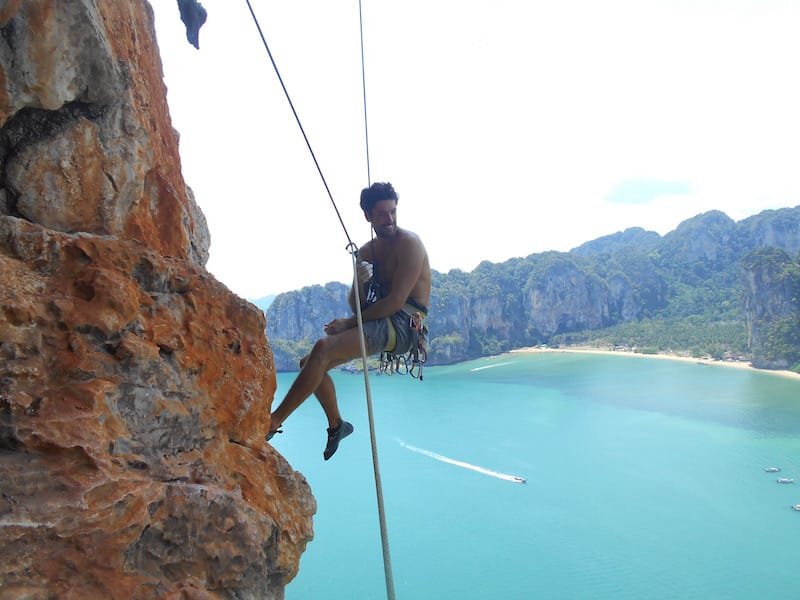 About a 20min walk from Tonsai lies Railay Beach. Arguably more beautiful, it has its own share of phenomenal climbs to choose from.
For how close the two areas are, the people who visit the two couldn't be any more different.
Here you'll see a plethora of beach goers perfectly content with spending their time off doing absolutely nothing all day.
Not a problem though, leaves more climbing for us.
Depending on the time of year, the "prime" time to climb does vary a bit, however most of Railay's climbs are afternoon shade.
This fits in well with the "Thai time" which is quite rampant here (good luck finding morning partners!).
As with Tonsai, there are too many good crags and climbs to choose from to list them all here. But to start, Thaiwand Wall has some of the best beginner routes in addition to some of the best multi-pitches in Thailand.
Lord of The Thais is a thing of beauty, with out of this world exposure and the best view of the Phra-nang Peninsula you can get.
This route alone is worth the trip down to Thailand.
When two of the world's top climbers, Sasha DiGiulian and Nalle Hukkataival, climbed it in 2016, they remarked that it was the best climb in Thailand. Have to agree with them on that one.
Nearby to Taiwan Wall is the Escher Wall (most easily accessed through the cave from Thaiwand Wall). There aren't a lot of climbs here worth trying, except for Todd Skinner's Best Route in Minnesota.
This has very unique climbing on the pinnacle jutting out from the cave. This ultra-classic is a must-try.
Phra-Nang Beach is an especially nice crag as well, as it is shaded from the sun and rain all day and has some very good routes to choose from. It's also a great time to take your obligatory photo of the fertility shrine.
Last but not least, if you're looking for something a bit different, I would suggest heading over to Hidden World or The Keep. These are both excellent crags and are generally less traveled.
They are characterized by vertical technical climbing and some small crimps. The approach is a bit far (especially if you're coming from Tonsai), but the climbing is worth it, trust me.
Suggested Routes:
Thaiwand Wall/Escher Wall
Lord of The Thais 5p (7b, The best route in Thailand)

The Best Route in Minnesota (6c, technical and balancey, but oh-so good!)
Phra-Nang Beach
Tales of Power (7a, short, pumpy and fun).

Up to You (7b+, Really good, the crux requires the use of a few slippery slopers!)
Hidden World/The Keep
Tom's Pitch (7a+, Fantastic climb, with a some good chimps and a committing crux)

Viper (6c+, a slightly easier version of Tom's Pitch)

All routes at The Keep, for reals.
Guide Services at Tonsai
"Getting to the summit is optional, getting down is mandatory." – Ed Viesturs
If you're traveling solo, new to climbing or just want someone to show you around for a few days, I'd suggest hiring a certified guide. They will be able to show you all the areas I highlight here on this article, and probably even a few I didn't get a chance to check out.
And on a personal note…
After 10+ years of climbing, and 5+ years on the road, I've seen what can happen when you go unprepared.
And I have to be honest, I saw some really sketchy shit climbing in Thailand, particularly regarding "relaxed" belay styles.
If you don't have a reliable partner or if you're looking for someone to "show you the ropes", I'd get a guide. With guide books being essentially impossible to find these days, and the always changing bolt conditions, it's even more relevant now than ever.
Thailand is a county in particular where you need to be careful about who you hire, there are a lot of less the reputable guiding services who's guides have dubious qualifications.
Make sure to use the link below to ensure you're getting an internationally certified AMGA guide though one of our partner guiding services. Not to mention, as of September 2023 they reduced their prices, so hiring a guide is now cheaper than ever:


Equipment Considerations at Tonsai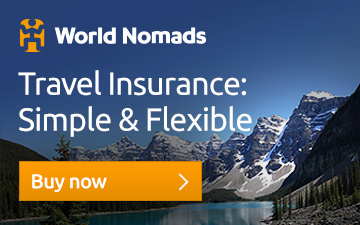 Not "equipment" I know, but hear me out.
It is very unlikely that your health insurance back home will cover you in Thailand. 
Couple this with adventurous activities like rock climbing, risk of lost baggage or theft, and the all too common food and waterborne illnesses, makes a recipe for disaster. 
Furthermore, many travel insurance say that they cover "adventure" sports like climbing, only to discover that once you read the fine print they add in special inclusions like requiring you to climb with a certified guide to be covered.
On a personal note, I would like to mention that on my trip to Tonsai I (and the majority of the climbers there at the time) contracted dengue fever and was subsequently hospitalized.
Would've all came out of pocket if it wasn't for my travel insurance.
*September 2023 Update* Dengue is still extremely common at Tonsai. 
The fastest, easiest and most respected travel insurance in the world which covers rock climbing is World Nomads. 
Be sure to select the "Explorer Plan" on the next page so that you'll be covered for outdoor rock climbing! 
Go here to read more about travel insurance and you can't travel without it!
Guide Book
September 2023 update ~ The guide books all seem to be out of print/sold out. You'll have to ask around for beta when you're there or hire a guide to show you around.
I would suggest that you get your copy of the guide book before you head over. 
Though you can find the guidebook at Tonsai it is expensive and it is common to sell out their supplies during the busy season. 
There have been many guide books published over the years, but the best one I used was Rock Climbing in Thailand by Elke Schmitz. 
It has information on all of the areas around both Tonsai and Railay beaches, in addition to having information other areas around Southeast Asia. 
Bug Repellent
Tonsai is a tropical climbing destination, and the mosquitoes can be oppressive, especially once you offer off of the beach and head to the more inland crags. 
Other than the obvious annoyance, there are many mosquito borne diseases you need to be careful of in Thailand, the most notable of which is Dengue Fever. 
Dengue outbreaks are very common in Tonsai, and there are many reported cases every year! 
In addition, the only bug spray you can find in Tonsai is overpriced 95% DEET which literally burns your skin when you apply it and probably caused about 15 types of cancer. 
For this reason, I highly suggest stocking up on non-DEET products beforehand such as Sawyer Insect Repellent. 
Its active ingredient Picaridin is made from black pepper, and is equally as effective as DEET without the drawbacks. 
Other Gear
60m Rope
Rope bag
Quickdraws (15 is enough for most routes)
Harness, shoes etc…
How to Get to Tonsai Beach
Since this is such a popular tourist destination, it is very easy to arrive at Tonsai. 
First fly to Krabi (KBV) airport. There incredibly cheap daily flights to Krabi which arrive from Bangkok.
Once at Krabi, take the bus to Ao Nang.
This is important, because if you tell them you're going somewhere else (like if you say "Railay" for instance), they'll  try to sell you the other tourist boats which drop you off in Railay East.
Though it is true that you can arrive to Tonsai from Railay East (as they always insist), but what they usually don't tell you is that it is about a 40 min walk.
If you take the bus all of the way to Ao Nang, you can take the boat which drops you directly off at Tonsai or Railay West. It's only about a 15 min ride, and its cost is 200 baht.
Where to Stay At Tonsai Beach
There are a lot of choices for accommodations here with various styles and price points. One of the most popular places is Chill Out Hostel.
Chill Out isn't a bad place if you're looking to make friends or to party, however it is quite loud and relatively expensive for what you get. 
Middle range accommodations would have to be Green Valley Resort or Paasook Resort. Both have private bungalows available (with fan only).
For "expensive" options you have Dream Valley Resort or the Tonsai Bay Resort.
The greatest benefit about these two options is that they both have power and air conditioning 24/7. 
These prices can vary a lot depending on the season. Try to negotiate if you're staying long term. In my trip, I stayed at the Green Valley Resort.
I was staying for a month, so after a bit of negotiation, they offered me a private bungalow for a 40% discount if I agreed to pay upfront with cash. 
Power and Wifi at Tonsai
During my trip to Tonsai, I had the opportunity to test out about every single wifi connection.
Pretty much all the restaurants have wifi, but here is a list of the most popular places to work. The majority of Tonsai lose power during the day (from around 10:30am-6pm).
As you might imagine, this is a little frustrating if you're trying to get some work done. Keep reading to hear your options!
Chill Out Hostel – They have good table set ups, but I found the internet very slow and inconsistent. Also, this has a very "social" environment, meaning that it is a hard place to get any work done. They also lose power during the day.
Pyramid – One of my favorite breakfast spots who also have a strong internet connection.
They also open super early (between 6-7am), meaning that you can go there first thing to get some work done. The bad news is that they lose power around 10:30am.
Paasook Resort – The sneakiest beta in Tonsai for internet. They have cheap bungalows and have internet all day long!
If you happen to have a room close to the reception, you can work from you bungalow, if not, there are a few picnic tables near the reception where you go go work!
Freedom Bar – All day internet, with views of the climbing and beach! It isn't the quietest place, as there are a lot of people around day drinking and enjoying the beach. However it is still a solid choice.
Dream Valley Resort or Tonsai Bay Resort – Both have good internet and all day power. If it is in your budget, these would be great places for digital nomads to stay. 
Railay Coffee – Located at nearby Railay beach, it is the only "proper" coffee shop around. They have good wifi and air conditioning if you can get a table inside.
Thailand in general has very fast 4G cell reception. At Railay you will get full signal anywhere you go. However, the signal at Tonsai is poor just about everywhere besides the beach.
That means that you can hotspot into your phone if you'd like (which I did numerous times when the power was out).
Keep in mind, that Railay Beach does not loose power during the day, meaning that you can always make the walk over and choose from one of the many restaurantes.
When to Go Climbing at Tonsai or Railay Beach?
There are two seasons in Thailand. Hot/Dry and the Hot/Wet seasons. To clarify, the winters (Nov-Feb) have slightly lower temps and are generally characterized by mostly dry days.
Summary: Tonsai is the best during north America winter, and is generally recognized as one of the world's premier winter sport climbing destinations.
April-May are the hottest months of the year, as they receive little rain to bring the temps down.
In May-Nov the days are hot and most days receive a little bit of rain. However it dries fast.
The truth is that the climbing here is year round, with each season offering its own benefits.
For instance, in the winter the conditions are better for climbing, but it is also the peak tourist season so the prices tend to go up (accommodation normally doubles), and the crags get busy.
You'll experience less crowds in the off seasons, but less than favorable climbing conditions. For that reason I would suggest the shoulder seasons to get best of both worlds (Oct-Nov & Feb-Mar).
Why Go Climbing at Tonsai?
To start off, Tonsai is incredibly beautiful. Huge limestone cliffs shoot straight out of the perfect crystal blue waters. Nearby Railay beach is one of the world's most popular beach destinations (that's saying something).
When you're not climbing, there are plenty of "normal" beach activities to do such as kayaking, swimming, sun tanning, and other things.
Tonsai is also one of the world's prime places to dirtbag. Here the hippy lifestyle is embedded in the culture.
You'll likely meet people who have been there for months (or sometimes years!) with no intentions of going home.
This place has a magical pull to it… once you arrive on the Tonsai bubble you'll soon find it hard to leave.
The climbing community here is strong, it is probably one of the best places in the world if you want to show up solo and find a partner. The place brings an eclectic mix of climbers from around the world.
I particularly enjoyed meeting the high concentration of Korean, Russian and Chinese climbers.
In addition to the climbing, Thailand is worth going to for the food alone, so having the ability to combine the two is something special.
The best food is without a doubt Mama's Chicken, located a few minutes up the dirt road away from the main strip.
For breakfast, I suggest Chill Out Bar. It was the only place I found that makes a proper cup of coffee.
Gear Purchase and Rental at Tonsai
There are a handful of gear shops at Tonsai and Railay. 
The most famous and largest is Basecamp Tonsai. The Rock Shop is another smaller shop located next to Freedom Bar. 
Both sell basic climbing supplies such as caulk, quickdraws, carabiners, etc…
The prices are much higher than what you'd pay in the US for climbing gear, so I'd only plan on buying there if it's completely necessary.
The shops are mainly rental stores, and they charge an exorbitant amount to hire gear. It is anywhere between $60-100 a day for two people to rent all the required gear for climbing! 
If you plan on climbing more than a few days, it is absolutely essential to bring your own equipment.
Are the Bolts at Tonsai Safe for Climbing?
Quick answer to this is yes, though there still are some legacy bolts that can be found around Tonsai.
To completely understand, you have to know the history of the bolting.
There have more or less been three generations of bolts at Tonsai.
The first where installed 20-30 years ago by the first climbers to came to Tonsai. These bolts where expansion bolts, and not equipped for the harsh tropical conditions.
For that reason they started to fail within 2-5 years. It is very uncommon to find expansion bolts, and if you do, do not clip them under any circumstances.
The second generation of bolts where stainless steel glue-ins. Though these were a drastic improvement to the expansion bolts, after about another decade they too began to fail. This is important to know, because there are routes which still have stainless steel glue-ins. It is not advisable to clip stainless steel bolts.
The third and current generation of bolts are titanium glue-ins. These have the best combination of strength and corrosion resistance climbers have found to suit the unique tropical conditions of Tonsai.
The majority of routes at Tonsai now have these types of bolts.
There still are areas of Tonsai which have old bolts. The guide books has up to date bolting information. For that reason I highly suggest purchasing a copy to reference when you climb.
Though there are a few options, the best I found was Rock Climbing in Thailand & Laos by Elke Schmitz.
September 2023 Update: All guide books are out of print. For this reason we have no way to provide up to date bolt information. We highly suggest you hire one of our recommend partner guiding services if you'd like up to date info.
Quick note, there some routes which have been retro-bolted with titanium glue-ins, but where the old bots where never removed. For this, it is common to see two bolts next to each other.
When then happens, you're going to have to know which ones to clip.
The guide book will warn you of this before hand, but if you encounter a pair of similar looking bolts, keep in mind that titanium actually appears dull and grey colored when compared to stainless steel bolts.
This means that you will want to clip the "old" looking bolt in many circumstances.
If you're unsure, you can also ask for more information at Basecamp Tonsai.
Tonsai Rest Day Actives
When you aren't climbing, there are a few great rest day actives available to keep you occupied.
Yoga – Tonsai has a very strong yoga and acro yoga community. There are two yoga studios at Tonsai, Tonsai Yoga and Flower of Life Yoga. During the high season, both have daily classes. During the low season, they are much more intermittent so you'll have to ask when you arrive.
Fire shows – There are regular fire shows at both Railay and Tonsai beach. At Tonsai beach, they have them at Chill Out Hostel after sunset, normally between 7-9pm.
Slackline – There is a big slackline culture at Tonsai, and there are numerous lines of various lengths and tensions. They can be found at Chill Out Hostel and Viking Bar. In addition, there is a big highline scene at Tonsai as well.
Railay Lagoon – The most popular day hike around. It gets crowded during the high seasons and very muddy after rain, so make sure to bring proper footwear! Ask at your hostel for more information.
Kayaking – There are a lot of nearby islands to explore, and not to mention there is even a few climbing areas such as Ao Nang Tower which can only be accessed by kayak or boat! This makes for a great day out, and I highly sugest it. Make sure to bring lots of water!
Food, Restaurants and Water at Tonsai
Buying Food
There are a number of small corner stores around Tonsai where you can buy basic supplies, snacks and water. However, they do not sell supplies to cook for yourselves, only packages food.
In addition, none of the hostels or hotels have communal kitchens, meaning that you're going to need to plan on eating your meals at one of the many restaurants.
Best Restaurants in Tonsai
Luckily, Tonsai has no shortage on excellent and cheap restaurants to choose from. For breakfast, the best two options are Time To Chill Coffee House, or Pyramid.
Time to Chill also has by far the best coffee in Tonsai.
For lunch I suggest either Green Valley or Ton Sai Legacy. Tons Sai Legacy is a particularly good spot.
They have huge portions and the food is excellent. Not to mention, it is right next to some of the best climbing in Tonsai!
For dinner Mama's Chicken is without a doubt the best choice for dinner, and it in my opinion the best food in Tonsai.
All restaurants have tofu options for vegetarians or vegans.
Water at Tonsai
The water at Tonsai is not drinkable, so you're going to have to buy bottled water from one of the many corner stores.
Most of the shops sell large 5L jugs, which will last you a day or two.
If you're going to be around for a while, I sugest asking about buying one of the 15L jugs, as this is by far the most economic option and will reduce your plastic footprint.
Make sure to put in some sort of hydration packets into your water, especially if you buy a 15L jug, as the water is distilled and does not have minerals to hydrate you.
These can be purchases at any of the corner stores.
Keep in mind, that the prices at Tonsai and Railay beach are much higher (about double) than what you'd find for food and water in the rest of Thailand.
If you're looking to save, you can take a boat to nearby Ao Nang and visit a supermarket there and bring the supplies back with you.
Final Thoughts on Rock Climbing in Tonsai
Climbing in Thailand is a once in a lifetime experience. It is the undisputed king of Thailand's climbing.
That's a big claim, but this place can back it up.
Tonsai has started to see some major development over the last few years, and there are plans for the installation of a major Railay-style beach resort.
Though I doubt this will "ruin" the climbing, it will only go to further increase prices and eat away from the vibes which have historically lead climbers to pick this place.
All that is to say is that the time to go is now. Life's short, climb today, work tomorrow.
However…
But no place is without its faults. During my trip, Tonsai was in the midst of a large Dengue Fever outbreak.
I (and most of the people whom I met) ending up contracting the illness, which lead to my last week being spent in the hospital as opposed to climbing.
And as of September 2023, I've heard rapports that dengue continues to be a problem.
Even when there isn't a large scale outbreak, mild illnesses are common as are injuries.
This is a cautionary tale to take the precautionary measurements to keep healthy and safe. Many people come down here and have their trips end early due to unfortunate circumstances.
(Not to mention)
All guide books are currently out of print print.
For that reason, I highly suggest getting some sort of travel insurance or supplementary health insurance as I mentioned before and hiring an internationally certified AMGA guide. 
More On Thailand's Climbing
For more reading, check out our article on the best climbing in Thailand.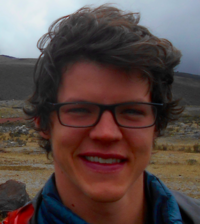 The Wandering Climber. Often seen at world class climbing destinations from around the world!