I've been living in Medellin for a few months now, so I've had a bit a time to explore the climbing around the city itself. There are a few areas close enough to make it a "day trip" from Medellin. But the largest area, with the most climbing and probably the most beautiful surroundings would have to be El Peñol de Guatapé.
Some of you may have already heard of El Peñol, as it is a very popular tourist attraction that  attracts floods of tourists from the city every day.
Lucky, this makes transport particularly easy, and the climbing itself is on the other side from the stairs which the tourists use to climb to the top. Because if this, you'll be able to enjoy some peace and quiet.
In this guide you will find all of the information you need to go climbing here including:
Rock Climbing Guatape (El Peñol)
The rock is a coarse-grained granite. Unique and fun to climb. Most of the routes are slabby, with a few ranging into the nearly vertical zone.
The majority of the routes are sport, however, there are a few very nice mixed or pure trad lines which I highly suggest giving a try if you have some gear with you (generally larger cams are needed, 0.5 – #3).
There are a few multi-pitches, even a few which go to the top. Please be very careful if you choose to climb these as the locals have warned me that the bolts are old, and the protection can be dangerous.
The Best Routes at El Peñol:
La Moto (5.11b – Starts slabby, gets more vertical at the top. Requires at least two cams 

(One 0.5 or 0.75 and one #2 o #3).

Grieta Garbo 2p, second P all trad (5.10b, 5.11a, very nice, much recommend)

El Nido

(5.13a – My project, very nice. Thin and crimpy. Needs a few cams for it to be safe)
As far as gear goes, a 70m meter rope would be useful, as a few of the routes, such as El Moto, are around 32m. A trad rack would be worth bringing as well, but you could have a few full days out with just quickdraws. Make sure to wear a helmet!! Tourists have been known to throw bottles and other garbage down from the top viewpoint!
A topo with most of the routes can be found here.  It is important to note that this guide is missing information on the second sector which has all day shade, and a few of the more difficult projects such as El Nido. Unfortunately there isn't an updated version available, so you'll have to ask some locals once you get there. 
How to Get To El Peñol?
There are daily buses leaving for El Peñol from Terminal Norte (probably about every 20 min or so). Make sure to tell the bus driver to let you off early at this location. It's about 10 minutes before you arrive at the main staircase for the lookout point.
From the restaurant, you will see a staircase leading towards El Peñol.
Follow this for about 5 minutes. You will pass a farmer's house on the right. After you pass this house, you'll see the trail start to go off to the left.
Follow this for a few minutes, then you'll reach a barbed wire fence with a few "Do Not Enter Signs". I asked to locals about this, they assured me that climbers are allowed to go there, the sign is just there for legal reasons.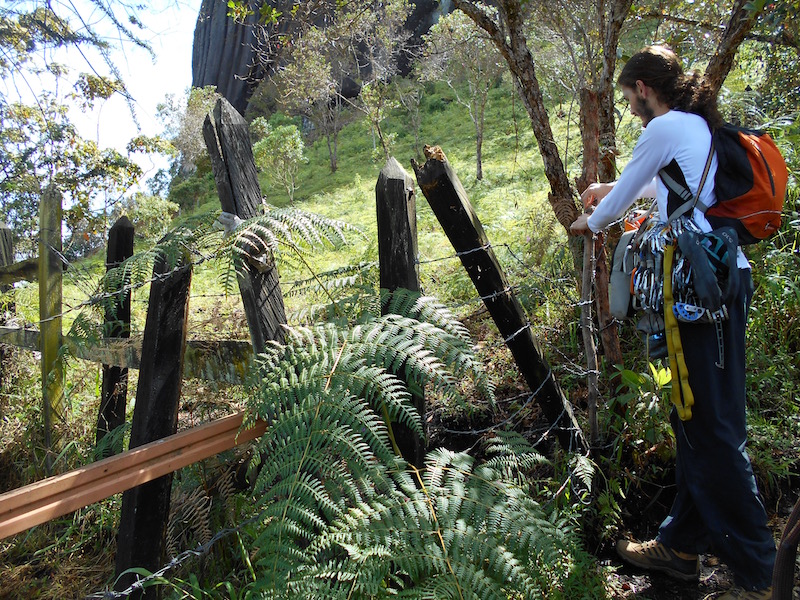 Once you cross the fence, follow the trail for a few minutes towards the rock.
This will take you to the main "La Suite" area. To access the other area around the corner, go back to the main trail where you turned left, and follow this around the Peñol for about 10 minutes.
When to Go Climbing In Colombia?
I should probably just take this section out when I'm talking about Colombia, as the seasons don't change. Medellin has one of the most pleasant year round temperatures I've ever experienced. Daily highs usually reaching in the 22-24 degrees celsius range. Generally speaking there is a 'dry' and a 'wet' season.
Dry season is Dec-Jan and Jul-Aug. Wet seasons are 'April-May' and 'Oct-Nov'. It is worth noting that many times the rocks will be wet here if there was heavy rain the day before. Like with all climbing in Colombia, the season is year round, as long as you can get dry weather.
Where to Stay at Guatape?
This is a pretty easy day trip from Medellin, where the options for accommodations are limitless. There are a few places around the town of Guatapé as well if you're looking for some things to do other than climbing.  
However, if you want to stay as close to the rocks a possible, there are a few hostels located in the same set of buildings where the bus drops you off by the stairs. If you're looking to just climb for a few days, this would be a solid option.
I stayed at Hostel Mi Casa. Not bad for a few days. The restaurants around here are pretty good as well.
More on Colombian Climbing
Make sure to head to our article on the best climbing in Colombia if you're looking for more info on the best climbing in all of Colombia. Head over to our article on the best climbing Medellin Colombia if you're looking for more areas specific to Antioquia.
Conclusion
El Peñol is definitely worth checking out if you're around Medellin, especially if you haven't been to this area of Antioquia before. It's very pretty, so much so that it is a popular vacation spot, and many rich Paisas own second homes here.
The downside is that the quality and quantity of routes isn't mind blowing, but if you're in Medellin, it is certainly worth checking out. Especially if you're looking for a more "authentic" way to check out El Penol.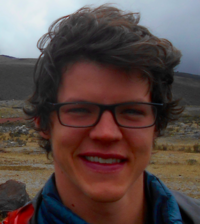 The Wandering Climber. Often seen at world class climbing destinations from around the world!