| | Name | Score | Check Price |
| --- | --- | --- | --- |
| Top | Butora Endeavor Wide Fit | 10/10 | View Prices |
| | Evolv Shaman | 9/10 | View Prices |
| | Five Ten Anasazi Lace | 9/10 | View Prices |
| | Butora Acro Wide Fit | 8/10 | View Prices |
| | Scarpa Instinct VS | 7.5/10 | View Prices |
| | La Sportiva Skwama | 7/10 | View Prices |
| | La Sportiva Miura VS - Women's | 7/10 | View Prices |
*Article updated September 2023*
Choosing the right climbing shoes could mean the difference between preforming at your best or being in excruciating pain all day, not just ruining your day out but also destroying your ability to climb well.
So yes, choosing the right shoe matters a lot. 
Unfortunately, no foot is the same; and neither is any rock climbing shoe. 
Although they are all designed to be snug and sensitive on your feet for maximum control and performance, each pair is made with a unique shape, material, and rigidity. 
Many rock climbing shoes are not accommodating to wide feet. But do not fret – there are still some out there that might become the perfect pair for you. In fact, we have an entire list of the best climbing shoes for wide feet (and that doesn't even count the half-decent and bad ones)!
Understanding climbing shoe anatomy and the features that affect sizing the most will help make your process of buying climbing shoes faster and more productive. So let's dive in!
Hey! By the way… this page contains affiliate links. So if you make a purchase after clicking one at no cost to you we may earn a small commission. Thanks for your support!
Best Climbing Shoes for Wide Feet 
Butora Endeavor Wide Fit – Our Top Choice
Butora Endeavor Wide Fit
Molded insole for killer precision while edging

100% organic hemp lining to destroy bad odor

Leather/Synthetic footbed hybrid for unparalleled comfort without sacrificing preformacne

Two-piece tongue constructed of a highly breathable mesh for comfort and ventilation

Tripple fork webbing for an insanely custom fit

Legendary Butora NEO Fuse rubber for insane friction
Not only is the Endeavor an excellent wide-fit shoe, but it is also an all-time favorite for being a great rock climbing shoe for those with wide feet. 
The Endeavor's durability and mild-to-moderate downturn make the shoe especially ideal for folks learning how to hone in on their footwork. Between its sticky NEO Fuse rubber and decent edge, the Endeavor can perform on all types of climbing terrain.
Not to mention, it is decently priced and can stand a beating; the synthetic leather blend upper prevents the shoe from stretching too much, while the 100% hemp lining prevents odors from sticking around.
The Endeavor has velcro straps for its closure system.
Also, while updating this article in September 2023 we found that price actually dropped since this article was first published. That means that it's now cheaper than ever to buy the Endeavors. Make sure to use the link below to ensure you're getting the best price:

Evolv Shaman – Best For Bouldering
Evolv Shaman
Revolutionary love bump toe design to transfer more power to edges

Vegan materials to keep your ethics intact

Expanded knuckle box to make room for curled toes, increasing comfort and power to toe edges

Split tongue design for added comfort and easy on-off

Molded Variable Thickness Rand (VTR) reduces pressure points/hot spots around the foot while increasing longevity in the high wear zones
The Evolv Shaman is an extremely popular shoe for climbers with wide feet because of its high comfort-to-performance ratio. The velcro straps help with adjustability, too.
It is an excellent choice if you spend a lot of your time overhanging gym climbing and bouldering.
However, the Shaman's low sensitivity, combined with poor edging and smearing abilities, make them less-than-ideal for vertical and slab sport climbing.
Aside from being designed in partnership with the legendary Chris Sharma, the Evolv Shaman has a couple unique traits you'll either love or hate: the "Knuckle Box" and "Love Bump".
The Knuckle Box feature is a raised spot above the big toe in the upper, while the Love Bump is an indent underneath that toe area in the sole. The combination of the two forces the toes into a powerful curled position, without the ensuing pain that results when trying to achieve such a position via downsizing.
Due to these unusual features, you'll definitely want to try them on before buying. But, you might very well find them to be the best climbing shoes for wide feet.

5.10 Anasazi Lace – Best For Sport Climbing
Five Ten Anasazi Lace
Lace closure for customizable adjustable fit

Stealth C4 rubber for the most sticky and sensitive rubber around

Ultimate all-rounder shoe for any type of move you need to do

Still midsole with heel tension for incredible foot support
There are not too many climbing shoes for wide feet that perform on thin vertical routes. The Five Ten Anasazi is one of such few, that has also been a decades-old fan favorite for both sport climbing and crack climbing alike.
The Anasazi's stiff, flat profile and ultra firm, sticky Stealth C4 Rubber lend it great precision on thin edges and security on smears. Some folks even say the Stealth C4 is just as high quality as the Vibram XS Edge rubber.
The shoe's durable, synthetic Five Ten "Cowdura" upper can also withstand any share of wide and narrow cracks.
If you have a wide forefoot and narrow ankle, the Anasazi might fit perfectly. The lace-up closure system might also help provide more wiggle room in the midfoot.
Regardless, try it on to make sure the snug heel cup will feel comfortable on your feet.
Remember: synthetic uppers do not stretch much, so only size down a half-size from your regular shoe size if you want a precise fit.

La Sportiva Skwama – Best For All Climbing Styles
La Sportiva Skwama
Patented S-Heel construction provides optimal heel hooking maneuverability and the perfect heel cup

P3 Patent System/split-sole construction allows the sole to spread out when weight is applied, reducing edge deformation and strengthening holds

Protective, ultra sticky rubber toe patches to protect against abrasion and form a grippy surface for toe hooks and scumming

Vibram sole, suede leather upper, and a flexible build mean great comfort without lowered performance

Add custom text here
The La Sportiva Skwama is a well-revered crack climbing shoe for wide feet, however it is also a high-performer on featured, vertical-to-overhanging sport climbing routes.
La Sportiva designed this model on a wide last, so they are basically made for people with wide feet.
The roomy toe box quickly narrows to a thin point, making the Skwama a beast on thin cracks – from fingers to small hands. Its sensitive and sticky Vibram XS Grip rubber sole will help you avoid slipping off precarious foot placements.
That being said, for cracks any wider, go with the Anasazi; you'll want a more neutral shoe for foot jams.
Note: Aggressive downturned shoes with soft midsoles like the Skwama are best for smearing or hooking on steep climbs. However, it lacks the support and stiffness necessary for sustained climbing on thin edges and pockets.
If difficult, thin crack climbing and smear-y sport climbing is your shtick, the Skwama should be your next pair of climbing shoes.

Butora Acro – Best Aggressive Shoe
Butora Acro Wide Fit
Patented NEO Fuse sticky rubber for excellent friction

Custom midsole that maintains shape for life of shoe

Large but thin sticky toe patch for friction and sensibility while toe hooking

Triple fork closure system for quick on and off

New heelcup design for improved comfort and zero slip while hooking

Best Gear by Rock and Ice
The Butora Acro is one of the best climbing shoes for wide feet because it is super roomy in the toe box and can help you get the send on every type of climbing terrain.
Although its aggressive downturn and large toe patch make the Butora Acro the perfect choice for steep routes, the shoe's stiff midsole and impressive sensitivity make it almost as effective for edging, too.
Its special triple fork strap closure also makes the shoe easier to get on and off, which is especially nice for long sessions of gym climbing.
A unique trait of the Butora Acro is a down-curl specific to the mid-toes area. Like the Knuckle Box of the Shaman, you will either appreciate or despise the design. So you better make sure you like it before buying!
The Butora Acro also comes in regular fit, so be sure to find and select the Wide Fit version while shopping.

La Sportiva Miura – Best Women's Shoe
Enter a Custom Product Name Here
Legendary Vibram XS rubber for insane grip

Designed speficially for a womens foot for more comfort and increased preformace

Ideal for all types of terrain, an incredible all-rounder

Slingshot Rand and Powerhinge System gives you the ultimate edging power

Award winning: Climbing Magazine - Editors Choice & Rock and Ice - Best in Gear
Shoes for women are designed to be more narrow. Therefore, if you are a woman with wide feet, consider going with a mens' shoe. 
That being said, there are still shoes of women's-specific designs that reportedly work great on wide feet – like the women's version of the La Sportiva Miura VS.
If you're looking for an advanced pair of climbing shoes, the Miura takes the cake. It is on nearly every list of "best climbing shoes" on the web due to its versatility and killer performance on thin vertical climbs.
Its smaller rand is less than ideal for toe hooking . However, between its solid edging and Vibram XS Grip rubber, the Miura decimates on thin edges and smearing.
The shoe is made with an unlined leather upper, so make sure you downsize so they will eventually stretch to a perfect fit. The velcro straps allow for some adjustability, though.
(Also, like all aggressive climbing shoes, the Miura tends to have a long and slightly unpleasant break-in period. Try your best to bear through – the returns will be worth it.)

Scarpa Instinct – The One To Avoid
Enter a Custom Product Name Here
Stiff/Supportive sole with thin rubber allowing for high sensibility without losing performance

Thick rubber on top of toe for added protection and friction while toe hooking or bat hanging

Uses legendary Vibram rubber sole with sticky XS Grip heel for the best of both worlds

Flexan Dynamic Midsole to increase comfort and decrease foot fatigue

Bi-Tension rand connects your heel to your toe, IE less foot discomfort and more power being driven towards edges
The Scarpa Instinct VS climbing shoe is a bouldering powerhouse: with a sturdy rubber toe patch, firm Vibram XS Edge rubber on the forefoot outsole, and sticky Vibram XS Grip rubber heel cup, your toe- and heel-hooks will be out of this world.
After all, Vibram XS Edge and Vibram XS Grip rubber is super high quality.
The Scarpa Instinct VS is arguably one of the best climbing shoes in existence for intermediate to advanced climbers.
It just so happens that Scarpa is also one of the few brands that caters towards wide feet as they model their shoes based on a wide toe-box and narrow heel design (aka. last). Needless to say, you're in luck!
The Instinct VS has a combination of velcro straps and slipper-like stretch elastic for its closure system.

The Anatomy of Climbing Shoes & How It Affects the Fit
There is a lot that goes into the creation of a climbing shoe. If you want to take a deep dive into the specifics, give our Best Beginner Climbing Shoes article a read. 
Otherwise, here is a brief summation of the essential parts of the climbing shoe anatomy:
Shape 
The first time anyone sees a climbing shoe and its obvious arch, they usually wonder out loud: "how is my foot supposed to go into that!?" 
It will. Don't you worry! The feeling might just take a little getting used to… 
Shape is the defining feature of a climbing shoe. It refers to the "camber", or down-turn, of the sole: which is how sharply the shoe angles downward from its arch toward the toes. This shape allows you to have more precise control and power in your foot placements. 
A shoe's down-turned shape falls on a spectrum between neutral, moderate, and aggressive. 
A

neutral

shoe is almost flat, and thus most comfortable. Neutral shoes are best for beginners or if worn over extended periods of time (like on multi-pitch routes). 

A

moderate

shoe has a mild down-turn. Intermediate to advanced level climbers wear moderate shoes. 

An

aggressive

shoe has a serious down-turn. It is high-performing, but not comfortable to wear for long periods. Aggressive shoes are ideal for advanced climbers. 
The width of a shoe doesn't affect its down-turn. Thus, there are neutral, moderate, and aggressive climbing shoes on the market that can fit wide feet. 
Closure System
As with street shoes, a climbing shoe's closure system comes in one of three types: lace-up, velcro strap, and slip-on (aka. "slipper"). 
Lace-up and velcro strap closure shoes are much more adjustable than slip-ons, but take more time and effort to get on and off. The laces and velcro on climbing shoes can also wear out over time. 
Closure system type is really a matter of personal preference. For wide feet, the adjustability of a lace-up or velcro shoe might be more ideal. But there are some stretchy slip-ons, too! 
Be sure to try on shoes in every type of closure system to see what suits you best. 
Construction
Climbing shoes are made with different types of rubber and fabric material. 
It is important to pay attention to these traits when purchasing a pair as they greatly affect fit and performance. 
The material used to construct the shoe's upper section, tongue, and lining is what should help you determine how to size the shoe. 
This is because your feet get hot and sweaty while you are climbing, which causes the shoe to stretch. Some shoes stretch more than others, based on the material they are made with.
Climbing Shoe Material Types
There are two types of climbing shoe material: leather and synthetic.
Leather stretches much more than synthetic material; and unlined leather shoes stretch more than lined leather shoes. 
Stretch can be great for accommodating wider feet. However, it can also sacrifice some of the shoes' original shape with time. 
You want a shoe that is accommodating to your foot's width to begin with, while also being at the perfect degree of down-turn. That way, you won't eventually distort the shoe's ideal position. 
Toe Box & Heel Cup
The toe box and heel cup are reinforced with rubber, as they are the parts of the shoe that come into most contact with the rock. Sometimes the area of the shoe over the big toe might even have a large rubber toe patch, for maximizing toe hooking ability.
Whereas other sections of the shoe are made from material that can stretch a bit with wear over time, the toe box and heel cup do not stretch. 
Thus, it is super important to make sure there is enough space for your forefoot and that the heel of the shoe does not feel uncomfortable. Otherwise, you could face issues later on like bunions and calluses which can greatly interfere with your climbing. 
How Should Your Climbing Shoe Fit?
Not too long ago, the general consensus around climbing shoe sizing was that they should be so tight that they hurt.
Today, such a mentality deserves a place under lock-and-key in the Dark Ages. Don't let any crusher at your gym tell you otherwise .
If the shoes are super uncomfortable, they might prevent you from being able to stay on the wall long enough to send, or from committing to certain moves that are toe or heel intensive. They might also make climbing – well, not fun anymore. 
Overly tight climbing shoes can even cause serious issues with your feet's' skin and bones that may handicap you from climbing in the future. 
So how should climbing shoes feel?
Well, climbing shoes are still weird. 
They're never going to feel comfortable like a street shoe, let alone be wearable for long periods of time on flat ground.  
And, the downturn of more aggressive shoe designs will inevitably be less than pleasant. 
The best thing you can do to find the right fit, especially as someone with wide feet, is to try on multiple pairs. 
Regardless of design, the shoe should always be snug – to the point where your toes mildly curl up against the front of the shoe. 
Aggressive climbing shoes exacerbate the arch in your foot and the curl of your toes more, so they will feel less comfortable than neutral-shaped shoes. However, they should never be painful!
Remember: Uncomfortable but not painful. 
On Down-Sizing Your Climbing Shoes
A common practice when buying climbing shoes is to "down-size", or select a shoe anywhere from a half-size to two sizes smaller than the size that fits you the most comfortably. 
The intention is to down-size only enough so that the shoes will fit your feet perfectly after they've reached their maximum stretching-point. 
This is a tricky game to play. 
So, it's important to know these three essential rules:
Climb your own climb

. Don't feel like you

have

to down-size a ton to be a good climber. You don't. But mild down-sizing can prevent you from ending up with a super stretched-out shoe after several sessions at the gym…and remember: snugness is necessary for controlled footwork.

Down-size according to the shoe's material.

Since leather stretches more than synthetic, you can down-size more with leather shoes.

Unlined leather can stretch up to one whole size, whereas lined leather tends to only stretch up to half a size. 

Synthetic hardly stretches at all. Consider getting your ideal size in synthetic climbing shoes, without worrying about pushing it too far into the discomfort zone (since they might never leave that zone).

Know your level.

Down-sizing is much more common to do with intermediate to aggressive level shoes. Perfect fit and precise control matters most on challenging climbs with tiny holds and advanced technique. 
Final Advice
Climbing shoes are a critical tool for rock climbing like a pro.
However, wearing shoes that are painful and don't fit right can be as detrimental as using the wrong size wrench to tighten a bolt.
Do your feet a favor, and take the time and effort to explore and try on different pairs of climbing shoes. You're more likely to find the best pair for you by trying as many on as you can.
If you really like a certain shoe not on this list but worry it will be too narrow, check if there is a wide foot version. Some brands make men's, women's, and wide foot styles of the same shoe.
Also, make sure you know what style of climbing you'll be doing most, as this greatly affects what shoe type you should pick (e.g. aggressive versus neutral).
Most of all – have fun. You never know when you might stumble upon your new favorite climbing shoes!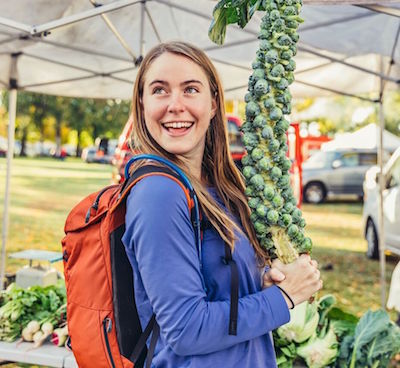 Melissa is a full time van-living outdoor enthusiast hailed from Florida. After deciding to spend her freshman summer of college living out of a tent to work and climb in the Red River Gorge, Kentucky, her life changed forever. She found her way to El Potrero Chico, Mexico in the winters, where she fell in love with travel and community. Post-graduation, she drove from Florida to Alaska to experience its world-class backpacking, then worked her way back south to explore climbing spots throughout the western U.S.
Meeting countless amazing people, hearing their stories, and learning the histories and struggles of local areas through minimalist travel, climbing, and hiking has inspired her to share these experiences with others. Her passions include improving intersectional access to the outdoors and responsible environmental stewardship.