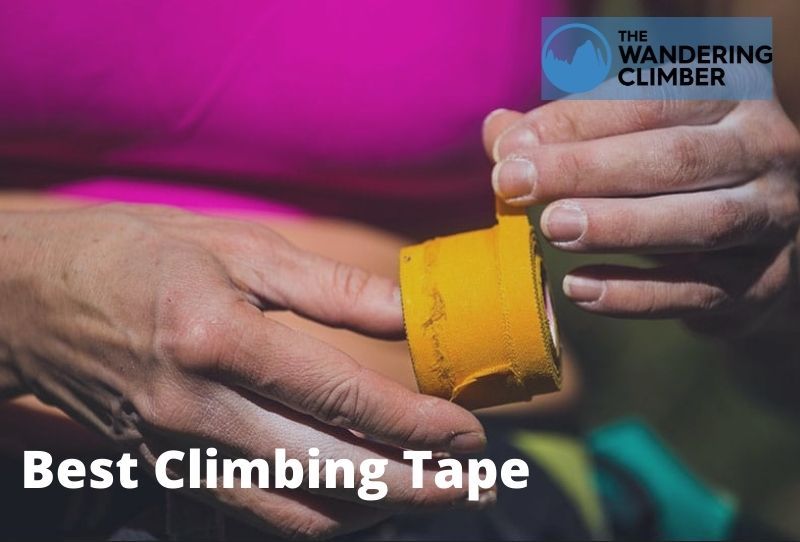 | | Name | Score (out of ten) | Check Price |
| --- | --- | --- | --- |
| Top | Evolv Magic | 10/10 | Best Price |
| | Black Diamond Split | 9/10 | Best Price |
| | Metolius Climbing Tape | 8/10 | Best Price |
| | Mueller Euro Grip | 7.5/10 | Best Price |
| | Armadillo Skin Finger Tape | 7/10 | Best Price |
| | Hampton Adams Tape | 7/10 | Best Price |
| | Liberty Mountain Climber's Tape | 6.5 | Best Price |
| | Johnson & Johnson Tape | 6/10 | Best Price |
| | FITOP Kinesiology Tape | 5.5/10 | Best Price |
| | TRANGO MTape | 5/10 | Best Price |
Choosing the wrong climbing tape could mean the difference between a good or bad day out at the crags or worse… injury to your hands or tendons!
When you're focused on climbing hard, pushing yourself to the limit, the last thing you want is a piece of gear to let you down.
But don't worry.
We've compiled this amazing list of all the best climbing tapes so that not even the smallest thing can hold you back!
Hey! By the way… this page contains affiliate links. So if you make a purchase after clicking one at no cost to you we may earn a small commission. Thanks for your support!
Best Climbing Tape Reviews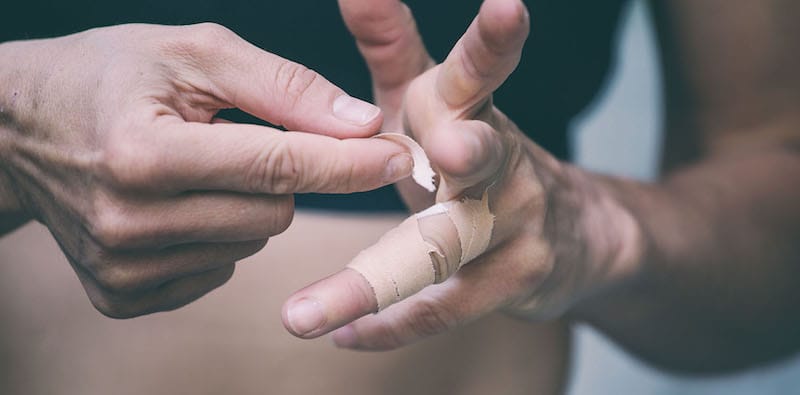 Here are our picks for the best climbing tapes, for more in-depth explication, see the article below:
Our Pick for Best Rock Climbing Tape
Evolv Magic Climbing Hand Tape
Medical grade, self-adherent tape that is water resistant and breathable

Evolvs magic finger & hand tape sticks to itself rather than the skin for zero painful removals!

Perspiration and water will not loosen the cohesive bond and the porosity permits air circulation

You can snip the tape away easily and cleanly without leaving any sticky residue and uncomfortable pulling of skin or hair

1.5 x 30 yards (3.8cm x 27m) hand tape with included reusable, embossed Evolv-branded screw top tin holds one 1.5 hand tape
Dimensions
1.5" x 30 yards (3.8cm x 27m)
Pros
Colorful!
Medical Grade
Reusable Screw Top Tin
Cons
If you're looking for the best of the best tape, then look no further!  Evolv have taken tape to the next level with their Magic Climbing Hand Tape.
This stuff is of medical grade quality, a self adherent tape that is waterproof and breathable. So, instead of sticking to the skin like other adhesive sports tapes, Evolv's Magic Hand Tape sticks to itself with a gentle pressure application.
Perspiration, or sweat, will not loosen the cohesive bond of this tape. Neither will water, and, we're guessing, a majority of other liquids too. The breathability, thanks to the tape's porosity, apparently assists in air circulation. Which is definitely a good thing.
The tape is also easy to snip – cleanly snips away without leaving any sticky residue or painful pulling of hair or skin.
But the best thing we like about this is the reusable tin it comes in. It's nice to see such thought going into what some might see as such a simple product – but these little touches make the Evolv Tape stand out above the rest.
Not only can you store your fresh rolls in the tin, but it doubles as a useful place to store used tape until you find somewhere to dispose of it later. Because there's nothing worse than a beautiful crag littered with climbing tape.
Thanks to the magical array of colors the tape comes in, it's easy to see if you accidentally forgot to pick up any after a session. Plus, you'll also look super rad climbing those endless red splitters in Indian Creek with bright yellow hands!
And if you need something just for the fingers, they offer the Evolv Magic Finger Tape with all the same great qualities – an easy to snip, self adherent and breathable finger tape.
***September2023 Update***
While updating this article we found that the price of the Magic Tape had actually dropped in price since originally being written in 2022. Make sure to use the link below to ensure you're getting the best deal:

Best Innovative Climbing Tape
Black Diamond Split Climbing Tape
Protect your skin and support your fingers with this 1 1/2 split roll of BD climbing tape, pre-split into 1 and 1/2 strips so you can doctor up those flappers with accurate precision
Dimensions
3.8cm / 1.5″ Split Roll Tape – Pre-Split to 2.54cm / 1″ and 1.3cm / 0.5″ for more accurate taping
Pros
Cons
It's no surprise to find Black Diamond Equipment at the top of our list of best rock climbing tapes. The company is renowned for making some of the best rock climbing equipment on the planet.
The fact that they only make products for either rock climbing or skiing is reflected in the quality, workmanship, and design. Always innovating, they have been at the forefront of design for rock climbing products for years and years.
This is seen not only in the complex and "big sale" items, such as their range of market leading camming devices, but features right down to the smallest and simplest of products.
The Black Diamond rock climbing tape – split – is designed to protect your skin and support your fingers as most tapes do. But this 1 ½" roll is pre split, unlike most tapes, so that you can choose between using a 1" or ½" strip to doctor up those flappers with accurate precision.
As Black Diamond says, your skin is literally what holds you on the rock, so it's no wonder why we as climbers need to constantly maintain a fine-tuned "manicure". Thanks to the innovative "split" roll, we can now do this without the hassle of having to tear the finger tape length-ways ever again!
Just be careful when you remove the tape – the adhesive they use for the stickiness will create new injuries by pulling all the hairs from your hands!

Best Sport Climbing Tape
Metolius Climbing Tape
100% cotton athletic tape

Retail packaging includes illustrated, step-by-step taping instructions

1.5 wide x 33 long (3.8 cm x 10 m)
Dimensions
1.5 inch wide x 33' long (3.8cm x 10m)
Pros
Includes Step-By-Step Taping Instructions
Cons
Metolius manufactures a cotton-polyester blend athletic tape that we love!  It has a super soft cotton texture that is pleasant to the touch, but is also surprisingly strong and durable.
While some tapes can be a pain to tear, leaving you covered in an awful mess of half folded strips, the Metolius tape tears easily with a reassuring ripping sound.
We don't know how they make the glue that adheres this tape to your skin, but we have to say it works!  The stickiness means only the sweatiest climbers will have any issues applying this finger tape, so if you suffer from sweaty fingers, then be sure to thoroughly dry them off first!
The packaging that comes with this sticky tape from Metolius is useful in that it shows you how to tape up your hands for crack climbing in three easy-to-understand pictures. On first look, this seems cool – an easy guide to taping up your hands right where you need it. However, it does seem a bit wasteful, and actually is more of a gimmick than anything.
Thankfully, Metolius also provides a useful video featuring the badass climber Beth Rodden demonstrating how to tape for crack climbing. We much prefer this video to the cardboard packaging on the tape, and think most climbers will find it more useful.

Best Climbing Tape for Crack Climbing
Mueller Euro Grip Tape
1.5" x 12.5 Yards (Very Thick for More Protection)

Super Sticky

Strong adhesive made especially for European taping techniques

No Choice of Badass Colors
Dimensions
Pros
Cons
No Choice of Badass Colors
Mueller, makers of 'sports medicine', has a history dating back to 1959. Curt Mueller, who was a power forward for the University of Wisconsin's basketball team, was also a registered pharmacist.
His family owned a drugstore, and it was with his father, Oliver, that a plan was hatched to supply inadequately stocked training rooms with the products needed by serious professional athletes. Through this process, he coined the term 'sports medicine', and the brand was born.
For more than 50 years, the company has stayed in tune with the changing needs of athletes, whether they are professionals or weekend warriors.  Its line of sports medicine products is extensivem and its mission never changes – it aims to keep athletes all over the world "In The Game".
In terms of rock climbing, this means producing a super efficient, sticky grip sports tape. The Euro Grip Tape, or Mueller Tape, is designed along the principles of the company and helps climbers all over the world from rupturing pulleys or tearing ligaments. Use the tape as your go-to for preventing injuries, as well as the one to use for making crack gloves.
Its athletic tape has a strong adhesive made especially for European taping techniques. We're not exactly sure of the different techniques used in Europe to tape, but it is a fact that the rock climbing tape there is stickier than in the States. So if you find your tape constantly falling off, then why not try this option.

Here, Beth Rodden shares how to tape for crack climbing in hand jams.
Best Climbing Tape for Fingers
Armadillo Skin Finger Tape
Protect your fingers with this high stick, latex free, finger tape

Specifically cut for easy wrapping around fingers. This tape will help reduce finger soreness by tightening the ligaments around your knuckles.

45 feet (15 yards of tape) 0.3 in width. Best used for Jiu Jitsu, Judo, MMA, Climbing, Crossfit, and any activity where your fingers could be compromised.

Backed by a complete warranty If you are not satisfied with your purchase for any reason we will refund or replace your product immediately. No questions asked and no need to worry about returning the original product if it is difficult or inconvenient to do so
Dimensions
Pros
Cons
The brand with the coolest name has to be, without a doubt, the Armadillo Skin Finger Tape. If you need your fingers to have the protection of this ancient mammal, then look no further!
The armadillo, meaning "little armored one" in Spanish, has a leathery armored shell to protect itself from predators. Whilst you're unlikely to be the predator of a coyote or bear whilst rock climbing, protecting your fingers from sharp rocks is generally a good idea.
This skin protection tape has a high stick and comes latex and zinc oxide free.  It is also on the narrower side, measuring in at a 0.3 inch width. This means it will come in handy for wrapping around your fingers to cover flappers. Armadillo says this specific cut will help reduce finger soreness by tightening the ligaments around your knuckles.
Whilst this has been the most common method to try to prevent injury whilst rock climbing, there are other methods that look like they perform better, using a smaller, wider strip of tape.

Cheap Climbing Finger Tape
Hampton Adams White Finger Tape for Rock Climbing
DON'T STOP MOVING -- Get the ultimate protection for your hands and fingers so you can keep doing what you love. Our jiu jitsu tape & rock climbing tape is engineered with pro-grade materials and designed specifically for hands. Whether it's getting back to the gym or on the rock face, you need an athletic finger tape that offers proven skin protection.

PERFORM LIKE A PRO -- Designed and inspired by a BJJ Black Belt, our finger tape is the one professional athletes prefer. With a slender width, it's made specifically for wrapping fingers and hands, which makes it an ideal hand tape for sports like judo, rock climbing, bouldering, weightlifting, and crossfit. If you're serious about your sport, whatever it is, get the finger tape bjj pros rely on.
Dimensions
Pros
Cons
Hampton Adams Athlete tape shares exactly the same dimensions as the Armadillo Tape described above, and so also shares the benefits and flaws of finger specific narrow tape.
This tape says their premium cotton tape is for practitioners of both Jiu Jitsu and rock climbing. It claims to offer the ultimate protection for your hands and fingers, so that you can keep doing what you love, whether it's grappling with other people or the cold hard rock.
The thin tape is engineered with pro-grade materials and designed specifically for hands, offering proven protection at the gym or on the rock face. But for full hand coverage, we would opt for a wider tape like the Eurotape.
The finger tape here is designed and inspired by a BJJ Black Belt, and claimed to be preferred by professional athletes. We're not sure we know of any professional rock climbers regularly using this tape, but for the price, there is sure to be a bunch of dirtbags who will.
Made with a 100% cotton substrate, this is supposed to give strong, no-fuss compression and protection that works well with chalk, doesn't fray, and doesn't leave behind a sticky residue.
All this sounds like it makes for one of the best climbing tapes on the market, but we would still opt for a more climber specific tape, such as the excellent Evolv Magic Climbing Hand Tape, as long as it's in your budget.

Best Rock Tape Variety
Dimensions
½" x 10 YDS
1" x 10 YDS
1½" x 15 YDS
Pros
Cons
We love Liberty Mountains' no fuss approach to their climbing tape. No fancy gimmicks, no shocking colors, just the good old-fashioned best climbing tape to help you slay your projects.
Their tape can be used to offer extra protection for your hands, protecting against abrasion and injury whilst climbing. It is also used to protect your tendons and pulleys from stress injuries when you're pulling hard on crimpy holds and pockets.
It comes in three widths so you can pick and choose exactly the right size for your needs. If you are after something thin to tape up flappers, then check out the half inch size. Moving up, the one-inch diameter tape is a great all-rounder, perfect for a range of taping applications.
Their largest offering, at 1.5 inches wide, is the classic size, ideal for covering large areas of skin easily when making tape gloves. Also, just tear this where you need to give you the other sizes more suitable to protecting pulleys and tendons.
Unlike some other tapes, all the Liberty Mountain Climbing Tapes are easy to tear by hand, both width-ways and length-ways. A convenient combo pack is also offered, which bundles one of each of the sizes together at a great price.

Best Non Climbing Specific Tape
Dimensions
Pros
Cons
Johnson and Johnson are makers of another affordable athletic tape that climbers have been taking advantage of for years.
Whilst not specifically designed for (or by) climbers, this is one of those products that doesn't need changing or redesigning in any way.
Strong, secure, and easy to rip and tear into the appropriate size or length – there is nothing we would change with this tape. The price is good too, and often comes out cheaper than climber specific tapes.
Unless you're looking for a tape to match your outfit, or don't have the time or skills to cut your own tape as you go, then there's nothing stopping you from using this tape successfully throughout your climbing career.

Best Kinesiology Tape
FITOP Kinesiology Tape 12 Rolls Athletic Tape in Rainbow Mixed Colors
IDEAL ELASTICITY & PERFORMANCE - Ideal stretch rate of 170%, similar to human skin, your FITOP muscle tape feels like a real persons touch! The kinesiotape serves as your second skin, free motion. Which makes comfort and performance. For athletes and daily sports, pain relief, muscle rehabilitation and sports injuries.

WATER RESISTANT - No problem to wear the k tape strips during the shower, high quality adhesive without residue, strong sticky to skin, makes the kinetic tape durable and long time use.

HYPOALLERGENIC - Latex free, high quality raw materials reduces the risk of irritation, friendly to sensitive skin. But there is still a certain probability of allergies, which differs from person to person. When allergic reaction occurs, stop using the sports tape.
Dimensions
Pros
Great Injury Preventative
Cons
Not a Traditional Use Tape
We thought we'd finish up the list with an outlier – the FITOP Kinesiology Tape is not your traditional climbing or athletic tape, but is worth mentioning all the same.
Whilst you could argue this tape works for crack climbing and covering flappers, its real usage is for ligament, muscle, and tendon support, as well as pain relief. It is lightweight and stretchy, and so provides support without limiting movement.
Often used by professional athletes, and when used correctly, it can form part of a treatment for pains and injuries. There are many videos out there showing the correct ways to use this tape, but our advice would be to only use it under the guidance of a properly trained medical professional.

The One To Avoid
TRANGO MTape
Material: 100% cotton

Recommended Use: climbing

Manufacturer Warranty: 1 year

Such colors wow
Dimensions
Pros
Cons
Trango offers this tape as a fun alternative to the boring white athletic sports tape that most serious athletes are used to. We love the color combinations that you could create from their lineup of six flashy colors.
This may not be the stickiest tape on the market.  Or have any of the flashy gimmickry. There is no 'second skin glue' here. Also, no innovative features like pre-cut rolls. But did we mention the colors!  If you haven't gotten around to marking up your gear yet, then this could be your best option!
Apart from using nail varnish, as we've seen at many crags, this is perhaps the next best step to personalize and identify your gear.
Though the Trango tape gets a 10/10 for color, it just didn't preform as well as the other tapes on this list. It's not bad, it just didn't match up.

Thing to Consider When Buying Climbing Tape
When looking to buy the best rock tape to help protect your fingers and send your projects, there are a couple of things to bear in mind.
Width
Tape doesn't vary much, but the one thing you will need to check when you're buying climbing tape is the width it comes in. Generally, there are three different sizes for athletic tapes, 1 inch tape being the middle, but each can slightly differ depending on the manufacturer.
Use
Deciding what tape to buy can come down to how you're going to use it.  Before committing to buying any, consider the use. Will it be to primarily protect your fingers from sharp holds?  Or to tape them up after you cut your hands?  Or do you need a protective layer on the outside of your hands to protect them for crack climbing?  Is color important?  Find the answers to these questions and you will find your perfect tape!
Q&A
What Type of Tape Do You Use for Rock Climbing?
Generally speaking, the type of tape you use for rock climbing can be any type of athletic tape. Some climbing companies make their own tape, and this could be branded as climbing tape. Steer clear of kinesiology unless recommended by a healthcare professional, as well as duct tape, sellotape and masking tape.
What Does Climbing Tape Do?
What climbing tape does is make you stronger. Only joking, we wish! Actually, it's more often used to help prevent injury by supporting tendons and pulleys in fingers that could get overstressed when pulling hard on small holds. It also acts as a protective layer for your hands for hand jamming in crack climbs, and can hold other stuff together if used in inventive ways.
Why Do You Need Tape For Rock Climbing?
You normally need tape for rock climbing when you are trying to protect your skin or tendons from damage, or when you have some sort of injury which you're trying to heal.
How Do You Tape Your Hands For Climbing?
The way in which you tape your hands for climbing depends greatly on the area of your hand you're tapping and the reason you're tapping your hand in the first place.
How Do I Protect My Hands When Climbing?
In our opinion, the best way to protect your hands when climbing is to attempt to strengthen or toughen your hands. And the best way to get tougher hands? By climbing more! This may seem a bit like the chicken and egg scenario, and indeed it is. But climbing is fun, so that's where we'd probably start. Or you could tape up your hands, wear climbing gloves, or practice no-hands slab climbing.
How To Tape Your Hands For Climbing
Actually using climbing tape is an art form in itself. In fact for this reason we made an entire article to teach you exactly how to tape your hands and fingers for rock climbing.
Not to mention…
We also made an entire article on hand care for climbers as well, so rest assured we have you covered!
[Our Recommendation] Evolv Magic Climbing Hand Tape
Medical grade, self-adherent tape that is water resistant and breathable

Evolvs magic finger & hand tape sticks to itself rather than the skin for zero painful removals!

Perspiration and water will not loosen the cohesive bond and the porosity permits air circulation

You can snip the tape away easily and cleanly without leaving any sticky residue and uncomfortable pulling of skin or hair

1.5 x 30 yards (3.8cm x 27m) hand tape with included reusable, embossed Evolv-branded screw top tin holds one 1.5 hand tape
UK born and bred, once a passionate dirtbag Neil has finally traded it all in (read sold out!) for a comfortable life behind a desk in the climbing paradise of Siurana.  He still dreams of his years spent living out of a tent / car / backpack and shunning the whole world (wide web) in glorious destinations from Taiwan to Thailand, Squamish to South Devon and many, many more.
Aside from climbing Neil is attempting to learn Spanish (despite living in Catalonia), thinks the environment is worth saving and his favourite food is toast with tomato, garlic and oil (Pa amb tomàquet).