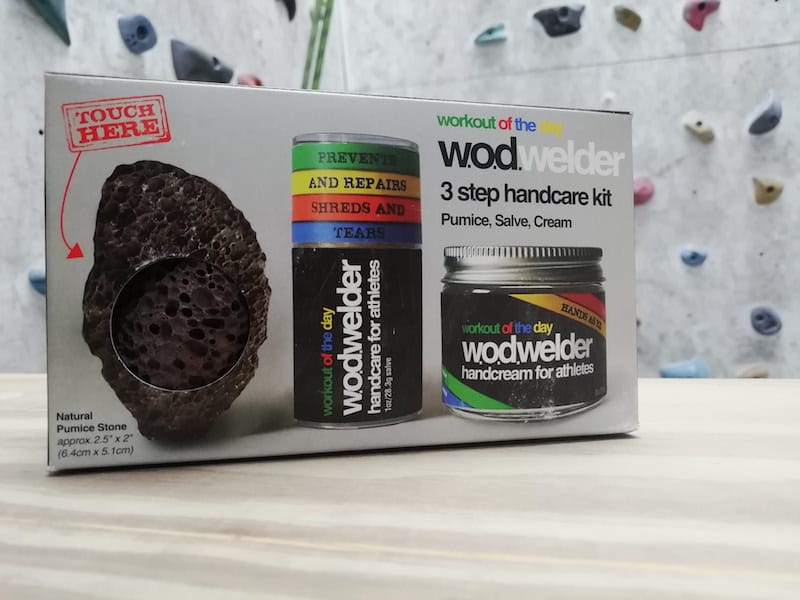 Check Price and Reviews On Amazon
You're high above the ground. You can feel the exposure under your feet.
You're pumped, growing weaker by the second, you need to find a better hold now.
The next option is just outside your grasp, you take a breath, and go for it. Your hand hits the hold, you grab with all your strength, but it isn't enough. As you fall that common mix of fear and excitement rushes through your body.
Safety on the ground you take a look at your hand, to your lament you notice that you have a piece of skin, only partially attached to your hand, hanging haphazardly.
The dreaded flapper.
Until recently, I've never taken skin care very seriously before, but for the past six months I've been on The Rock Climber's Training Manual "Rock Prodigy" method, and though I've experienced huge gains in my strength and overall climbing performance in that time, there have been a few unexpected downsides.
When you're climbing a lot, you need to start taking recovery more seriously. This involves stretching, allowing proper recovery time, eating protein and getting enough sleep.
Most of us already intuitively know this, but one aspect which tends to get overlooked for climbers is taking care of your skin. A ripped callus can set you back for days, forcing you to miss workouts, skip days climbing, and in some cases, take extended periods of time off.
I experienced a few painful skin rips on an earlier training cycle this year and I decided to be more proactive about it this time around. I did two things. First I implemented a few easy hand care  habits into my normal climbing routine. These I laid out for you below. 
Though helpful, it wasn't enough. So in addition to the habits I purchased the WOD Welder Handcare Kit. Combining the handcare kit with the steps detailed below completely eliminated all painful callous, flappers and other skin problems I had.

In this guild you'll find:
8 Easy Steps on How To Take Care of Your Flappers
Before Climbing
Step 1 – Trim and file your nails and cuticles. This helps to save your neves a lot of pain and removes the potential for your nails to get ripped or torn while climbing.
Step 2 – Find the right chalk for you. Most people don'e realize that not all climbing caulks are created the same. In terms of skin care, some chalks can actually over dry your hands, increasing the chances for skin rips. For instance, Black Diamond White Gold chalk is known for over drying, while Primo Chalk is know to be the best choice for those with sensitive skin.
Step 3 – Tape any exiting flappers or known weak areas on your skin. This will stop exiting tears from getting worse, and will prevent new ones from occurring.
After Climbing
Step 4 – Wash you hands after climbing. This is something which I admittedly only sometimes did. Why is this so important? After climbing, dirt and chalk remain stuck to you hands, making them drying out and stay irritated. 
Step 5 – Apply oil-lotion or hand cream immediately after washing your hands. After climbing your hands are already going to be super beat up and dried out from climbing and using chalk. Right after washing  your hands will be the absolutely best time to apply moisturizer.
Step 6 – Apply some sort of hand salve to your skin. Hand salve not only helps moisturize, but greatly speeds the healing process. Is this even more important if you already have some sort of sort of flapper or cut which you're trying to heal.
Step 7 – When you go home, file your calluses with sandpaper or a pumice stone. As the saying goes, an ounce of prevention is worth a pound of cure. Your skin is no different. Buy filing down the callouses, you are removing the weak parts in your skin which tend to pull off while climbing to form flappers.
Step 8 – Apply hand salve a second time before you go to bed. The majority of your body's healing takes place during the night. Having a fresh layer of hand salve will act to further accelerate this.
I was on the web looking for a hand salve, hand cream and hand fling set up. After doing a bit of research, I came across the WOD Welder Handcare Kit. WOD Welder is a famous name for crossfitters, not climbers. But I've heard the stories of crossfitters' notoriously bad calluses and skin rips before, so I figured I'd give it a try.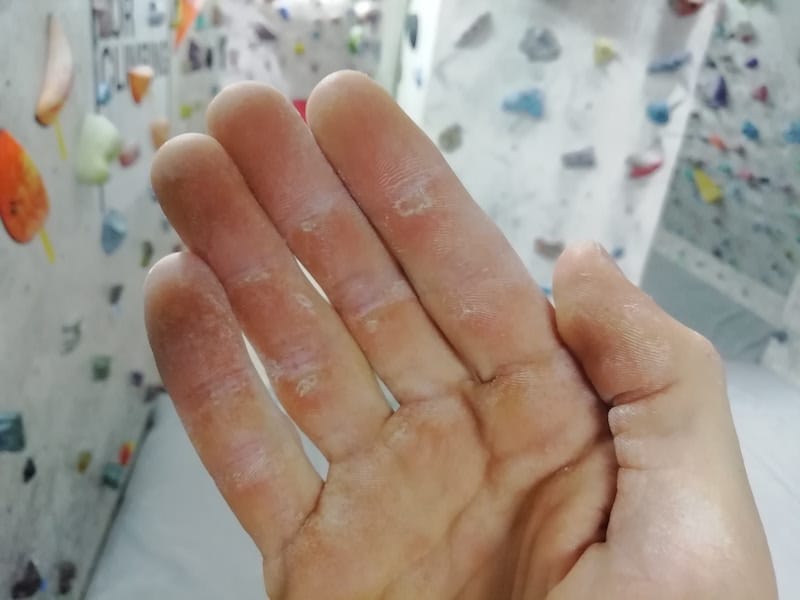 What stood out for me with WOD Welder's method to hand care was that they seemed to take a more scientific approach to it. Each of the three items in the hand kit was put there for a reason to maximize the recovery time of your hands.
It was pretty clear that this kit wasn't messing around. It is designed to bring your skin back to life as quickly as humanly possible.
The kit retails for under $30 and comes with a pumice stone to sand down your skin, a hand salve and a moisturizing hand cream. Many salves, such as Joshua Tree Climbing Salve or Boulder Balm: Dry Skin Salve, retail for nearly $20 on their own, which means this kit is actually pretty good value for your money.
How I Tested The WOD Welder Handcare Kit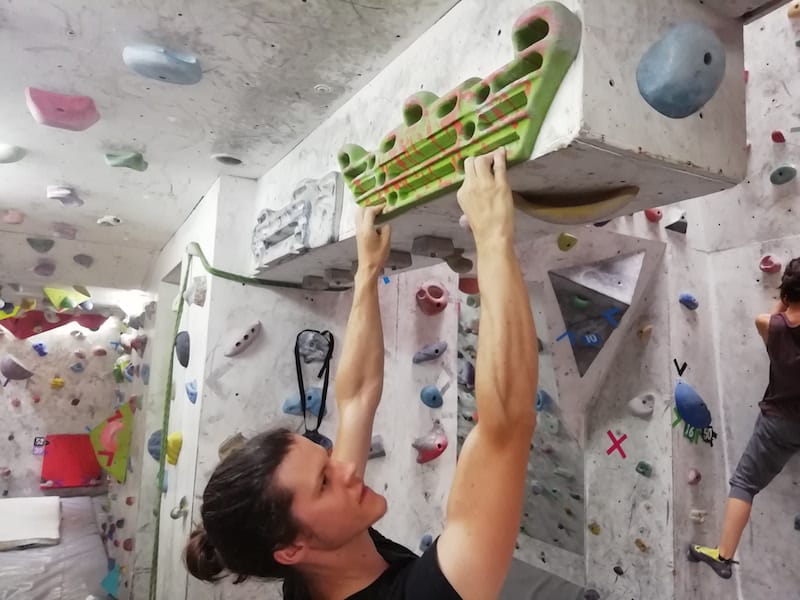 I started out by implementing the handcare kit into my normal training routine for one week. I was on week three of the "strength phase", for those of your familiar with the "Rock Prodigy" training method. If you are unfamiliar, this phase is when you do a lot of hangboard training, usually around three times a week.
To better see and compare the results, I only used the products on my right hand. I used the pumice stone four times, the slave 4 times at night, and the hand cream three times immediately after working out.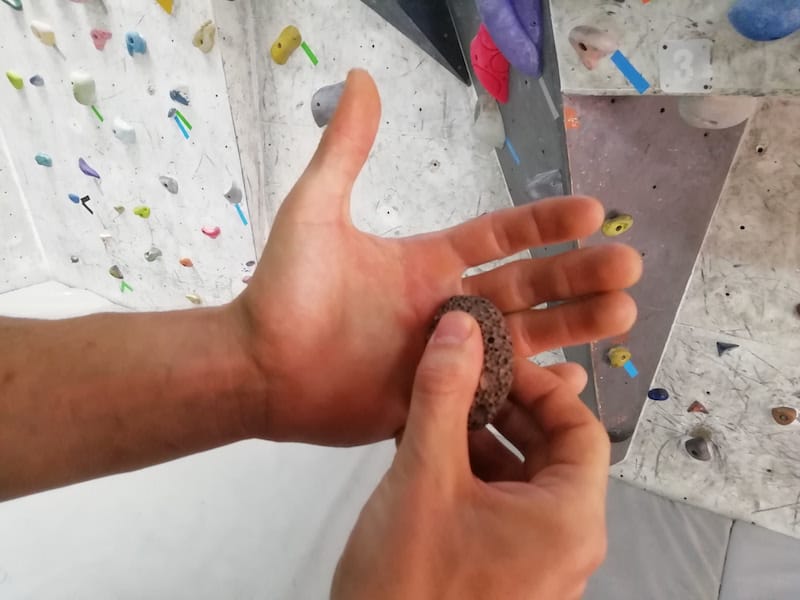 What I Liked
When I used the stone at the gym right after training, the pumice stone worked well to knock off loose and dead skin quickly, and rounded off the edges to make them more even with the rest of the skin. It's kinda gross to see all of the little white flakes of skin that get stuck into the stone, but it shows that it is working.
WOD's website suggested that the stone be used when in the shower, so I gave it a try the next day when I was home. The stone worked way better when my hands were wet. It almost massages away the calluses, blending them in with the skin on the rest of my hands.
What I Didn't Like
The main critique I had for the stone was that I wished it was more abrasive. In the past I've always used sandpaper to shave down my calluses and the softer lava pumice stone just doesn't have the same "power". I felt that I had to apply way to much pressure to get it to do any real work on my calluses.
However, upon further research, I found that the stone is meant to be used when your hands are wet. It isn't fair to say that it "doesn't work" as well, it was simply different than what I was used to. It's a natural lava stone, so it makes sense that it isn't going to have the same power as industrial grade sandpaper.
Bottom Line
The WOD Welder pumice stone works well when used as directed and on a regular basis. The stone is meant to be used preventively, implemented into your regular routine to stop callus rips from ever happening, as opposed to waiting for your calluses to get massive and unmanageable.
The stone is much more effective when used in unison with the other two products in the kit. After you grind down your skin, it actually can look worse than it did before, but rest assured, if used in unison with the hand cream and salve, your skin's recovery will be and in the end your skin will be in better shape overall.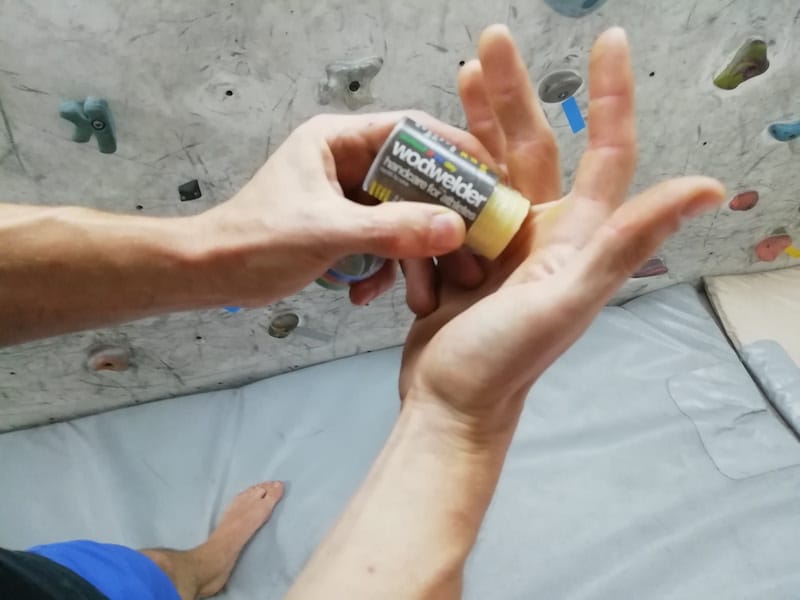 Check Price and Reviews On Amazon
I've used a handful of the more popular hand slaves out there, such as climbOn or Joshua Tree's so I was interested to see how the WOD Welder brand compared, and I have to say that I was very pleasantly surprised.
When you first open the tube, you're greeted by a nice blast of eucalyptus and peppermint smell, which certainly adds to the experience. But it doesn't stop there, as the salve without a doubt follows through its claims of "preventing and repairing shreds and tears".
After using it for just a few days, my skin was looking much fresher, with any signs of shredded skin completely gone. The salve worked like a charm to lock in moisture and was absorbed into my skin quickly.
In addition to working great, something that really separated this salve apart from the others I've used was the convenient tube that it comes in. At first glance you might not think much of it, but anyone who has used a salve in the past knows how messy they can be. The tube allows you to target specific areas or calluses on your hands and makes application easy. This easy application coupled with the fact that the salve absorbs into your skin faster than any I'd used before makes its use much more convenient.
Bottom Line
A great product with follows through on its claims – all natural, fast drying and effective. They have improved the overall experience with the pleasant scent, easy to apply tube and quick absorbing solution.
You can also purchase the salve by itself if you're not interested in the full kit. Though it certainly works better when used in unison with the other products, it is still a great salve and can be used by itself. Next time I head out on a bouldering trip I'll definitely have to bring this stuff along to speed the recovery of skin grown on my finger tips.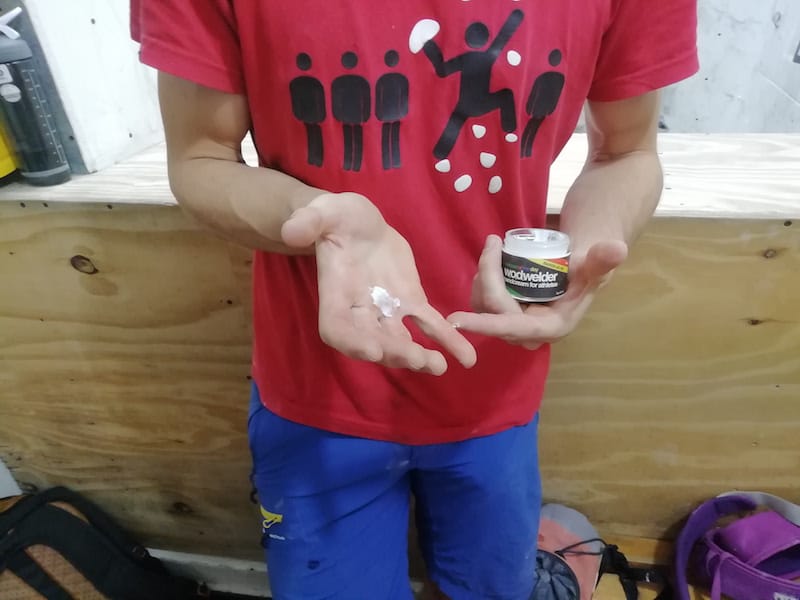 Check Price and Reviews On Amazon
Anyone who spends a lot of time at the climbing gym knows how caulk can dry your skin out. If you only climb intermittently, this isn't an issue. But if you're climbing or training regularly, this can lead to cracked calluses and skin damage fast.
During the week of testing the hand cream out, I used it three times immediately after my training sessions.
I have to say, this stuff is lotion on steroids.
It is oil-free, and absorbs super fast. It doesn't leave a slimy residue on your hands once it is rubbed in. This stuff works great, I highly recommend it.
Like the hand salve, it smells great, giving you a strong blast of eucalyptus and peppermint while using which stays around for a while after.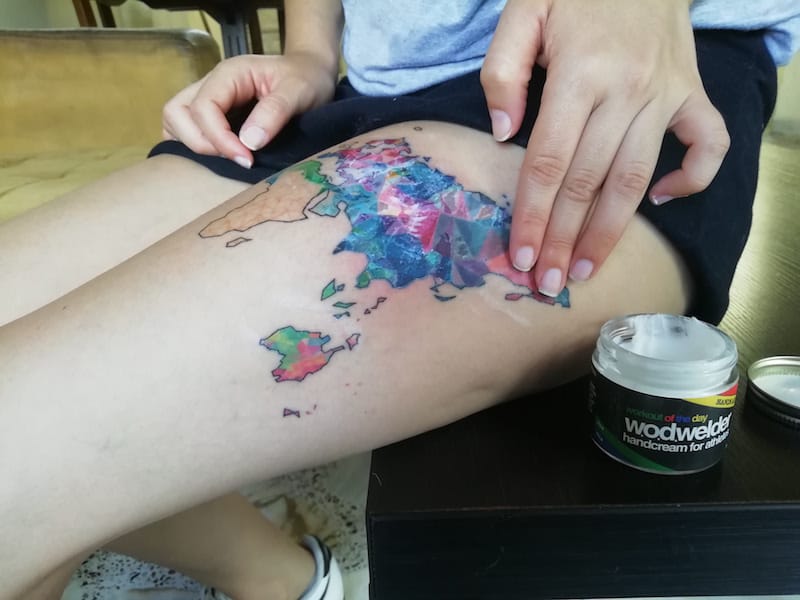 According to WOD's website, the cream also works well on maintaining the appearance of tattoos. Now I don't have any tattoos, but, luckily, I was able to recruit my girlfriend who recently had an eight hour studio session. She said that it worked excellent, much better than the stuff they had recommended at the tattoo place!
Bottom Line
This is a great product, my favorite of the three included in the kit. It isn't messy, is easy to apply and absorbs quickly. After I used the cream just one time, my skin instantly looked more hydrated and fresh.
The cream is super effective, and I highly suggest giving it a try.
The Results, After One Week
So after using the handcare kit for a week I had a pretty good chance to see the results. And the verdict? Passes with flying colors.  
When the pumice stone, salve and cream are used in unison, the results on your skin are instantly recognizable. The stone is great for removing dead skin and rounding off callus edges, the cream works incredibly well to rehydrating my dying skin and the salve is the piece that pulls it all together by greatly speeding up the healing process.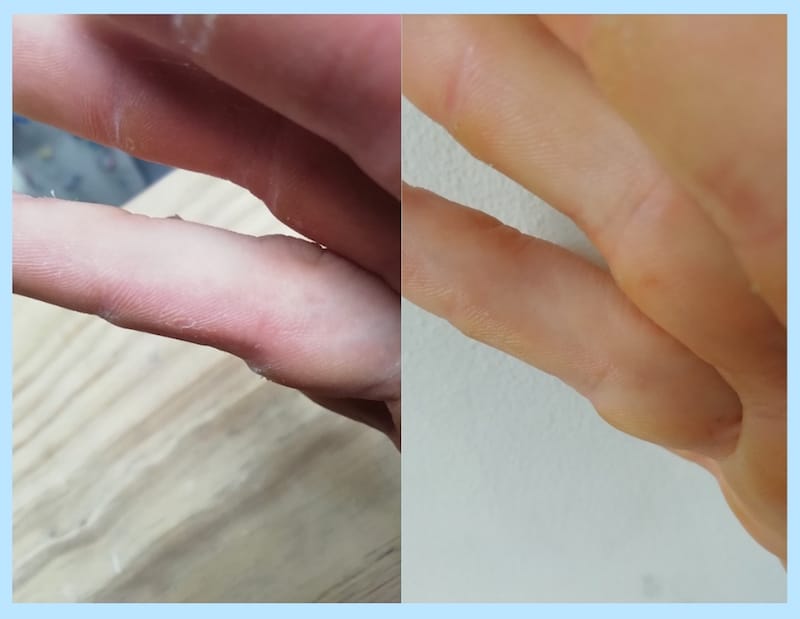 If you're looking for a serious hand care kit, look no further. The WOD Welder Handcare Kit gets my stamp of approval. It will without a doubt be coming with me to the gym when I train from now on.
How to Tape Your Hands
Another great way to prevent injury and protect your skin is by tapping your hands. For more detailed info on this, I would check out our full guide.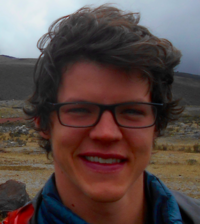 The Wandering Climber. Often seen at world class climbing destinations from around the world!