| | Name | Score | Check Price |
| --- | --- | --- | --- |
| Top | Black Diamond Solution | 10/10 | View Prices |
| | Black Diamond Momentum | 9/10 | View Prices |
| | Petzl Sitta | 9/10 | View Prices |
| | Petzl Sama | 8/10 | View Prices |
| | Arc'teryx AR 395a | 8/10 | View Prices |
| | Edelrid Jay | 7/10 | View Prices |
| | Mammut Ophir 3 Slide | 7/10 | View Prices |
It is important to take buying a harness seriously –  it holds your life and your gear every time you go rock climbing!
From leading routes at the gym to clipping bolts in destinations abroad, you need a harness that can go with you anywhere, feel good on the wall, and last long enough to make the investment worth it.
In this article we go over everything you need to look for when shopping for a sport climbing harness and provide a list of the top seven on the market.
Hey! By the way… this page contains affiliate links. So if you make a purchase after clicking one at no cost to you we may earn a small commission. Thanks for your support!
Top 7 Sport Climbing Harnesses
Check Price and Reviews On Amazon
If you are a dedicated sport climber and know how to size your harness well, the Black Diamond Solution will seem like the best climbing harness on the market.
It has no bells and whistles. With only 4 small gear loops, a single adjustment buckle on the waist belt, fixed leg loops, and no haul loop, the Solution is perfect for clipping bolts and not much else.
This harness incorporates Black Diamond's Fusion Comfort Construction technology, which uses three strands of split webbing to evenly distribute weight throughout the entire harness.
As a result, the Black Diamond Solution is extremely comfortable. At a mere $75, it can't be beat.
Check Price and Reviews On Amazon
As mentioned a couple times in this article, the Black Diamond Momentum is one of the best budget climbing harnesses out there.
It is also an excellent gym climbing harness for beginners.
The Momentum has an adjustable waist belt and adjustable leg loops.
The 4 gear loops are pressure-molded and super durable, albeit quite small.
Unfortunately, the Momentum is designed with Black Diamond's Dual Core Construction technology (versus the Solution's Fusion Comfort), which has only two strands of split webbing . Thus, it is not as comfortable for hanging out on route for long periods.
Its rather thick padding also makes the harness more noticeable and thus not so great underneath a backpack.
Nonetheless, for new gym climbers and single-pitch cragsters, the Momentum takes the cake.
Check Price and Reviews On Amazon
The Petzl Sitta is one of the most expensive harnesses on this list.
However, it is also the most lightweight, packable, and versatile.
Despite being extremely thin and mobile, the Sitta has insane gear carrying capacity: two large front gear loops (with super cool separators), two decently sized back loops, a rear haul loop, and two slots for Petzl's CARITOOL ice equipment holder.
As a result, the Sitta can handle anything from sport, trad, ice, to alpine mountaineering. The Sitta also made our list as one of the best trad climbing harness options as well.
Its super low profile – designed with Petzl's amazing WIREFRAME technology – will make you forget you're wearing a harness…even while wearing a backpack.
Although its minimal padding makes the harness less pleasant to hang in for longer periods of time compared to its cheaper, better padded competitors, it is still shockingly comfortable.
If you want a high-performing sport harness that you can take along for every climbing style and don't mind the price tag, go with the Petzl Sitta.
Check Price and Reviews On Amazon
The Petzl Sama is another budget top pick.
It is very similar to the Black Diamond Solution, with fixed elastic leg loops and decent, wide padding, as well as no ice clipper slots.
However, the Petzl Sama has larger gear loops and a haul loop, making it more capable for trad and multi-pitch climbs.
The Sama has been reported to be only slightly less comfortable than the Black Diamond Solution, but its higher versatility and low price make it a good choice for sport and single-pitch trad climbers.
Check Price and Reviews On Amazon
Marketed by Edelrid as a solid all-arounder, their Jay harness is equipped with most of the necessary features to dabble in other forms of climbing beyond sport.
It includes adjustable leg loops, 4 sizable gear loops, two ice clipper slots, and a rear loop for a chalk bag.
What makes the Edelrid Jay stand out from all the rest is its foam waist padding – which is not only very comfortable, but also movable (to help make aligning the harness easier).
It even has a special pouch for a personal RFID chip to be inserted, which is a great way of always having identity and family contact information on one's body in the event of an accident.
Check Price and Reviews On Amazon
The Arc'teryx AR 395a is a favorite choice for sport climbers that do, well…every other style of climbing, too.
It is the ultimate versatile harness on the market with: 4 ice clipper slots, 4 large reinforced gear loops, a rear haul loop, and easily adjustable leg loops.
Arc'teryx's Warp Strength technology makes for an ultra light, ultra thin, and packable harness.
The Warp Strength technology distributes weight across the wide waist belt and leg loops from edge to edge – as opposed to multiple straps of webbing covered in padding like most harness designs.
While some swear by the comfort lent by Arc'teryx's unique design, the AR 395a's smaller leg loops and minimal padding may be less comfortable than other harnesses on this list.
Also, each gear loop angles downward to a point – causing racking and unracking gear to be less pleasant as the gear is pushed closer together.
Nonetheless, the AR 395a is a high-quality, super versatile climbing harness that will not disappoint – as long as you don't mind the price point.
Check Price and Reviews On Amazon
The Mammut Ophir 3 Slide harness is an affordable harness option that is quite similar to the Momentum, but offers an alternate fit for those that may not prefer mainstream brands.
In particular, Mammut's trademark "two-part webbing" technology resembles Black Diamond Dual Core construction design – making for a decent but nothing-to-write-home-about level of comfort.
The Ophir 3 Slide has four gear loops and a haul loop, as well as adjustable leg loops.
It also has some nice special features: plastic abrasion-protectors on the tie in loops and wear indicators on the belay loop and upper tie-in loop.
Ultimately, the Ophir 3 is ideal for beginner sport climbers who plan on sticking to gym sport climbing or single-pitch sport crags for a while.
What Is The Difference Between Sport Climbing Harnesses and Other Climbing Harnesses
The last thing you want to do when getting a new climbing harness is buy the wrong one.
A great way to avoid this mistake is to learn how to recognize whether a harness is for sport, trad, big wall climbing, multi pitch climbing, or alpine climbing.
Sport harnesses tend to be lightweight, with thinner padding and less gear loops (4 or fewer in total) than trad harnesses.
That being said, the science behind harness design has been refined so much in recent years. There are now multiple lightweight options suitable enough for both sport and trad climbing.
Ice climbing harnesses are very similar to sport and trad harnesses: they have an average amount of gear loops and slightly thicker padding.
However, ice harnesses also have ice clipper slots. These are small loops of fabric for attaching ice-screw carabiners.
Alpine harnesses take "lightweight" to another level. They have little-to-no padding, minimal gear loops, and supreme adjustability.
These low-profile traits make alpine harnesses ideal for use while wearing a backpack and skis or crampons, and for accommodating multiple layers of cold weather clothing.
Alternatively, tackling big wall routes in places like Yosemite and Patagonia requires tons of equipment for both leading and aiding, as well as a lot of time spent hanging out.
A Big Wall climbing harness prioritizes comfort and gear-carrying ability over minimizing weight with ample large gear loops, a sizable haul loop, and generous padding. A great example is the Big Gun harness by Black Diamond.
Multi pitch and big wall harnesses are very similar. Large gear loops, a haul loop, and a generously padded waist and leg loops are all critical features for tackling longer distances on vertical terrain.
Not all multi pitch routes are crazy long like big wall climbs. That being said, a lot of popular multi pitch routes require trad climbing gear.
Therefore, the best climbing harnesses for multi pitching are those designed for trad climbing and have high comfort ratings.
Can you Use a Sport Climbing Harness For Other Types Of Climbing?
Many harnesses are designed to be versatile.
As long as they are rated for rock climbing and UIAA certified, they can technically be used for ascending just about every sort of route.
For single-pitch trad lines, most harnesses will have enough gear loops for carrying all the devices you'll need.
Some sport harnesses also have enough ice-clipper slots for getting out on the ice while also being appealingly light for regular rock climbing.
However, most of such harnesses are inadequate for larger, equipment-intensive objectives.
They would not be very comfortable to hang in all day, multiple days in a row; and the mess of trad gear crammed onto 4 gear loops or less would be a total nightmare.
Things to Consider When Buying a Climbing Harness
Hanging and Belaying Comfort
Sport climbing is all about putting in hard work on your projects with friends – which can involve lots of hanging on-route and long periods of time belaying.
In places like El Potrero Chico, you can even do bolted multi-pitch routes up to two thousand feet tall! That means a lot of time spent hanging in a harness…
Thus, the best climbing harnesses are the most comfortable.
(Unless you're one of those red-point fiends that climb 5.13+ and care a lot about harness weight…)
Our best advice: make comfort a priority when searching for a climbing harness!
Attributes like wide, voluminous padding on the waist belt and leg loops, as well as designs that distribute weight well across the harness's entire structure definitely add to a harness's comfort potential.
That being said, increased padding means increased weight and profile. The best harnesses on the market strike a good balance between these traits.
Making sure your climbing harness is the right size and right fit for your body type can also improve comfort when worn for long periods.
Note: A lot of harnesses are made with "split webbing" technology. Split webbing harnesses tend to be less comfortable the fewer strands they have (e.g. two as opposed to three).
Material Durability
As with all climbing gear, the best harness will last long enough to make it worth its cost and be able to handle intensive use at the gym and outdoors.
Certain materials, such as Black Diamond's "Super Fabric", can enhance the durability of the waist belt and leg loop padding.
Other features like a well-reinforced belay loop and gear loops, as well as plastic abrasion protectors for tie-in loops, can also improve harness durability.
If you climb every day and spend a lot of time sweating in your harness outdoors, durability is an especially important factor that can prevent you from having to replace your harness frequently (which is no cheap venture).
Otherwise, if you only climb in the gym 1-2 times a week, don't feel pressured to buy anything super fancy and high-tech. A harness like the classic, super affordable Black Diamond Momentum will do.
Adjustability
While you may not need a harness that can adjust to accommodate multiple layers of cold-weather clothing for gym climbing and outdoor single-pitching, you still want one that can be taken on and off with ease.
Especially for things like bathroom breaks and hikes between crags.
Adjustability is also important for maximizing the harness's fit.
The shape of everyone's waist and thighs are different, but harnesses maintain their universal sizes by providing buckle-strap systems for easy tightening and loosening.
Certain ones, like the Petzl Corax, even have two buckles on the waist belt.
Adjustable Leg Loops or Fixed Leg Loops
The leg loops of a climbing harness are actually super important, because a lot of your weight rests in them. Consider them like the seat of a chair – so make sure you like how they feel!
Harness leg loops come in different versions: adjustable and fixed.
Adjustable loops have a buckle-and-strap system for tightening and loosening like waist belts do.
Fixed loops are not adjustable; however, they are usually made of stretchy elastic material so they have some give and take.
Unlike the waist belt of the climbing harness, leg loops should be worn slightly more loose to allow for greater mobility
To size a climbing harness with adjustable leg loop straps, be sure that the straps are also between the maximum and minimum when they are fitted correctly.
If the leg loops are fixed, then they should still rest slightly loose on your thighs…But be extra certain they fit well, because you will not be able to tighten or loosen them!
Gear Loops
Gear loops vary greatly among different harnesses.
The best climbing harnesses for gym sport leading and outdoor single-pitch has 4 gear loops or less.
This is because you only need enough carrying capacity for a number of quickdraws and a belay device and not bulky items like traditional camming devices and aid equipment.
If you plan on trad, ice, or multi-pitch climbing, consider getting a versatile harness with more gear loops. If you want to climb large trad multi pitches and big wall routes, you'll want extra.
Having a good-sized rear haul loop is a nice bonus, as it is great for clipping your chalk bag into or for carrying a tagline.
Versatility
If you only ever intend to sport climb, be it indoors or outdoors, then versatility is not an important factor when searching for climbing harnesses.
However, if you also dabble in trad, multi-pitch, and/or ice (or plan to try them eventually), then a more versatile harness could be very useful.
A versatile climbing harness has added features like extra gear loops for carrying trad devices, or slots for clipping ice-screw carabiners.
A low-profile waist belt can be useful for wear underneath backpacks while mountaineering and multi-pitching.
Maximal adjustability is also a component of a versatile harness, so that you can wear it over both warm and multi-layered cold weather clothing. If you plan on doing a lot of ice climbing, for example, then you'll definitely want adjustable leg loops.
Price
A climbing harness can range anywhere from $60 to $200.
More expensive harnesses tend to be lighter weight and higher tech. These attributes may be necessary to a high-performance sport climber, but not for most folks.
A $60 will get the job done on any route difficulty and last.
However, a cheaper harness might not be the most comfortable or have all the features you need.
If you spend a lot of time in your climbing harness between hanging and belaying, it might be a good idea to spend a little more money to find one that'll feel better for prolonged sessions.
You might even try one on and fall in love with it. If that's the case, try to ignore the price – at least harnesses can last for quite some time, making it worth the investment.
But if it's not in the budget, don't sweat it.
Men's and Women's Climbing Harness Styles
Just like climbing shoes have women's versions that are narrower and lower profile, climbing harnesses also have women's versions that are tailored specifically to the average female body type.
Such includes smaller, angled waist belts that rest higher upon the hips.
The distance between leg loops also tends to be farther apart on women's climbing harnesses.
That being said, anyone can wear any climbing harness, no matter their gender, and find the fit perfectly adequate for them.
How to Size a Climbing Harness
Like a pair of pants, a climbing harness comes in certain sizes.
Some brands have the regular XS, S, M, L, XL, etc.
Others group sizes together, like S/M, and M/L.
The best way to know which one works for you is to go to your local outdoor retailer (e.g. REI) and try harnesses on.
Otherwise, consult the sizing chart provided by the harness  manufacturer's website. Take your body's measurements using measuring tape, and compare it to the chart to figure out what size you should pick.
A harness is the right size for you if it fits snug enough around your waist so that it does not slide down.
Ideally, the waist belt buckle strap(s) should not be at their maximum or minimum, but about halfway between the two when the harness is properly secured to your waist.
Final Thoughts
Sport climbing is a blast; and it can be made even more enjoyable by having a great, well-fitted harness.
While it may feel like you are drowning in options when it comes to shopping for a harness, you can quickly whittle down your search by knowing what to look for and what type of climbing you intend to do most.
Likewise, understanding the different brands' "technologies" might sound difficult and intimidating, but it's actually quite simple.
And nothing is more satisfying than walking into an outdoor retailer and feeling like an expert yourself!
Being an informed customer will also keep you from potentially wasting money on a harness that is not ideal…or is too expensive for what you actually need.
If this article didn't cover the best harnesses for your favorite type of climbing, check out other Wandering Climber articles like the best rock climbing harnesses and women's rock climbing harnesses as well.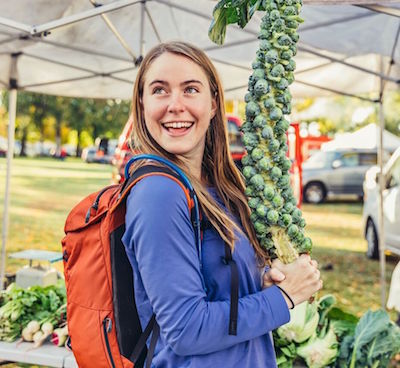 Melissa is a full time van-living outdoor enthusiast hailed from Florida. After deciding to spend her freshman summer of college living out of a tent to work and climb in the Red River Gorge, Kentucky, her life changed forever. She found her way to El Potrero Chico, Mexico in the winters, where she fell in love with travel and community. Post-graduation, she drove from Florida to Alaska to experience its world-class backpacking, then worked her way back south to explore climbing spots throughout the western U.S.
Meeting countless amazing people, hearing their stories, and learning the histories and struggles of local areas through minimalist travel, climbing, and hiking has inspired her to share these experiences with others. Her passions include improving intersectional access to the outdoors and responsible environmental stewardship.