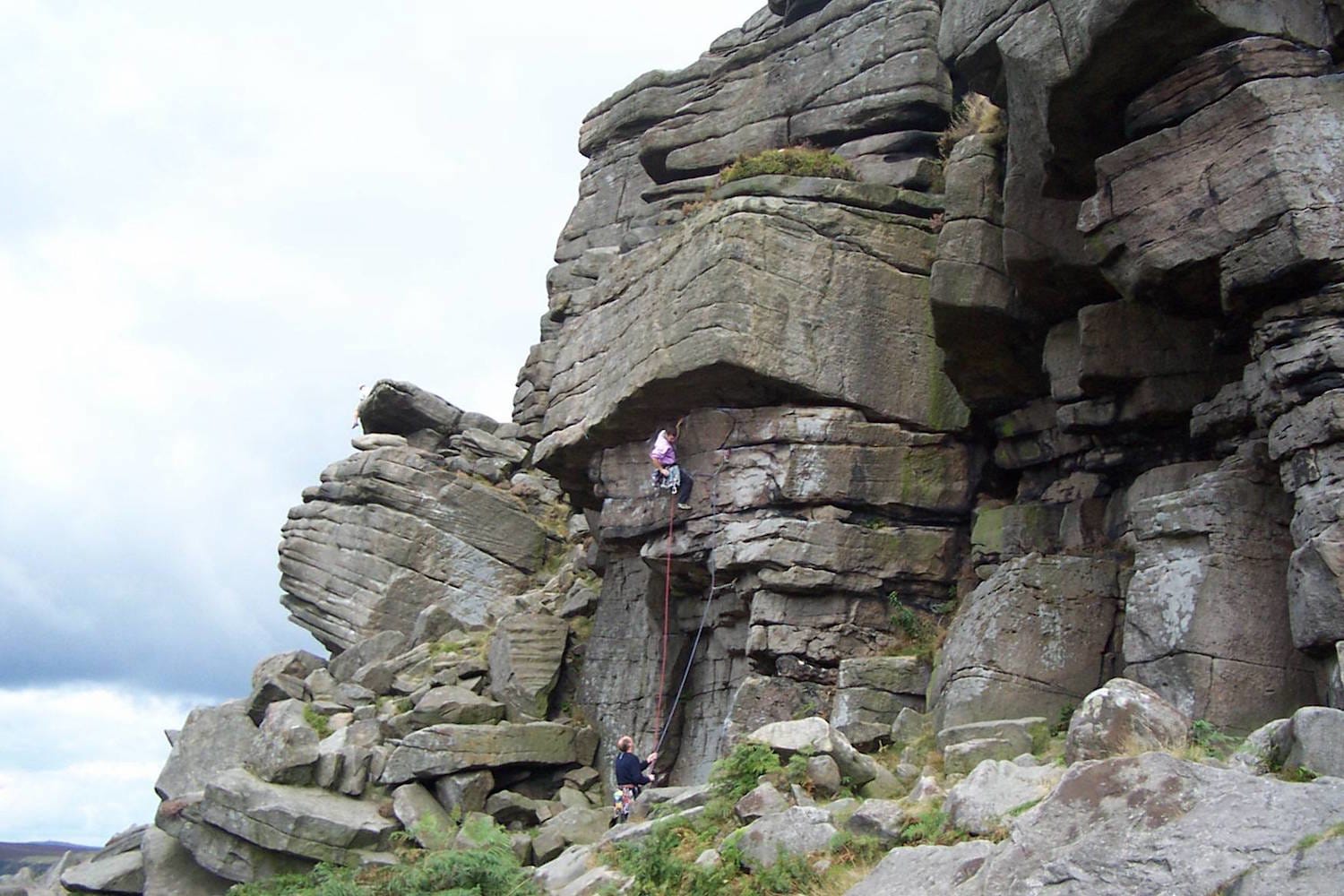 | | Name | Score | Bottom Line | Check Best Price |
| --- | --- | --- | --- | --- |
| Top | Black Diamond Vision | 10/10 | Not much padding | Click Here |
| | Petzl Sitta | 9/10 | Leg loops not adjustable | Click Here |
| | Black Diamond Solution Guide | 9/10 | Not the lightest | Click Here |
| | Misty Mountain Cadillac | 8/10 | Not the lightest | Click Here |
| | Arc'teryx AR-395 | 8/10 | Not the most comfy depending on the fit | Click Here |
| | Petzl Luna | 7/10 | Not the lightest | Click Here |
Looking for a new trad harness? Look no further! We've reviewed the best trad climbing harnesses to bring you this incredibly awesome list. 
If you know you are a trad climber and intend to spend the majority of your climbing time outdoors with a full rack hanging on your gear loops, you probably want the best and most comfortable harness you can get!
A good harness is one of the most important investments you can make for your climbing and I assure you that finding the right fit for your body and needs will make the difference!
In this post, we'll tell you what to look for if you need a trad harness, what to take into consideration before buying one, and we'll review the best trad climbing harnesses so that you can narrow down your search and find the perfect fit for your needs!
Hey! By the way… this page contains affiliate links. So if you make a purchase after clicking one at no cost to you we may earn a small commission. Thanks for your support!
Best Trad Climbing Harness Reviews
Here are the best trad climbing harnesses available on the market in 2021. Before buying one, make sure to read all the manufacturer's specs and check the sizes of both the harness and the leg loops.
You do not want a harness that does not fit perfectly, especially when trad climbing with a full rack!
Check Price and Reviews On Amazon
The Black Diamond Vision is the closest thing to an indestructible and sleek harness you can find. It is extra-light and its material is quick-drying and super durable. Its full strength belay loop is one of the smallest on the market. It features 4 large gear loops, a fifth gear/haul loop, and 4 ice-clipper slots. The BD Vision is made for expert climbers who want the lightest harness possible, without losing too many features. 
224g

4 gear loops

5th large gear loop/haul loop

4 Ice-clipper slots

Quick dry material
Check Price and Reviews On Amazon
The Petzl's new Sitta harness is lightweight without sacrificing comfort. Made of the brand's WIREFRAME dyneema cord, it distributes load perfectly and is as durable as you would want it to be. This harness is designed for the best performance in trad climbing with its 4 gear loops and 2 extra large organizing loops. It also offers reinforced belay points. 
270g

4 gear loops

2 XL gear loops with organizers

Ice-clipper loops

WIREFRAME construction

Reinforced hardpoints & belay loop
This harness is a great all-rounder, it can be used for essentially any time of climbing. It so good in fact, that it also made it to our list as one of the best harnesses out there.
Check Price and Reviews On Amazon
If you are looking for a big-wall harness, this is your best choice. It is one of the first harnesses created specifically for big wall adventures and it does everything to the top! It features 6 large gear loops for all your rack, wide webbing, and a thick and comfy waist belt for hanging on the walls day after day. 
530g

6 gear loops

Adjustable leg loops

1.25″ nylon webbing

Extra-large padded waist belt
Check Price and Reviews On Amazon
The Black Diamond Solution is a harness that packs in a lot of gear space without becoming too heavy. It is also made with one of the most durable fabrics ever created, which they call Super Fabric. It is a stylish trad harness that will give you excellent performance.
394g

4 gear loops

5th large gear loop/haul loop

Contoured fit for great range of motion

Ultra-durable Super Fabric 
Check Price and Reviews On Amazon
Arc'teryx's first product was a harness and they still make some of the most comfortable and best-performing harnesses on the market.
This AR-395 may seem soft, but do not be fooled! These are some of the most robust and comfortable harnesses you can find. It will not disappoint you. 
395g

4 gear loops

Adjustable leg loops

Warp Strength Technology
Check Price and Reviews On Amazon
The main difference you will find between a men's and a women's harness is that the latter runs higher on the waist. Obviously, they meet the same standards of quality and safety! The Petzl Luna is designed to grant women a comfortable fit and is a great all-round harness that can go from crag climbing to big wall. 
It is not the lightest, but it features 4 large gear loops, reinforced belay points and a women specific contour. 
495g

4 Large gear loops

Reinforced hardpoints & belay loop

Adjustable leg loops

Women specific waist belt contour




What Is The Difference Between A Trad Climbing Harness and A Normal Harness? 

Seeming Similar, But Oh, So Different!

 

There are a few factors that differentiate a trad harness from any kind of climbing harness.

Gear Loops

If you've ever climbed long trad routes, you will know one thing for sure: you need big gear loops! 

Clipping a few quickdraws into the loops for a sport route at the crag is not the same as leaving the ground with a wide range of nuts, cams, slings and carabiners, approach shoes and who knows what else for a long trad adventure.  

If that's what you're into, make sure you choose a harness with big, reinforced loops. Some trad harnesses feature up to 6 loops… The more the better!  

Weight

Alpine and trad climbing harnesses also need to be lightweight. Trad routes are often more remote and it is not unusual to have a long approach before the climb. In this case, it is always best to save on weight and go as light as possible!

Comfort in Harnesses 

If you go trad cragging, this is not very different from the comfort you would look for in a sport climbing harness. However, if your intention is to get on multi-pitches or even big walls, getting a comfortable climbing harness needs to be one of your top priorities. 

Long trad routes involve a lot of hanging, even at standing belays, and you will want the most comfortable harness you can get. 

Also, due to the fact that trad routes are often more remote, you might find yourself having to change clothes or add layers, so a high degree of adjustability is advised. 

Balance

All in all, you will need to find the right balance between all these features and of course take into account your budget and the harness' price… And I am sure you will find the best trad climbing harness for your needs! 

Here are our top picks. 
What to Consider When Buying a Trad Climbing Harness
Durability
When you choose a trad climbing harness, you want to make sure it is durable and resistant. Remember, you will be wearing your harness all the time while climbing, which will expose it to the abrasive surface of rocks and walls. Also, you will surely not take it off while chilling with friends at the crag or having lunch sitting on a granite slab.
Some harnesses have reinforced gear loops and tie-in points, which can also be a great feature for extra durability, especially if you will be trad leading with a lot of weight on your gear loops. 
Comfort
Again, climbing can probably be classified as an inherently uncomfortable activity… But believe me, wearing the right harness will really make all the difference when struggling up a wall, looking for and placing gear, falling and even belaying. 
A comfortable harness will greatly improve your experience and it will allow you to concentrate on and enjoy the climbing, instead of the pain you feel after hanging on the wall for hours with the wrong fit!  
Obviously, a harness also has to give you great mobility so that you can move on the wall freely and comfortably. As I already mentioned, make sure to always check that the leg loops will fit your legs nicely. Some cannot be adjusted and you really don't want tight loops to prevent you from using that high foot or great heel hook!
Personally, when I hang in my harness a few hundred feet up on a wall and belay my partner, or when I have to rappel 10 pitches down in the dark after a whole day of climbing, I really appreciate how comfortable my harness is, and you will too!
Fit
Of course, how comfortable a harness will feel depends on its fit. There are harnesses for women, men, taller or shorter people, for those with an extra thin waist or with muscular legs… This means you need to get out there and find the perfect match for your body shape and needs. 
A good fit in a climbing harness means that the waistband will fit snugly on your natural waistline, and the leg loops will be a tiny bit looser so that you feel secure, but are able to move freely in all directions.
Usually, almost all components are adjustable, like the waist and leg loops, but you will still notice that different harnesses have a different fit and some are more adjustable than others. Just try them on or check the measurements and pick the one you feel most comfortable in (no, not the one with the best design!). 
Features
As we already discussed, different harnesses include different features. Again, adjustability will determine the comfort and fit of your harness, and it is probably the most important feature. Always check that you can adjust the waistband to fit snugly without the belay loop moving to the left or right. 
And remember, if you choose a harness that does not allow you to tighten or loosen the leg straps, make sure the size you pick fits your legs snugly, but not too tightly!
Gear Loops are definitely essential if you are looking for a good trad harness.If you want to have room for a whole rack make sure you have enough loops and that they are strong, durable, and easily accessible. 
A harness' weight can also be something to consider in trad climbing, especially if you climb in remote locations and need to carry it on a long approach, or if you need to be as light as possible on long multi-pitch or alpine routes. 
Versatility
Not all climbing harnesses are made equal! As you know, not every harness will be great for every type of climbing.
If you are looking for an all-around harness that works fine for all kinds of climbing, make sure you choose one that offers you a high degree of versatility. This is your best bet if your climbing is varied, or if you're just not quite sure yet which style you will be practicing most! 
An all-round harness will be great in all situations and you will not have to worry about comfort or lacking features. 
Price
Obviously, you cannot choose a climbing harness without taking into account its price and, above all, your budget! 
My advice is, though, that it is definitely worth investing in a more expensive, better, more durable, and versatile climbing harness that will last you for years, rather than buying a cheap one, and then needing to change it after a few months…
And remember, a harness' value is not just about what it costs. It is essential to assess how well it fits, its comfort and features, and decide on how much to invest. 
Try to consider all the above categories, decide what you are looking for, and establish which harness is the best value for your money. Assess how well it fits, its comfort and features, and decide if it is worth the investment. 
Again, it is often a better decision to spend a little more for gear created to last, than to try and save a few bucks for a trad harness that will need replacing soon.
Best Sport Climbing and Kids Full Body Harness
Now that you know what harness to buy, it's time to move to the best harnesses for sport climbing and best kids full body climbing harness.
Marta was born in northern Italy and grew up hiking and skiing in the Dolomites. Strangely enough, she began climbing (indoors!) while living and studying in the UK.The night of that first beginners top-roping course at the Castle Climbing Centre, she dreamt about climbing, and knew it would change her life forever. And so it did! After leaving the city she travelled and climbed in many beautiful spots around the world, from the multi-pitch sport routes of
Todra Gorge
to stunning Yosemite. She has now been based in the wonderful
La Mojarra
, Colombia, for over two years: perfect climbing weather all-year-round, a simple life in the mountains and amazing red sandstone routes in a wonderful setting… Now, though, the Dolomites are calling… This time for real climbing!