| | Name | "Score" out of ten | Best price |
| --- | --- | --- | --- |
| Top | La Sportiva TC Pros | 10/10 | View Prices |
| | La Sportiva Mythos | 9/10 | View Prices |
| | Scarpa Helixs | 8/10 | View Prices |
| | La Sportiva Women's Miura | 8/10 | View Prices |
| | Evolv The General | 8/10 | View Prices |
| | Five Ten Anasazi Moccasym | 7/10 | View Prices |
| | Tenaya Masai | 7/10 | View Prices |
| | Butora Altura | 7/10 | View Prices |
We've scoured the best trad climbing shoes around to bring you this incredibly awesome buyer's guide. 
Don't buy risk buying the wrong shoes! 
If you're looking for the best trad climbing shoes then look no further, we have the information you need!  
We've compiled an ultimate guide detailing not only the best all-round trad climbing shoes, but also the best shoes for beginners, intermediates, women, climbers with wide feet and more.
We will cover, in detail, topics from the style and fit of trad climbing shoes to their best intended purposes.  
If you've ever wondered how to choose the trad gym climbing shoes for your needs or are just interested in learning about common features of climbing shoes then keep on reading.
We take a look at the top climbing shoe brands from La Sportiva to Five Ten, and see what the pros are wearing – spoiler alert, Tommy Caldwell wears the TC Pros!
Before we begin, let's take a closer look at trad (also known as traditional) climbing and why you might need a specific pair of climbing shoes for this discipline.  
Hey! By the way… this page contains affiliate links. So if you make a purchase after clicking one at no cost to you we may earn a small commission. Thanks for your support!
Specific Trad Climbing Shoes
Whilst trad climbing is essentially the same as other forms of climbing, and was originally just known as climbing, there are nuances within the discipline that dictate the need for shoes with specific features.
Features such as high tops, comfortable liners and hard wearing rubber will all contribute to the best trad climbing shoe.  
Whilst the high end La Sportiva shoes made for sport climbing and bouldering may give you the precision and confidence you need for these disciplines, unless you're competing at an elite level, factors such as comfort and fit are going to be more important to you.
So without further ado let's dive straight in and check out the best trad climbing shoes the money can buy!
Our Top 8 Best Trad Climbing Shoe Guide
Here are our best trad climbing shoe picks. If you're looking for more info, see the detailed buying guide below:

Check Price and Reviews On Amazon
You can't go wrong with the La Sportiva TC Pro. as they're our trad shoe pick, and in general, a very good climbing shoes choice for just about anything. If you're lucky enough for them to fit you well then these could easily become your go to shoes for years to come.  
Specifications
Closure – Laces

Rubber – Vibram XS Edge

Upper – Leather
Additional Features
High Tops

Pro athlete endorsed
The perfect companion to any trad climbing adventure, from big walls in Yosemite and unexplored faces in Pakistan these are equally at home lapping your favourite 5.7 crack at the local crag.
Named after the superstar climber that is Tommy Caldwell, he had a hand in designing the TC Pros to be the ultimate technical Yosemite big wall free climbing shoe.  These are some of the best rock climbing shoes designed by one of the worlds best trad climbers and this can be seen in the details.
The padded high tops and padding over the toes is a blessing when covering a lot of ground in hand to fist sized cracks, taking the strain off your ankles.  The high rubber here also prevents slippage whilst crack climbing and the intuitive lacing system allows for fine tuning and thus, ultimate comfort.
A combination of leather and Vibram rubber upper rands and the ventilated tongue aids and promotes air flow – a good thing when you might be wearing these shoes hours on end hundreds of feet up a big wall.
The rubber is also a standout feature here.  La Sportiva's utilisation of the 4mm Vibram XS Edge rubber along with its patented P3 "power performance platform" and "Laspoflex" midsole to deliver "sensitive yet powerful edging".  
While this might all sound like marketing gimmick, these shoes do seem to perform wonders on micro edges and will give you the confidence to climb harder for longer.
If you're still not convinced then check out the incredible feats performed by Tommy Caldwell himself in the amazing documentary "The Dawn Wall".
Whilst we can't guarantee these shoes will make you climb as well as Tommy Caldwell, we do know they will become a firm favourite of new and old trad climbers alike.
Best Trad Climbing Shoes for Beginners – Scarpa Helix
Check Price and Reviews On Amazon
One day in your climbing career you are going to want to start trad climbing.  It's a natural progression that many of us have gone through, starting in the gym, then moving outside to sport crags, before getting fascinated by the gear and ideals of ascended routes with no fixed protection.
Specifications
Closure – Laces

Rubber – Vibram XS Edge

Upper – Suede Leather
Additional Features
Passive randing for classic performance 

Flat lasted construction for all-day comfort and performance
Hopefully you've found yourself a good mentor, and perhaps been on a trad course or two.  You may be thinking about trading in your battered, tight fitting sport shoes for some shiny new trad climbing shoes.  
Well, as a beginner trad climber we'd highly recommend these offerings from Scarpa.
We really liked the old school styling of these shoes from Scarpa.  In addition to looking cool, the classic shape is comfortable and well suited to trad climbing.  
The Scarpa Helix took our top position for best trad climbing shoes for beginners.
In fact if you're a beginner climber this is a great article to find out more about all the different components that make up a climbing shoe.
As a beginner trad climber the last thing you should be worrying about is your shoes.  More importantly, you should make sure you have a good mentor – someone to "show you the ropes" and essentially teach you the skills you need in this activity.  
Thankfully, due to the 100% suede uppers and linings and light heel cup cushioning the Scarpa Helix climbing shoes are so comfy they'll be the last thing on your mind as you curse your leader, trying to remove that micro nut they forcefully inserted into a paper thin crack!
Scarpa also provides a handy conversion chart to help you find that perfect fit, though the best advice we can give is to try on as many pairs as possible in your local climbing store and choose the best fitting regardless of your street shoe size!
Scarpa sizing conversion chart
Check Price and Reviews On Amazon
So you've put in your time as an apprentice or beginner trad climber, followed your leader up multiple ascents and retrieved gear from the darkest depths of crags.  It might be time to give the Mythos a whrl, as they're our top trad and slab climbing shoe combination. 
Specifications
Closure – Laces

Rubber – Vibram XS Grip

Upper – Eco Idro-Perwanger Biodegradable Leather
Additional Features
Recycled / Repurposed 

LaspoFlex midsole
You've even started leading, tentatively placing your own gear with the care and attention each piece deserves, even if you are climbing well within your grade.  You're thinking about how to progress and realize those beginner trad climbing shoes you bought years ago are smelling pretty bad and have been through their fifth resole already.  
Maybe it's time for a pair of climbing shoes more suited to your new intermediate level of skill?  Then check out the La Sportiva Mythos.
La Sportiva have ticked all the boxes with the Mythos, offering a climbing shoe aimed squarely at the intermediate trad climber.  The iconic and versatile climbing shoe does everything and La Sportiva even claims it fits everyone.  
In fact, everyone we know who owns a pair says they fit them perfectly.
The low profile toes and overall neutral rounded shape make it the perfect shoe for crack climbing, extended multi-pitch climbs or even just at the training wall.  The Vibram rubber is utilised by La Sportiva for optimal stickiness when smearing and we love the feel of the eco Idro-Perwanger Leather.
This is actually a premium silicone impregnated roughout leather made by Perwanger Leather of Italy, who have been making leather in the Southern Tyrol region of Italy since 1780.  
The special process they use to tan their hides makes the leather extremely water repellent while still remaining breathable.  It is also the strongest and most durable of all the leathers offered in climbing shoes by La Sportiva so should last through hundreds of trad climbing adventures.
Be aware, however, it may stretch with time, so size accordingly.  But as every veteran trad climber knows this will only leave more room for extra socks – indispensable on those long lonely alpine multi-pitches!
Check Price and Reviews On Amazon
Whilst the La Sportiva Miura is marketed as a shoe for "performance footwork" with superb "edging control" and "pocket climbing performance" we think the women's version, sized slightly bigger than normal, would make an awesome trad climbing shoe.
Specifications
Closure – Laces

Rubber – Vibram XS Grip 2

Upper – Leather
Additional Features
Dentex Lining

LaspoFlex midsole
It has been a product of La Sportiva for over ten years, and during this time they have honed its development to be one of the best shoes for any type of rock climbing.  
The women's version here includes the same Vibram XS Grip 2 rubber as the men's and also incorporates the efficient speed lacing system.
Whilst the La Sportiva Miura takes longer to break in than some of the other more beginner friendly climbing shoes once they have taken the form of your feet they are extremely comfortable.  
We'd recommend the Miuras as an excellent option for women looking for a more advanced, yet still comfortable, trad climbing shoe.
A note on sizing La Sportiva climbing shoes – their website suggests as a general rule that soft shoes require a tighter fit, two to three sizes smaller than your street shoe size and they recommend you fit your trad shoes one to two sizes under your street shoe size.  
A thick midsole creates a platform on which you stand, while a slip-lasted slipper-type shoe relies on your crammed toes to create an edging platform.
However, they also recognise it's not a completely black and white issue and the best way to size properly is to try on different sizes to find something perfect.  
For more helpful information about sizing from the La Sportiva stable check out their useful page below.
La Sportiva Climbing Shoe Sizing Guide
Check Price and Reviews On Amazon
Specifications
Closure – Slip-on

Rubber – Stealth C4 rubber (4.2mm)

Upper – Split-grain Leather
Additional Features
One of the classics, the Five Ten Moccasym could easily take a few of our best trad climbing shoe positions. It could easily fit into the role of most comfortable trad climbing shoe, best intermediate trad climbing shoe, or as we have chosen here, best cheap trad climbing shoe.  
It's a wonder it didn't take the position for the best all round trad climbing shoe, but the La Sportiva TC Pro just can't be beaten on this!
This simple design is why the Moccasyms are such a pleasure to wear.  The split-grain leather is soft and supple from the first time you put them on, and in complete contrast to the La Sportiva Miura above, they are super comfortable right out of the box.  
The lack of laces or any other feature make the shoes fit like a glove, the leather molding to the shape of your feet over time. One thing to note, however, is that they will stretch considerably compared to synthetic shoes, so bear this in mind when deciding on size.
The low profile of the slippers is perfect for jamming in crack climbs and the Stealth C4 rubber is well renowned for being the one of the best, sticking to almost any surface whilst still providing lots of sensitivity.  
The breathable leather is a godsend for long trad climbs where foot odor can quickly turn an awesome adventure into a sufferfest for you and those sharing an anchor with you.
If Five Ten shoes don't fit you well, then check out the Momentum, another great cheap shoe from Black Diamond.  They are some of the best shoes on the market for the price, and while not completely focused on trad, they are great all round offerings and Black Diamond a reputed brand.
These shoes are a favourite amongst the climbing community, traversing generations, popular with young and old alike.  They will certainly become a go to shoe that you end up grabbing more often than not whether you're heading out for an epic alpine adventure, a quick session at the gym or even heading out for some sport routes.
Most Comfortable Trad Climbing Shoe – Tenaya Masai  
Check Price and Reviews On Amazon
The Tenaya Masai are the ferrari of comfortable rock climbing shoes.  All too often a pair of comfortable climbing shoes will let you down when it comes to power and performance.  Not these shoes though!  
Specifications
Closure – Laces

Rubber – Vibram XS Grip

Upper – Synthetic microfibre
Additional Features
TXT treated cotton lining

Vegan!
Designed as part of the RA project they share many of the technical advances in that shoe as well as being optimized for maximum efficiency on micro-edges and all day comfort on multi pitch routes.
If you've ever felt the insecure feeling of your foot moving inside your "comfortable" climbing shoe whilst trying to maintain balance on a delicate, poorly protected face climb then you'll appreciate that the comfort from a trad climbing shoe can come from many angles.  
The lace-up closure of the Tenaya Masai means the volume of the shoe is infinitely adjustable, ensuring a snug yet comfortable fit that also adapts to a wide variation in foot widths.
The combination of stiffness and sensitivity from the 2D PLT 10 midsole makes this shoe easy to use and get the best performance from.  We love the perfectly balanced set of features and combination of performance and comfort that can be hard to find in a quality climbing shoe at this price.
We also love the fact that the Tenaya's are 100% vegan and the additional attention given to the upper and lining.  The synthetic microfibre upper helps wick moisture and reduce odours whilst the TXT treated cotton lining prevents these shoes from stretching as much as others – so bear this in mind when sizing.
Whilst we wouldn't hesitate to get these shoes as our most comfortable trad climbing shoe thanks to the additional high performance benefits, if you're just starting out trad climbing and looking for another comfortable shoe at an even more affordable price then we'd also recommend the Tenaya Tanta.
Check Price and Reviews On Amazon
As much as we love the La Sportiva TC Pros we thought it'd be unfair to include them twice in this list.  That's good news though, because The General from Evolv is certainly another high-top trad shoe worth considering.  
Specifications
Closure – Laces

Rubber – Trax XE (4.2mm)

Upper – Leather
Additional Features
Non-stretch cotton liner

Asymmetrical Precision Toe Profile
In fact, these two sets of rock climbing shoes complement each other perfectly, and, excusing the pun, don't step on each other's toes.  
The Evolv General's are much more aggressive than the TC Pros, quite a notable feature for a trad shoe – all the others in our list, not including the exception of the women's Miuras, are of a more traditionally neutral shape.
This really gives the Evolv an edge over other more specific trad climbing shoes, giving you much more precision on small edges and more power to your toes.  
With this in mind we thought they would hold a very small niche, not being comfortable for very long, but, on the contrary, these shoes are actually superbly suited to long multi-pitch and even big wall climbing, excelling on technical face climbs thanks to the precision toe profile and Trax XE edging rubber.
If these shoes came as standard they would be pretty impressive. But the addition of the leather high-tops and cotton lining make these an awesome option for trad climbers, easily taking our top spot for best high-top trad shoes.  The split tongue with an Agion antimicrobial lining is also a nice touch.
Best Wide Fit Trad Climbing Shoe – Butora Altura
Check Price and Reviews On Amazon
The best trad climbing shoes for all climbers with wide feet was an easy pick for this article.  Butora are our favourite brand when it comes to catering for those with excessively wide or narrow feet.  
Specifications
Closure – Laces

Rubber – Neo Fuse Sticky Rubber

Upper – Leather
Additional Features
Eco friendly hemp lining

Moisture-wicking split leather footbed
Most of their range comes in wide or narrow options, and it just so happens they make an awesome looking pair of trad shoes too.
The lime green Butora Altura in wide fit is an eyecatching model, but there is more to these shoes than what meets the eyes.  
The 100% hemp lined German leather stretches very little so the size you buy is the size you end up with.  As well as being eco friendly, three different deniers (or sizes) of threads are used on the upper and liquid adhesives are not, allowing for better breathability.
The performance of these shoes is notable too, with the Altura excelling at long day multi-pitches crack climbing and big walls, as well as performing just as well on sharp micro-edges.  Butora claims whether you're in Yosemite, Indian Creek, or just at your local crag, the Altura's performance and comfort are so good you won't want to take them off.  
We're not entirely convinced about this, but the closed cell foam padded mid top ankle protection and open cell Poron foam tongue certainly sound like it would help towards all day jamming comfort.
Whether or not these are the mid top trad climbing machines Butora claims, we certainly love the attention to detail and thoughtfulness of sizing that is apparent throughout their range.
How to Choose the Trad Climbing Shoes for Your Needs
Choosing trad climbing shoes can be an arduous process, but thankfully we have the knowledge to share with you to make this experience much more pleasurable!  
Below we've detailed descriptions of everything you need to know about how to pick the best trad shoe for your needs!  So let's get stuck in!
What are your needs?
Before we begin it's important to clarify what exactly your needs are.  You're obviously looking for the best trad climbing shoe, but for what level?  What types of trad climbs do you do?  How often do you climb?  And what's your budget?  
All of these are important questions in determining the best shoe for your needs.
Your level
Beginner
As a beginner climber we'd recommend comfort over performance.  Anything that inspires you to climb as a beginner is going to be your best option.  
If you're put off from climbing by too tight fitting shoes or trad climbing shoes that are too uncomfortable then you simply will not use them, no matter how great they are!  
The Five Ten Anasazi Moccasym above for example is a great beginner trad climbing shoe, also at a great price.
Intermediate
If you are an intermediate climber then you really have a whole range of excellent options to pick from.  
You will still want a comfortable pair of shoes as you are likely to be wearing them for prolonged periods, perhaps on long multi pitch climbs, or even beginning your foray into alpine adventures. 
But now you will be looking for something with more precision, an extra edge of performance you just can't get from beginner climbing shoes.  Something like the La Sportiva Mythos we looked at above.
Advanced
If you're an advanced trad climber then you should by now have an idea of what kind of shoe works best for you.  
If you don't then, well, perhaps you're not quite yet the most advanced trad climber you think you are!  Best to get back to the mountains and hone your skills!
What type of climbs do you do?
Another facet of trad climbing to take into consideration is the type of climbing you will be doing most.  Some shoes will perform best on specific types of climbs, whilst others are more all rounded.  
Ask yourself which type of climbs do you do more often, and what type of climbing do you prefer, then match the shoes to fit.
Multipitch
For multi-pitch rock climbing comfort is key.  Look for shoes that you'd be happy to wear for hours on end, such as the Tenaya Masai, and fit them accordingly.  
Old veteren multi pitch  trad climbers will tell you your shoes aren't fitted correctly unless you can fit a good warm pair of socks on under them for when the weather suddenly takes a turn for the worst.
Single pitch
Single pitch trad routes can vary wildly from the classic granite test pieces in Squamish to the sea cliff slabs of southern England. Generally, if you climb this style then a more performance based shoe will suit you better, but again the style of climb will dictate the details.  
Wide granite cracks will favour a padded high top shoe, whilst this feature will be wasted climbing slabs. Instead, look for a technical trad shoe that will have you dancing your way to the top. 
If you're mostly found hanging upside down on sporty style trad routes then go for a more aggressive shoe like the La Sportiva Miuras.
Alpine / Big Wall
If you spend most of your days in the alpine or on a big wall then we guess you already know which shoes suit your needs best.  
If somehow you've managed to put yourself in this situation without an idea of which shoe is best suited to your needs then perhaps you need more than a shoe recommendation! Either way we can't help but point you towards the La Sportiva TC Pros for these wild environments!
Gym
Trad climbing in the gym?  Hmmmn, not sure about that one… may be best to put it to a wider audience.
How often do you climb?
Professional climbers will climb, or at least train, almost everyday.  Whilst we may dream of being a professional trad climber, the reality is most of us will only get to go out a couple of times a week, maybe more at a push, so the best trad climbing shoes for us will be significantly different from theirs.  
But how often we get to go adventuring into the great outdoors can ultimately dictate what kind of climbing shoes we need to buy.  
The weekend warrior may be happy with a mid range pair, using them once or twice a week, whilst the traditional dirtbag climber may save their pennies for the best climbing shoes money can buy, as they will be using them a lot more.
Budget
The same goes for budget.  With such a wide range of quality climbing shoes now widely available it may not be necessary to spend the most to get a great pair.  
In fact, a top range pair of climbing shoes would be wasted on a beginner climber and vice versa.  Paradoxically, however, it is often the case that the better a climber is the less money they have to spend on shoes!
Fitting
Not mentioned until now, but actually a huge determining factor in what climbing shoes you may end up buying, is the fit.  From our experience, different brands fit differently.  
Whilst La Sportiva may fit some climbers perfectly, others may be better off in a pair of Five Tens.  The only way to know which brand fits your foot shape the best is to try on as many as you can.
Visit a Store
Take a visit to your local climbing store and explain that you are trying to find out what brands fit your feet best.  The store should be happy to help, and the staff are often an invaluable source of unbiased information.  
Go in the afternoon, or after a long walk, when your feet have warmed up.  This may sound like a joke, but your feet actually swell up to half a size more in the afternoons or after you've been standing or walking for prolonged periods.  
So a pair that fit perfectly after a drive to the store in the morning may not even make it onto your feet that same afternoon!
Also don't be that guy (or girl) who goes and tries on all the climbing shoes in the store, taking up all the employees time, then leaves only to buy them later online at a discount price.  Not cool!
Common Features Of Climbing Shoes Explained
Ever wondered how climbing shoes are made?  Or intrigued by the different types of fastening systems on climbing shoes?  No worries, we've compiled this useful list of common features for a quick, easy reference.  
Fastening
The thing that keeps the shoes on your feet!  Comes in three common flavours, laces, velcro or slip-on.
Upper
The material part of the shoe that is not the rubber.  Typically either synthetic or leather, this is the part that may stretch over time.
Lining
Linings can come in a variety of materials including leather, synthetic, cotton or hemp.  Each will feel different and each climber may have their own preference over the lining.
Tongue
The same as on normal street shoes, although here it is often lined with antibacterial properties to reduce unwanted smells over time.
Rubber
Perhaps the most important feature of a climbing shoe is the rubber, the part of the shoe that comes into contact with the rock.  Companies secretly guard their recipes for rubber compounds, each claiming to have the stickiest or grippiest to keep you from falling off the wall.  Classic examples are the Five Ten Stealth rubber or Vibram XS Edge rubber.
Construction
Not so much a feature, but definitely worth including, climbing shoes are generally manufactured in either one of two ways, slip-lasted or board-lasted.  
While the technical differences are too great to explain in detail here, slip-lasted construction is where the footbed is sewn into a premade upper.  Board-lasted is the more traditional way to make shoes where the footbed is glued to the mid-sole.  
Check out this video by the pros from Scarpa for a greater understanding. 
Shape
The shape of the shoe, determined by its construction, will range from a neutral or flat shape, then to moderate with a slight downturn in the toe area and finally to aggressive with a sharp curve from heel to toe.
Volume
The volume refers to the space in the shoe.  Each will differ depending on style and construction.  Women's shoes have a lower cut, longer toe and shallower heel cup, and therefore a lower volume.  Depending on the shape of your feet you may find men's or women's shoes fit you differently.
What is Trad Climbing?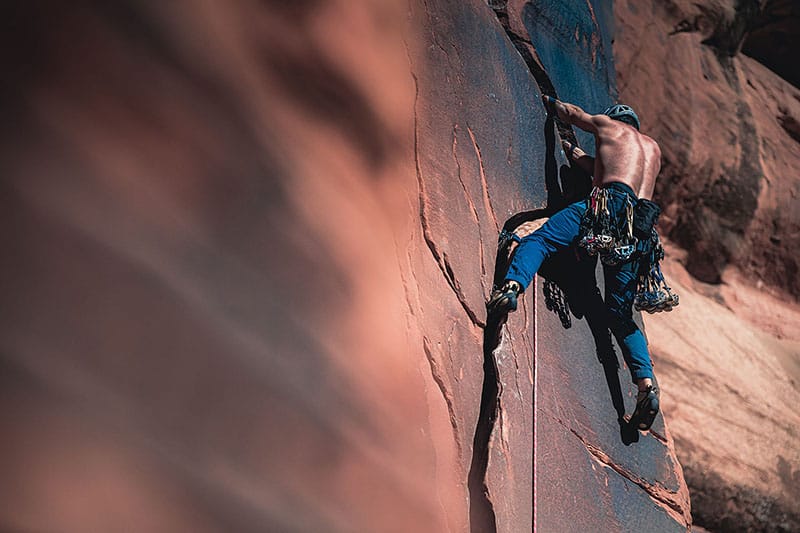 What is trad climbing you might ask? Traditional climbing, to use it's full name, is the artform of scaling whatever cliff, mountain or slope you have deemed conquerable by using only your own strength and courage whilst protecting yourself with only passive, removable gear (commonly referred to as a trad rack). 
In essence, this is climbing without leaving a trace – no bolts or other types of fixed protection are to be used.  Any gear you place as the lead climber to protect yourself in the event of a fall will be removed by your partner as they second up the climb.
What is a Trad Rack?
A trad rack is simply the set of gear you use while trad climbing. When you build a trad rack, you generally buy a set of cams, nuts, slings, and quickdraws.
UK born and bred, once a passionate dirtbag Neil has finally traded it all in (read sold out!) for a comfortable life behind a desk in the climbing paradise of Siurana.  He still dreams of his years spent living out of a tent / car / backpack and shunning the whole world (wide web) in glorious destinations from Taiwan to Thailand, Squamish to South Devon and many, many more.
Aside from climbing Neil is attempting to learn Spanish (despite living in Catalonia), thinks the environment is worth saving and his favourite food is toast with tomato, garlic and oil (Pa amb tomàquet).