| | Name | "Score" out of ten | Best Price |
| --- | --- | --- | --- |
| Top | La Sportiva Miura VS Women's | 10/10 | View Prices |
| | Butora Endeavor Wide Fit Women's | 9/10 | View Prices |
| | Scarpa Women's Maestro Mid Eco | 9/10 | View Prices |
| | Tenaya Women's Ra | 9/10 | View Prices |
| | La Sportiva Solution Women's | 8/10 | View Prices |
| | La Sportiva Futura Women's | 8/10 | View Prices |
| | La Sportiva Tarantulace | 8/10 | View Prices |
Many of the best climbers in the world are women and now more and more brands cater specifically to women and make women's climbing gear. Be it shoes, harnesses or other equipment, there are a lot of women's gear for sale now.
We looked at the best climbing shoes for women out there, so you have a practical overview at your hands when it comes to buying a new pair or your very first climbing shoes!
Hey! By the way… this page contains affiliate links. So if you make a purchase after clicking one at no cost to you we may earn a small commission. Thanks for your support!
Women's Climbing Shoes: The Basics
When it comes to shoes for rock climbing that are made especially for women, their special feature is that they are made for narrow feet and are low-volume designs. 
We looked at a variety of different brands out there, but one that stood out was La Sportiva. They offer almost all of their top shoe models in a women's version, so they feature quite prominently in our selection.
A good climbing shoe should be comfortable and enhance your climbing, whatever your level! It should fit snug, but not too uncomfortable and leave no air pockets in your shoe. 
For edging and smearing you need good sticking rubber and enough sensitivity so you can actually feel the holds you will be stepping on.
There are many climbing shoes on the market, but not all of them will work for you. You might need a beginner climbing shoe or one that is perfect for crack climbing, but whatever your shoe needs, this guide will have something for you.
Best All Around Climbing Shoe For Women 
It is impossible to find a climbing shoe that fits everybody for every type of climbing, but here is our favourite shoe for a versatile use and comfortable fit, for many different levels, suitable for beginner climbing and more advanced athletes:
Check Price and Reviews On Amazon
The La Sportiva Miura VS Women is a versatile and comfy climbing shoe, with a Vibram X2 Grip 2 Sole and a slight downturn in the shape makes its a very good climbing shoe for women. This makes for good rock climbing on steep and vertical climbing while giving your foot some support as well. 
The heel and tongue are padded for extra comfort and the women's version is slightly narrower, for a better fit.
Bottom Line: An Extremely Popular Choice for Women's Climbing Shoes
The La Sportiva Miura VS is a standard and popular model of rock climbing shoes and has been adapted into a women's climbing shoe with a narrower fit and smaller toe box. It comes both with Velcro straps or as a lace-up, whatever your preference. 
This is a good all-rounder climbing shoe that has been on the market for a while and still has many fans.
It is a technical powerhouse and whether you are climbing crimpy limestone or slabby granite, this climbing shoe will do its job. It is perfect for edging on the smallest holds and the La Sportiva Miura VS Women's are suitable women's climbing shoes for bouldering, overhangs and technical face climbing alike.
Best Sport Climbing Shoes For Women
For this type of rock climbing you will be looking at a more aggressive and more downturned climbing shoe. Sports  climbing is more about performance than comfort and long hours on the rock, so you'll be fine with trading in some comfort for that extra send! 
These types of climbing shoes are designed for shorter and high performance routes, not day-long crack climbing or multi-pitch routes. This usually means they have a more asymmetrical and downturned last and many climbers choose to buy them in a very tight fit to get extra power in the toes.
Check Price and Reviews On Amazon
The La Sportiva Solution Women's is an ideal shoe for steep terrain, hard bouldering and sport climbing. There is even a La Sportiva Solution competition model  with a softer rubber and thinner heel for greater sensitivity and a bigger toe box rubber patch. 
But we'd recommend this model for indoors. For outdoor rock climbing, stick with the standard La Sportiva Solution model.
Bottom Line: A Race Car Among Rock Climbing Shoes
This women's climbing shoe offers you a very downturned and asymmetrical last that keeps its shape thanks to a patented technology guarantee. 
The 3D pressure moulded heel cup stays in place when you need it to stick and the extra rubber on the toe box makes it great for toe hooking, too!
They are not the most comfortable rock climbing shoes in our selection, but they are the right choice for a difficult boulder problem or sports route, where you can take the shoes off straight after you've reached the top! 
It is an aggressive shoe, specifically designed for more narrow feet and with its Velcro straps, it is quick to put on and take off. They have quite a stiff midsole, which takes away some sensitivity, but this stiffness helps it keep its shape and, in turn, makes it a powerful shoe. 
They have a leather upper, so they will stretch out over time, so you might want to consider downsizing when you buy.
This is not a beginner shoe, but if you are looking to improve your level of rock climbing, this pair of shoes will serve you well.
Best Bouldering Shoes For Women 
When bouldering, you need a performance shoe. The rubber on these types of climbing shoes can be thinner for more sensitivity, and a more aggressive downturn provides extra power in your foot. Because, when you're bouldering, every step counts!
These shoes are all about getting the climbers to the next level, so they typically have an aggressive shape with a heavy downturn, asymmetric last and lots of rubber on the heel and toe for heel hooking and toe hooks. 
They won't be suitable for a new climber but are climbing shoes designed for performance bouldering.
Check Price and Reviews On Amazon
The Tenaya Women's Ra is a versatile shoe balancing precision with comfort, with a slight downturn and a Vibram XS Grip rubber stole for extra stickiness. 
This synthetic shoe won't stretch, so you know exactly what you are getting! It has a slight downturn and asymmetric shape, making them a very precise shoe, while offering some comfort as well.
Bottom Line: A Versatile Performance Shoe
The women's model is made specifically for smaller and narrower feet with a padded tongue. The 4 mm Vibram XS Grip sole offers sensitivity and good grip and is perfect for vertical terrain or slightly overhanging problems. 
Because of a double layer, it features a medium stiff midsole for extra support but thinner rubber at the toes, where it really matters. It comes with two velcro straps for optimal adjustment to your foot and, overall, is a solid choice for a women's climbing shoe.
Best Women's Climbing Shoes for Beginners
Beginner shoes should be sturdy and comfortable. Because your footwork is not very good yet, the rubber on your shoes will take quite a beating until your technique improves. 
So you need a sturdy pair with some extra rubber, especially around the toe box and heel. Go for a women's specific model made for narrow feet for extra comfort.
You will also want to buy a comfy pair in a neutral style, because it is all about getting used to climbing, making your foot muscles stronger and having fun!
Check Price and Reviews On Amazon
The La Sportiva Tarantulace is an affordable shoe at below 100 USD and is a neutral shoe with 5 mm rubber for some extra stability and a sticky rubber sole ideal for smearing and edging.
Bottom Line: A Solid Choice for Beginner Climbers
The La Sportiva Tarantulace has quite a stiff sole, so it will support your foot while you are still building up your foot muscles. There are two different closing systems available, a lace-up version and one with velcro straps, depending on what you prefer.  
The upper of the shoe is made of unlined leather, so they can stretch out a bit over time. It has a slightly asymmetrical shape, so it can be a good shoe for you once you progress past the beginner level, too.
Best Women's Gym Climbing Shoes
For gym climbing, an all-round shoe is best, so you can tackle any route or problem that takes your fancy. At a climbing gym you will have a lot of different styles of climbing available next to each other, from slabs to overhangs.
If you are training and wanting to get some mileage in, you should look at a slightly downturned shoe that is still comfortable enough to keep on for a few hours.
Check Price and Reviews On Amazon
The Futura comes with a slight downturn and asymmetrical shape, perfect to crush those hard routes at the gym. At the same time, it has a soft midsole for extra sensitivity and is a very lightweight model with velcro straps.
Bottom Line: Crush Those Boulder Problems
This is a high-performance shoe with the patented No-Edge ® technology, which increases edging performance, sensitivity and leads to a better feeling when wearing them. The upper is synthetic, so they won't stretch out over time.
It is a lightweight and thin shoe that is on the softer side, perfect to improve your level at the climbing gym. This shoe is good for any routes requiring technical footwork and will serve you well both on vertical or overhanging routes.
Best Women's Trad Climbing Shoes
Shoes for trad climbing should be flat and stable, so you can squeeze them into the smallest crack without bunching up your toes! 
When it comes to trad climbing, you'll most likely spend more time on the rock than with sport climbs or even go on a multi-pitch day out, so comfort is key!
Trad climbing shoes are more about comfort than performance and should give you stability to conserve strength.
Check Price and Reviews On Amazon
The Scarpa Women's Maestro Mid Eco shoe features an IPC-tension system, meaning that the rand of the shoe runs along each side which gives your support and tension for micro edging.
Bottom Line: Perfect For Crack Climbing
The flat shape makes the Maestro Mid Eco perfect to get your foot into the smallest crack and its Vibram XS edge rubber gives it some good stickiness. 
This shoe is a lace-up, so no velcro straps will come undone when in a foot jam!
A trad shoe should be more about comfort than performance, so this women's shoe has a neutral profile and symmetrical shape, with some extra support around the midsole to help you to send.
Best Climbing Shoes For Women With Wide Feet
Women's shoes are designed for narrow feet and a lower sitting ankle bone, so female climbers with wide feet might find it trickier to find a women's model that fits them well. 
One option would be to go for a men's shoe, but that can still be uncomfortable around the heel box. So here is a good option for women with wider feet.
Check Price and Reviews On Amazon
Like it says in the name, the Butora Endeavor Wide Fit Women's shoe is the wider set version of this model, accommodating a wider foot comfortably. But it is also lower cut at the ankle bone for a more comfortable fit for women.
Bottom Line: The Perfect Women's Climbing Shoe for Wide Feet
This shoe features a neutral last, a suede and leather upper, with a hemp lining to fight odour development. It comes with velcro straps and has split leather footbeds for extra comfort and performance. It has a slight downturn and asymmetric shape, making it ideal for many styles of climbing.
What Makes Climbing Shoes Women's Specific?
We already mentioned it above, but a women's specific shoe basically means that the last, or mould, of the shoe is adapted to the anatomy of the female foot. 
Most standard shoes are men's or unisex shoes, but women tend to have narrower feet. Women's shoes are low volume designs and tend to be shorter cut around the ankle and have a less pronounced heel arch as well as a smaller toe box.
However, like it is with all types of shoes, you should make sure to try on different models to make sure you find the perfect fit for you.   
How to Choose the Best Women's Climbing Shoes
So, how do you select the best climbing shoe for you? There are a few different factors to consider.
How to Size Climbing Shoes
Unfortunately, fit across different brands of climbing shoes is very different. While some tend to run smaller like five ten, others are the same as your street shoe size. So you'll just have to try what works best for you!
Some climbers prefer to downsize for their performance shoe to get a tighter and more aggressive fit, while maybe getting a more relaxed fit for their trad climbing shoe.
Uncomfortable Is Perfect
A general rule of thumb is: Comfortable is too large. Painful is too tight. Uncomfortable is perfect.
Tight shoes are good for high-performance climbs like sports climbing or bouldering, where sensitivity on edges and small foot holds is essential. You will also wear them just for one pitch or problem and take them off again immediately.
For long routes, trad climbing or beginners, a more neutral and comfortable fit is recommended as you will be in your shoes for a longer time!  
Shoe Shape & Fit
Climbing shoes come in three different types, describing their general fit and purpose: Neutral, Moderate and Aggressive.
Neutral
Neutral shoes have a more relaxed and flat fit and are good for beginners, multi-pitches and long days out. They have stiff midsoles for more support and a flat profile for foot jams. They are less sensitive and not ideal for overhanging routes and toe hooks.
Moderate
Moderate shoes have a slight downturn for more technical climbs, have thinner soles and more sticky rubber, so your footwork should be good so as to not burn through the thinner rubber fast.
Aggressive
Aggressive shoes are, like the name implies, focusing on performance and feature a more aggressive downturn and asymmetrical shape. They are made for performance, not comfort and ideal for single-pitch sport climbers or bouldering.
Depending on what style of climbing you will be doing and your level, you will be able to decide on the adequate style of shoe.
The Fit
Now onto the fit. Climbing shoes should have a snug fit and leave no space or air pockets. The heels should fit well into the heel box, and it is a good idea to stand on your tiptoes to make sure they don't pinch your Achilles tendon.
Depending on the lacing system or velcro straps the shoes can be fast to put on and take off, but whether you like laces or velcro is mostly a matter of personal preference, except for trad shoes. These should have laces, as a velcro strap could come undone in a foot jam.
Leather vs. Synthetic
The upper of the shoe, or what the shoe is essentially covered with, can be either synthetic material or leather. What you choose is personal preference, but there are some differences.
To Stretch or Not to Stretch
Leather shoes tend to stretch and can grow up to a full size when they are properly broken in. Synthetic shoes, however, don't tend to stretch, so you should always get the size you want them to be. Conversely, you could get away with buying leather shoes a bit smaller.
The Compromise
There are also models that are made of leather but have a synthetic lining, so these do stretch, but a bit less. Give it half a size up.
Where Do You Normally Climb?
Depending on where and what style of rock climbing you will be doing, a different shoe will be perfect for you. If it is indoor bouldering or outdoor trad multi-pitches, you will have very different demands for your shoe, so over time you are likely to accumulate different shoes for different styles of climbing.
But in our handy guide, there is something for everybody!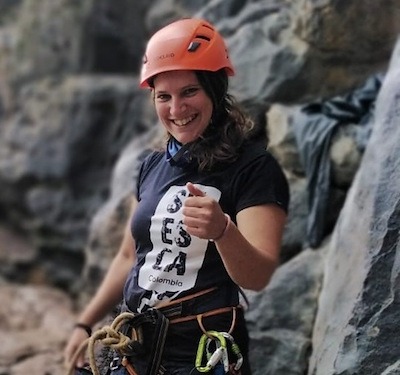 Hi there, I am Mirjam and have recently discovered rock climbing for me while backpacking in Colombia. Originally from Switzerland I currently live in Venezuela and work as a freelance writer and translator. I have always loved being in nature and the mountains and am stoked to explore more of the world's best climbing in the years to come!
You can find me at @mirigoesround or www.bosstranslations.com