How small should climbing shoes really be? 
Do I need to get a rock climbing shoe that is 2 sizes smaller than my usual size?
 Buying climbing shoes can seem difficult, especially when it's your first time.
There is a wide variety of climbing shoes for men and women, different foot shapes, for all types of climbing and levels of experience, so there is the perfect shoe for you out there, too.
In this article we want to talk about the fit of climbing shoes and what you need to keep in mind, when treating yourself to a new pair of shoes to make sure, the shoes work perfectly for your foot shape.
Hey! By the way… this page contains affiliate links. So if you make a purchase after clicking one at no cost to you we may earn a small commission. Thanks for your support!
Climbing Shoe Type
The first thing to understand with climbing shoes, is that  there are three broad types of climbing shoe fits. 
Depending on your level of experience and the type of climbing and route you will be doing, you will need a different style. 
The type refers to the overall shape of the shoe, or the "last" it's been made from. The "last" determines the angle of the downturn, the symmetry of the shoe and the space allocated for the toes for example. 
Here we will explain them in more detail:
Neutral
This is the most relaxed fit and comfortable shoe. They are suitable for beginners as they generally keep your toes flat and are also ideal for multi-pitches areas and trad climbing for more experienced climbers. 
They often have a stiff midsole along the whole shoe to offer extra support and because of their flat profile, they are suitable for crack climbing also. Because of their stiff sole however, they do not offer a lot of sensitivity and because of their shape, are not ideal for overhanging routes.
Moderate
This type of shoe features a moderate downturn for more technical climbs, which makes them ideal for more difficult routes. 
They also tend to have thinner soles and stickier rubber for extra sensitivity and friction when smearing. This shoe is good for a variety of climbing styles like slabs, cracks, long pitches and even overhanging sport-routes. 
Generally they're more powerful than a moderate shoe, but also more comfortable than an aggressive shoe because they are downturned, but not as much as aggressive shoes. 
In addition, they tend to have thinner and more rubbery soles than neutral shoes, which makes them more sticky but also more prone to abrasion so they are better suited to more experienced climbers with better footwork.
Aggressive 
The racehorse-shoe. 
They are asymmetrical and have a strong downturn, which helps to give a lot of heel tension. 
They are ideal for single-pitch sport climbs or bouldering. With this shoe you will have lots of power in the big toe, but they are also less comfortable and often the most expensive kind of shoe. 
The added preference comes with a downside however, as aggressive shoes are less suitable for crack climbing or long routes.
 They are often bought down-sized for an ever tighter fit for more sensitivity.
What is the Right Type For Me?
There is not "right" type of climbing shoes for anyone as it really depends on the climber and the goals of the shoes. For more information, I would check out our full article on the top climbing shoe options out there.
How Should Your Feet Fit in Climbing Shoes
There are three main considerations which affect the way your climbing shoe feels on your foot. 
1. The fit: tight but not painful

2. The features: closing system, rubber

3. The shoe type: there are 3 types, neutral, moderate and aggressive
We will explain all of those three points in more detail below, so you know exactly what to look out for when you are buying a new pair of climbing shoes.
The Fit: Tight But Not Painful
How should climbing shoes fit is a big question, so we will first look at the overall fit of the shoes, considering your foot shape and the kind of climbing you will be doing in them. 
The more you climb you'll eventually learn that you need different types of climbing shoes for different types of climbing! 
And FYI, tight climbing shoes will not always be the best choice. 
Just try, try, try
But as a general rule of thumb, climbing shoes should fit snug, have no air pockets and hug your heel and toes tight without being uncomfortable. 
There should be no gaps in the shoe that make it move around when you apply force to it. 
Unlike street shoes, your toes should touch the front of your new climbing shoes and can even bunch up slightly. But your toes should be flat or comfortably curved in the toe box, without your toe knuckles painfully pushing against the top of the shoe.  
The heel should be tight and to find the right fit, it is a good idea to stand on your tip-toes to make sure that the back of the new shoes doesn't pinch your Achilles tendon.
There are many women's specific climbing shoes on the market nowadays. These shoes tend to have a more narrow design and also a slightly smaller heel box and overall a low-volume design to cater for the differences between women's and men's feet. 
Women's shoes are also quite popular for men who have narrow feet, so if you're a guy who can't seem to get the fit just right (especially on the heel) this might be a solution. 
Many big brands like La Sportiva actually offer a women's version of their most popular models of climbing shoes. 
Experience and Climbing Type Matter
We will look into this in more detail below, but beginners should focus on stiffer, more comfortable shoes, while more experienced climbers will choose more aggressively shaped and downturned shoes.
Stiffer shoes will give you more power while climbing. 
Different brands focus on different things, so to find the right shoe for you, you will have to try different models and brands to see what works best for you. 
If you are focusing on bouldering and sport climbing, you should get tighter shoes with more sensitivity on the edges, that work well on small foot holds and overhangs. 
If you are going on longer routes or trad climbs, you will want your feet to be more comfortable because you will be wearing your shoes for a long time.
Features: Rubber, Edging and Smearing
When it comes to the sole of your climbing shoe, there are a few different things to consider. 
The type and stiffness of the outsole does not just determine how stable the shoe is and how much  support it gives your feet, the consistency of the rubber also determines if the shoe is good for edging or smearing and how sensitive it is.
Soft and Sticky vs Hard and Durable Soles
There is stickier and softer rubber, which is less durable and wears down faster, but has more grip on the rock. 
A stiffer, harder and more durable material can be better for edging and gives your feet more support, but such shoes will offer less sensitivity because they often tend to have a thicker sole.
If you want soft or stiff shoes depends on your level of experience and type of climbing.
A soft shoe model is more sensitive and better for hard boulders or sports routes, but less supportive for your feet. 
These shoes are more suitable for experienced climbers. Their sole is usually 3 – 4 mm thick.
The stickiness of the rubber gives you more traction but they will also wear down faster especially if your footwork is not very good yet, so this is more suitable for experienced climbers or if you climb almost exclusively in the gym.
Stiffer shoes offer more support but also lose some sensitivity, they are good for beginners and crack climbing. The harder material is good for edging but not as good for smearing. Thicker shoes vary between 4mm to 5.5 mm of thickness.
Features: Closing System
Another thing to consider when fitting your shoes, is the closing system. Depending on how the shoes are tightened up, they can fit differently. 
There are 3 different types: laces, velcro straps and slip-on shoes, all of which have their advantages and disadvantages. 
When it comes to the  fit, the adjustability of the closing system will determine how well and in how many points you can adjust the shoe to fit you perfectly. 
Laces, Velcro or Slip-on
Lace-up shoes have the highest adjustability out of the three but also take the longest to put on and take off. But they allow you to tighten different parts of your shoe exactly how you like it, so they enable you to really customize the fit. 
Some models have a padded tongue, so you won't feel the laces on the inside. Some shoes also have the laces more to the side, to avoid abrasions of the laces in foot jams, but without impacting their adjustability.
Velcros are quick and fast, but mostly there are only one or two points on your shoe where you can fasten them. 
This means that the parts in between the velcros so to speak, can't be adjusted for a better fit. They can also get dirty over time or stretch out slightly, which makes them less precise in the adjustment. 
Slip-on shoes are fast to put on but as they can stretch over time, make sure to choose a snug and secure fit, because you won't be able to tighten them up.  
If you choose a leather slip-on pair, keep in mind that these models can stretch out up to a whole size. 
With slip-on shoes, it is especially important that the heel fits well but with those models, a bit of movement in the heel box is almost impossible to avoid. 
Socks With Climbing Shoes
Most people do not wear socks with climbing shoes. That being said, if you plan on wearing socks some or all of the time, that will dramatically change the fit of the shoe. It is recommended that you try the shoes on before you buy with the socks you'd like to use.
Does Resoling Climbing Shoes Affect Their Fit?
Resoling climbing shoes can have a minimal impact of the shoe fit, however, it is in most cases very minimal. In other words, a resoled climbing shoe should fit very similar if not identical to that prior to the resoling.
This is actually one of the main benefits of resoling your shoes, as you do not have to go through the hassle of 'breaking in' new ones.
How Should Beginner Climbing Shoes Fit?
As a beginner, you should mainly focus on comfort while you get used to climbing and work on your footwork and overall technique. 
Don't get super aggressive and tight shoes that hurt a lot as that will put you off climbing very quickly.
A flat shoe with a stiffer midsole is best, to give your foot some extra support while you are building up your foot muscles. 
The fit should be snug but without being painful, but the shoes should be a bit uncomfortable at first, until you get used to the sensation.
They should not be painful as to distract you from the climbing itself!
Because beginners don't tend to have great footwork, get a shoe that can take a beating. 
(This means)
Get a thick and hard sole, to not only support your foot but also not wear down super-fast while you are quite literally still finding your feet. A neutral shoe with a rigid sole is ideal.
How Should Aggressive Climbing Shoes Fit
As the name suggests… aggressive climbing shoes are not about comfort. 
They're about smashing that hard boulder problem or sports route and focus on performance, not comfort. These shoes fit tight, have a strong downturn and asymmetrical shape, to get your toes the full power you need.
Such performance shoes often have a softer and thinner sole, for extra sensitivity on small holds. 
They will often have a bigger rubber toe patch as well, to deal well with overhangs, toe hooks and heel hooks. They're also suitable for an experienced climber, who wants to climb at their best level and highest performance.
How Should Crack Climbing Shoes Fit?
Crack climbing shoes should have a flat profile to fit in the smallest gap for a foot jam and should also be comfy enough to be worn on longer routes or even on multi-pitches. 
They are less about  performance than an aggressive shoe, but more about giving you power but also comfort while you work on placing gear. 
Trad shoes tend to be a bit stiffer to support your foot when you twist it into a crack for a foot jam. They also have a flatter profile, so the knuckles of your toes don't get crushed when squeezing your foot into a crack, like it could be the case with an aggressive shoe with a strong downturn.
Why Do People Wear Climbing Shoes Tight Anyways? 
Tight shoes mean more power on the big toe and the downturn and asymmetry concentrate all your weight on a smaller surface. 
A tight fit in a downturned shoe gives you more power and control on small holds on difficult routes and can improve your climbing. 
This is mostly the case with more experienced climbers, who are willing to trade in comfort for this performative aspect.
Depending on your level of climbing and what style of climbing you want to use your shoe for, a tight shoe is better suited for your project. 
For a hard boulder problem or overhanging sport route, a tight and aggressive shoe is best, while more neutral and more comfortable shoes are better for a day out on a multi-pitch or a long trad route, where you won't be able to take them off so fast.
Depending on the material, some shoes tend to stretch out over time and with use. So, if you are buying a leather shoe, you might want to buy it quite tight because you know that the upper can stretch up to a size over time.
Breaking In Climbing Shoes
An important note regarding virtually any shoes you buy is that you'll need to break them in. Breaking in climbing shoes is another topic all together, for that reason we have a compete article on it. But here are some things to keep in mind.
There are two types of materials in general. Leather or synthetic. 
Leather shoes tend to stretch up to a whole shoe size, but remember, but only the upper will stretch, the length of the shoe is determined by the rubber sole, so they won't stretch out in length.
Synthetic shoes don't stretch and should not be bought smaller than necessary. There is a middle way, leather shoes with a lining tend to stretch only about half a shoe size.
Every climbing shoe brand has their own sizing. 
A size 8.5 La Sportiva shoe is not necessarily a 8.5 shoe size for a Five Ten shoe. 
To see what works best for your feet, you will just have to try on different brands until you find the right size.
Does Washing Your Climbing Shoes Change the Fit?
If done correctly, washing climbing shoes has no change to a climbing shoe's fit. However, washing with very hot water or the use of certain strong detergents can have permanent effects on your shoes. For this reason we'd suggest you take a look at our full article prior to attempting to make your shoes shine like new once again!
Last Thoughts On How Your Shoes Should Fit
So, how should climbing shoes fit? 
They should be tight and uncomfortable, but should not hurt your feet. When you are buying your first pair of shoes, be realistic about how much pain you can endure during the many hours you will spend improving your technique. 
Climbing shoes won't be as comfortable as your street shoes, but also don't go overboard with your new shoes. Meaning, don't get a super aggressive shoe as it won't make you a better climber. 
If anything, it will make climbing less fun because your toes will be in pain all the time! 
Get a comfortable, snug fitting shoe to start out with and over time, you can always "level up". 
There are also good places to buy used climbing gear online, so that might be an option if you are worried about getting into an expensive hobby.
Aggressive shoes are suitable for experienced climbers and on short routes. If you are looking for an all-rounder, look at a moderate shoe, which gives you a good mix of the comfort of a neutral shoe and the power of a more aggressive model.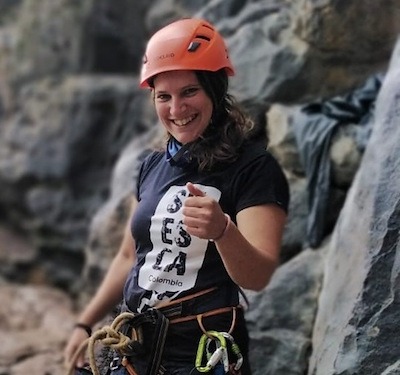 Hi there, I am Mirjam and have recently discovered rock climbing for me while backpacking in Colombia. Originally from Switzerland I currently live in Venezuela and work as a freelance writer and translator. I have always loved being in nature and the mountains and am stoked to explore more of the world's best climbing in the years to come!
You can find me at @mirigoesround or www.bosstranslations.com