"Quien no vive para servir, no sirve para vivir."
When Gena and Andrew Thomas first moved to Mexico to teach English in 2009, they did not have plans to stay in one spot for long. They worked at a school and served as youth pastors in El Carmen, a small town which they quickly realized was a mere fifteen minute drive from the towering limestone cliffs of El Potrero Chico. 
A climbing junkie all through college, Andrew had brought his gear across the border with him just in case. He was awe-struck by EPC, and excited to know he could continue his favorite hobby in his free time. 
But there was something he and Gena did not yet know: that their love for climbing and commitment to serving the Mexican community would collide in spectacular ways.
If you're looking to find climbers, head on over to our FB GROUP and drop a post with your dates!
Soon after they arrived in El Carmen, Gena and Andrew learned about a nearby town called Mission. Their local church, Centro de Fe, was going to start running small bible studies there, and one of their pastors mentioned it did not have a middle or high school. 
Children in the town had to either use public transit to access schools in another area (which they often could not afford), or quit attending school after the fifth grade.  As they began running the studies, they discovered many kids ended up doing the latter.
Andrew recalls, "some of the kids we were working with were dealing with stuff I couldn't even imagine…heavy, painful. I thought, how do we do anything for these people?"
 Mission needed so much structural help – to a degree that Gena and Andrew felt totally unqualified for. But as it turned out, there was something they could do.
 Despite admittedly not knowing anything about coffee, Andrew knew he liked it. He figured it would be rad to create a coffee shop-style space that could connect the international rock climbing community with the local Mexican community. 
At the time, the pastors at their church dreamt of building the middle school that Mission so desperately needed. Gena and Andrew realized they could also use a coffee shop to raise money to make this dream come true.
 And thus, El Búho Café was born.
They moved into an apartment in the town of Hidalgo, which guards the famous entrance of El Potrero Chico canyon. The iconic route, El Sendero Luminoso, looms tall over the cement rooftops. 
On a clear night, you can often see  dots of headlamps at the pitch-five bivy ledge from as far below down as the little grocery store, La Mexicana. For many of the local residents of Hidalgo back then, relations with the swarms of predominantly English-speaking climbers seemed as distant a possibility as the headlamps on the intimidating, sheer face of that route.
Despite all the climber campgrounds being two kilometers up the road towards the rock, Gena and Andrew picked a location for the café deeper in town so that it could be more accessible and welcoming for local Mexicans. To start building a bridge. 
They also hoped it would draw climbers down closer to experiencing the local culture and food, instead of just eating PB&Js made with supplies they packed from the States.
Jon Mackey, their friend who ran a coffee business in Louisiana, moved down to Mexico to help out and give them a crash course on all-things-coffee.  They took a road trip across the U.S. to buy the espresso machine and roasting equipment out-of-pocket. After a little vision, a lot of renovating, and a tiny private ribbon-cutting ceremony, the café opened its doors in November 2010.  
Initially, climbers thought it would not work out because the café was not at the base of the mountain. "But after a while", Gena says, "those same people became regulars". 
The space grew with each cup of coffee served, and El Búho steadfastly pursued its mission from day one. Eventually, Gena and Andrew decided to move back to the U.S. to raise their son and transferred the café into new hands.
Looking back, Andrew is really happy with what they started: "Coffee was just the medium; the goal was to provide the space for community. The space for stopping and talking about life…to be real people that care. I took climbers to the airport, to the hospital…we cooked boat loads of food for all kinds of folks. We took local kids out climbing all the time, had community meals. We just wanted it to be a welcoming place to rest, to send an email to your mom to tell her you're not dead."
Over the past ten years, the Café has been a home-away-from-home for the countless climbers that have visited El Potrero Chico.  It has also provided unique and impactful opportunities for the climbing community to give back. 
EPC climbers themselves helped in the process of building the school in Mission, carpooling to the town on organized "Work Days" to set the foundation, lay concrete, paint, etc.
The Café staff work up to 40 hours a week without compensation and still pay rent for the entire six months of the climbing season. (This is so that all the café's proceeds go towards the construction of the school in Mission.)
It's no easy job – on a rainy day in December, some 70 customers can enter the shop!
 The staff also volunteer and participate in training for the EPC Rescue Team, cook and host Thanksgiving and Christmas dinners, weekly communal BBQ nights, and sometimes run their own outreach projects. 
Jessica Bisner, a volunteer in the 2018-19 season, organized Potrero Chicas – women's climbing meetups – on top of all of her other responsibilities. It is still run today by local Mexican climbers Karla Moya Plata and Veronica Morales.
 As a faith-based operation, the Café maintains partnerships with Centro de Fe alongside several churches and organizations in the United States.  It also fosters close relationships with members of the local Mexican community who played a critical role in starting El Búho and navigating the complicated bureaucratic processes of starting a school.
 Management of the café has changed a few times over the years, and it is now under the direction of Jan Millsaps and Sean Hible. Jan is a climber and friend who served with Gena and Andrew at the school in El Carmen, who has been living and  in the area for over a decade, and has also been involved with the Cafe from its beginning.
 After ten years of hard work and good faith, the school in Mission will finally open this fall. Jan and the Búho team will continue their financial support of the school, but plan to eventually provide aid to other local education projects. 
They hope the café will inspire others to open El Búhos in climbing areas around the world.
Rock Climbing El Potrero Chico
If you're looking for more info, check out our article El Potrero Chico's rock climbing.
(1)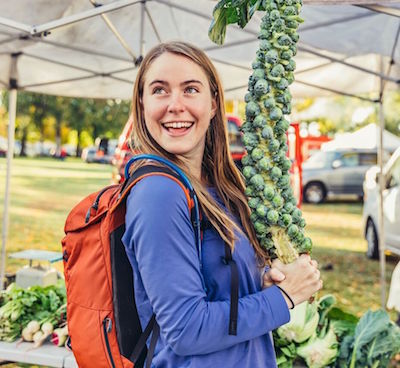 Melissa is a full time van-living outdoor enthusiast hailed from Florida. After deciding to spend her freshman summer of college living out of a tent to work and climb in the Red River Gorge, Kentucky, her life changed forever. She found her way to El Potrero Chico, Mexico in the winters, where she fell in love with travel and community. Post-graduation, she drove from Florida to Alaska to experience its world-class backpacking, then worked her way back south to explore climbing spots throughout the western U.S.
Meeting countless amazing people, hearing their stories, and learning the histories and struggles of local areas through minimalist travel, climbing, and hiking has inspired her to share these experiences with others. Her passions include improving intersectional access to the outdoors and responsible environmental stewardship.