Did you know El Chorro is the most popular climbing area in Southern Spain and is considered one of the best "mid-grade" areas in the world.
And it's easy to see why.
Hundreds of routes, cheap living, perfect winter climbing temperatures and robust community are just a few reasons to visit.
Not to mention…
And for you non-climbers our there, the newly renovated Caminito del Rey provided and incredible opportunity to dip your toe into this world without needing gear of your own.
All this is to say, El Chorro has something for every outdoors lover.
In this article you'll find:
El Chorro Climbing Area Overview
Nestled away in the foothills of the Cordillera Antequerana, who are themselves a part of the Penibaetic system of mountains that run across the Andalusian region of Southern Spain, lies the limestone paradise that is El Chorro. 
Only an hour from the bustling hub of Málaga on the Mediterranean coast, Chorro is a world apart. A tranquil oasis where time seems to stop, and the outside world disappears. 
Perhaps most well-known for the once infamous Caminito Del Rey walkway, for climbers it's an outstandingly diverse location, with close to 2,000 routes in the vicinity. 
This is partly due to its rich history, having been one of the first areas where sport climbing was developed in Spain in the 1980s. The fact that development is still ongoing today gives you an idea of the extent of the climbing to be found. 
The sleepy village revolves around two industries- the tourism brought about by the Caminito and outdoor recreation such as climbing, and the Hydroelectric plant for which the Caminito was originally built for. 
Perfect for climbers of every level, Chorro has something for everyone.
From endless well bolted single lines to short and long multi pitch routes, some more adventurous trad and sport, a Via Ferrata and even some huge aid lines! 
Given its location only 50km North of the Mediterranean, it's perhaps the best winter climbing destinations in Europe. 
Combine that with Spain's other world class climbing destinations like Margalef or Chulilla, there are many lifetimes of rock climbing to be had!
Suggested Gear El Chorro Spain Climbing: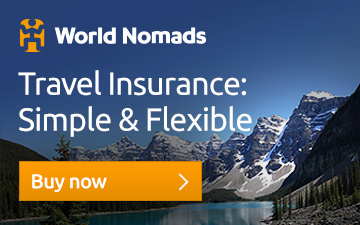 Be aware that most of your health insurance plans will not cover you in Spain. 
Couple this with adventurous activities like rock climbing, risk of lost baggage or theft, and the all-too-common food and waterborne illnesses, and you've got a recipe for disaster. 
Furthermore, many travel insurance agencies claim that they cover "adventure" sports like climbing… however, when you read the fine print, they add in special stipulations like requiring you to climb with a certified guide to be covered.
The fastest, easiest, cost effective, and most respected travel insurance in the world which covers you for your mountain adventures is World Nomads and is what I use every time I travel. 
During the research of this article we found various suspicious insurance companies, either that claimed to cover rock climbing or took us to sketchy looking websites that don't over you for at all.
After scouring the internet, and years of on the ground research, we've found time and time again that World Nomads offers the best price for travel/rock climbing insurance.
Make sure to click one of the links on this page to ensure you're going to the official website.
Also, make sure to select the "Explorer Plan" on the next page as the "Standard" plan does not cover outdoor rock climbing!
Go here to read more about travel insurance and you can't travel without it!
Our Recommendation: "Spain El Chorro"
340 pages, the most extensive guide available

Updated edition showing new routes

Hundreds of beautiful color images making route finding quick

Tons of topos and areal views to make finding trails easy

Updated beta on bolt conditions and unsafe routes

Ranking scale to easily find mega-classics

Purchase supports local bolt fund
Reaseased in 2018, the El Chorro guide by Rockfax is the most up to date and conclusive guide out there.
It covers the overwhelming majority of climbings at El Chorro, and some other select crags around Andalucia.
The guide is beautify done, well organized and easy to manage. Not to mention, there are thousands of high quality color photos and topos to point you in the right direction with an easy to follow ranking scale to make plucking the classics a breeze.
Make sure to pick up a copy prior to arriving, as the guide commonly sells our at El Chorro itself and when it is available is sold at elevated prices.

Other Gear
Other than that, nothing particularly special.
A standard sport climbing gear (~14 draws), helmet, 70m rope, there's the very very odd route that needs an 80m, but they tend to be in the upper grades. 
A pair of halves can be handy if you want to multi pitch as a 3, or for quicker abseils, but again, not necessary. 
A warm jacket & sleeping bag (if camping) for the nights in winter, as well as a headtorch.
It is possible to rent gear, but I'd recommend just bringing your own.
Oil-Free Sunblock, climbing tape, salve (the grey rock tends to be more crozzly and sharp on the skin, the orange rock a bit easier), and rope bag (tends to be dusty at the bases) are also recommended. 
El Chorro Spain Climbing Overview
Where to begin! The great thing about Chorro is that there's no definitive answer, rather a multitude of crags and sectors that all have different reasons to climb at them. 
I've listed the approaches as being from the two main campsites/lodges, you can add/subtract as necessary if you're based elsewhere. 
The climbing varies, with a lot of technical climbing on slabs to vertical and slightly overhanging. 
If you're looking to find climbers, head on over to our FB GROUP and drop a post with your dates!
The rock is generally solid, but it's worth wearing a helmet, especially at the taller areas like Frontales and the Arab Steps, where you'll often have climbers above you on multi pitches. 
The limestone varies in colour, with the grey rock tending to be sharper and more pocketed, and softer but crimpier orange faces that tend to be steeper. 
Due to the wide expanse of crags, Chorro's climbing, although popular, rarely feels crowded and there's always a quieter area available.
Frontales Crag (~30 mins):
While there are a few single pitch sectors in Frontales, the main draw of this looming hulk of a cliff are the multi-pitches dotted across the faces. Ranging from 4-10 pitches, they generally follow good, solid, clean rock, and new lines are still going up. 
Particularly in the lower grades, several quality lines have gone up in recent years, the pick of the bunch being Lluvia del Asteroides (5c, 8 pitches). It takes the eye-catching ridgeline which is the first bit of rock you catch sight of when you step off the train upon arrival. 
In particular, make sure you go right to the back of the big ledge at the top of the 7th pitch, and peek in around to your right ;). 
The "classic" of the crag is Amptrax (6a, 9 pitches), and while it is in a wild position for the grade, it is unfortunately quite polished- the nearby Ebola (6b+, 6 pitches), Apocalypsis (6c, 7 pitches) and Mar de Fuego (7a, 7 pitches), although harder, all give higher quality climbing in my humble opinion. 
While you can walk off the pitches in the Amptrax sector, abseiling is simpler and quicker, and can be done on a single 70m.
Some shorter multi-pitches lie in the Austria sector- Valentine's Day (6a, 4 pitches) and Nitti (5c, 2 pitches- although it can be extended into an excellent 6 pitch 6b called Bombay Sapphire) make for great shorter days out, while Estrella Polar (6b, 10 pitches) in Solarium just to the left gives a great argument about which of the brilliant crux pitches is best (It's the 2nd 6b. Just saying.)
A final note about the multi-pitches in this area is that while most of them can be abseiled, it's definitely worth doing the walk off at least once, as it gives wonderful views down into the valley on the far side and a nice hike down past the Arab Steps, with the potential for more climbing if you're fast enough!
In terms of single pitching, the most eye catching and famous sector is the fabulous Poema De  Roca cave. Steep cave climbing pretty much all in the higher grades (7a-8b+). If you're climbing mid 7s, the cave and Encantadas are two of the best places to be. 
Perhaps a slightly more amenable area is down around the corner, in Sectors Suizo, Mundo and Momia, with a large selection of 2-3 star steep, long single pitches on bulletproof orange rock at everything from 5c to 7c. Some pitches are 35m+, but can be doable on a 70m with the use of intermediate belays from other routes. Be sure to check before you set off! 
Momia is also home to the absolutely wild 4 pitch 7a Café Burbuscon. The crux pitch involves a "6 foot penis tufa" hug before longer and wider moves lead to the base of the last pitch (slight note- it's a newer route and there's still some loose rock at the start of the last pitch). 
Be careful, particularly if there's climbers single pitching at the base. This steep hero jug hauling top pitch is the type of setting a friend described as what they looked for in Tom Cruise's infamous free solo scene in Mission Impossible- get on it!. 
While technically part of Frontales, Los Albercones and Castrojo lack the same sense of scale, but make up for that in terms of access. 
Perfect for a first/last day hit with mostly 20-30m routes, they're a 10-minute walk from the train station (or a 5 minute sprint if, say, you take longer than planned on a route and end up nearly missing your train…). 
They are a good choice to swap between at different points of the day, with South facing Castrojo getting all the sun going, while Albercones is shaded under the trees. 
Albercones is great to start out if you want to practice some falls, having several steep routes around 6a with clean fall zones. Putiferio (6a), and Un Monton de Chatarra (6a- 35m, but goes fine on a 70m- just tie your knot!!) are two of the best in these sectors. 
The one downside to their proximity to the village is that they can get busy at times- but this problem is answered by the crags below.
Central and Lower Gorge (45-60 mins):
The car park that lies between the two above crags gives access to the Central Gorge, and an area I recommend visiting. 
The longer approach to Los Cotos and El Polvorin is more than made up for by the beautiful secluded oasis they are situated in, while the couple of routes still climbable in the Lower Gorge give a more full-on experience. 
Although technically not allowed, hopping the fence into the train tunnels (at a green electricity box is handiest) at the Albercones car park allows much faster access to these sectors and are used by the majority of climbers without issue.
The official directions involve a long walk going up and around the back of the gorge- although I haven't done it, it is meant to be a lovely hike. 
Going through the tunnels has the splendid added benefit of taking you directly through the incredible architecture of the Lower Gorge; vertically stacked sheets of limestone soar skywards in the narrow fissure while the river rushes loudly through the narrow confines at the base. 
It's incredibly awe inspiring, comparable to being in a massive cathedral as you look out the "windows" of rock between tunnels. 
For those concerned, the trains run very infrequently, and there's more than enough space to accompany both train and climber (speaking from experience!) in the tunnels. Just don't be the idiot who walks along the middle of the tracks.
The Lower Gorge used to be a well-developed area, but, sadly, a lot of access is lost now due to the new Camino. The main route that still gets climbed in the Sector is Zeppelin (6c+, 10 pitches). 
Both the 6c and the 6c+ part of the crux pitch can be aided, and while not easy, if it's anywhere within your range, it should be at the top of your list to do. Brilliant climbing in an exceptional setting and an adventurous approach and walk off, all in the eyes of busloads of tourists on the Caminito! 
Make sure you have a method of hauling/ascending a few meters, as there is the potential to end up hanging in space on the crux pitches, while the approach is to ab in off the inner side of the bridge at the North end of the gorge. 
The last 2 pitches only have a couple of bolts, so it might be worth bringing a few nuts although they're little more than a scramble. 
The other main route that still gets done in the gorge is Africa (4 pitches, sandbagged 6b+). A mix of a few bolts and trad gear (up to a big grey cam), currently the sketchiest part is the approach. I wouldn't recommend it in its current state (as of January 2020 you've to do a tyrolean, then haul across fixed ropes that are core shot). 
But check with the guys at the Finca campsite as there was talk of replacing the ropes, and if replaced, this is excellent, excellent adventure climbing in a unique position and was one of the highlights of my most recent trip.
On the calmer side of things is the Central Gorge containing the laidback slabs of Los Cotos that lie beyond the main gorge. This area must be the most peaceful in Chorro, an absolute suntrap, and you're almost guaranteed to have the entire area to yourself. 
This and El Polverin were among the first areas to be developed in Chorro, and, as a result, can feel a bit old school. The Rockfax guidebook is decent at giving you an idea of the state of the routes. 
Number One (5a) and Super Galleta (6a+) are both lovely slabby climbs on grey rock, while around the corner El Polverin gives vertical, long, pumpy pitches that will be heaven for anyone operating around 6c. 
It's honestly worth getting here even without climbing much. You can get down to the river for a swim, and it's easy to spend a great day while not climbing!
Las Encantadas Crag (5 mins):
About a 5-minute approach from the two campsites, or 15 from the village, The Enchanted Crag is steep, imposing, and fantastic single pitch climbing on mostly vertical bulletproof orange limestone. 
Mainly consisting of harder routes, Generación Limite (7b+), La Ley del Cateto (6c+), Dura Vide de la un Frekee (7a) and Sara (7a+) are brilliant climbs. These are the only ones I can attest to having tried personally, but I've yet to hear anyone mention a bad thing about most of the climbs there. Indeed it's only fault is that it catches all the sun, so can sometimes get too warm. 
There are some easier climbs towards the left-hand side, but they're much shorter and somewhat overshadowed by the rest of the crag. A better option for lower grades is the smaller outcroppings of Los Olivitos, Bedees and Cocina Caliente (concentrated around 5s to mid 6s), all within a couple of minutes stroll of Las Encantadas.
Further along the road Eastwards lies Corral East. Part of the crag is off limits, but Three-Sixty (4b, 6 pitches) can provide a nice introduction to multi pitching, as well as allowing you to reach the highest point in the area for the views.
Arab Steps (~40 mins):
Although this is a longer walk in than most of the other crags, it's still short, and the views and climbing more than make up for it! It's one of my favourite crags and probably has the greatest grade range out of the Chorro crags, all within a relatively compact area. 
The Steps themselves consist of nearly 300 roughly hewn steps with climbs strewn alongside them, which can sometimes make for some interesting belaying around hikers, mountain bikers and other climbers! 
Going up the tooth at the top of the steps is great fun – via which route (3a-6b) matters less than the position on top of the pinnacle. 
The Upper Crag boasts steep slabs of pocket limestone and tends to have the most people. 
El Canalillo de la Mari is a brilliant romp up a corner, with only a short section moving right at the top giving it the 6b+ grade. Amur Sandunguero (6c) and Engendro Caneri (6a) are exquisite 2 pitch routes, or loooong single pitches with increasingly spaced moves and techy footwork, and fun groove climbing through some cool features respectively. 
For those who enjoy grooves, Diedre Torpedol gives a sustained battle (6c). Further down toward sectors Sergio and Suiza, the angle sits back and the grades ease. 
Yo y mi resaca (6a) is worth doing but is only allowed after a party night! For Fite is one of the best 6b+'s I've done with a hard start followed by beautiful moves the whole way to the top- just doable on a 70m. 
Suiza also has a great selection of easy long multi pitches which make for a great day out. Blue Line is undoubtedly the pick of them (5c, 12 pitches), taking you the full length of the crag. 
When you top out, head up and right along the ridge to the summit plateau, maybe 100m away, on flat ground with beautiful views and a great spot to lunch afterwards. 
Don't even try abbing as the low angle inevitably means stuck ropes- the walk down the backside is short and enjoyable, with the bonus potential of coming across some of the local Iberian Ibexes.
Honorable Mentions of Other Crags:
The crags I've gone through here are aimed at those without access to transport. 
For those with a car, there's a range of crags further abroad, several of which are covered in the Rockfax guidebook. The most prominent of which is the Makinodromo sector, home to the famous Lourdes (8a). 
It is accessible by foot, but it'd be a long, although very nice, walk (around 2 hours from Chorro) and comes highly recommended particularly for those operating in the upper grades. 
Further afield areas such as Desplomilandia, Túron and Puerto Rico are easily accessible by car and offer a change of scenery and style from Chorro.
Other Recommend Spanish Climbing Areas
Spain is completely full of climbing, I've essentially never heard of another country so packed with climbing. For this reason, i've included a few highly recommended areas.
Chulilla
Chulilla is the best crag you've never heard about. It is essentially a valley with huge 30-40m climbs on both sides. Most of the climbs are vertical to slightly overhung, my favorite style. That mixed with easy walk ins, great van life spots and a solid community makes it a must visit spot.
Margalef
Margalef is stuff of legends. It has exploded into the spotlight in the past decades after a handful of famous climbers started putting up extremely difficult routes. That beings said there are now over 1,500 bolted routes, many of with are suitable for beginner climbers. It is defiantly worth checking out.
El Chorro Spain Climbing Guidebook/Topos/Websites:
Cartowall has a number of high resolution topos, while Bernabe Fernandez's website (a Spanish climbing legend responsible for much of the climbing development around El Chorro) and The Climbing Lodge also have several useful topos. 
There are a couple of locally produced guidebooks, but Rockfax provides probably the most comprehensive guidebook for the area, and is the easiest to get.
 On top of this, the campsites have various topos and guidebooks available and are a great source of information about routes.
El Chorro Spain Climbing Campground & Gear Shop
There are a few different options for accommodation in Chorro, but the main two are the very handy and highly recommended Finca la Campana and The Olive Branch. 
Located beside each other, they are similar in style, with a mix of options from camping (~€9/night) to bunkhouses (~15) and guesthouses (varies). Both can also supply camping gear if you don't fancy bringing your own. 
They've a similar range of facilities (swimming pool, pool table, slackline), but the draw for me is the small shop in Finca- it only stocks basics (cheese, bread, some fruit, biscuits, rice, sauces, beer, etc.) but you can stick it on a tab and pay at the end. If you want fruit/veg/bread, try to get down early as they tend to be in limited supply. 
Both are very much climber campsites (i.e., very chilled and relaxed), and will probably be your best source of local knowledge. 
I've stayed at the Finca each time and it feels like family, but I have friends who have also stayed at the Olive Branch and enjoyed it just as much. 
Both also do gear rental- both for climbing and other activities (e.g., kayaks, mountain bikes or Via Ferrata gear) and can arrange lessons and guiding if desired.
Other Options:
The Climbing Lodge and Finca Rocabella offer several apartments/holiday homes, although more expensive and located slightly further away from the crags. There are also numerous others in this style, most of which are relatively cheap, while the Hotel Garganta located in the village offers a more traditional (read: expensive) style of accommodation.
One slight thing to note also is if you are renting a guesthouse/Airbnb/apartment, make sure to check the exact location- some of them may be far enough away from the crags that a car would be worth having.
This small climbing shop is located here, and is a nice stroll on a rest day or if you need to pick up any bits and pieces. They also do gear rental if needed. 
Closed on Wednesdays, they're open 1000-1400 and 1700-2100 every other day.
Food & Water Considerations
The first and most important note is that there's no ATM in Chorro, and most places (namely the shop and station bar) only take cash, so make sure you take some out before you leave Malaga. 
You can pay at the campsites by card, so you only need cash for any eating out or small shops.
There are a couple of different options available to you for food, all of which involve shopping outside of Chorro. There is only one small shop in the village, along with another one for those staying in La Finca. They're fine for topping up bits and pieces but are more expensive and have limited selections. 
If travelling by car, the best bet is to do your main shop in any of the big supermarkets in Malaga, then top up during your stay if needed in neighbouring Álora (20 min drive). 
If you don't have a car, I'd still say to do a main shop in Malaga, particularly for main staples/expensive items. There's a Mercadona upstairs in the Maria Zambrano train station to help make for minimal bag carrying. 
This does mean you've a bit of an uphill trek to the campsites from El Chorro train station (20-30 minutes with shopping), but in my experience it's worth it. 
A bus and train go daily from Chorro to Álora if you need another big shop, but usually it's sufficient to top up the basics at either The Finca or the shop in town. 
Beers are cheap, so I wouldn't bother shopping for them (plus they're heavy!).
For eating out, the Station Bar does a great plate of patatas fritas– that and a beer make for a common detour at the end of the day! La Garganta across the road provides some fancier fare, while Álora has a broader selection of bars and restaurants if you want to celebrate finally getting that redpoint!
 La Finca and The Olive Branch also do dinners, (the weekly homemade pizzas at La Finca are great) which are available to non-guests. But just be sure to check ahead as sometimes you need to order the night before. 
On top of water at the campsites, there's a couple of wells. One is in the main village centre, close to the train station, and another is slightly tucked away on the approach to Arab Steps/Frontales from the campsites here. There's a little trail right after the well that brings you back up to the approach road.
El Caminito Del Rey and Other Rest Day Actives 
There are numerous rest day activities- everything from Via Ferrata, the Caminito Del Rey itself, horse riding, mountain biking, swimming, yoga or hiking, depending on how much "rest" you want! 
If you don't get to the gorge for climbing purposes, it's worth doing the Caminito, although, personally, I think walking through the tunnels gives a much cooler and more intimate view of the gorge. 
Álora and Malaga are both accessible for a day visit if you fancy something further abroad, and you'll possibly end up spending a night in Malaga anyway depending on flight times. Feel Hostels Soho has pretty good vibes. 
Honestly though, with the swimming pool, slacklines and foosball/pool tables at the campsites, they tend to be about as far afield as I get on my rest days!
Wi-Fi Around El Chorro Spain
All the campsites have Wi-Fi, although at certain times (mainly in the evening, when there can be a crowd trying to access it) it can be hard to get reliable access. 
For those working while climbing, during the day the internet works fine. At La Finca, right outside the reception is often the best spot. 
Signal is patchy outside of the campsites- usually you'll be able to get both data and signal on multi pitches, but outside of that it's hit and miss.
A side note specific to Finca- the showers can sometimes be cold in the evenings with everyone using them. They tend to be at their best/warmest during the day when people are out.
Access:
While some people do it, wild camping in the park is forbidden. Besides, the campsites are cheap while also so much fun, so it's really not worth it. 
You will see vans parked on the road heading up to the Arab Steps. But again, driving up the forest road is forbidden, although parking on the lower road leading around to the well seems to be fine. 
If you're looking to find climbers, head on over to our FB GROUP and drop a post with your dates!
Access for most areas is without issue and those that are now off limits are noted in the Rockfax guidebook. In particular, most of the Gorge is off limits, with only the above-mentioned Africa and Zeppelin getting much traffic. 
A couple of other sectors that are off limits are the El Navegador pillar at the Arab steps and part of Corral East. If in doubt, your best source of info is the staff at either La Finca or The Olive Branch, who are actively involved in the local climbing and will have the most up to date information.
Why Go Rock Climbing in El Chorro Spain?
Climbing aside, El Chorro is an alluringly peaceful backwater. Stepping off the train, the vast bulk of the Frontales cliffs rise above the serene little pueblo of Chorro – hopefully bathed in a golden glow if you're lucky enough to arrive at the right time of day. 
A few minutes stroll from the village in one direction brings you into sight of the epic narrow defile of the Desfiladero de los Gaitanes, the tapered gorge through which the Río Guadalhorce forces its way through. Heading the other direction opens out into groves of olive trees and rolling hills off into the distance. 
The entire region is located on the edge of the 2,000 hectare Natural Park of the same name.
Aleppo pines and holm oaks mixed with scrubland and olive plantations make up the undulating landscape through which winding trails make their way up to the crags. Above, Griffon and Egyptian vultures soar through the air, sometimes giving you an unlikely spooking as they whoosh past, high on a multipitch. 
The sense of stepping backwards in time is broken only by the odd busload of tourists that congregate in groups at the train station as they complete their scheduled trek along the Caminito Del Rey, which runs through the gorge. 
If you're looking to find climbers, head on over to our FB GROUP and drop a post with your dates!
What really sets Chorro's climbing apart, in particular, from other perhaps more well-known sport climbing areas in Spain, is the easily accessible adventurous aspect. 
Multi Pitches of up to 12 pitches start from 4b and upwards, with quite a few in the 5c-6a range. A mix of walk off and abseil off means people can climb at levels and styles comfortable to them.
Many of my friends, myself included, had our first climbing trips to Chorro and continue to go back there year after year. It's a perfect place for people of any and all abilities and experience levels. 
First time climbing outdoors? A seasoned pro? New to multi pitching? Interested in learning aid? Looking for some hard redpoint climbing? Want to do a 5-minute approach, one climb, then sit by the pool for the day? Great, Chorro's got something for everyone!
It is also potentially the best place in Spain to climb if you don't have a car, and highly recommended if you're in that situation. Most crags are accessible in less than an hour, the closest having only a 5-minute approach. 
The climbing community is strong and welcoming, and centered around the two main campsites of The Olive Branch and Finca La Campana, as well as a small van life community concentrated near the well on the forest road. 
Finding partners shouldn't be an issue, especially in the busier months, and indeed some of my best memories of climbing in Chorro revolve around the common room in La Finca rather than on the rock itself! 
The whole vibe is so laid back it's almost horizontal, and once you've been there a while the place just feels like home.
El Chorro Climbing Weather
Chorro is definitely more of a winter getaway. Summer temperatures can reach the high 30s (mid 90°F for American readers)! The climbing season runs from October to May, with December to March being the busiest part of the season. 
While there is an increased chance of rainfall in the winter months, it's limited. I've spent the past three Januarys climbing in Chorro and have yet to experience more than a few days of rain- total! 
I've found this mid-winter period to be perfect for climbing, with a range of around 5-20°C; the sort of climbing where you're perfectly comfortable climbing in a t-shirt, but will probably have a jumper at the base to throw on afterwards. In contrast, the Spring/Autumn seasons get warmer. 
The nights do get chilly in winter, so having a warm jacket/sleeping bag is advisable.
Where Is El Chorro Spain's Climbing & How Do You Get There?
Whichever way you go, try to avoid travelling on bank holidays, as we learned the hard way! Pretty much all the shops etc. will be shut and public transport will be more limited. 
The main, and by far the simplest way to get here is to fly to Malaga airport, located about 50km South East on the coast.
 The airport is a pretty major low-cost hub, with connections from most European Capitals. As an example, I've got return flights from Dublin, Ireland to Malaga for between €40-90 each year. 
While it is possible to fly to other locations and get to Chorro, most of these (unless renting a car) involve going through Malaga anyway. From Malaga, you have two main options for transport:
Getting To El Chorro By car:
Car rental is cheap (starts around €10 per day) and can be rented from the airport when you arrive. There are multiple other car rental agencies around Malaga as well, and while having a vehicle is not necessary, it does give you the ability to travel to some more distant crags. It also makes food shopping slightly easier (I'll go through this in more detail later). 
Bear in mind that you probably won't use a car most days if remaining local as the crags are mainly on walking trails, or close enough as to make driving redundant once you're in Chorro. 
Getting To El Chorro By Train
The metro runs straight from the airport to Malaga María Zambrano station, from where a train goes direct to El Chorro – albeit only a couple of times a day. We've spent an enjoyable night in Malaga at the start/end of trips as a result which can be a nice option also. 
Tickets are around €7 each way and can be purchased at machines in the station. The train journey is short, about an hour, and a similar distance driving.
A second train option, if train times don't line up, is to get the C2 commuter line to Álora. It runs roughly every hour from Malaga. From Álora train station a bus runs 4 times a day to Chorro, but hitching is also a good option. Or, grab a taxi, as the trip is about 20mins/12km, so, shouldn't cost much if you're splitting.
Conclusion:
No matter your grade, interest or style, El Chorro will have something for you. 
It's the perfect destination for the mid-Winter blues and is a complete escape. 
While certain crags can get busy, there's more than enough space to go around, so whether you like having the place to yourself or hanging with a group you'll find both. 
It has the quality and density of grades of many other Spanish destinations, but unlike many other Spanish destinations it has a plethora of multi pitch and more adventurous options to tempt you away from single pitching! 
One final note is that development is still ongoing! There's a bolt fund available if you go, you can donate at the campsites, or here. I'd recommend donating because it's thanks to the work of these people you can climb here at all. 
However long you stay for, within a day it'll feel like you've been there a week, and by the end of your trip it'll feel like you're leaving home.
(One last thing)
And don't forget to purchase travel insurance for Spain to protect you against injury, illness, injury, and theft. This is a super important thing to have on hand. If something happens you'll be 100% covered for out of pocket expenses. 
After 10+ years of climbing, and 5+ years on the road, i've seen what can happen. 
I've had all my gear stolen multiple times, seen (and heard) people break bones (compound fractures, not pretty) requiring emergency helicopter evacuation and have even had more than one climbing partner pass away climbing.
You name it.
So just get insurance.
We use and recommend World Nomads Travel Insurance and you can get your custom quote here. Make sure to sign up for the "explorer plan" to ensure you're covered for your mountain adventures:
A trad climber at heart, Seán loves pottering around as many crags in Ireland as he can get to while attempting to plan an endless and ever growing list of trips abroad. It's a tough life to manage. Aside from trad, Seán loves trying any type of climbing he can get his hands on- sport, winter, alpine and was even rumored to have been spotted bouldering once! You can follow his (mis)adventures on Instagram.