Thailand, the land of smiles, not only features some of the most beautiful beaches on the planet but also has great rock climbing to offer!
There is: 
deep water soloing

bouldering in a zoo (!!)

single-pitch sport climbing

multi-pitches
…and much more. 
Because of its hot and humid climate, the rock climbing season in Thailand can be short, but this beautiful country in Southeast Asia is definitely worth a visit. And don't worry, there is also plenty to do on your rest days. 
From diving in crystal clear waters to visiting temples or just trying some amazing food, you won't be bored for sure! And even during the monsoon/rainy season, it won't be raining all day every day, so you can still do some climbing while you make the most of the lower off-season prices!
But let's start at the beginning and present some of the best climbing spots in Thailand! We have broadly split them up by the North, Central, and South of the country and the closest bigger city so you can plan your itinerary right away! 
Best Places to Climb Outdoor in Thailand
With its vertical or overhanging limestone cliffs and caves, granite slabs, and sandstone boulders, the climbing in Thailand is diverse, picturesque, and adventurous! 
But don't worry, even if you're new to climbing, you will find a spot to do your first tries on the rock because in many of these beautiful places there are climbing schools where you can either go climbing with a private guide or even do an introductory climbing course. 
While the first routes in Thailand were set by French climbers over 30 years ago, a lot has changed over the years and there are many active local climbing communities who constantly work on improving their crags and bolting routes to develop new areas. 
Next to a friendly outdoor scene, Thailand also offers world-class diving and snorkeling, delicious cuisine, and beautiful landscapes, so what are you waiting for? 
In the North / Near Chiang Mai
Chiang Mai is a backpacker's paradise and the northern capital of Thailand. There are loads of day trip opportunities in the area and is also a bit cheaper than the beaches in the South. 
There are 3 main outdoor climbing areas near Chiang Mai, 2 of which are unfortunately closed to climbers at the time of writing but they should definitely be on your bucket list for when they open up again! 
When to Go Climbing in This Area
Chiang Mai lies at about 300 meters above sea level, so the climate is a bit cooler and less humid than on the coast in the South. 
The dry season is from October to March, with January being the driest month, and temperatures are around 21 to 24 degrees during that time. Keep in mind that the farmers in the area burn their fields from the end of February until April, so the air quality gets quite bad then. 
Here is a summary of the recommended climbing areas in this region: 
Crazy Horse / closed ATM

Chiang Dao / closed ATM

Lampang
Crazy Horse
Info to know: This crag has been closed to climbers since 2018, but as one of the most developed spots in the country, it should definitely remain on your bucket list! 
The Crazy Horse Buttress is probably the best-known crag in this area and offers over 170 bolted routes on a beautifully featured limestone rock. It is a short flight from Cat Ba Vietnam and draws a regular crowd of local and international climbers due to its proximity to Chiang's Mai's climbing. 
Here, there are limestone cliffs as well as some caves, offering a wide range of different climbing styles and difficulties, varying from 5.6 to 5.13c. 
While the best time to climb here is during the colder month of January, the caves and overhangs also allow for dry climbing during the rainy season. 
Chiang Dao
Like Crazy Horse, Chiang Dao is currently closed to climbers. For climbing near Chiang Mai, check out Lampang. 
This small village that gives the crags its name is located about 1.5 hours north of Chiang Mai. Because the climbing here is spread out over multiple locations, you need a car to get around and to be able to move between the different climbing sectors. 
Lampang
Well, with Crazy Horse and Chiang Dao closed for climbing, the climbers of Chiang Mai were in need of a new crag home! And so they started developing and bolting new routes in the Lampang area, about an hour and a half from the city. 
Since it is quite a new climbing area, there are no crowds and you will have lots of space and time to climb whatever routes you fancy! 
The spot features about 50 routes for all levels, from beginner-friendly to more advanced routes, again on the typical Thai limestone, ranging from 5.8 to 5.13c.
Because it is a new crag, however, there is a risk of loose rocks, so make sure to always wear a helmet at Lampang. You can either bring your own equipment or rent it from the local climbing Club, the Chiang Mai Rock Climbing Adventures (CMRCA), but let them know a few days in advance. 
A Few Words on Access
It is mandatory to register your visit and get a permit. 
The crag is on military property, so you need to buy your day pass in advance on the Chiang Mai Rock Climbing Adventures website: 
The day pass is 200 baht (about 6 USD), and a 9-day pass is 750 baht (about 22 USD) per person. The CMRCA also organizes trips with a guide if you are a beginner.
Central Thailand / Near Bangkok
There are quite a few climbing spots around Thailand's capital Bangkok, and if you're a weekend warrior, there are also plenty of climbing gyms in the city to keep you busy. But more on that later. 
Here's the list of crags we'll dive into more below:
Nam Pha Pa Yai Camp

Kanchanaburi

Kao Jin Lae Tower

Khon Kaen
Nam Pha Pa Yai
There are over 80 routes in this crag, most of them bolted by local Thai climber Joy Sirilak, who also runs the eco campsite just across the river from the crag. The campsite features accommodation for a range of budgets, a treehouse and cozy bungalows, and a sustainable garden, where they source fresh food from. The camp also rents and sells climbing gear! 
Now, you might love this. The crag is located about 2 hours from Bangkok in a lush area with beautiful mountain views, sitting across the river Pasak and only accessible by zipline(!) from the campsite. There is now also a new crag, the Kayak wall, that is only accessible (you guessed it) by Kayak. 
If you're not planning on staying at the campsite, you will need to purchase a day pass for 100 thb (3 USD) for the climbing. 
The crag Nam Pha Pa Yai is known for some of the best single pitch routes in the country with a range of grades and terrain for intermediate and advanced climbers (5.9 to 5.13c). However, the climbing is quite technical on vertical or overhanging limestone with tufas, interesting roof climbing, and pockets. 
This crag makes for a great weekend trip from Bangkok and offers climbing in a variety of types like on a slab, overhang, chimney, and even some crack climbing. 
Kanchanaburi
This is a relatively new climbing area that was developed by local climbers in 2019 and is located about 2 hours from Bangkok.
There are 4 different crags that are quite far apart, so it is recommended to rent a car so you can move in between the different climbing spots. 
According to The Crag, there are 55 climbing routes in this zone that range from an intermediate 5.10 up to 5.13. These single pitches are on vertical or overhanging limestone, which calls for very technical and fun climbing. Because the area is still under development, there can be loose rocks, so it is strongly recommended that you wear a helmet at all times. 
Access and Practical Tips
There are no camping or other facilities near the climbing areas, so bring enough food and water, and make sure to leave no trace! And also, support local businesses if you can, and remember to leave by 6 pm as large areas of the crag are considered community forests. 
You see, the local authorities have granted access to climbers, but because of limited parking and the small size of the crags, it is not recommended to visit in large groups. The closest town is Sai Yok, where there is accommodation available if you want to stay for several days. 
When to go: Kanchanaburi is one of the hottest places in Thailand, so avoid the time between March and June. January and February are the best months to visit. 
Kao Jin Lae Tower
This crag is situated in the Lopburi province in northeast Thailand, also about 2 hours from Bangkok. It offers great climbing at different grades for beginners to advanced climbers.
The main feature of this area is the Kao Jin Lae Tower, a 200-meter-high vertical limestone tower with great multi-pitch climbing. 
Once you get to the summit, you can enjoy the amazing views over the surrounding landscape with its blooming sunflower fields if you're lucky! 
Info on Access
So, to access the climbing area around the tower, you need to pass through the local temple. A small donation is more than welcome since the inhabitants of the temple also maintain the paths around the rock and provide showers and bathrooms. You might also need to fill in a registration form. 
The best time to go climbing here is from November through June, but if you go in December or January, bring a jacket as it can get quite chilly. 
Khon Kaen
Since 2018 there has been a bouldering area in an actual zoo! Within the Khon Kaen Zoo in the Khao Suan Kwang district, there are over 500 sandstone blocks as well as some sport climbing routes attracting more and more climbers. 
Thanks to the great effort by the local climbing club Khon Kaen Climbing Club, which also manages the area, these boulders within the property of the zoo are now accessible to climbers. 
Turns out, the club is a climbing community whose members all work voluntarily and not for profit to improve the climbing areas, develop new boulder problems, and bolt new sport routes. They also run climbing courses for kids, and (*before the pandemic) they started organizing a yearly boulder festival in the zoo! 
There are bouldering problems ranging from V0 up to a V10.
On Access
The aptly named "Zoolander" bouldering area is located on top of the Khoa Sun Kwang mountain within the zoo. 
To enter the climbing area, you have to pay the entrance fee of the zoo. But tell them that you want to go bouldering so a share of the fee goes to the climbing club. This fee also allows you to use the facilities at the zoo, like the restaurants and bathrooms. 
Actually, there are lots of different types of accommodation within the zoo, and camping is also possible at the campground. Remember that if you stay outside, you have to pay the entrance fee every day you want to enter to climb. 
The climbing club also organizes carpools to get to the zoo, and you can book a guided climbing session or rent your gear with them too. 
In the South
Tonsai and Railay Beach are the most popular climbing destinations in the South of Thailand. But they are quite touristy, and especially during the high season, these crags can get quite crowded, especially because many beginners take climbing classes on the easy routes. 
Between Tonsai Beach, Railay, and Ao Nang, there are over 700 routes, most of which are single-pitch sport climbing routes on vertical limestone cliffs with pockets, tufas, and stalactites. 
To escape the crowd, check out the small island of Koh Yao Noi, or travel a bit further north to check out less popular areas like Koh Tao.
Here is a short overview of the climbing areas in the South of Thailand that we will cover in more detail: 
Railay and Tonsai Beach

Koh Tao

Koh Phi Phi

Koh Lao Liang
Tonsai and Railay Beach
Tonsai and Railay Beach in Thailand's southern province of Krabi are the most famous climbing spots in the country. And for a good reason! Where else can you climb beautiful limestone cliffs and caves next to a white, sandy beach and crystal clear water?
These two climbing crags are located on the Phra Nang peninsula and offer mostly single-pitch climbing close to the beach. 
Now, the climbing style is mostly vertical or overhanging, with pocketed limestone faces with fun tufas and flowy rock formations. Because of their popularity, there is an ongoing effort to rebolt the routes that take quite a beating due to their location and exposure to humidity and salt water. 
In general, Tonsai and Railay offer:
Easy access to great climbing with a wide range of grades, limestone single/multi-pitch climbing

Great range of accommodation and other tourist/traveler facilities due to the popularity of the spot
The downsides are:
Big crowds during high season

Hot and humid climate

Mosquitos that can transmit Dengue fever (bring your own repellent and get good travel insurance) 
Access and Practical Tips
The best (but also busiest) time to climb in Krabi is from November to March (making it a great winter climbing destination for climbers from the northern hemisphere). April to October is the low season because that's when it gets really hot first (April and May see almost no rain) and then a bit wetter in the latter months. 
Some crags are only accessible by boat or low tide, so make sure to consult a tide timetable before you set off! 
It's a tropical climbing destination, so be prepared to meet lots of little friends like snakes, spiders, scorpions, and lizards in the crag. 
Like we mentioned above, Dengue fever is spread by the Tiger mosquito, which is most active just before sunrise and just after sunset. So try to avoid those hours and wear a repellent with DEET. 
But a great plus of climbing here is that there are lots of climbing and adventure companies in Tonsai and Railay where you can rent or buy climbing gear, take courses or hire a guide to take you climbing. 
Koh Tao
You've probably heard of this island and know it as one of the best places for scuba diving in the area. But did you know it also offers loads of climbing and bouldering too?! The island is one large block of volcanic granite that is very hard and rough to the touch. 
This can be a nice change to the usual limestone climbing in Thailand, so get ready for some granite (comparable to that of Joshua Tree in California) in the jungle. 
Koh Tao is a beautiful island, covered in palm trees and jungle, with sea cliffs and granite boulders strewn all over it, as well as big isolated rocks in the interior that you can climb. 
In total, there are about 70 sport and trad climbing routes on the island and countless boulder problems too. 
We found extensive online topos for climbing and bouldering on Koh Tao by Goodtime Adventures that feature topos, pictures, and descriptions, as well as info on access and anything else you might need to know. 
Koh Tao offers climbing in a big variety of styles and locations:
Beach bouldering on granite 

Face climbing on 25m high seaside cliffs right over the water

Trad climbing with views over the whole island
And much more. 
Keep in mind that some routes require that you build an anchor at the top either with bolts or by using trees and or rocks. 
If you want to go trad climbing, there are trad routes on shark island and Lang Khai, where there are no bolted routes yet. The rock takes gear well, but the coastal environment can be a bit crumbly. 
Access can be tricky with high waves, so a kayak is beneficial for transporting people and gear. Watch out for nesting birds in May/June on the cliffs!
There is even a trad multi-pitch route that takes you from the seashore to the top of the island in 5 pitches of trad climbing on solid rock with a mix of exposed climbing and jungle scrambling. For this, you need a full trad rack, 2x 60m ropes, lots of water and food, and an early start (all pitches between 5.7 and 5.10)
If for some reason you get tired of climbing outside, there is now also a climbing gym on the island. At 'The Bunker,' you will find a bouldering gym, a cafe, and even accommodation on site. 
Access and Practical Tips
The land on the island is private, so if you go climbing on your own, ask the owners of the respective area for permission either at Jansom Bay at the beach office or check with the local adventure company, Goodtime Adventures, who run climbing tours and courses and can also issue you a permit. Some owners might be happy to allow climbing, while others might not, so be respectful of that. 
However, because there is a lot of resort-development happening on the island, particularly the beachside boulders can disappear or access can be denied by the owner or resort. 
The best way to explore the island and its rock climbing, nightlife, and food is to rent a motorbike to get around as the crags are spread out all over the island. 
Koh Tao is a tropical island, so be prepared for exotic flora, but also fauna! While there are no monkeys here like on the mainland, there are squirrels, lizards, and (non-venomous) snakes. 
And another thing, watch out for smaller animals like scorpions or centipedes, and if you get stung by them, seek medical attention ASAP. To avoid such incidents, shake out your shoes before you put them on and check your bags before you stick your hand inside.
Koh Phi Phi
Koh Phi Phi is an archipelago of 6 islands about 45 minutes by speedboat from Phuket or Krabi. The islands are a well-known tourist destination, thanks to their appearance in the movie "The Beach" in 2000, with amazing diving, snorkeling, and beautiful beaches and jungles. 
While most people visit these islands for diving or partying, there is also loads of rock climbing! 
Most of the climbing and all of the accommodation on the islands can be found on the island of Phi Phi Don. 
Update: It appears that since 2020, guided climbing and climbing courses are not permitted, but if you go climbing yourself, no one will stop you from doing so. 
Also, a word on safety: since the routes were set up, there have been rebolting efforts, but not all routes have been reprotected, so make sure to check the bolts and anchors and carry some extra slings just in case you need a backup. Try to avoid routes that still have the old steel bolts and look out for the new titanium bolts instead!
But as it turns out, there is amazing multi-pitch climbing on the island, which will require you to stay overnight! 
The routes range up to 5.13, with the majority ranging from 5.10 to 5.11. You will find single-pitch sport climbs as well as some amazing bolted multi-pitches ranging from 2 to 5 pitches long. 
Tonsai Tower is the main attraction here, with about 30 bolted routes and amazing views over the bay, so it's definitely worth a visit. (You have to rappel down overhangs, so make sure you have all the necessary gear and knowledge about back-clipping while rappelling so you don't get stuck hanging in thin air when it gets dark). 
Koh Lao Liang
This is a 2 km long private island in the Andaman Sea with beautiful seaside climbing on limestone cliffs with fun tufas and stalactites. 
Now, the climbs range from 5.8 to 5.12, so the island is a great spot for intermediate to advanced climbers looking for quality climbing away from the infamous crowds on Tonsai and Railay beach. The climbs are in the sun until about 11 am, so there is no early start needed for climbing on Koh Lao Liang! 
There is also some very fun cave bouldering on the island, as well as deep water soloing! 
When and How to Go
The island is open for climbing from November to April. Because it is a private island, you will have to book accommodation to stay on the island (glamping available). 
However, there are no shops, so you will need to bring all your gear (and ideally your climbing partner as there are usually not that many people around). You will also need a 70 to 80-meter rope and about 18 or more quickdraws. 
Deep Water Soloing
This mix of bouldering and free soloing is a very fun way of expanding your climbing repertoire! Deep water soloing means bouldering over the water, so instead of topping out or climbing down, you can just jump into the water!
There are options to go deep water soloing in
Railay and Tonsai,
but it is not officially permitted anymore at the moment. But that doesn't mean it's impossible to do! Just that there might not be an official tour or guide to take you. 
There are loads of deep water soloing opportunities along the cliffs from Ao Nang to Tonsai, but you can still take a kayak out yourself to find an adventure or hire a boat for a day.
Other places for DWS are:

Koh Hong

Koh Yao Noi

Koh Lao Liang

Koh Phi Phi
Best Indoor Climbing Gyms In Thailand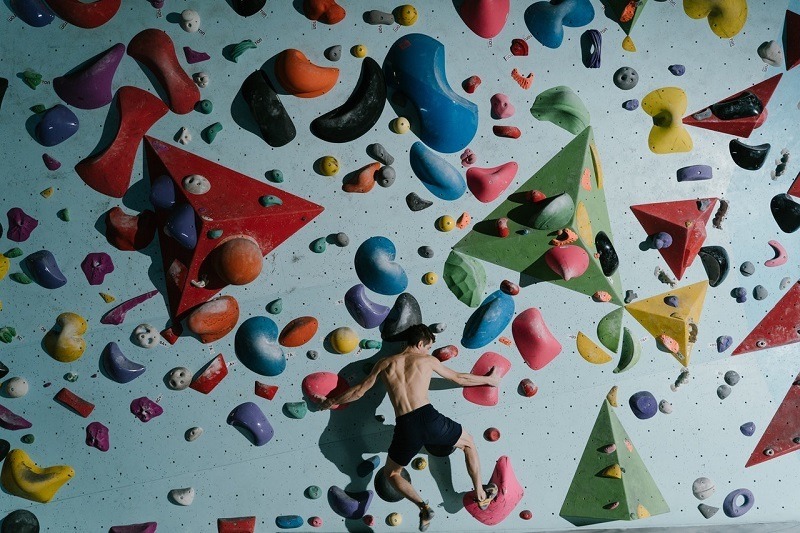 If it's raining or you live in one of Thailand's many cities, there are still plenty of options to go climbing! We have compiled a list of the best climbing gyms in Bangkok, Phuket, and Chiang Mai so you never have to miss out on a climbing session.
The 4 Best Climbing Gyms in Bangkok
In Thailand's biggest city, there are quite a few climbing gyms for you to try out. Here are the best ones: 
The F5 Climbing Centre
This climbing gym has everything you need for a good bouldering session with your friends. From overhangs to vertical walls or caves, the F5 Climbing Center offers a range of different problems with a variety of grades. 
And turns out, they also offer other classes and training at the gym and organize guided outdoor climbing trips. Plus, roped climbing is available for kids and preparatory classes too for outdoor climbing. 
Climb Central Bangkok
This is a franchise of a company that has indoor climbing gyms in Singapore, India, the Philippines, and other countries in Asia. 
They offer bouldering as well as rope climbing with a nice overhanging lead wall, a cafe, and air conditioning. The location is slightly outside of town but the amenities are great. 
Urban Playground Climbing
This new fancy indoor gym offers over 80 climbing routes and bouldering problems on over 700 square meters and features a 13-meter-high climbing wall, bouldering cave, and much more. Definitely a good place to spend a rainy day! 
Rock Domain Climbing Gym
This climbing gym is the biggest in the country, with over 1400 square meters of surface and loads of space for their 16-meter toprope and lead wall and 17-meter overhanging lead wall that offers about 100 routes total. There is also bouldering, a coffee shop, and a locker room. You can buy climbing gear here, and the routes are reset and changed each week! 
The Best Climbing Gym in Phuket
Rebel Rock Climbing
This 3-story climbing gym includes a workspace and cafe and is located next to a big lake in the Thalang District a bit outside of Phuket. 
Here, it offers bouldering, as well as a toprope and lead wall, and the gym also runs climbing courses for beginners indoors, as well as outdoor climbing trips to Krabi (Tonsai and Railay Beach).
Best Chiang Mai Climbing Gyms
Progression Climbing Gym (Chiang Mai Rock Climbing Adventure)
The newest addition to the climbing gyms in Chiang Mai opened its doors in February 2022 and is run by Chiang Mai Rock Climbing Adventure. They are definitely the leader in the local climbing community and offer loads of outdoor trips, gear rental, shops, guiding services, and lead the development of new outdoor climbing areas.
Now, this new gym is more than "just" a climbing gym but also functions as a "vertical sports training center" with lead and toprope walls, an updated bouldering area, free-standing boulder, kids zone, campus and training zone, and much more. 
They also offer caving and SRT training and a high-angle rope rescue area. 
Powerbank the Energy Club
This is, technically speaking, not a climbing gym, but a "normal" gym with a climbing wall at the back. But they do have a small vertical wall and even an overhanging section as well as a hangboard, so we included them in our selection to give you more options. 
Why Rock Climb in Thailand?
After everything you've read so far, you probably know why Thailand is definitely worth a visit for climbers of any level. 
Fact is, there are just tons of options with bolted routes in a variety of spots — in the jungle, by the beach, and by the river in the northern mountainous area of the country. 
Thailand is a great place to travel to, with delicious food, an extensive transport system, and incredible culture to explore all year around. 
What's more, next to the limestone cliffs on the beaches and islands in the south, there is also granite and sandstone bouldering and climbing to be found, as well as some top-notch climbing gyms to keep you busy while visiting the city. 
When Is the Best Time to Go Climbing in Thailand?
The best time to go climbing in Thailand is from November to March. This is when the weather is mostly dry and warm, which also makes it the peak tourist season. If you are planning to climb at a popular crag (like Tonsai or Railay in Krabi), be prepared for a crowd. 
From April to November, the rainy season starts, with September and October being the wettest months in the South. 
But remember that even during monsoon season, it won't rain all day every day, but just be prepared for some more rest days. 
Another advantage of an off-season visit are the reduced prices you are most likely to have during that time. 
Rock Climbing Costs in Thailand
The cost of your climbing trip to Thailand depends on your travel style (Dirtbag/Cheap Hostels vs Luxury Accommodation) and how much and where you want to climb.
If you bring your own climbing gear, the cost of climbing will be relatively low, as most outdoor climbing areas are free or only charge a small fee per day. Most of the time, there are also passes for a week or longer available for purchase, if you know that you want to stay in a place for longer. 
If you do not bring your own gear and have to rent it, or if you are traveling alone and might need to hire a guide, this will cost you a bit more. We've compared the rates for guided tours and courses, as well as gear rental below, so you know what to expect: 
Private Guides and Courses
If you're a new climber or just looking for a climbing partner, hiring a guide for a day is a good option. The prices below are based on the information provided by the different companies at the time of writing.
Here is what it costs to go climbing with a personal guide:
Koh Tao: 1400 thb (40 USD) for half a day

Railay/Tonsai: half-day private guide 3500 thb (100 USD), full-day 4800 thb (140 USD)
1-day climbing course
Koh Tao: beginner course 2200 thb (65 USD), toprope course 3100 thb (90 USD)

Railay/Tonsai: half-day from 1200 thb (35 USD), full-day about 1800 to 2000 thb (53 – 58  USD)
Multi-day climbing course
Koh Tao: 2-day lead climbing course 5600 thb (165 USD), 2-day trad course 6400 (188 USD) 

Railay/Tonsai: 2-day lead climbing course 5000 thb (146 USD), 3-day lead climbing course 6500 (165 USD)
Renting Gear
If you're not bringing your own gear and need to rent some stuff, here are the average prices we found:
Climbing Shoes: around 300 thb (9 USD) per day

Harness: around 300 thb (9 USD) per day

Rope: around 500 thb (15 USD) per day

Helmet: around 200 thb (6 USD) per day

Chalk Bag: around 100 thb (3 USD) per day

Crashpad: around 300 thb (9 USD) per day
Considering buying your own gear? Keep in mind that most gear sold here is imported from the US or Europe, so it is more expensive to buy it here.
Transport
Thailand is a very popular backpacking destination and offers loads of public transport options, from buses and trains to shared taxis and Tuk Tuks. 
Depending on where you want to go climbing, you might need to get your own car though as the climbing crags might be further out of town. Most foreign nationals can rent a car for a short period of time with their normal driver's license. 
Europcar charges about 200 USD to rent a car from Bangkok's Suvarnabhumi Airport for a week and even less from Chiang Mai. So if you're traveling with a couple of friends, that might be a comfortable option to help you get around easily and explore some of the many amazing climbing locations in the country. 
Tips for Climbing in Thailand the First Time
If you've never climbed before, definitely start out with a climbing course. There are loads of options in the popular crags in the South where you can take easy beginner courses to learn the ropes and have loads of fun. 
As an experienced climber, you might still benefit from hiring a guide as topos are sometimes hard to come by or are not up to date. The guides also know which routes have been rebolted (especially in the crags near the sea — corrosion on the steel bolts has been a big issue, and only the rebolted routes with titanium bolts should be climbed.) 
To buy or rent gear, Bangkok and Chiang Mai are your best shot, next to some climbing shops in the south near Tonsai and Railay beach. But if you want to buy gear, it might be cheaper to do it in your home country if you're from the US or Europe. 
What Gear to Bring
It's safe to say that almost 100% of the routes in Thailand are bolted. With a 60m rope and 15 + quickdraws (the routes are bolted generously), you can climb a lot of fun stuff. Don't forget your belay device, shoes, and helmet, and you're good to go. 
An all-rounder climbing shoe is probably your best bet, so you're ready for the featured limestone with tufas in the south, as well as the granite or sandstone boulders further north. 
Like we mentioned above, also make sure to bring some extra slings so you can back up an anchor in case you get to the top of your route and the bolts look a bit sketchy, but other than that, you're good to go! 
Q&A
Where can you rock climb in Thailand?
There are a lot of different areas and crags to go rock climbing in Thailand. From beachfront climbing on limestone cliffs in Tonsai to sandstone bouldering in a zoo, Thailand offers something for everybody.
Is rock climbing banned in Thailand?
No. But there are certain areas where guided rock climbing tours are no longer allowed, or a specific style of climbing like Deep Water Soloing is no longer officially permitted. 
Further Reading
If you're already planning on climbing in Thailand, why not check out some other nearby places like Vietnam or even head over to Yangshuo China? We've covered the best climbing locations in both of these countries on our blog so you can start planning your trip right away. 
Also, when packing for a climbing trip, bringing along a good all-rounder pair of climbing shoes is key to reducing the amount of gear you have to carry around. Not sure which one to buy? Check out our article about the best all-around climbing shoe right here. (Thailand, rock climbing)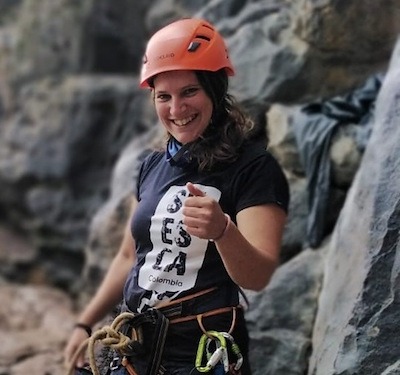 Hi there, I am Mirjam and have recently discovered rock climbing for me while backpacking in Colombia. Originally from Switzerland I currently live in Venezuela and work as a freelance writer and translator. I have always loved being in nature and the mountains and am stoked to explore more of the world's best climbing in the years to come!
You can find me at @mirigoesround or www.bosstranslations.com