This is the ultimate Yangshuo climbing guide. Look no further to find the how's, why's and where's of sending it on Yangshuo rock!
You can't talk about climbing in China without Yangshuo dropping in on the conversation. Words like 'mecca' are used liberally when describing this karst-filled, limestone haven.
(And for good reason)
I can say that truthfully, because I've been here for the best part of a year and I'm not planning to leave anytime soon.
You may have heard names like Getu, Kunming or even Shigu. None compare to the 'grand daddy' of China climbing, Yangshuo.
At a glance, Yangshuo is a sprawling patchwork of spellbinding caves, tufa, scooter rides and endless mountain views.
The town is a world of contrasts. Village life and rooftop bars. Chickens cluck down the street alongside shops peddling virtual reality games.
Crags are a walk, cycle or scooter ride away. With walk-in times averaging 0-5 minutes.
The rock is world class and incredibly varied in both style and grade. You can go from slabby crimps to contortionist tufa in an afternoon. Grades range from 5.4 to 5.14b.
There's nowhere on Earth like Yangshuo.
Why You Should Go Climbing in Yangshuo Now!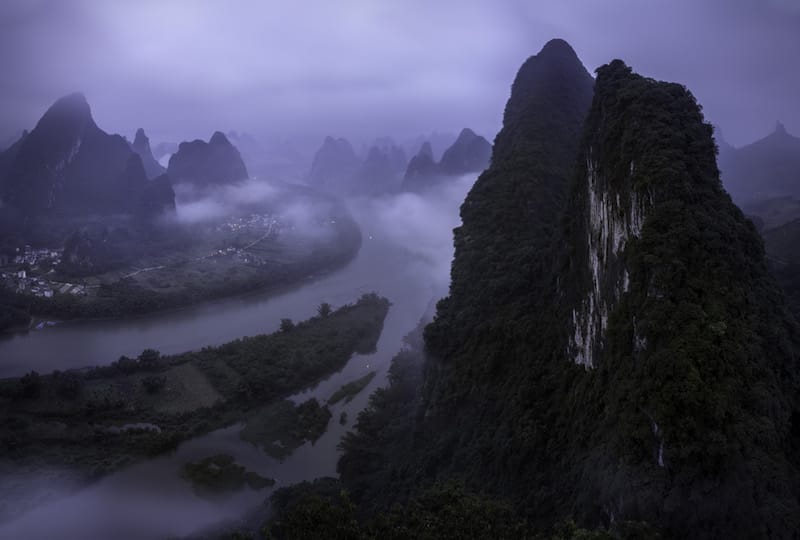 The reasons to climb in Yangshuo are many, but before we dive into the climbing, let me paint a picture.
I remember the first time I saw a photograph of Yangshuo. I thought to myself, I wonder how widespread the mountains are? What's hidden out of the frame of the image? Is it really like that?
Turns out, the pictures are pretty accurate. 
There's no need for photoshop wizardry when magic seeps out from every nook and crevice in the hillside.
The mountains themselves are unique. You won't encounter them west of Asia. The popular Halong Bay in Vietnam is a definite relative. 
However, in Yangshuo, the mountains rise from a tangle of trees, shrubbery and two heavenly rivers: Yulong (遇龙河) and Li (漓江).
The mountains themselves are called many things: camel's humps, waves on an ocean of green, pointed spires. 
I think they're best viewed from some height, where, to me, they look like an immense pack of wolves howling up at the sky.
You can ride between them, looking up from bicycles or scooters. And from Yangshuo's town centre, you can drive for an hour in any direction to find no sign that the mountains will flatten out.
The mountains in Yangshuo are karst formations, which is essentially eroded limestone. 
Limestone soaks in water easily, which means almost every mountain has a cave somewhere near the bottom.
There is endless exploration to be found down dirt roads and farmer's tracks. Hidden gems await all who seek them out. 
Cave-rock glistens like crystal, and there are myriad secret viewpoints that are dubbed 'the best view in China'. 
Sadly, exploration is becoming more necessary as time goes on and development in the area increases. We'll get to that later.
Aside from the unique geography, Yangshuo town is a great place to wander around on a rest day. 
The locals are very friendly. They speak the native Guilin dialect and conventional Mandarin. They work hard and have been witness to some extreme changes in the locality over the last 30 years.
Street vendors and small shops line most streets. There's some interesting 'museums' and even a couple of cinemas. 
By night, the main strip "West Street " (西街) undergoes a transformation. Clubs with bouncing stages boom music down the so-called traditional style street.
If you're looking to find climbers, head on over to our BRAND NEW FB GROUP and drop a post with your dates!
There's a hundred other ways to spend time outdoors in Yangshuo when not climbing. Kayaking, zip lining, hiking, via ferrata, quad biking, the list goes on. 
Entrepreneurial Chinese have been migrating and investing here for a while.
Check out the hiking website for detailed information on some hidden gems in the area.
So… what about the rock climbing?
Overview of Climbing in Yangshuo
The guidebook has an astounding 859 routes and that isn't even all of them. 
More routes are added every month and I've climbed more than a few that aren't included.
To get an overview of the spread of the routes you can check out this handy Yangshuo rock climbing map.
The climbing community is strong here; it's the home of China climbing, after all. 
There's a few bars/hostels (Rusty Bolt, Climbers Inn, Rockabond, Interesting Inn), which are great places to find partners. 
All routes except those within the famous Moon Hill are accessible. 
Moon Hill has been turned on and off a few times while I've been here (2019/2020). Expect it to be closed for all but one week of the year – the Yangshuo Climbing Festival (changes dates, but usually in autumn).
Once you have the guidebook, finding the crags is usually easy (sometimes part of the adventure). 
If you're sad about Moon Hill, there's also Pingle – an upcoming, lesser known crag that shares similarities.
On the whole, routes remain unpolished and unabused, with a few exceptions. 
Yangshuo rock is, above anything else, incredibly fun. There's holds at every conceivable angle. 
The cave tufa here (mushroom-like bulges formed by hundreds of thousands of years of dripping water) provides a 360 degree playground. 
It will encourage you to reimagine climbing if you've never encountered it before.
There are opportunities for crack climbing, slab climbing, roofs, multi pitches and the aforementioned tufa. 
The nature of the limestone karst erosion has created works of art on nearly every wall here. Though the desire is stronger with some than others, I can't think of a crag that I haven't wanted to revisit.
Snakes and spiders are a thing in Guangxi (the province where Yangshuo is), particularly in summer. 
I've seen three snakes and one big spider the whole time I've been here (and I've done a lot of off-piste adventuring). 
I was advised by a local that if you see a snake, don't try to fight it (good advice). That being said, I have a Chinese friend whose dad actively catches snakes and eats them. 
Whatever works for you.
When Is The Best Time To Go To Yangshuo?
Yangshuo Weather
Yangshuo weather is best in autumn. 
Autumn (late September to early November) is short, but blissful. It doesn't rain. It's not too hot to function. Frolic around shirtless or in a t-shirt on crisper mornings.
This is the perfect season for climbing as it brings the best combination of heat and humidity to Yangshuo.
Summer and winter are both doable but immensely sweaty or a bit nippy. 
You get used to both, though the next-level sweat is definitely a grade-dampener. Spring is the rainy season and seriously not advisable unless you're staying for a long time.
Summer (late June to early September) is a mixed bag. I loved climbing in Summer, because of the dry, hot days, but it's not for everyone. Especially when the humidity is bad.
Expect to go through chalk at an unprecedented rate, pick up some liquid chalk before you arrive, as its a lifesaver. 
I probably sweated more last summer in Yangshuo than every previous English summer of my life combined. 
It's a good winter climbing spot. The humidity is perfect, the temperature is cold, but still comfortable (with some t-shirt days). 
The Yangshuo weather does get colder though, so prepare to be warming hands and drinking hot water in-between climbs sometimes. Wrap up extra warm for belays on cold days.
Scooter rides in Winter (late November – February) are a challenge. If this is your mode of transport, prepare for multiple layers.
It's never too cold to climb in Yangshuo. I've seen more sunny days so far this winter than in a typical English summer. 
That being said, temperatures do drop to single digits. Yangshuo weather is fairly predictable as it settles into patterns.
Don't visit in the rainy season unless you're planning on staying for a prolonged period of time. You have been warned! 
It rains torrentially almost every day. So much so that the town is accustomed to river-bursting levels of floodwater.
Spring is Rainy season (March to early June). It really rains. A lot. Like everyday. Sometimes 20 days in a row. Not advised!
Even caves get wet as the rain seeps into the mountain (this is how most of the epic tufa form). It can get so intense it's like it's raining in the cave interior.
National Holidays To Avoid
Avoid national holidays! Hotel prices skyrocket as much as 10x in some areas. Though more often they will double or triple.
Chinese New Year (Spring Festival) changes every year (though is around late Jan/Feb) .
Chinese National Week is October 1st-7th. 
This is when Chinese people will be travelling. Expect double or triple the amount of tourists on the road and streets.
Yangshuo climbing Equipment List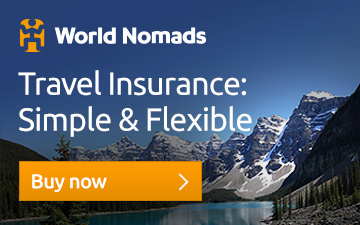 Safely rock climbing overseas shouldn't be taken for granted. Health insurance is a must. Remember to check if you're covered when climbing without a guide. 
(We recommend all of our readers the World Nomads "Explorer" Plan for this exact reason)
There are routes of all sizes in Yangshuo. They tend to increase in length as the difficulty increases. 
You will be more than prepared with a 60m rope, but a lot of Yangshuo's favourite routes are 35m. 
Many of Yangshuo's belay stations are dusty when dry and muddy when wet. Common sense tells you taking care of your rope will increase its lifespan, and that's the truth!
Mosquitoes here don't carry malaria, which is nice. In winter they also stay hidden, which is very nice. 
In spring and summer they descend like the plague onto certain crags (Baby Frog and Neighbourhood are notorious) and frequent pretty much all others. Belayers beware.
For comfort, more than anything, using repellant is advisable as the local remedies aren't particularly effective.
There's only one guidebook that people use here and that's Yangshuo Rock: Yangshuo China Rock Climbing Guidebook 阳朔攀岩路书. 
Winter can be cold. A thermos, clothing layers and lots of climbing are the best countermeasures, especially if your hostel lacks adequate temperature control.
It gets real hot (40C+) in summer, so come prepared. 
Many crags are shaded in morning or afternoon (refer to the guidebook if unsure), but you'll still be climbing above the shade into the brilliant light of day.
A crispy climber is a grumpy climber!
Other than that, you'll want to bring the essentials like your helmets, climbing gloves, chalk (liquid chalk is ideal for the humidity) etc…
Gear Purchase and Rental in Yangshuo
Getting branded, reasonably priced gear operates on a who-you-have-on-WeChat policy. For all your other needs, there's the shop, Kailas in West Street's high street.
WeChat is the social media/messaging App of choice in China. It's a necessity if you want to keep in touch with climbing buddies. 
WeChat also replaces the internet for many small business owners. 
If you're looking to buy gear once you arrive, your best bet is to meet some local climbers – they'll gladly pass on the WeChat information of gear suppliers who don't have a physical shop.
If you're looking to find climbers, head on over to our BRAND NEW FB GROUP and drop a post with your dates!
Failing this, Kailas has all the essentials and a few more. The downside is it's pricey (1000RMB ~ $140 for a helmet). But, good news, the chalk is reasonably priced.
Taobao (Chinese Amazon) is another option, but you'll need a Chinese person to help. 
Delivery, ordering and trawling through Chinese comments to check if gear is legit difficult. 
Without advanced knowledge of Chinese (and an address) you can rest assured knowing you've done your best and give up now.
If you're looking to rent, there are many guiding companies in the area. Long term rentals aren't really economical, but you can ask around at Kailas and Rockabond.
Rock Climbing in Yangshuo Suggested Crags
The incredible thing about Yangshuo is that every crag delivers.
Some, however, are definite favourites.
Treasure Cave / Brother's Cave
Tufa heaven. Buried behind a beautiful village and a low bridge over Yulong river, the walk in is a steep 10 minute slog, but worth the effort. 
Treasure cave itself is a huge pinhole opening 2/3 of the way up the mountain. Around the corner is the adjoining Brother's Cave.
Both are spectacular, with views out over the landscape and a maze of tufa to navigate overhead. Lawnmower Man (11a) and Hanging Out in China (12c) are the ultimate upside-down, 360 degree madness.
Leipi Shan / White Mountain
This is where the pros hang out. Two enormous sloping beast walls that'll have you pushing your grades to the limit.
White Mountain's Spicy Dumpling (14d) is one of the hardest routes in China.
Dragon City
This crag is a beautiful perch in a mountain-lined valley still untouched by development. The climbing here is slabby and there are routes for all levels. 
The peace and tranquility of the location is my favourite thing about this crag.
Twin Gates
Twin Gates has some of my favourite routes. Blood (11a) always delivers. The crux is a difficult pinch combined with big moves and the (usually ignored) top section is a brutal mix of overhang and crack climbing.
Inside the caves are a few of the more difficult routes, but be warned – bolts missing or replaced is a real reminder of the dangers of climbing in damp caves. So please be cautious! 
There's also a ridiculous game of thrones style table in the cave for post-climb feasting.
Yangshuo 'Beginner' Crags
Baby Frog, Wine Bottle and Swiss Cheese are all known for beginner options with many grades around 5.7 – 5.10a. Swiss Cheese in particular can get busy on weekends. 
Wine Bottle has routes for everyone. The Miracle of Lankou (10a) is the most varied 10a I've cme across. Carbonic Acid Trip (10b) is chock-full of tufa traversing fun. Both are routes I keep coming back to.
The harder routes here are also worth checking out. Traveling Alon (11a) on Swiss Cheese's chocolate side (the left-hand side of the crag)  is without a doubt one of the best climbs in Yangshuo. A brutal mind-game crux leads to a powerful overhang section. In fact all the 11's have a good reputation here.
Banyan Tree
Monkey Fur (12b) was rated the top route in Yangshuo by local climbers. Banyan tree is one of the harder crags, so be prepared to push!
Moon Hill
The climbing at Moon Hill is superb, but unfortunately you're very unlikely to taste it. 
It sometimes opens one week in August for the climbing festival, but otherwise remains shut, supposedly with the intention of protecting tourists from falling tufa.
Even if you're not climbing here, the walk to the top is worth it on an off day for the views of this unique structure. Don't forget to find the path to the summit behind the viewing platform!
The Egg
Though an old favourite, this crag at present can't be recommended because of the ongoing construction. 
The land has been ravaged and the constant drone and noise from the building works makes it a sorry affair for climbing here now.
Climbing Yangshuo's outskirts
If you're looking for an adventurous ride out then XingPing, Putao, Guilin and Pingle can all provide day trips (or longer) further afield. 
Little Krabi in Putao is a beautiful secluded hangout with a ton of fun climbing. Xingping has lots of hiking to do beside its one crag and multi pitch.
Check out Eben Farnworth's guide on Pingle for the only information on this crag. It's necessary to hire a car to get out there and routes are still being developed: Yangshuo Rock Climbing public group. 
Multi Pitches Around Yangshou
If you've got it in you, there's an awesome selection of multi pitches in Yangshuo.
Low Mountain – L'Echo des Montagnes, 120m, 5.8. A great intro to multi pitching. Guides are always willing to give you the tour. Though the height is satisfying it is a little too easy.
Panda's Thumb. Multi pitch crag with a bunch of routes of varying appeal.
Mountain Turtle, 100m, 10a pitch 1 is the hardest pitch. Awesome views.
The Lost Baby Frog, Baby Frog, 90m, 5.9, trad.
Middle Finger. Multi pitch crag with smaller routes.
Xingping – Nine Horse Mural Hill, 180m, 12c. This must be the Mecca of multipitching in Yangshuo
Indoor Walls in Yangshuo
For such a small place, Yangshuo has indoor climbing walls in abundance. It also has indoor outdoor walls, which was a new one for me.
Rockabond
Owned by professional climbers Abond and Ting, Rockabond is the most popular indoor climbing wall in Yangshuo. 
The wall is hard for beginners, but the beer is great for everyone.
Rockabond opens at 8:30 and you can expect to meet some of the best climbers in Yangshuo within its walls.
A good choice for novice to intermediate climbers. Numbered practise routes and a great selection of holds makes this a fun place to spend an afternoon.
The fact that it's outdoors (and covered by a roof) also makes this an appealing off-day or rainy day destination.
Terror Tribe
A fun little roof and the fact you'll likely find no one else climbing here are the main things that strike me about this little-known wall.
How To Get To Yangshuo
Yangshuo is a small town (by Chinese standards) in rural Guangxi province. However, it's a national tourist hotspot, so logistics aren't difficult.
The two easiest routes are going from Guilin to Yangshuo or Xingping to Yangshuo. 
Xingping to Yangshuo
Xingping is an ancient town about 40 minutes from Yangshuo.
It is home to the confusingly named Yangshuo Station. 
This station is a high-speed train (gaotie) station and has connections all over the country. You can look up train times and book them here. 
Once in Xingping, buses run directly to Yangshuo. They stop running around 7pm, so book a spot at one of Xingping's many hostels if you're arriving late.
Guilin to Yangshuo
Guilin is a major city about 1.5 hours north of Yangshuo. Despite this, it can be a little confusing the first time you make the journey from Guilin to Yangshuo, because there are multiple stations in Guilin. 
If traveling by public transport, you need to find your way to Guilin South Station (not on Google), known by locals as Guilin nan (桂林南). 
From the airport you may need to take an airport shuttle to Guilin Station (Guilin Zhan 桂林站) first and then swap to the K99. The K99 bus takes you here from the city centre Guilin Nan Station (it's the last stop). 
There are also K99 buses running all along the main road – pick one up heading south.
Alternatively, ask at the airport counter – they speak English!
Guilin Station (Guilin Zhan 桂林站) is another option. This station is in the centre of the town. Though there aren't any buses or trains, there are friendly  'black car' (hei che 黑车) merchants that operate here. 
You'll know them because they are the guys holding up yellow Yangshuo (阳朔) signs. Though it may seem fishy, they're legit (although the government doesn't like them) and the cheapest/fastest way to get to Yangshuo.
If you're looking to find climbers or ask for help, head on over to our BRAND NEW FB GROUP and drop a post!
They operate by pooling together would-be travellers and coupling them with locals who are making the journey from Guilin to Yangshuo. You can expect to pay 30-40RMB (maybe a little more if your Chinese is bad!). 
You might travel in a car with locals or be shuttled to a bus. Either way, you can expect to reach Yangshuo, though please note – I can only attest to the validity of the merchants operating at the entrance to Guilin Station.
Where To Stay While Crushing in Yangshuo
There are many different accommodation options in Yangshuo, as it is a popular destination for Chinese tourists in addition to climbers.
These are a few popular suggestions more tailored toward the climbing crowd to get you started.
The Climbers Inn is Yangshuo's most famous climbing hostel. It suits a more economical budget and lacks some of the comforts other hostels offer. That said, it's located opposite the rusty bolt climbers bar and you're bound to meet other climbers.
When my family stayed in Yangshuo, this was the place I booked for them. The family that runs the hostel is wonderfully friendly. The views from the balconies are stunning. It's in a great location. They have scooters and bikes to rent and Sira (one of the owners) speaks brilliant English.
Staying at Wada (the one outside of the town) puts you in prime position for a great many crags. You'll need a bike or scooter to get back into town though (realistically you'll want a scooter anyway).
Interesting Inn, though a little further away from the crags than most hostels, is great because you'll bump into other climbers. You also have a personal indoor wall for when the occasion calls.
Quirks of Staying in Yangshuo
There are a few things that may inconvenience the western traveller in China.
The Great Firewall
The first is the 'great firewall'.  All wifi network providers in China use a huge country-wide firewall which stops traffic to western websites (Facebook, Google etc). 
The only way to circumnavigate this is to use a Virtual Private Network (VPN) service. Most are paid for, though some freebies work too. 
Even the top paid-for services are unreliable (my last VPN, Vypyr hasn't worked for several months). They're essentially fighting government regulations. Moreover, accessing VPN's around certain politically sensitive dates is pretty much impossible.
Drinking Water In Yangshou
Drinking tap water is not advised. Locals boil water to remove bacteria (and actually prefer to drink it hot anyway). So don't be surprised if you're served hot water.
This still doesn't remove any chemicals present in the water (if there are any) so buying bottled water is still advised.
To save plastic, I'd suggest bringing a low cost purifier like the LifeStraw with you. 
They are so incredibly cheap and compact, there is literally no reason to not bring one. 
Yangshuo Hospital
The hospital in Yangshuo isn't world class. They simply don't have the funds and staff to stock everything – Yangshuo is only a town. If anything serious were to happen, you may have to be moved to Guilin (1.5 hours away). 
That being said, I've visited the hospital here more than once. If it's a quick in and out, the fees are very reasonable and you'll be treated promptly, but I've heard of an unwitting foreigner (friend of a friend) being slapped with a 10,000RMB bill for a one night stay.
Don't expect a word of English to be spoken. If you can't speak Chinese, Dear Translate is a useful App for real time communication.
Best to go with a Chinese person if possible, and it's best to have health insurance.
Safety of Bolts In Yangshuo
The oldest bolts in Yangshuo are from around the year 2000 on Moon Hill. Many of these were actually replaced this year.
There is a strong climbing community in Yangshuo. People will often post up dodgy bolts or anchors they have repaired.
That being said, some are still overlooked, especially on the easier and less popular routes. 
It's uncommon, but I've encountered spinning bolts on more than one descent whilst removing draws. The proactive among you may wish to bring along a spanner/wrench.
I've also spied more than one ruined cave bolt. Bamboo cave and twin Gates are notorious. A friend of a friend broke a leg when a bolt came off the wall in Bamboo cave. Be extra vigilant in caves.
When unsure, check for cracks in the rock around the bolt. Use your quickdraw to lever the bolt and try to rotate it when clipping – does it move? If you pull the quickdraw away from the wall is there any give in the bolt? 
Do a visual check for any damage to the hanger (the part you clip into) of the bolt. Heavily rusted bolts can and will snap.
Please don't be tempted to top rope on anchors with rings (this reduces their life span). If you come across something fishy (though this is unlikely), report it on the FB page.
A more common thing to encounter is unbalanced anchors. Be sure to balance them correctly if setting up a top rope – I find using quickdraws of varying sizes is the easiest way.
Food in Yangshuo
The inherent nature of the language and sheer volume of restaurants makes it hard to provide accurate directions so instead I'll give you an overview.
The local specialties are Beer Fish (啤酒鱼), Snail Noodles  (螺蛳粉) and Guilin Mifen (桂林米粉). 
Beer fish is overpriced and EVERYWHERE. I wouldn't really recommend it unless you're big on seafood.
Snail noodles are an internet sensation in China. They're spicy, but pretty great – you can ask for no snails. 
Guilin Mifen (local rice noodles) are so fantastic that they even made a performance out of it, which plays at the Romance Park in western Yangshuo.
It's cheap and delicious. There's a great spot by the petrol station with a big red open storefront (less than 10RMB for a bowl).
Other honourable mentions are Biang Biang Mian (Biang Biang 面). This uses the most complicated character in China and is essentially one massive really thick, long noodle with sauce and some roasted veggies.
 It comes from Xi'an and is something not to be missed. There's a shop near the Li River on the road from the big intersection in central Yangshuo.
Malatang  (麻辣烫). Though this can be a little harder to find, there are a couple of spots around. It's essentially a spicy soup with whatever goodies you want to grab from the fridge added on top.
Hot Pot (火锅) is another soupy favourite. Choose your ingredients and self-cook over a boiling soup.
In general, eating here is pretty easy and cheap. Most shops have big pictures of the food on the walls with most shops averaging 20RMB ($3).
Western food is more expensive, but easy to find if you're near west street (the town centre).
Locals eat noodles, steamed buns, dumplings or some other more exotic goodies for breakfast. Just wander around the streets to find a vendor. They're all pretty similar.
There are two supermarkets (超市) and a few wet markets (open outdoor markets that sell a variety of fresh meats, produce, and street foods). The best wet market is open every day in western Yangshuo (go north from Longyue Road). 
One supermarket is underground in West Street, the other is also underground in south eastern Yangshuo.
There's good selection, but don't expect to find home comforts like cheese or bread!
Final Thoughts on Rock Climbing in Yangshuo
Yangshuo is surely one of the supreme climbing destinations of the world. 
Don't wait too long to visit as crags are changing with the development of the town!
*Let's Hear From You*
Are you pumped to check out Yangshuo's rock? Or has this article got you psyched to revisit? Let us know below!
For more reading check out our articles on the climbing in Thailand and the climbing in Hong Kong.
Scott lives in Yangshuo, where he can be found scaling walls with friends or shooting films with his girlfriend. They run a Chinese culture and language YouTube channel, Fragrant Mandarin. You can also check out his website for information on the best hikes in China.