Today I'm going to tell you everything you need to know about Hong Kong rock climbing.
And you know what? 
This information isn't available anywhere else online. 
You can rest assured that this article is the internet's best single resource for Hong Kong's Rock Climbing. 
(In fact)
This article is a result of weeks of on the ground experience and exploring all the rock climbing Hong Kong has to offer. 
Let's get started
Where is Hong Kong and Why You Should Rock Climb There
Hong Kong is located in one of the most southern parts of China on the edge of the South China Sea. 
Hong Kong is highly unique in that it offers a huge amount of outdoor climbing very near to a major metropolitan city. 
In fact, Hong Kong has over 20 outdoor crags and around 10 indoor gyms to choose from. The outdoor crags are all reachable by public transport or taxi.
This makes Hong Kong one of the best major metropolitan cities in the world for rock climbing!!
If you're looking to find climbers, head on over to our BRAND NEW FB GROUP and drop post with your dates! 
Hong Kong has an old history of climbing dating back to the 1950s when the Hong Kong Mountaineering Club was first formed. 
Since then, Hong Kong saw a huge explosion of climbs in the 1960s when hundreds of routes were climbed and the first guide book was published. 
The areas are a mix of styles and grades, offering single-pitch, multi-pitch and bouldering. There is something for everyone to rock climb in Hong Kong. 
When Should You Go Rock Climbing In Hong Kong
Hong Kong has a humid subtropical climate, similar to what you find in much of southern China. 
Summers tend to be hot and very humid, while winters are dry, cool and many times sunny. 
The main climbing season is from October to April, with the "best" time of year being December to February. 
During Dec-Feb, expect daily highs under 70 °F (21 °C) with minimal rain. 
For daily weather updates and forecasts, see the Hong Kong Observatory website. 
Where To Go Outdoor Rock Climbing In Hong Kong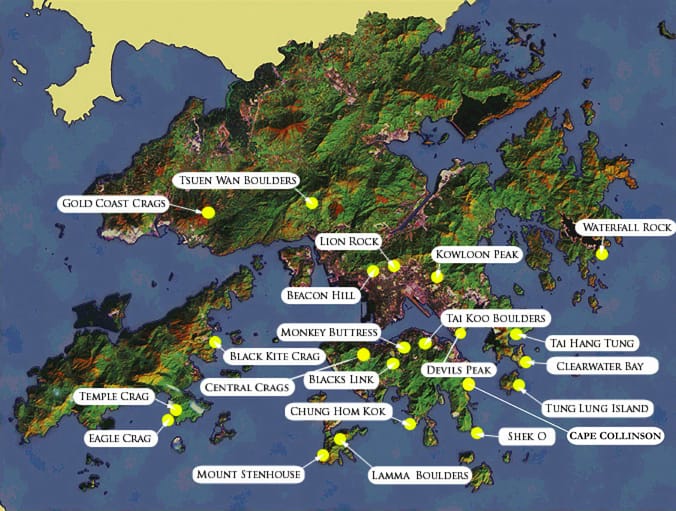 There are over 20 different crags around Hong Kong.
I will go over some of the most popular crags around Hong Kong to start you off, but for a full list head to Hong Kong Climbing's page. 
Cape Collision
Located on the eastern border of Hong Kong Island, Cape Collision offers 55 routes spread out over three crags of various difficulty. 
This means that it is possible to climb all day in the shade. 
The crag offers a high concentration moderate 6a-6c range climbs with a few pushing into the upper 7c range. 
This makes Cape Collision the perfect crag for most beginner to advanced climbers.
The rock is of good quality, and offers excellent views of the water looking east towards Tung Lung island and the South China sea. 
A well put together guide book of Cape Collision's climbing can be downloaded for free here. 
How to Get To Cape Collision
Cape Collision is an easily acessable climbing area by public transport and taxi. 
To get to Cape Collision, first take the MRT to the Chai Wan station and from there you can take a taxi towards the Cape Collision Correctional Institution. 
There are two institutions, but you want to go the all male one. 
You will want to get out a few minutes before you reach the gate to the correctional facility at the end of the road. The exact location of the taxi drop off point is here. 
It should take about 10 minutes from the metro station by car to get here. 
Walk down the road a few minutes towards the correctional facility until you reach a small concrete retaining wall on your right and a railing on your left. 
Jump the fence and continue down the path until your reach your desired crag!
Full directions and information on Cape Collisions climbing can be found here.
Lion Rock
Generally referred to as Hong Kong's best "mountain crag", Lion Rock is a 250ft granite mountain which towers over the Kowloon side of Hong Kong. 
It offers a range of climbs from the 4+ to 8a range, with both multi-pitches and trad lines. 
It has some of the best multi-pitch lines Hong Kong rock climbing has to offer, and is a great change of pace to much of the rock climbing around Hong Kong. 
A PDF guide with Lion Rock's routes can be downloaded here. 
How To Get to Lion Rock
To arrive at Lion Rock, first take the metro to the Lok Fu station.
From here, rideshare or Taxi to the Lion Rock Park. 
From the Lion Rock park, follow the road for about 30m before turning at this path up towards the Lion Rock Pavilion. 
After reaching the pavilion, take one of the paths leading upwards which is signed as "Lion Rock". 
Once you are approximately level with the foot of the crag itself, a small footpath will break off from the main path taking you to the base of the cliff. 
Full directions of Lion Rock's climbing and route beta can be found here.
Beacon Hill
On the Kowloon side of Hong Kong is Beacon Hill. It offers a good range of short sport climbing on coarse grained granite. 
Climbs here range from 6a to 8a, with most being 6c or higher. 
Beacon Hill offers a short approach with great views of the cities, and is a popular place to rock climb in Hong Kong. 
A full topo can be downloaded here. 
How to Get to Beacon Hill
To arrive at Beacon Hill, first take the metro to the Shek Kip Mei Station. 
From here, take an Uber or a Taxi until you reach a reservoir at the end of Lung Yang Rd. To the right of the reservoir, there is a small footpath you must follow for about 10 minutes until you reach the crag. 
The exact location of the footpath next to the reservoir can be seen here. 
Full topo and route info can be seen here.
Central Crags
A relatively new area to be developed around Hong Kong, the Central Crags offers a good range of quality of climbs with relatively easy access. 
The area is split up into 8 different sectors. 
For the best selection of moderate climbs, head to the Austin Powers, SoHo or the Mid-Levels crag. 
If you're looking for some more difficult climbs, the Forgotten Buttress has some of the best rock climbing Hong Kong has to offer. 
How to Get to the Central Crags
There are two possible approaches to get to the central crags. 
From the east, you can arrive from the Old Peak Rd, this is the route I took to arrive as I hear that the other way requires more bushwhacking and scrambling. 
First take a cab to the end of the Old Peak Rd, and go to the small rest area. 
From the rest area, take the small footpath for about 5 minutes which parallels the contours of the mountain. 
Once you cross a granite slab, you will climb up a steep set of stairs until you reach a drainage ditch. Follow the drainage ditch until you reach the crags. 
From the east, you can arrive from the Po Shan Road. To do this, first arrive at the end of the Po Shan Road and climb up the staircase to the right. 
From here, follow another older staircase for a few meters until you reach a small and overgrown footpath. 
Follow this path for ten minutes to the left until you reach the same drainage ditch as described before. 
Full route information and approach data can be found here.
Tung Lung Island
Tung Lung is without a doubt one of the top places to rock climb in Hong Kong, and is an absolute must visit. 
It has an overall very high quality of rock which is solid and compact. 
In addition, the movements themselves are very fun, requiring unique and technical sequences.
If you're looking to find climbers, head on over to our BRAND NEW FB GROUP and drop post with your dates!  
Located well outside of the city, and only accessible by a weekend ferry boat ride, Tung Lung is an incredible, beautiful location and gives you the feeling of being completely outside of the city. 
Pretty much all of the climbing on Tung Lung is good, but the "best" area is generally considered to be the Technical Wall. 
Go here for full topos of Tung Lung. 
How to Arrive at Tung Lung Island
The only way to arrive at Tung Lung Island is by ferry.
The ferry to the island only runs on weekends and public holidays and transports from 9:00am until 5:30pm. The boat ride takes about 45 minutes.  
Ferries leave from both the Hong Kong Island side from Sai Wan Ho, or the Kowloon side from Sam Ka Tsuen. 
Up to date timetables for Sai Wan Ho can be found here, and for Sam Ka Tsuen go here. 
Once getting off of the ferry at the second stop, follow the obvious concrete path towards Tung Lung Fort. Keep walking past the Holiday Store (where food and supplies for the day can be bought) until you reach a camping ground. 
From the camping ground, you either split left if you wish to climb at the Technical Wall, or right to reach the Sea Gully of Big Rock areas. 
Full route information and approach beta can be found here.
Suggested Gear List For When Climbing In Hong Kong
Check Price and Reviews On Amazon
All of the climbs around Hong Kong can be climbed with a 60m rope, so no need to bring anything longer. 
Hong Kong is located on the South China sea so you will be experiencing the harsh corrosive elements which come with this type of environment. 
Because of this, I suggest bringing a dry treated rope such as the Sterling Rope Evolution Velocity. 
It is one of the most resilient ropes ever made, and will resist the harsh salt conditions while whipping time and time again. 
Quick Draws
Check Price and Reviews On Amazon
Though there are some trad lines in Hong Kong, over 90% of the routes are bolted. 
In addition, most of the routes are single pitch in the 10-15m range, meaning that you're not going to need to weigh yourself down with a big rack. 
Check Price and Reviews On Amazon
I recommend bringing 12-14 sport climbing specific quick draws such as the DMM Alpha (expensive, but one of the best draws ever made), or the Petzl Djinn for a more economic option. 
They're strong, versatile and resilient enough to resist the fierce salt conditions and sport climbing whippers again and again. 
Check Price and Reviews On Amazon
The majority of the climbs around Hong Kong are single pitch, however some of the areas such as Lion Rock do have multe-pitches. 
I suggest bringing an assisted braking device with multi-pitching reverso features such as the Mammut Smart Alpine. 
The Smart Alpine is an engineering masterpiece, and is one of the best lightweight and functional multi-purpose belay devices on the market. 
It is perfect for cragging, top rope belaying or multi-pitches. It might be the last belay device you ever buy. 
Check Price and Reviews On Amazon
The sometimes overlooked part of your rack, the harness. 
Not only does it hold your life in your hands, but it also has to be comfortable and ergonomically designed. 
The Petzl Sama is one of the best all-around sport climbing harnesses ever made. 
To start, it is super comfortable, with a ton of leg and waist padding to keep you feeling good when you're hanging on the rope. 
It has a few huge gear loops and is more than capable of carrying all your quickdraws needed to slay your projects.

And to top it off,  Petzl Sama is one of the best value for your money harnesses on the market retailing at a modest $69.99. 
Check Price and Reviews On Amazon
The climbing around Hong Kong can be generally classified as nearly vertical, technical face climbing on small crimps and edges. 
For this, you'll want something with a relatively hard rubber that edges super well. 
The La Sportiva Miura fits the bill perfectly.
Over the past ten years, the Miura has gained popularity in the climbing world for being a veristle high performance workhorse which is suited for almost all types of climbing, but excels at technical face and slab climbing.  
Indoor Climbing Gyms In Hong Kong
Hong Kong has a very strong climbing gym culture.
(In Fact)
There are around 10 different climbing gyms in the city for you to go try.
To make it easy for you, we've reviewed the 3 top gyms to get you started!
Vern City
With 20,000 square feet of climbing space, Verm City is Hong Kong's largest climbing gym. 
It boasts hundreds of routes of every style imaginable and it is the place in Hong Kong to go if you want to crank on some plastic. 
The majority of the gym's space is dedicated to bouldering, however, in addition to the bouldering they do have a large training area complete with a Moon Board. 
If you're looking to find climbers, head on over to our BRAND NEW FB GROUP and drop post with your dates!  
They have a few nice addons not normally found in climbing gyms such as the "clip N' climb" top roping zone and an "augmented climbing wall". 
All of this is to say that Verm City has something to offer for every type of climber imaginable, and is a must visit. 
Go Nature
With 6,000 square feet of climbing space, Go Nature is one of Hong Kong's largest climbing gyms. 
Opened in 2011, Go Nature has gained a reputation for high quality, competition quality route setting. 
In addition, they regularly host competitions, offer climbing certification courses and climbing classes for children and adults. 
They offer a good range of bouldering routes at various grades and steepness, and is a training facility complete with everything you need to get a good workout in (no Moon Board unfortunately!!). 
Attic V
Located on the southern part of Hong Kong Island, Attic V is a bouldering gym which boasts over 100 routes of various difficulties. 
Founded by avid rock climbers Joanna and Gwie, Attic V has recently moved to a new location which is both more spacious and modern than their previous location. 
It definitely shows that Attic V was built by avid climbers, as it really comes through in the details. 
The climbing walls themselves have a perfect mix of bouldering styles, and the route setting is top notch. 
In addition, Attic V has one of the best training facilities in Hong Kong, with a full campus board, various hang boards, systems board and moon board. 
Internet, Power and Internet
Being one of the world's most developed cities, you will have absolutely no problem finding fast internet just about anywhere in Hong Kong. 
The only exception to this would be perhaps some of the more remote islands such as Tung Lung Island, where there is still relatively minimal development. 
That being said, you can always just get a SIM card and hotspot on to HK's blazing fast 4G cell reception. 
The power plugs used in Hong Kong are the legacy type G and D which are normally found in England. 
Rest Day Activities
Hong Kong is one of the world's most densely populated cities and world financial hubs. It also has the largest number of skyscrapers of any city in the world, most of which surround Victoria Harbour. 
As you might guess, a city this size has just about everything you can imagine in terms of rest day activities. I've included a few which might appeal to the outdoorsy rock climbers out there. 
Tung Ping Chau
Located on the vey eastern border of Hong Kong (only about 4km from Mainland China), is Tung Ping Chau Island. 
Ping Chau is a sparsely populated fishing village, characterized by magnificent jagged shale. 
Ping Chau is actually the only sizable island in Hong Kong made up of sedimentary rock, as the overwhelming majority of HK's hundreds of islands are igneous rocks. 
Listed as a UNESCO Global Geopark, the wave cut rock of Ping Chau offers incredible picturesque hikes which can't be found anywhere else in HK. 
It can be reached by Ma Liu Shui ferry pier, near the Chinese University of Hong Kong on weekends and holidays only. 
Lamma Island
Located in the Southwest corner of HK, Lamma Island is the largest island in HK. 
With close to 10,000 inhabitants, Lamma is a sharp contrast to the bustle of nearby Hong Kong Island and Kowloon. Lamma is calm, quiet and tranquil. 
There are no cars, busses, or trains here. Everything on the island is accessible by foot. 
Lamma has a very high western population, and has gained a reputation for embracing the alternative or 'hippy' lifestyles and has a high population of musicians and artists. 
Lamma has a range of excellent hiking trails, clean beautiful beaches and complete peace and quiet. 
There are daily ferries to Lamma Island from Central Hong Kong Island and Yung Shue
There are regular daily ferry services to Yung Shue Wan and Sok Kwu Wan from Central on Hong Kong Island.
Victoria Peak
Victoria Peak offers some of the most stunning and iconic views which all of HK has to offer. Though it is a bit touristy, it is still a must see for anyone passing through HK.
At the top of Victoria Peak, you will have an excellent view of the Victoria Harbor, the city and the waterfront. 
It is possible to reach Victoria Peak by public transport, trolley or through a range of hikes. 
Where to Stay When Rock Climbing Hong Kong
There are countless accommodation options available in HK at just about every budget and price point available. 
HK is an expensive city, so generally expect to pay as follows:
Dorm Bed In Hostel: $15-$25/night

Small Basic Room 2 People: $30-$40/night

AirBNB in Shared Apartment: $40-$50/night
If you're looking to save money, HK has a thriving CouchSurfing network, so if you're an experienced couchsurfer you should be able to find a place to stay to save some cash. 
Located smack dab in the middle of Kowloon is Tsim Sha Tsui. 
Its central location makes access to just about every part of HK easy, and is close to many of the city's markets and nightlife options. 
Its central location gives you quick access to the climbing areas on the north end of the city such as Lion Rock, and also makes it easy to ride the public transport to other areas of HK. 
Located slighter further north of Tsim Sha Tsui, Mong Kok is a good spot to stay for the budget travelers out there. 
Still centrally located, it has slightly cheaper accommodation options and has a range of local cheap eateries to keep your costs down. 
On of HK's up and coming "hipster" neighborhoods, Wan Chai is a great spot to stay if you're looking for a more relaxed vibe, as compared to Kowloon. It is known for its 'grubby chic' style. 
There are a nice mix of colonial style buildings, high rises, cafes and restaurants to choose from. 
Not to long ago it was a more rundown part of the city, and because of this the prices haven't yet elevated to what is found in the other parts of the city. 
Not to mention, Wan Chai is only a few metro stops away from HK's largest climbing gym, Verm City, is close to many of the outdoor areas like the central crags and still provides easy access to public transport if you're looking to move around. 
And don't forget to purchase travel insurance for Hong Kong to protect you against illness, injury, and theft. This is a super important thing to have on hand. I use and recommend World Nomads Travel Insurance and you can get your custom quote here:
Final Thoughts On Hong Kong's Rock Climbing
There you have it, the internet's best guide to HK's climbing. 
So I'd like to hear from you. 
Where are you going to go climbing when you head to HK? 
Or maybe I missed a bit of crucial information which you're dying to know. 
Either way, let me know in the comments below. 
Climb on. 
For more reading see our articles on Long Dong Taiwan climbing and rock climbing Yangshuo.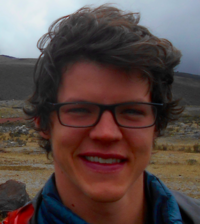 The Wandering Climber. Often seen at world class climbing destinations from around the world!