Ecuador is a wildly diverse country where you can go from tropical beaches to snow capped peaks and down the other side to the amazon basin. On the same road. On the same day. 
Climbing in Ecuador is as diverse as the country itself, offering high altitude climbing on its 6,000m peaks, mountaineering expeditions, hiking and rock climbing.
As the majority of the population lives around Quito (the second highest capital in the world), it has seen significant development in terms of rock climbing over the years.
There are a handful of climbing destinations within a day's bus ride from Quito. With this list I have compiled three of Quito's best climbing options with some of the relevant info you'll need to make it happen.
But what really draws people to Ecuador climbing adventures are the relatively easily accessible high altitude mountain climbing expeditions to be had.
Many fledgling and experienced climbers travel to Ecuador to experience some of the world class high altitude climbing the country has to offer.
Ecuador Mountain Climbing Season
QUITO Send Temps

Ecuador is located smack dab in the middle of the equator, meaning that there is no "winter" or "summer" like what we're used to in other places in the world. 
Essentially, the climbing season is year round, depending on the rain. 
Its best to climb in winter, November to February, as this is generally the driest time of the year, meaning you're most likely to get good dry weather during these months. 
The truth is that even in the "high season" you can still get unlucky with bad weather putting all mountaineering activities to a halt.
Popular Ecuador Mountain (Volcano) Climbing
The real draw of Ecuador climbing is its high concentration of easily accessible high altitude climbing.
They're super easy to get to. Like, next to the highway easy. 
Coupled with Ecuador's relatively robust infrastructure and high quality certified guides, it's easy to see why it's so popular. 
Ecuador serves as a perfect place to practice high altitude climbing techniques and acclimatization in a relatively low risk environment.
Though the options are many, here are some of the top volcanoes to get you started.
Cotopaxi
Cotopaxi is the second highest mountain in Ecuador, and is by far the most famous mountain in the country.   
Described as the 'the most beautiful and the most regular of all the colossal peaks of the upper Andes', Cotopaxi is without a doubt one of the most picturesque peaks in the world. 
It is also very easy to go check out.
Once you enter the national park, the car park will take you up to 4,600m (the summit is 5,897m or 19,347 feet), where, after a steep but short hike, you will find the hut just below the glacier where you can get hot food and even stay the night. 
If you're interested in making the expedition to the mountain's peak, you can always hire one of Cotopaxi's many mountain guides, rent gear and they can take you from the basecamp to the summit.
Summit attempts usually depart around midnight, and the round trip usually takes between 6-9hrs. 
Cotopaxi serves as a great place to practice acclimatization and mountaineering close to the safety and comfort of the base camp.
It is, without a doubt, one of the best 'intro' high altitude mountaineering climbing in Ecuador, and one of the most beautiful ones.
Chimborazo
If you're looking for a bit of a step up from Cotopaxi, Chimborazo might be the perfect mountain from you. 
Chimborazo is the highest peak in Ecuador, at an impressive 6,268m (20,548 feet).
Also, as a quick fun fact, it is actually the closest point on the earth to the sun, when measured from the center of the earth as opposed to to the surface of the ocean. 
Like Cotopaxi, Chimborazo is a 'non-technical' climb, meaning that it can be climbed without crossing any sheer cliffs or ice walls or things like that to reach the top. 
That being said, it is still mandatory to contract one of Ecuador's many mountain guides if you want to attempt a summit.
Similar to Cotopaxi, there is a basecamp near the parking lot where you can spend the night and is used for a launch point. 
It normally takes 7-9hrs round trip from the base camp to reach the summit and return. 
Cayambe
Only 64kL outside of Quito, Ecuador's third highest mountain, Cayambe, is another popular objective for those based in Quito.
Cayambe is also considered a relatively 'easy' peak in mountain climbing standards. So it's a good option for someone without too much expedition experience.
An ascent usually takes two days. The first day to arrive at the base camp and get situated.
Day two will be your summit day, where, if lucky, you will be greeted with jaw-dropping views of the surrounding mountains.
Antisana
Located only a few hours from Quito, Antisana is Ecuador's fourth highest mountain. 
Due to its ever changing snow and ice conditions, Antisana has the reputation for being one of the most difficult volcanoes in Ecuador. You might need to have a higher level of experience and equipment to reach the peak. 
Due to its higher difficulty and more complex access, Antisana is far less popular for climbing when compared to Cotopaxi or Chimborazo. 
You'll want to have lots of time for acclimatization before trying this one.
Gulliver Expedition is one organizations with mountain guides that regularly offers tours to Antisana. 
While most of Ecuador's peaks are located in a National Park, Antisana is surrounded by private property. This means that you'll need permission and will most likely pay a fee to enter. 
There are a handful of guide providers which run tours from Quito.
El Altar
El Altar is the fifth tallest mountain in Ecuador and gets its name from its table-like appearance. 
What makes El Altar so popular for climbers is its difficulty. 
It is a 'technical climb' meaning that previous rock climbing and/or high altitude climbing experience is required to attempt this climb. 
Though there are various routes and peaks of El Altar, El Obispo is the most popular peak of El Altar because it is the tallest point of the mountain and the most difficult. 
Once taller than nearby Chimborazo, a volcanic eruption took off the upper part of the mountain, leaving a huge crater as a reminder. 
From the top, if your day is clear, you'll have an incredible view of the crater, Chimborazo and many of the nearby mountains. 
If you're looking for a difficult climb, El Altar is the way to go. 
Ilinizas 
Illinizas is a very popular "casual" volcano for hiking.
Located only a few hours from Quito, it makes for a great quick adventure not too far off the beaten path. 
Though with increased regulations, they will likely require you hire one of Ecuador's certified mountain guides, though I heard there are ways around that.
No glacier or technical rock climbing experience required for this one, your main risks are going to be rock fall or just getting lost on the trail. 
Ilinizas is the best choice for a beginner alpinist who wants to climb an Ecuadorian volcano with relevantly little skill or experience.
Mountain Guides in Ecuador
Ecuador has a well established tradition of mountaineering and guiding services. 
One of the best I've ever seen in fact… 
It is very easy to find certified guides in Ecuador with both international and national certifications. 
The ASEGUIM is Ecuador's national mountain climbing guide certification. You can also find many guides which have international IFMGA – IVBV – UIAGM certifications as well. 
Not to mention…
Ecuador has many mountain climbing training programs, so it is a great place to not only climb, but to learn how to guide yourself!
Essentially every volcano in Ecuador is required to have a certified guide with you in order to attempt a summit. 
Though this does drive the cost up a bit, it essentially means that Ecuador is one of the "safest" Latin American climbing destinations in the world. 
Rock Climbing In Ecuador
Ecuador has rock climbing up and down the country. 
In the North, the Pichincha (where Quito is located) has a number of places within a few hours of the city. 
Near the center of the county, there is a huge amount of rock climbing to be had near Riobamba and Banos. 
Closer to Peru, the popular expat town of Cuenca has 4 or 5 areas itself. 
All this is to say that you have a lot to choose from. 
Climbing Pichincha Province Ecuador (Near Quito)
As the majority of the population lives around Quito, it has seen the most development in terms of the Ecuador climbing options to be had.
There are a handful of climbing destinations within a day's bus from Quito, so with this list I have compiled three of the best options with some of the relevant info you'll need to make it happen.
Rock Climbing Sigsipamba Ecuador
This is very likely the most popular crag in Ecuador (due to the close proximity to Quito and easy access). It has 32 routes of good quality. There are a range of routes starting at 6a and going up towards 7c+. 
On the weekends it can actually get quite busy here, but luckily the locals are very friendly so you won't have a problem sharing.
It's not a bad place to spend a day or two, especially if you are planning on heading out further east towards Cuyuja after. One of the most attractive characteristics of Sigsipamba is that it is only about an hour's drive from Quito, meaning that it makes for a very easy day trip from the city.
A Google street view of the crag can be found here.
What to Climb at Sigsipamba
A full topo of all 32 climbs can be found here.
How to Get to Sigsipamba  
To arrive, first take a bus from Quito towards the city of Papallacta/Baeza. You can get these buses at the Terminal Quitumbe, or at a number of places in Quito on the bus' route.
Get off the bus in the town of Pifo. From here you can take a short 5-10 minute cab ride or a Camioneta towards Sigsipamba itself. I don't know the exact route to take, so you'll have to ask around a bit. Just say "Sigsipamba" and the locals should be able to point you in the right direction.
Here is the exact location of the climbing. It is on private land, and it costs about $1.50 to climb for the day.
Rock Climbing at Santa Clara Alta
Located 1.5 hours south of Quito in El Cantón Rumiñahui, Santa Clara is a great spot boasting about 50 routes of various difficulties and styles. The setting of Santa Clara is particularly beautiful, as it is located in a sort of public nature reserve.
For this reason, the land and trails are well maintained, the river is relatively clean and there are even a few large waterfalls and swimming holes to enjoy.
What to Climb at Santa Clara
There are three different climbing zones. Full topos for the routes can be found here. The longest and best routes in my opinion can be found in zones 1 and 2. The climbing areas are easy to find, and are well marked..
How to Get To Santa Clara Alta:
The climbing is located about 17 kilometers from the town of Sangolqui. You'll want to arrive here first. To do so, take the Vingala Line from Quito. Get off at the last stop, which will be in the town of Sagolqui itself.
From here, you'll want to take the "Expresso Calsig" bus line. This will take you close to the park entrance and you can walk the rest of the way from there. 
If it is your first time and your Spanish skills are poor, a taxi may be a better idea, as this isn't a particularly well-known destination.
Your final destination is the Rumipamba Waterfalls Trailhead. The trails are well marked, as are the climbing areas. If you're walking, you'll first pass the Hosteria El Cucayo on your right, then continue for a few minutes until you turn left at a grouping of signs indicating the direction to the waterfalls.
When you get to the trailhead, look for the signs marking the trail to Cascada Vilatuña. This will take you by the climbing.
Rock Climbing at Cuyuja Ecuador 
I would argue that this is Ecuador's best sport climbing; it is most certainly the best within a few hours of Quito. This is my favorite pick from the list. Though the entire area only has about 100 routes, by Ecuadorian standards, this is huge, and it is one of the largest climbing areas by number of routes in the country.
Alex Honnold even visited Cuyuja a few years ago during a trip to South America where he put up the line aptly named "Honnold's Sick Linkup (7c+)".
The area has a good range of single pitch routes, with a few small multi-pitches as well (2-3 pitches). The climbing is generally classified as vertical, technical climbing, with the occasional overhang thrown in for good measure. The rock is volcanic and for the most part is good quality.
The town of Cuyuja itself is only a few minutes walk from the climbing. This proximity coupled with the non-existent approach makes for a pleasant day out climbing.
What to Climb at Cuyuja
The climbing is broken up into 8 different sectors. My favorite sectors were 2, 3 and 4. The routes here were cleanest and the rock is the highest quality.
Sector 8 has a few nice moderates as well, and it has a great view for photos (as seen on the cover photo for this article!).
A full topo can be found here.
How to Get to Cuyuja Ecuador
The climbing is located very close to the small town of Cuyuja, which is about 3.5 hours directly east from Quito. From the Terminal Quitumbe, take the bus towards the town of Baeza, though you get off the bus before it arrives there. 
For a reference point, the town of Cuyuja is located about 20 minutes past the town of Papallacta. The town is tiny, but, luckily, it is marked by a statue of a climber and the crag itself can be seen from the highway.
It is possible to make it back to Quito the same day, though you'll be arriving late. For that reason I would suggest staying for at least one night. 
If you are planning on staying, there are a few basic accommodations available in town. But note, this is not a tourist destination by any means, so the options are limited.
The climbing itself is in a public park on the outskirts of town. To arrive, simply walk down the hill towards the crag (which can be seen from anywhere in town), cross the bridge and voila!
Climbing Banos Ecuador
Banos Ecuador has emerged as one of the most popular "adventure towns" in South America. 
Though most known for its white water rafting, it is also one of the more popular places in the country for rock climbing. 
There are a lot of beginner climbs ranging in the 5.5 – 5.8 range going up to 5.11 or hard, meaning that there are lots to choose from. 
The climbing itself is this strange volcanic rock, lots of weird angles, and body tensioning and compression moves. 
Though there isn't a huge amount of rock climbing in terms of number of routes, the climbing areas are literally located on the edge of town. 
Makes for a fun few days out.
Climbing Cuenca Ecuador
In the Southern half of the country in the Azuay providence, nestled in the Andes, you'll find the town of Cuenca. 
Popular for backpackers and retired expats, Cuenca is also one of the hubs of Ecuador's rock climbing. 
There are at least 4 rock climbing areas surrounding Cuenca, including various zones for multi-pitches. 
Unfortunately, there is no topo-information available online. To get more info on Cuenca's climbing, I would suggest going to the local Mondo Dedo Climbing Shop and ask for beta. 
Trad Climbing Ecuador
There is very little trad climbing in ecuador. 
Though I won't go so far as to say "non-existent" it is certainly not very well known in the county. 
If you're looking to trad climb, I would suggest heading to either Suesca Colombia or to Huaraz Peru.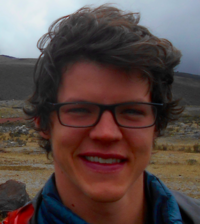 The Wandering Climber. Often seen at world class climbing destinations from around the world!