A wandering climber on Pinturas Buldestres, 7C+/8A (sit/stand), in the sector Prado del Navazo.
Imagine a serene pine forest, the sun filtering gently through the canopy.
The only sounds are the chirps of birds, the occasional thwack of a crashpad and the enthusiastic shouts of other climbers as their friends try to send.
"Allez!"
"Venga!"
"Come on!"
The pine forests above the town of Albarracín hide a landscape of boulders that attract climbers from all over the world. 
Tourists come to see the beautiful and varied shapes the sandstone makes here, as well as the prehistoric cave art scattered throughout the forest. 
But we as climbers are doubly lucky; we get to visit this surreal and historical landscape, and also get to climb it and be a part of it. 
The bouldering around Albarracín is so good that even the most dyed in the wool rope climber will come around to its charms. 
Disclaimer: until a few months ago I was not a boulderer. I've climbed trad and sport for nearly a decade, but never really got the appeal of bouldering outdoors. For me, bouldering was always just a way to get a climbing fix after work hours while living in the city. But as a trip in and of itself? 
My mind's eye usually turns to the soaring walls of the Verdon, the tufa mega pitches in Laos or the bomber quartzite of Arapiles. Nevertheless, the last few months bouldering in Albarracín and neighbouring Alcañiz have converted me. 
I now own two crashpads and dream about a third. I have a collection of brushes of varying size and density for different hold types. 
I've learned what a "dab" is, and get seriously flustered about "dabbing" on route. 
I have become a boulderer.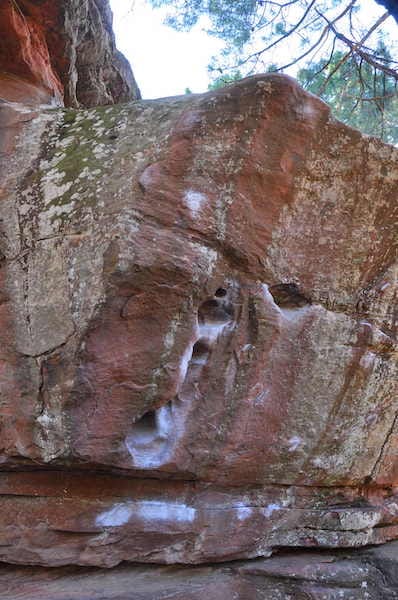 The appeal of Albarracín is obvious. The pine forest is chock full of highly featured, bomber sandstone of all shapes and sizes. Any climber will find something that suits them, as well as plenty of inspiration to expand and grow their climbing. 
Whether you like burly roofs or delicate slabs, tiny crimps or giant slopers, no-pad lowballs or giant highballs, the forest of Albarracín has something to suit all tastes.
Hey! By the way… this page contains affiliate links. So if you make a purchase after clicking one at no cost to you we may earn a small commission. Thanks for your support!
Albarracín in Brief – Area overview
"Like Fontainebleau but drier, smaller and with more roofs."
Albarracín is Spain's premier bouldering destination. Often referred to as the Spanish Fontainebleau, Albarracín is located in the region of Aragon in eastern Spain, two hours inland from Valencia and four hours east of Madrid. 
It's conveniently located for a stopover between major spots on a Spanish winter climbing trip, and also within a few hours of several airports if you're planning to just head there directly.
The forest above the ancient city of Albarracín hides over 2100 recorded boulder problems to date, with a few hundred more in neighbouring Bezas just 20 minutes down the road, and still more new boulders being regularly cleaned and climbed.
The rock is highly featured sandstone whose shapes often make for very "gym-like" climbing. There are a lot of roofs – there's even a whole sub-area called Techos (Spanish for roofs) – but there's much more to Albarracín. 
Imagine gym holds on real rock. 
Improbably large jugs, crimp rails that nature has bolted onto otherwise blank faces, perfectly horizontal roofs hiding honeycombs of ergonomically moulded holds; the shapes that nature has formed in the sandstone of Albarracín cry out to be climbed. 
Of course there are also plenty of fleeting slopers, wishful foot chips and other more typical holds, but, overall, the holds are improbably large and distinctively shaped. 
For this reason Albarracín is also a very accessible spot for climbers wanting to make the transition from indoor to outdoor climbing.
Why Go to Albarracín?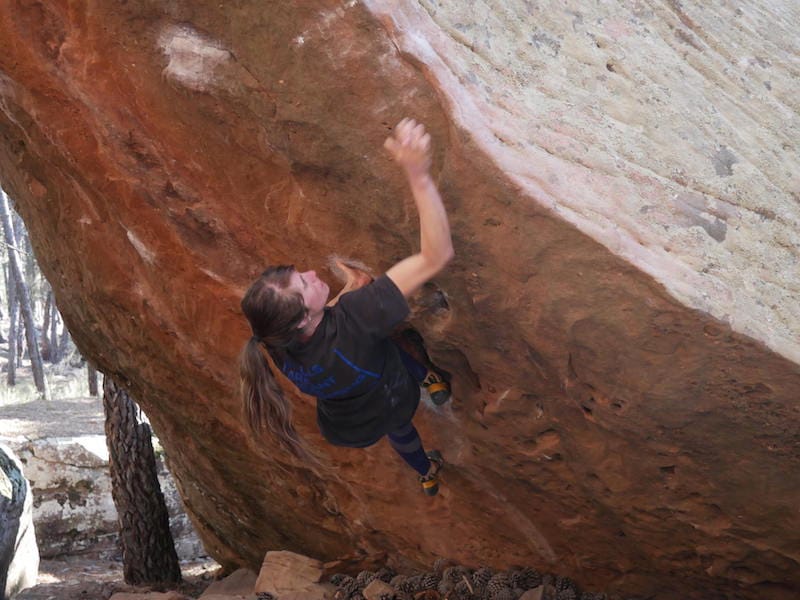 Albarracín is an incredible climbing destination for anyone considering a trip to Spain. 
Whether you're just looking for somewhere to spend a few days and tick some classics, or somewhere to sink your teeth into longer-term projects, Albarracín has something for you.
For the dedicated boulderer or long-term dirtbag, the couple of thousand boulders here should keep you occupied for as long as you would like to stay. And these boulders are generally classy, following aesthetic and distinct lines up solid red sandstone.
For climbers on a shorter trip or for those who want to jump between all the greatest hits of Spanish climbing, Albarracín is a logical stop. 
Located near the centre of Spain's main climbing regions along its east coast, Albarracín is a must-see on the route between the sunny crags of El Chorro, the mega walls of Chulilla and the never-ending walls of Margalef and Siurana.
Apart from the climbing, it's also just a great spot to hang out and enjoy nature. You could spend days walking around the labyrinth of boulders that fills the forest, chilling out enjoying the shade of the pine trees or hiking one of the many established trails in the area. Or you could just laze in the climbers' carpark, taking in the sun and the 360° views of the region.
For those craving an urban experience, sorry, Albarracín is not your spot. The historic city walls of Albarracín encircle one of the most beautiful towns in Spain, but for shops and fiesta you'll need to head elsewhere. 
The town of Albarracín is beautiful and quaint, but apart from a few local bars – including La Zahora, the climbers' hangout – there's not much to do after hours. 
The nearby city of Teruel, which you'll get to know intimately on rest day excursions to the supermarket, is also not quite a metropolis (population: 35,000). 
You'll need to drive two hours to Valencia if you want a dose of big city life. But with thousands of boulders in the forest and friendly vibes in the climbers' carpark, you'll probably find you're pretty happy in Albarracín, enjoying a well needed getaway from the bustle of urban life.
Best Time To Go
It's possible to climb in Albarracín throughout most of the year. Winter days rarely drop below freezing, and because it sits at an altitude of 1,200m/4000ft, summer is more moderate than in most of Spain. 
Winter is undoubtedly the best time for sending projects at your limit, like in most bouldering areas. Albarracín is Europe's most southerly major bouldering spot, which ensures its popularity with visiting climbers even in the depths of winter. 
The altitude means that night temperatures frequently dip below freezing, and some snow over the season is likely. But the days are usually crisp, dry and pleasantly warm in the sun. Seepage can be a problem after heavy rains or snow, but you're sure to find something dry.
The shoulder seasons of spring and fall are, like in most spots, the best choices for holiday climbing. 
Daytime temperatures mean you can climb in sun or shade, and rest days are perfect for lounging in the sun. You'll need to climb in the shade to project at your limit, but sunny and shady boulders exist in equal numbers in Albarracín. 
Nights are still quite chilly, which is great for cooling down the rock after a warm day, but not so chilly as to force you into your van as soon as the sun dips behind the hills. 
Rain is much more probable in the shoulder seasons, but is unlikely to disrupt your climbing schedule. The sun and wind are pretty reliable for drying out the boulders from any overnight showers.
Climbing in summer is possible but, like in most of Southern Europe, not ideal. Following the shade of the pines and climbing on sheltered boulders will be possible, but you're still in Spain, and it's still hot.
Night climbing is forbidden in the forests here, so you'll have to make do with getting up early or climbing in the shade. 
Tierra Media could be a good choice of sector at this time of the year, as the rock in this area is generally sharper and of a larger grain than the rest of Albarracín. 
Hiding under one of the many roofs could also provide respite from the summer sun, although mantling out at the end will surely be a slippery affair. 
Luckily there's a refreshing river just 10 minutes away from the climbing for a welcome dunk after a sweaty summer's day climbing.
Where Is It, and How Do You Get There?
Located halfway between Barcelona and Madrid, Spain's two major airports, Albarracín is easy to get to for international visitors. It's possible and relatively affordable to get here by public transport, though you'll still need to preview 5-6 hours for the trip. 
From Barcelona trains run all the way to the nearby town of Cella, from where you'll need to take a 30 minute taxi ride. The trip from Madrid is about an hour longer by public transport, but trains will take you all the way to the local capital of Teruel, from where a final 45 minute taxi ride will get you to Albarracín.
However, once you're here you'll still need a car to go the final couple of miles up the road from town to the crag. You could walk uphill from the town to several of the crags in about an hour, but I haven't yet seen anyone do it.
Renting a car is cheap and easy in Spain, with rentals possible for around €20 a day. Petrol here is expensive compared to the USA and Australia, but it's still some of the cheapest in Western Europe. If you rent a car, expect to make the drive from Barcelona or Madrid to Albarracín in 4-5 hours.
Climbing Overview
Highly featured sandstone boulders. Flat landings. Bomber rock. Often steep. Lots of roofs. Gym-like holds.
Sounds great, right?
If you're already convinced, go ahead and start planning your trip. Or read on if you need a bit more convincing.
First up, this is exclusively a bouldering area. Roped climbing, even trad, is banned in the Pinares de Rodeno national park. Top roping highball projects is okay, but that's all. 
However, if you want to clip bolts you won't need to go far. An hour east will get you to the crag of Olba, where nearly 500 routes have been bolted around the Refugio Alto Mijares on top quality pocketed limestone. And add another hour either east or west and you'll have access to the legendary crags of Cuenca, Chulilla and Montanejos.
How Many Routes?
Albarracín is a world-class bouldering area, and there are a lot of boulders. 
The number of recorded problems nudges closer to 3,000 every day, and most of these are within an area that can be crossed in 30 minutes on foot. 
The Pinares de Rodeno national park, the forest of pines and boulders above the town of Albarracín, is actually much bigger than this. But most of it is a protected nature reserve where climbing is strictly forbidden. 
Nonetheless, the permitted area is substantial and there are still hundreds of first-ascent possibilities hiding in plain sight next to the established boulders. 
The principal crags of Arrastradero, Techos and Fuente are so densely packed with high quality established boulders that you could spend days working through an area the size of an inner-city apartment; and each of these crags is the size of a city block. 
And then there are more dispersed sectors like Tierra Media or Entre Aguas where the density of problems at first glance seems a bit lower, until you realise that you passed a dozen potential lines on your walk that just haven't been climbed or recorded. 
If you want to play on world-class boulders with minimal fuss, Albarracín is a paradise.
Crags
There are about a dozen main crags around Albarracín. If you're here for a while you'll probably get to know them all. The shapes and grain of the rock vary slightly at each crag, and each crag has its own predominant style; though really you'll find a bit of everything in every area.
If your time is limited in Albarracín, the major crags to check out are:
Arrastradero: 
This is the densest and most varied area in Albarracín. Only a 10 minute walk from the carpark, here you'll find over 400 problems. This area is mostly shady. Plenty of classics here and good climbing at every grade.
Techos:
 "Albarracín is mostly roofs, right?" is a pretty common impression for climbers who've yet to visit. Although there's actually a lot more to Albarracín than roof climbing, a visit to Techos might have you think otherwise. 
About 15 minutes' walk from the carpark, this area has almost 300 problems, many of which are, like the name suggests, horizontal roofs. Start on your planks now if you're planning on hitting up this crag.
La Fuente: 
Another very varied sector, and at only 5 minutes' walk, also the closest major crag to the carpark. This is a great choice for cold days or days after rain, as it's quite a sunny and open sector. This crag also includes the subarea of Champiñones, a super dense micro crag famous for its mushroom-like mantle problems and the mega classic roof of Dr. Robotics (with variants from 7B+ to 8B). Over 200 problems in this area.
Tierra Media: 
Got an excess of skin and craving some vertical(ish) boulders? This is your spot. The routes here are mostly gently overhung faces on rock with a very coarse grain. The area is equal parts shady and sunny, but because it's quite open it's also a good bet for quick drying rock after rain. 
With over 300 problems there are lots of classics here, but they can be a bit tough to find because of the maze-like layout of the crag. The furthest major area from the carpark, and therefore much less visited because of the 25 minute walk in. 
Bezas: 
Like most of the problems in Bezas, at present this route and its improbable crimps don't show up in any guidebook. For now the only way to find it will be to explore the area for yourself.
Technically outside of Albarracín, Bezas is a town on the other side of the Pinares de Rodeno national park. But it's the same rock and the hotspot of new development in the region. 
The area is still very fresh, with many problems either undeveloped or undocumented. But this also means there's less chalk on the holds, the forest is wilder and a visit here feels like more of a raw bouldering experience than consumer-friendly Albarracín. Bezas is sure to become a major crag once more problems are documented, and definitely worth a visit for anybody wanting to develop new lines.
A word on polished holds… 
Zarzamora (7A/7C/8A+ stand/sit/extension) is a contender for the most polished route in Albarracín. Regardless, it's good enough that you'll probably need to wait in line if you try to climb it on a weekend.
The short answer is that polished holds are not really a problem except on a handful of boulders. Just go and climb. Most of the routes are absolutely fine, and when you've worn down your tips just one day into your trip, you'll be wishing the rock was less sharp. 
Climb on a cold day and you're unlikely to ever even notice. A small number of mega classic climbs are very polished, and a few of these are so polished that it detracts from the experience. 
Much of this polish is because of the pine resin used to stabilise the occasional sandy hold, which then quickly shines up to a plastic-like texture. However, mostly it's a non-issue. Just don't climb wet rock, wipe your shoes before climbing and make sure to have fun.
Recommended Boulders:
3 ENA-B3-L1 (Sector: Entre Aguas)
A tiered wedding cake of honeycombed jugs.
4 Putasetters (Sector: Entre Aguas)
Improbable gym holds above a perfect landing.
5+ El canto de un duro (Sector: Champiñones)
A stunning rising traverse up a prow, with a great view.
6A Roca a la casa (Sector: Parking)
Tricky beta and improbable crimps that seem bolted on make this worth seeking out.
6A Mantelito Chachi (Sector: Parking)
An infernal mantle lowball. Great preparation before tackling the exits of higher problems.
6A+ El Jacuzzi (Sector: Arrastradero)
Unforgettable at the grade. Get totally horizontal and use every trick you never expected to use outside of the gym.
6A+ Choque hipoglucémico (Sector: La Fuente)
Fontainebleau style trickery up this lowball.
6A+ Trata de Arrancarlo (Sector: Parking)
A thin start and a high and slabby finish. Atypical for Albarracín.
6B Pilas Chinas (Sector: La Fuente)
Big moves, plenty of heel hooks and an airy exit make this one to remember.
6B+ Pebble (Sector: Parking)
A seemingly innocuous vertical problem that will leave you stumped.
6C La Lágrima (Sector: Arrastradero)
One of the most emblematic climbs of Albarracín, and a slab at that!
6C Robabloques (Sector: La Fuente)
An obvious line up a very steep fridge. Heel hook, toe hook or just hug your way to glory.
6C+ (stand) El Plus del Autobús (Sector: La Fuente)
A notoriously tricky problem with a variety of solutions.
7A Por la boca muere el pez (Sector: La Fuente)
Classic Albarracín. Steep, thuggy and aesthetic. You can also do a long traverse in from the left to bump it up to 7A+.
7A Murciélago (Sector: Tierra Media)
Perfect holds and big moves through a roof take you to a picture perfect finale. Try translating the route name if you're stumped for beta.
7A Pilas Hacendado (Sector: Fuente)
An endurance route for your sports climbing fix. A long roof leads into the airy and tricky moves of Pilas Chinas (6B).
7B (sit) El Plus del Autobús (Sector: La Fuente)
A complete line that adds a roof, a lip and some endurance onto an already great problem.
7B+ El Varano (Sector: Arrastradero)
One of the most emblematic routes of Albarracín. A huge horizontal prow that just begs to be climbed, and will put your toe-hooking and mantling skills to the test.
7B+ Dr. Robotics Jr. (Sector: Champiñones)
Pure roof climbing with a classic mantle finish. Improbably huge holds don't make this one any easier.
7C Zarzamora (Sector: Parking)
Heel hook, compress and power your way to glory. One of the most polished boulders in Albarracín, but even this doesn't take anything away from its beauty. A 7A stand start or 8A+ extension are also possible.
7C+ stand / 8A sit Pinturas Buldestres (Sector: Prado del Navazo)
One of the most technical boulders in Albarracín and also one of the most aesthetic in the forest.
8A Cosmos (Sector: Techos)
Maybe the most "Albarracín" boulder in the whole forest? Forget the controversy over the grade. Huge holds, huge moves and a very steep roof. A local icon.
Rock Climbing in Chulilla
If you grow tired of bouldering, the climbing in Chulilla is some of Spain's top sport climbing, and is a world class destination in itself. If you're interested, check out our full guide on the area.
Albarracin Bouldering Accommodation
A large car park at the entry to the park is the designated free campsite. This is the first car park on the road up from Albarracín, about a mile out of town. From here it's another two miles to the main crags. 
The car park has no services and camping is only allowed in vans. But it's large, flat and free. A few of the newer areas at the entry to the canyon can be accessed from here on foot, and it's a 20 minute walk to town for food or chalk.
Please do not camp at any of the other car parks inside the Pinares de Rodeno park. The local police regularly check to ensure that people do not stay overnight at the carparks closer to the crag.
Overnight parking is also allowed at the main crag car park in Bezas, should you go to climb there.
If you want to camp but need connection to main power or a hot shower, the municipal camping of Albarracín offers reasonably priced accommodation and is just a short walk from town.
If you're looking for something a bit more comfortable, the many guesthouses and rentals around Albarracín also have you covered.
The Sandstone Guesthouse and Don Pepo Guesthouse offer popular climber-run accommodation at reasonable prices, with discounts for longer stays.
There are also many homes nearby on Airbnb, and this can be a very cost effective option for larger groups, especially if you're willing to drive a bit each day.
We even met a group paying under 10€ per person for a house with a pool.
Food, Water and Climbing Supplies
Here's some key beta: the croissants at the bakery Panadería Marconell e Hijos are out of this world. 
Make sure to ask for the croissants made with butter ("con mantequilla") and be prepared for them to be sold out. Flakey, doughy and crunchy, they're the ultimate in decadent sending fuel. Too bad the vegan ones don't quite live up to the same standard. 
The bakery is just off the main street of the lower town, and opens from 9:30AM until about midday, Monday-Saturday.
Groceries are available in town at two small supermarkets, both next to the church in the lower town. The Casa del Seronero is the pricier of the two, but worth a visit even just to pick up a bottle of the local red wine, Fanático climb. 
A small produce market also takes place in the square behind the bakery on Wednesday mornings.
For any major grocery shopping or other supplies you'll need to drive to the provincial capital of Teruel, about 35 minutes away. 
Here you'll find discount supermarket chains Lidl and Aldi, as well as a larger Alcampo supermarket.
Water can be a little tricky to resupply. There are many taps in towns but, at least over the winter and spring that we passed here, they had been turned off due to the cold weather. 
If this is the case when you visit, then the nearest water fountains are either at Dornaque opposite the Centro de Interpretación, about 15 minutes' drive in the direction of Bezas, or from the children's playground next to the Alcampo supermarket in Teruel.
Albarracín has many restaurants, though these are generally on the pricier side. Most climbers stick to the burgers at local climber's bar La Zahora for a cheap meal out.
 

Ver esta publicación en Instagram

 
Climbing gear can be bought at the friendly Sofa Boulder shop in Albarracín. 
The shop is small but has all your bouldering needs covered, from a range of crash pads and shoes to chalk and even locally made artisan brushes! Their opening hours are a bit sporadic, but they're open most mornings and are very responsive to WhatsApp messages.
Suggested Packing List
Albarracín is all about the boulders, so you can leave your roped climbing gear at home. However, a harness and rope would be a good idea if you want to make a side trip to one of the world class sports climbing areas nearby. 
If you do so, keep in mind that routes in Spain are often long: pack a 70m rope and 15 quickdraws as a minimum.
If you plan on climbing Chulilla, some routes require a 100m rope and 20+ quickdraws.
But you came here for the bouldering, right? In Albarracín the boulders come in all sizes, but the landings are mostly flat and clear, and a single large crash pad will often suffice. 
On its own, something big like the Black Diamond Mondo will see you happily up (and down!) most problems.
Check Price and Reviews
However, bear in mind that many of the problems in Albarracín will have you getting very horizontal. In this case, more pads would be better.
On roof climbs you should be able to get by with two pads, though your spotter will need to be on their toes dragging them around while you climb.
And don't worry too much if you only have one pad. Albarracín is very popular. Chances are you'll make plenty of friends with whom you can team up and have a pad party.
Pads can also be rented or bought from the shop "Sofa Boulder" in Albarracín, with full-sized pads available from 7€ per day.
Oh, and make sure to bring a brush to brush your holds and tick marks after you climb! Something like this should do nicely.
Information about the climbs can be found on the application 27 Crags, which comprehensively covers all of the major crags in the area. Make sure you download the crags before going climbing, as reception is patchy in the forest.
At the time of writing there are also two guidebooks, of which the more recent is "The guidebook about Albarracín Bouldering & Bezas".
The guidebook "Boulder Albarracín" also covers the area reasonably well, but is a little older and trickier to navigate. 
The information from this guide can also be accessed for free online.
Rest Day Activities
The old town of Albarracín, whose walls and fortress date back to the 10th century, is a must-see and an easy rest day tick.
You might also like to check out the remnants of the ancient Roman aqueduct, built in the first century BCE and running about 18 miles from Albarracín to Cella.
The tourist office in town will be happy to provide you with information about the many hikes and activities in the region. 
Marked hiking trails criss-cross the Pinares de Rodeno park. More information about these can also be found on the mobile application "Wikiloc" (subscription required).
Food tourism is also popular in the area. Fans of cheese (so, most people) would do well to check out the award winning "Quesos de Albarracín artisanal cheese factory just outside of town. 
And although rain might not be good for your climbing, it will be helpful if you want to go mushroom picking (permit required).
You could also drive to the coast in a couple of hours or even all the way to Barcelona or Madrid for a couple of days if you're craving some urban culture. 
Or you could, y'know, just lie around on your crashpad in the sun and never leave the car park… Everyone's rest day priorities can be satisfied.
Wi-Fi, Internet and Power
For those staying in the climber's carpark, the good news is that the phone signal is strong and there's plenty of sun to charge your solar panels. However, you'll need to drive a bit to refill on water.
Those who need a bit more data can get their Wi-Fi fix at the climbers' bar, "La Zahora". Be sure to check their opening hours before going, as they're only open during the daytime on some days of the week.
If you're working remotely and need Wi-Fi and a bit of communal space, but still want to sleep in your van, we've also heard of people negotiating a reduced rate to use the facilities of the guesthouses nearby.
Access Issues and Area Specific Concerns
The climbing here takes place inside of a protected natural park and the climbing permitted is the exception rather than the norm in this area.
Several areas that were once permitted have since been forbidden to climbers. Protection of the flora and fauna is important. Therefore, it is essential that climbers respect all access rules. In particular:
Don't climb at night using lights.

Don't make fires.

Don't climb in prohibited areas.

Keep your dog on a leash and collect the dog waste.

Leave no trace.

Stick to authorised parking spots.

Use common sense.

Clean your tick marks.
Editorial staff for The Wandering Climber. An expert roundup of climbing nerds from across the world!