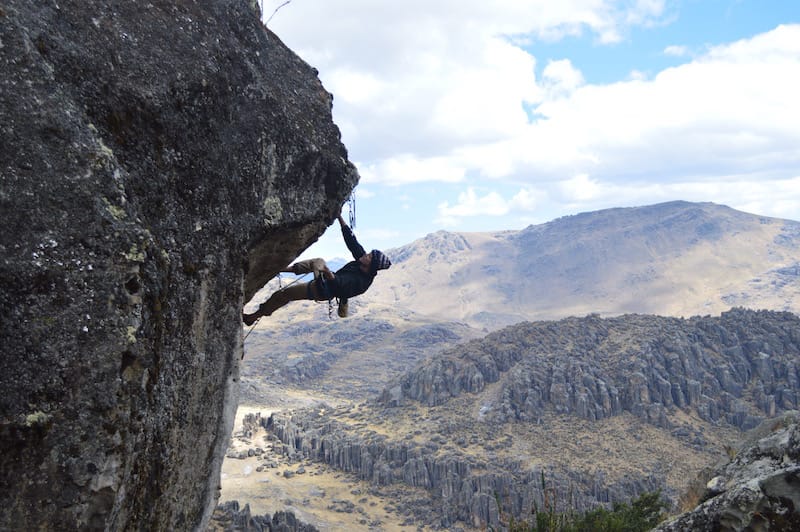 I'm going to show you the 5 best places to go rock climbing in Peru, period. 
The information presented to you here is the result of over one year of collective climbing experience in South America. 
(The best part?)
I've done all the legwork for you.
And weeded out the areas to rock climb in Peru which aren't worth your time. 
After reading this, you'll know the top places in Peru rock climb, where they are and how to get there.
In addition will have an overflow of other good resources for each area if you'd like to learn more. 
Here we go!
When is the Best Time To Go Rock Climbing in Peru?
First things first, when is the best time to go rock climbing in Peru?
Peru is in the southern hemisphere, and is located close to the equator. The best the best time to climb anywhere in Peru is their winter, May – September, make it a prime winter climbing destination. 
Winter is their "dry season", which means that most days you should expect cold and crisp mornings and evenings, and intense sun during midday. 
Keep in mind that the weather is very unpredictable and it is normal to experience bad weather at any time of the year. 
On the other hand, it is possible to show up outside of the prime climbing season and still have great weather. 
In my case, I was climbing in Peru for 8 weeks between October – December, and we had almost zero rain the entire time I was there. 
But that's an anomaly. I suggest showing up in the "prime" season if possible. 
Hatun Machay – Peru's World Famous Rock Climbing Destination!
Located high in the Peruvian Andean mountains is the legendary rock forest of Hatun Machay. 
This is Peru's most famous and developed climbing area, with around 400 bolted routes of various grades and styles.
Hatun Machay is located about 75km south of the town of Huaraz. The town of Huaraz is a transportation hub for the region and Peru's climbing capital. 
The area has gained a lot of international attention over the years, and has become Peru's number one rock climbing spot. 
This is one of the most unique climbing places in the world.
Huge volcanic towers shoot out of the ground and go on for miles, while at the base Peruvian locals still live in hand made huts nestled into the rocks next to ancient Incan cave writings. 
It is an experience that you have to see for yourself to truly understand.  
Why You Need to Go Climbing At Hatun Machay
Hatun Machay has Peru's best sport climbing, period. 
In the past there were over 400 bolted routes to choose from. Though due to a rather nasty land dispute between the former manager of the refugio and the land owners, about 100 of those routes were chopped. 
Despite that unfortunate turn of events, 300 routes is still the single highest concentration of routes anywhere in the country, so it is an absolute must visit. 
The rocks at Hatun Machay are heavily featured volcanic formations which seemingly spring up from the ground out of nowhere. 
The rock for the most part is very strong and on the well traveled routes I hardly broke any holds. 
The climbing aside, what sets Hatun Machay apart from most other areas in the world is its incredible surroundings. 
The area has this indescribable peace and calm around it. It is completely detached from the modern world, no power, roads or cell reception, and it feels as if you've taken a step back in time. 
This atmosphere mixed in with strong winds that howl through the rocks at night, and some of the most stunning sunsets one could ever hope to experience make this place one of a kind. 
 How to Easily Get To Hatun Machay
There is no bus which takes you directly to Hatun Machay, however it is still quite easy to arrive. 
The closest town to Matun Machay is Catac, so you'll want to arrive here first. From Huaraz there are regular busses which will take you directly there. 
From here you have two options. You can either continue on a bus or hitchhike south on the same highway "3N" until you reach the reach the gravel road which takes you towards Hatun Machay. 
From here you will have to get off the bus and walk uphill for about 1.5-2 hours until you reach the Refugio. 
Alternatively, if you have lots of supplies you can hire a cab once you reach Catac to take you to the Refugio for about 15-20 USD. 
Just say "Hatun Machay" and they will know what you're talking about!
Where to Stay When Rock Climbing at Hatun Machay
The only place to stay at Hatun Mahay is the Refugio. In the past, the lodge was very cozy and well maintained, offered beds to sleep in and even had a small restaurant. 
However, now all that remains now of the Refugio is a hollowed out building which only serves to protect you from the wind and rain. 
That being said, it is still better than nothing, and you can still throw down your mattress and steeping bag inside and keep your stuff there. 
In addition, there is ample space to camp around the Refugio. 
The cost to stay is 10 Soles (~3USD) a night, and the cost for entrance to go climb is an additional 10 Soles. 
Los Olivos – Peru's Urban Rock Climbing Area
Located on the outskirts of the town of Huaraz is the Los Olivos climbing area. 
One of the largest areas by number of routes in the country, and also has the largest concentration of beginner 4+ to 6c routes out of anywhere in Peru. 
Though not what I would call a "pretty" crag, Los Olivos is literally located within the city limits of Huaraz itself and it easily accessible by public transport. 
There are very few places in the world where you have access to this much rock climbing within a major city's limits!
Why Go Rock Climbing at Los Olivos?
I've climbed all around the world, and there are very few cities out there which have climbing actually within the city limits themselves. 
Huaraz's Los Olivos is one of those areas. 
It is worth checking it out for that reason alone. 
Los Olivos has a nice mix of climbing routes and boulders, most ranging in the 6a-7a zone, spread across a few different nearby areas. 
It isn't worth taking a trip down to Peru just to climb Los Olivos, but if you're a climber it is pretty much guaranteed that you'll pass through Huaraz, as it is undoubtedly the capital of Peruvian climbing. 
If you're in town, I'd definitely say, check it out!
How To Get To Los Olivos Quickly and Where To Stay 
Since Los Olivos is located in the town of Huaraz, that is where you'll be staying. 
The accommodation options in Huaraz are endless, but if you're a climber the best recommendation I have for you is the Monkeywasi climbing hostel. 
It is the best place in town to find local climbers and get up to date beta on the climbing around Huaraz. 
It is very easy from Huaraz to arrive at Los Olivos.
For less than a Sole, you can take one of the micro busses which are heading towards Los Olivos. You can also take a 5 Sole cab ride, or walk for about 30 minutes. 
The exact location of the trail to go climbing is seen here. 
Inka Wakanka – Massive Pillars Mixed In a Huge Boulder Field
Off of the same highway 3N as Hatun Machay is another one of Huaraz's rock climbing wonders, Inka Wakanka. 
With about 100 bolted routes and about as many boulders, Inka Wakanka offers a great range of climbing at various styles and diculties. 
Only developed in the past few years, Inka Wakanka has been stepping up to become one of the top rock climbing spots outside of Huaraz. 
And the best part?
It is located right off the highway, no long approach or cab needed! 
Why Go Rock Climbing at Inka Wakanka
Inka Wakanka is what I would refer to as "Hatun Machay light". This is in no way meant as an insult, but is simply referring to the fact that as of now there are much less routes when compared to Hatun Machay. 
But Inka Wakanka has many of the same "features" which Huaraz and Peruvian climbing is famous for, without the long approaches and completely remote locations. 
Inka Wakanka has about 100 bolted routes of various difficulty ranging from 5+ to 8b, so there is something for everyone. 
In addition, Inka Wakanka's "El Naranjo" is one of the best "escuelas" (beginner sections) to be found in all of Peru. 
At Inka Wakanka you will also find the same characteristic jagged volcanic towners, high deserts and overall stunningly beautiful and eerie setting which can be found in Hatun Machay. 
For a full updated list of topos I suggest purchasing a copy of the Huaraz Climbing guide. But to get you started, there is a free PDF online which shows the majority of the routes!
Where is Inka Wakanka and How to Get There
Inka Wakanka is located directly off of the highway 3N, about 90km south of the town of Huaraz in Peru's Ancash region. 
To arrive, first take a bus to the town of Catac. From Catac, you should be able to find a bus heading towards the very small town of Cajacay. 
In addition, you can hire a cab from the town of Catac to take you all the way to Inka Wakanka, which will cost you around 70 Soles. 
Getting back into town is slightly more difficult, as the buses here usually do not stop and pick you up on the side of the road. 
For this, I suggest getting the number of a local cab driver to call and pick you up or plan on resorting to hitchhiking until you arrive at Catac, as from there you can take a regular bus to Huaraz. 
La Esfinge (The Sphinx) – Peru's World Class Big Wall Rock Climbing Wonder
La Esfinge is the Peruvian big wall you've never heard about. 
Rising over 3,000 vertical feet from the valley below, the massive granite wall of La Esfinge is an absolutely incredible structure which needs to be seen in person to fully grasp its size. 
Located about 80km north of Huaraz in the Cordillera Blanca mountain range, La Esfinge was only first climbed in the 1980s, and only gained international attention in the late nineties. 
Even today, there are only a few routes which get regularly climbed, as the majority of more difficult and dangerous routes have only seen one ascent. 
La Esfinge is the ultimate alpine climbing adventure. It is remote, the approaches are long, and the routes are rarely traveled. 
But for those with the ability and desire to climb La Esfinge will experience one of the most wild, exposed and rewarding climbing adventures South America has to offer. 
How to Get to La Esfinge from Huaraz Easily
From Huaraz, take one of the many regular buses which go north to Caraz. It should take about 2 hours to arrive from Huaraz. 
From Caraz go to the "paradero Paron" bus stop, and from there you can take another bus towards Lake Paron.
Once arriving at the guard's hut, it is available to arrange some sort of donkey to hire to help carry your gear. 
From here is is about a 2.5-3 hour hike to the base camp area for La Esfinge. 
Due to the remote nature of this climb, and its relatively low popularity it is advisable to hire a local certified mountain guide to assist you with your expedition. 
Even in the high season it is likely that you'll be alone!
Ch'acco Hayllascca – Pitumarca – Cusco's Incredible Sport Climbing Paradise
Nestled in the world famous Sacred Valley, mixed in with ancient Incan ruins and massive Andian mountains we have the Parque de Escalada Ch'acco Hayllasca.
It is generally just referred to by its closest town "Pitumarca" for short. 
Pitumarca has risen from one of a number of small climbing areas near Cusco to becoming hands down the most developed and complete rock climbing area near the city. 
I had a chance to visit Pitumarca in 2016 when only a handful of routes where installed. 
When doing the research for this article I was very happy to see the work the local community has put into growing it. 
And the best part?
There is still a massive amount of potential waiting to be developed. 
The setting for the climbing is incredibly beautiful, surrounded on both sides by huge cliff faces, with a stream running down the middle of the valley. 
The majority of tourists visiting Peru will end up in Cusco, so this is without a doubt the spot to go rock climbing while you're there! 
Why Go Rock Climbing at Pitumarca
Pitumarca is the most developed rock climbing area in Peru outside of Huaraz. The guide has about 100 routes listed on it ranging from 5+ to 8c with everything in between. 
In addition, there are even a handful of 4-6 pitch multis recently opened for you to enjoy.

The local climbing community has been working tirelessly to grow Pitumarca to what is today. Almost all of the routes where opened in the past two years. 
In addition, there is huge potential for route development in the area.
At the rate they're developing, but the time you read this there will already be new routes and sectors to enjoy. 
The best place to get up-to-date information on the climbing is by stopping into Cusco's local climbing gym 7a Escuela de Escalada.
The most recent topo for Pitumarca's climbing can be downloaded here. 
Where is Pitumarca and How To Get There
The town of Pitumarca is located about 100km outside of the town of Cusco. 
For those of you unfamiliar with Cusco, it is the main transportation hub of the region. It is also the launch point for trips to the world famous Machu Picchu. 
To arrive from Cusco, take the bus with the destination of Sicuani. The bus can be caught on the Av. Huayrurupata which is about 3km outside of the town's main square. 
After about 1.5 hours, you will want to get off at the town of Checacupe. 
From Checacupe, you can either take a colectivo for 2 Soles to or a taxi for 8 Soles to arrive at Pitamarca. 
It is also possible to walk to the Plaza de Armas in the center of town and take a combi van from there. 
From Pitumarca, there is no bus to arrive at the climbing.
Because of this, you will either have to walk for 7km, hitchhike or take a taxi for about 25-30 Soles.
The final location of the climbing/camping zone can be found here. 
Now It's Up To You
Know you know the best place to go rock climbing in Peru. 
You have a background of each area, know why you should go, where it is, and how to get there. 
But now I have a question for you. 
Which area seemed absolutely the most amazing to you? 
I'd love to hear it. 
Drop a comment below and I'll get back to you ASAP! 
Climb on. 
For more reading like this see: "The Top 6 Rock Climbing Towns in South America".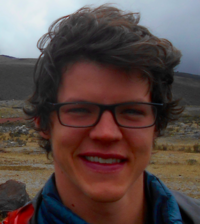 The Wandering Climber. Often seen at world class climbing destinations from around the world!