Piedra Parada is Argentina's sport climbing paradise. Located in rural Chubut Province about 130 kL east of Esquel, it offers some of the continent's best selection of single pitch sport routes.
This location has something for everyone, with routes starting at 5.easy and going all the way up to 5.14d, and everything in between.
One of the things which separates Piedra Parada from some other nearby world-class areas such as Cochamó or The Frey is the strong community and ease of access to the routes.
The summer days her are long, the weather is good, and climbing is excellent. What's not to love?
In this guide you will find:
Rock Climbing Piedra Parada
Piedra Parada became famous in the climbing world after it was the location of the 2012 Petzl RocTrip. The climbing is located in a huge canyon which is several hundred meters high. Out of the 300+ routes currently bolted, only a few currently have multi-pitches; but, the potential in this area is almost limitless.
The stone is a generally high-quality volcanic rock. Take caution, though, as rocks do constantly break. A helmet is available here.
This location offers a nice mix of climbing styles, generally ranging from completely vertical to very steep. Also, all the routes here are a little bit overhung. A very nice thing about the climbing here is that it is very protected due to the canyon. You can always either chase the shade or sun depending on the time of year you're climbing. For that reason you can pretty much climb here year round.
Where is Piedra Parada?
The Piedra Parada itself is a large free standing rock located in the Chubut Province in Northern Patagonia. Though there is climbing on The Piedra, the vast majority of the climbs are located in a nearby canyon.
The area itself is very remote, and most of the people who live nearby are farmers. The closest major town is Esquel, about 130kL away, and the closest small town is Gualjaina, which is about 40kL away.
The area where the climbing itself is located, there is no town to speak of, just a few buildings and fences constructed mainly to support the national park and the climbers.
Where to Stay At Piedra Parada?
A Handmade Shelter at the Free Camping Zone
Mario Moncada's place (La Buitrera) offers paid camping (~3-5 dollars USD a night), showers which are heated at night via wood fire, a small cooking area (basic and not furnished), and a shop where you can buy basic food, supplies, and cold beer (at prices 2-3x what is obtained in town).
His property is right next to the entrance to the climbing, so, as expected, it is very popular for climbers. Also located here are picnic tables and benches where all the climbers hang out, so it's a great place to meet people. Moncada's also has a supply of clean drinking water that is available to anyone staying at his campsite.
Across the river towards the highway (see the map below) there is free camping. This is the place to go to embrace the hippie lifestyle. There tend to be a higher concentration of locals staying here and the vibe is, if possible, even more laid back than Moncada's. Keep in mind that if you are staying at the free camping, it is still possible to visit Moncado's to purchase food and hang out.
The river is normally drinkable, but due to climate change snow levels have depreciated and the river can get quite low if it hasn't rained in awhile. There are lots of cattle which defecate into the river so this has been known to make people sick from time to time. For that reason it is advisable to filter the water prior to drinking.
Note: if you are washing yourself or your dishes do not put detergent in the river!
When Is the Best Time To Go To Piedra Parada?
Piedra Parada is located in Southern Patagonia in the Chubut Province, so remember that the seasons are reversed from North America. But this is not the green lush Patagonia you might have seen in pictures. The weather here is insenssly hot and dry with frequent strong winds.
Though you can climb here in the summer months (Dec-Feb), just be aware that it can be brutally hot, so you'll need to be chasing the shade.
The colder seasons are prime here, Oct-Nov or Mar-Apr, with Nov or March generally being considered the best. In winter climbing the days are very short and cold. It is still possible to climb, but you'll be limited to crags which have direct sun.
How to Get to Piedra Parada? The Bus From Esquel to Piedra Parada.
As mentioned before, Piedra Parada is very remote. To arrive there you first need to get to Esquel. The closest and biggest town in Chebut. This is an easy destination to get to, and you will be able to find busses from many terminals in the country.
From Esquel you can take a bus directly to Piedra Parada, but only twice a week!! The bus leaves Esquel towards Piedra Tuesday and Thursday morning at 9:40am only. The busses leave from the Terminal de Omnibus in Esquel and the company you will be buying the ticket from is Transporte Jacobsen.
The bus's final destination is Paso del Sapo, so you'll have to make sure to get off before that stop. It is very likely that the bus will stop here on its own, but keep your eye out for huge standing rock from which Piedra Parada gets its name.
Another option if you don't want to wait is to take one of the daily busses from Esquel to the closest town of Gualjaina which will put you about 40k from Piedra. From there you could try to hitchhike towards the climbing if you're not pressed for time. This is a very common form of transportation here, and you'll typically get picked up within a few hours.
What Do I Need To Bring To Piedra Parada?
The 'accommodations' here are only camping, so make sure you bring all your own sleeping and cooking equipment. Also, as mentioned, there are no shops and the drinking water is questionable.
I would suggest bringing some sort of filtration system, especially if you're planning on staying at the free camping. In addition, it is a good idea to stock up on food in Gualjaina or Esquel, as the selection at Moncada's is limited and relatively expensive.
Remember to stock up on cash. There are many ATMs in Esquel and and one in Gualjaina also.
In regards to climbing, having a 70m rope is advisable as many of the routes are in the 32-35m range. All routes are sport, so 15-20 quickdraws will get you up just about everything. There are guide books available for purchase in the climbing shops in Esquel or around Argentina. The books are well put together, and, not a bad souvenir if you ask me.
In the town of Esquel there are a few equipment ships in town such as Frontera Sur where you can buy the climbing guide for Piedra Parada and get any last minute gear. Keep in mind that any imported goods are very expensive in Argentina, so I would suggest buying your gear elsewhere and only purchase here what is needed.
Finally, there is a very outdated PDF version of the climbing available for download, and Moncada's has a community copy you can take a look at.
Other Climbing Areas in Argentia
There are many areas to rock climbing in Argentia, though Piedra Parada is one of the most famous. Check out the linked article for more info on the entire countries options.
Last Thoughts
Piedra Parada is one of South America's prime sport climbing destination. It has an great mix of climbing and community you can find anywhere is South America. Maybe the quantity and quality of routes doesn't match what you can find in some of the world's top crags, but as far as what South America has to offer it is one of the best.
For more reading like this see: "The Top 6 Rock Climbing Towns in South America"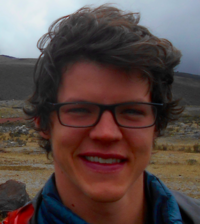 The Wandering Climber. Often seen at world class climbing destinations from around the world!