Cochamo climbing has exploded into the limelight in the past decade.
And it is easy to see why.
It is Yosemite 40 years ago. A blank sheet of nearly completely untouched granite. With prime lines just sitting there waiting for the taking.
It is without a doubt one of the world's last world class climbing destinations still waiting to be developed. And it has the potential to even dethrone Yosemite as the world's granite climbing capital.
This article was particularly difficult for me to write. It is simply hard to do the climbing at Cochamo any justice in just one article. 
I arrived in South America for the first time in August of 2016. I had no plan, just a rough idea of the direction I wanted to go.
I had heard of Cochamo, but I wrote it off as being 'too extreme' or 'too remote' to attempt. At the time, my trad experience was close to zero. The thought of going to a remote big-wall climbing destination like Cochamo seemed out of the question.
This all changed when I arrived in Huaraz, Peru's climbing mecca, where I met a typically friendly Canadian climber, Will, who just wouldn't shut up about the place.
I got to know Will very well, and after about 3 weeks of climbing together, I was convinced. I had to go. Plans were made, and we set a rough date to meet in Chile during the upcoming summer season.
I have taken my experiences and assembled the most comprehensive guide to Cochamo's climbing on the internet.
In this guide you will find:
Cochamo Climbing Overview
In March of 2017, I met up with Will again in Santiago Chile. We spent a week making plans and exploring the climbing of Santiago's nearby Cajon del Maipo.
Soon we were taking the long bus ride South to Patagonia.
We arrived in Puerto Varas a day or so later, where we stocked up on supplies for our planned two week excursion to Cochamó.
Getting to Cochamó is an adventure in itself. It's about a 4+ hour hike from where the bus drops you off to the main camping area on a rough and usually very muddy trail.
But after a few hours of walking those thoughts were erased from my mind as I quickly discovered what Will had been talking about all this time.
Cochamó is without a doubt the most beautiful place I have ever visited. Those shining granite walls, surrounded with pure, pristine, Patagonian wilderness is almost enough to make a believer out of anyone, for it seems that only a God could create anything as perfect.
When I arrived, I hadn't done much trad climbing, but after 6 months of dirtbagging I was regularly climbing 5.12+, so I felt confident that I could struggle my way up a of the 'moderate' classics.
But one thing I didn't have (but luckily my climbing partner Will did) was the situational awareness which is essential to make it back safe. 
If you don't have alpine gear, technical know-how or experience with this type of climbing, I suggest for your own safety to only attempt one of the many shorter 'moderate' climbs and work your way up over time.
This was painfully demonstrated to me during me and Will's climb of Icaro y La Luna, where we experienced some difficulty during the long scramble up the Escudo while trying to locate the route.
After hours of approach, we arrived at the base of the climb itself around 2pm in the afternoon. But now we where short on light and time, and stuck in middle of the wall, with no hope of finding a way back down (even if we wanted to). The only way down was up.
So we roped up and trudged on. The climbing itself went relatively smoothly, with the 3rd and 4th pitches being of a superior quality one can only hope to encounter a few times in their life.
We topped out the route around dusk, and then for two hours proceed to search for the rappel station in the utter darkness which can only be experienced in wilderness.
At about 1am, deprived of food and sleep, the fatigue was setting in, so we decided that an attempt to rappel would be to dangerous.
Hence leads me to the longest night of my life, which was spent huddled for warmth, while being whipped by the cold Patagonian winds against the granite rocks. I still shudder to think of what may have happened had a rainstorm came in, which is common in Cochamo year-round.
After about 4 hours of a restless sleep, the dawn woke us, where we quickly found the rap station (we had passed by it numerous times the night before) and started our descent. We battled our ropes getting stuck on in the cracks during the rappel, and after 36 hours, exhausted, we successfully made it back to base camp. We had been without food or sleep for most of this time.
Now why do I tell this story? As a cautionary tale. Things worked out for us, but had a few events turned against us, this story wouldn't have ended well for us.
Cochamo is remote and rescue are difficult. You have to rely on yourself to make it back.  Several injuries and helicopter evacuations occur every year. Don't be a statistic, be smart. 
How To Get to the Cochamo's Climbing
So if you're coming to Chile by plane, the closest airport is Puerto Montt. Bariloche on the nearby Argentinian side also has an airport, from where you could reach Puerto Varas in about 6 hours.
If you're coming from Bus, you'll want to first go to the town of Osorno, the transportation hub for this part of the country. From here you can easily catch a bus to Puerto Varas or Puerto Montt (about two hours).
From Puerto Varas, you'll be able to take one of the regularly scheduled busses (4 times daily, less holidays and Sundays) towards the nearby town of Cochamo. The bus stop in Puerto Varas can be seen here.
Important note! If the bus is full it will not stop in Puerto Varas. This is common during the high season (Jan-Feb). For that reason it is advisable to take the bus from the Terminal de Buses in Puerto Montt during these months, as all buses to Cochamo initiate from this station.
You don't want to stop in the town of Cochamó itself, but continue on for about 15 more minutes until you pass the road toward the trailhead. The bus will drop you off here,  from which there is a 20 minute walk to the trailhead (there will be locals offering to give you a ride for a few dollars).
Now the fun starts, follow the well-marked trail for about 4 hours until you start to reach the camping sites. The main camping site for climbers is called La Junta, as here is where all of the areas topos are kept.
There is a good amount of climbing very close to La Junta, such as one of Cochamo's classic beginner crack climbs: Apnea (5.10b).
But you didn't come all of this way for a two pitch climb! Leave what you don't need behind, and head up to one of the two valleys, El Anfiteatro and Cerro Trinidad. Reaching these valleys is another three hours or so of steep hiking, and from there you'll be able to set up a sort of base camp for your alpine adventures.
The Rock Climbing at Cochamo
The climbing here can be generalized by long, alpine-style multi-pitch trad routes. The approaches can be brutal, but well worth it.
Cochamó is absolutely stacked with stellar climbs one can only hope to find in a few places on this earth. You could spend years here and hardly scratch the surface.
Cochamo is not a beginner climbing area. The area is remote, the grades are stiff, and the climbs are long. I suggest that anyone coming here should be confident in leading 5.10+ trad. You must also do so with some of wildest exposure that can be found on this planet. You've been warned.
When is the Best Time to go to Climbing at Cochamo? 
La Junta camping is open November – April every year. The 'driest' months are January and February, but also the busiest. The hoards of vacationing Chileans drive up prices, and the campsites can even sometimes get crowded.
December is a great month to be in Cochamo. The days are longest (around 15hrs of light) and you can get lucky with weather. March is also another great month, though days are noticeably shorter and colder than in December, but you can still get good stretches of dry weather.
If you're looking to trad climb: Cochamo is one of North America's best international winter climbing destinations.
But keep in mind, any time of the year can get blasted with rain storms which sometimes last for weeks. Unfortunately this is the nature of the beast.
Where Do You Stay at Cochamo? 
Almost all of the accommodations at Cochamo are camping. As mentioned before, La Junta is probably the best place to stay if you're a climber, as staying there will give you access to all the climbing topos which are found in the common room. La Junta has a fully stocked kitchen available for use, bathrooms and showers (heated by sunlight only). There is power at night time only.
There are a few other campsites nearby as well, and though I've never stayed at them, I've heard that they have similar amenities. See Camping Playa Los Manzanos and Camping Vista Hermosa for more information.
What Do You Need To Bring To Cochamo? 
The logistics of getting your supplies up to Cochamó can be a challenge, so read carefully.
To start off, Cochamó is a pack-in pack-out destination. Meaning that if you're climbing you'll have to bring all of your food and gear with you. This coupled with the 4+ hour hike can make for an interesting combination.
Luckily, there are packhorses available for hire to help you with your gear. There is a strict 65kg limit per horse. Horses can be hired for both directions and the cost is around 30$ USD each way, but varies depending on season.
As for climbing gear, at a minimum you're going to want a full trad rack with double or twin 70m ropes for rappels. Almost all of the rap stations are 60-70m apart, so taking two ropes is a necessity.
That coupled with all of your camping supplies can make for a heavy load, but trust me, it's all worth it!
New Route Setting at Cochamo
Cochamo has the potential to be one of the world's best bigwall and trad climbing destinations. There are granite walls as literally far as the eye can see, and to date only very limited amounts of two most assessable valleys, the El Anfiteatro and Cerro Trinidad have been developed. 
Anyone who is willing to work for it can open up their own routes and have their name written into Cochamo's history.
The bolting standards are relatively lax. You are allowed to clean from the top down, and more importantly you can add bolts where it is impossible to safely protect with natural protection.
The area ethics also also the bolting of pure sport routes. This makes the potential for climbing here endless.
Get out there and write your name into climbing history!
Conclusion on Cochamo's Climbing
Cochamó remains a special place, still relatively unspoiled by tourists. As long as Cochamó remains a hike-in hike-out only, as opposed to a drive-in destination, I don't foresee it experiencing the rampant explosion in popularity like what is seen today in Yosemite.
But that being said, Cochamó is still changing. Every few years the number of tourists who make the trip up the valley nearly doubles. If this article has at all inspired you, I highly suggest making the trip. It is a truly unique location which may leave a lasting imprint on you, like it did me.
For more reading see: "4 Reasons Why You Need To Go To Cochamó Now" and "Top 3 Places to Climb in Chile".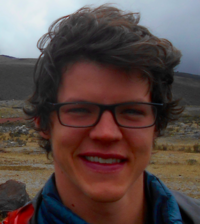 The Wandering Climber. Often seen at world class climbing destinations from around the world!