*This article was originally published in July of 2018. Most recent update was October 3 2019. 
Here you have it, the ultimate guide to Suesca Climbing.
Located only 45km North of Bogota, it is the most developed and "complete" climbing area in the country, with over 400 routes.
Suesca has a nice mix of trad, sport, multi-pitch and bouldering.
This is the birthplace of Colombian climbing.
The first routes are said to have been opened in the 1940's by German climbers looking for a place to train for expeditions to the high mountains in El Cocuy National Park.
Since then, Suesca has not only become Colombia's climbing center, but the center for other adventure sports as well.
Mountain biking is particularly popular here and on weekends the town can get flooded with Rolos (people from Bogota) looking to escape the city.
But there is something about Suesca which keeps drawing me back to it.
The rocks have an eerie feel to them and hang with moss, giving you the sense that you're walking on hallowed grounds.
Talking with the locals only adds to this feeling. Campfire stories of ghosts, haunted houses or reports of other supernatural activities are commonplace.
But the climbing here is great, and the locals are friendly.
Don't be surprised to be invited to share the fire with your neighbors or invited for a drink. Because of this, Suesca is a special place which in many ways has to be felt to be truly understood.
Suesca Climbing – Colombia's Most Famous Crag
Suesca, without a doubt, has some of the best climbing in Colombia.
The rock is some of the most bomber sandstone I have ever felt in my life. So bomber, in fact, that I was convinced that the rock was actually limestone until the locals told me different.
If you're looking to find climbers, head on over to our BRAND NEW FB GROUP and drop a post with your dates!
It certainly climbs like limestone, requiring lots of small smeary feet and body tension.
As I mentioned before, Suesca is the best one stop shop climbing area in Colombia.
With over 400 routes, they are split nearly 50/50 between sport climbing and trad. In addition, there are both trad and sport multi-pitches, though for most of the classics you're going to need to plug in gear.
Most of the multis don't go past 3 or 4 pitches, which makes for a leisurely day out.
Nearly all of the climbing is accessed from the main path following the railroad line. Some of the approaches are almost non-existent and the paths are at times difficult to find.
There is a very old and outdated guidebook, but "up-to-date" topos can be found here.
However, even this topo can be hard to follow. I would suggest asking some of the friendly locals or stop in at MonoDedo for beta.
Suesca is an "old school" crag, which means that the first bolts are sometimes very far off the ground and can be run out.
In addition, many of the well traveled routes are polished which only works to further add to the danger.
It is also common for routes to require one or two pieces of gear to safely protect the "easy" sections. This, coupled with old school sandbagged grading, can make for a dangerous combination.
If you don't have a local giving you advice use extreme caution while climbing here, especially if it is your first time on a route.
The Best Climbing Routes In Suesca (to get you started)
Black Corner (5.6, Zone – "Clavícula") – A two bitch classic trad route, originally climbed in 1935.
LP (5.7+, Zone – "LP") – A uber-classic 5 pitch trad multi. A must do.
Haztelo Panchito (5.11c, Zone -"Haztelo Panchito") – A steep and powerful route with a no hands rest in the middle leading to a pumper finish. A good place to show off.
Alta Variante (5.12d, Zone – "Sueños de un Seductor") – Vertical climbing leads to an technical crux followed by a no hands rest. Stellar.
Betty Blue/ Deep Blue (5.10c or 5.11c, Zone – "Betty Blue") – Vertical, balancy climbing with a scary finish.
Super Nova (5.12b – Zone "Eucasoluc") – Starts off slabby and finishes with a powerful crux. Excellent.
*Note, all of the routes in the aforementioned sectors are excellent if you're looking for more variety. This list in no way gives all the great routes justice.
What Type of Gear Should I Bring?
Trad Rack
A big percentage of Suesca's climbs are trad (about half), so it is definitely worth bringing some gear along. 
Your rack will depend slightly on what you want to climb, but a full rack to #3 with doubles on the from .3 to #1 will get you up pretty much everything.

You can always just top up on your gear when you arrive at the local gear shop Monodedo, but keep in mind that the prices aren't cheap, so I'd suggest bringing most of your gear with you.
60m Rope
Pretty much all the routes at Suesca can be climbed with a 60m rope. 
I usually suggest a dry treated rope, as they just last way longer, keep the dirt out and are almost always worth the extra money.
In the case of Suesca I'd say you can get away with a non-treated like the Edelrid Boa.
It's pretty much the the ultimate value for your money rope.
It belays super smooth, is durable and comes in at a retail of about $160!!
And not to mention, they sell them at the local Monodedo.
Belay Device
Suesca has a lot of single pitched but also a ton of multi-pitches.
I suggest bringing an assisted braking device with multi-pitching reverso features such as the Mammut Smart Alpine. 
The Smart Alpine is an engineering masterpiece, and is one of the best lightweight and functional multi-purpose belay devices on the market. 
It is perfect for cragging, top rope belaying or multi-pitches. It might be the last belay device you ever buy.
Rope Bag
At Suesca, you're going to want to take extra special care to keep sand and dirt off of your rope. 
It is an essential piece of gear. 
It is small and durable, the perfect size for the days out cragging around Suesca. 
It has space for a 60m rope, with enough room to carry the rest of your basics like your quickdraws, harness and caulk. 
Not to mention, its clever center zipper design gives you quick access and easy packing of your gear!
For those of your coming from the US, be aware that 99% of your health insurance plans will not cover you in Colombia!
Couple this with adventurous activities like rock climbing, a huge increased risk of lost baggage or theft, and the all too common food and waterborne illnesses, makes a recipe for disaster. 
Furthermore, many travel insurance say that they cover "adventure" sports like climbing, only to discover that once you read the fine print they add in special inclusions like requiring you to climb with a certified guide to be covered.
The fastest, easiest and most respected travel insurance in the world which covers rock climbing is World Nomads. 
Be sure to select the "Explorer Plan" on the next page so that you'll be covered for outdoor rock climbing! 
Go here to read more about travel insurance and you can't travel without it!
How To Get To Suesca From Bogota
It's quite easy to get to Suesca as it is only about 1hr north of Bogota.
First step is getting to Bogota.
Lucky El Dorado Airport is a major transportation hub, where you can get cheap domestic and internation flights from the US, Europe and most of Latin America.
If you're coming by bus, the first step will be to get to Terminal del Norte which is one of the last stops going north on Bogota's Transmilenio bus system.
The Transmilenio is arguably the most poorly organized and confusing mass public transport in existence.
To save time I would suggesting asking the workers at the station for directions.
If you're looking to find climbers, head on over to our BRAND NEW FB GROUP and drop a post with your dates!
But to get you going in the right direction, you will want to head towards the Terminal del Norte station. If your bus doesn't terminate there (which most won't), you will most likely have to transfer at the Alcala station.
Keep in mind that Bogota is a huge city with some serious congestion issues. These buses get absolutely packed during peak times. Allow for lots of time to arrive.
Once you arrive at the station, exit the station and follow the signs to the terminal.
Once inside you can ask or look around for signs which say "Suesca". The fare from here is 7,000COP (May 2019) and takes about one hour.
One more thing to keep in mind – the climbing is located about a 20 min walk from the town center.
Depending on where you're staying, I would suggest telling the bus driver to let you off before you arrive in town itself to save the walk. The bus takes you on the main road right by the entrance to the climbing and Monodedo.
Parking and Access Issues
If you are arriving by car, you can park in the alleyway behind the Mondoedo. The cost is between 3-5USD a day, but prices change frequently, so make sure to ask first.
*Feb 2019 update. There have been some ongoing access issues at Suesca, though it hasn't lead to any park closures, but you now must pay Mauricio Franco to climb in the back half of the area (about $3, per climber, per day).
His land starts when you see Campo Base on your left.
If you wish to climb in the second half of the park, you can pay ahead of time at Monodedo or the other climbing equipment rental shops (on the weekends).
They take down your info, and issue you a ticket. Cost is between 7,000-10,000 COP a day. If you are planning on climbing multiple days in a row, you can purchase a week pass for between 20,000-25,000COP.
During the weeks, the shops are closed. In this case the payment operates on the 'honor system'.
There is normally a box with a sign up at the entrance of Mauricio's land where you can pay.
You can also contact him directly at: Instagram handle @manodeoso_.
Where to Stay At Suesca
As I mentioned before, Suesca is a bit of a tourist town.
For that reason accommodation options are plenty. However, there are two main spots for the climber to stay. If you are looking for partners or like-minded people, these are the way to go:
Hotels & Hostels at Suesca
El Nomada is the original climbing hostel in Suesca and they cater most notably towards that clientele. For years El Nomada also ran a small cafe near the entrance to the climbing. As of 2019 this has been closed.
The hostel itself is located about a 5 min walk from the entrance to the climbing. You will need a key to enter and it is slightly difficult to find if you don't know where you're going.
The dorm rooms cost 35,000COP per night, and it is 15,000COP to camp on the front lawn.
The hostel has seen some notable improvements over the past few years since my first trip down to Colombia, and it remains one of the best spots to stay in Suesca.
The beds are super cozy and since it's off of the main road, it is quiet. I have gotten some amazing nights of sleep here.
There is a full kitchen, a refrigerator, bathroom with a hotish shower, TV, and wifi. There's also a great hang out space, table, board games, books, yoga mats, slackline and crash pads to use all free of charge.
My second choice for a hostel in Suesca would be the Hostal Torre Alta Suesca.
Though it is locate a few minutes further from the entrance to the climbing, the hostel is super well put together, very cosy and quiet.
If you're looking for a private room, Hostal Caminos de Suesca has very nice rooms located right next the shops and entrance to the climbing.
Suesca Camping – Campo Base
In addition to hostels, Suesca has a few good camping options if you're so inclined. Campo Base is the only spot located within the park itself, which means that you're literally sleeping next to the rocks.
The cost is 15,000COP and includes access to the shower and bathrooms.
This is also a great spot to meet local climbers. Campfires and nighttime beers are common, so, sometimes it can get a bit loud. But, you'll probably need some booze to fight off the cold anyway.
The camping is in a huge field, and though it does get busy during the weekends, it is never "full". To arrive, walk into the park then follow the train tracks for about 5-10min. It will be located on your left.
When Is The Best Time to Go to Suesca? 
Similar to everywhere in Colombia, the weather doesn't vary much during the year. There are two dry seasons (Dec-Feb and June-Aug), which are the best times to climb.
However still expect intermittent rain during these months. Even when it rains, it dries rapidly and there are a few different roofs and covered areas to be found.
The truth is that the climbing season is year round.
Also keep in mind that it gets really cold here at night and can be windy. The elevation of Suesca is nearly 3000m, so make sure to have proper equipment, especially if you're camping.
Suesca Rest Day Activities
Sadly, you can't climb every day. But Suesca has a good mix of rest day actives to keep you busy when your muscles are aching.
If you haven't had a chance to play Colombia's official national sport: tejo, Suesca is good place to try. I would summarize this cornhole-style bar game as beer, metal disks and explosives (no joke).
The game is regional, and can usually only be found outside of major cities. Luckily, there are multiple canchas de tejo (courts) in and around the Town of Suesca.
It's also very fun to rent a mountain bike and go explore some of the nearby towns. Santa Isabel is quite nice, but there are a lot of trails to choose from.
Another good option is to practice your Spanish skills at the local language school: Green Languages Colombia.
Classes are 4hrs a day, so you can still have lots of time for climbing afterwards. I took a few weeks of lessons here back in 2016, it helped me improve my Spanish skills greatly.
Where to Buy Supplies at Suesca
Climbing Shops
There are a few climbing shops in Suesca, the best and largest being MonoDedo.
Though it's only open on the weekends, it has a small but complete selection of climbing gear, clothes and camping supplies (including stove fuel).
You can also purchase the guide book here for not only Suesca, but other nearby climbing areas such as Macheta Viejo, or El Salon de la Justicia (Macheta Nuevo).
Markets
Since Suesca is a proper town of nearly 20,000 there are lots of amenities in terms of shops and other stores.
There is an ATM (located near the park in the town's center), which is good because almost everything here is cash only. The closest grocery store to the climbing/ hostels is located here.
In the town of Suesca itself, there are a few larger grocery stores with a much larger selection and better prices.
Restaurants
There's a nice selection of restaurants close to the climbing and in the town itself in addition to a few cafes.
For places close to the climbing, Restaurante Doña Maria's is particularly good (the menu of the day is the way forward). It's located next to Monodos.
Traveling to Suesca soon? Don't forget to purchase travel insurance for Colombia to protect you against illness, injury, and theft. This is a super important thing to have on hand.
I use and recommend World Nomads Travel Insurance and you can get your custom quote here:
Last Thoughts & More Climbing in Colombia
Suesca has some great things going for it. Its year round climbing season, a big selection of high-quality routes, a great local and expat climbing community, and plenty in terms of accommodation and supplies.
(Side note: Go here for our full article on all of Colombia's climbing)
My biggest problem with Suesca is that at times it is hard to locate the specific climbing sectors.
Also, occasionally there will be one or two excellent routes mixed in with a handful of throw aways.
This is common at almost any climbing area, however, with the lack of any single, organized resource in terms of route beta, it can be difficult for those new to the area to locate and choose which routes to try.
The lack of a guide book also increases the chances of going off route, or accidentally climbing routes which require trad gear to protect.
The sad thing is that all of these "issues" could be fixed relatively easily.
An updated guidebook, a few extra bolts and a bit of trail maintenance would go a long way here, elevating this place from a local's crag to a potential climbing destination.
That being said, I do believe that this is part of Suesca's charm.
The prices haven't been crazy elevated either, and it doesn't get flooded with Gringos like some of the other popular tourist places do. Suesca isn't on the normal "backpacker's loop", so don't come here if you're looking for a party.
I wouldn't suggest booking an international trip just to climb at Suesca, but if you're around Colombia, is defiantly worth checking out. You won't be disappointed.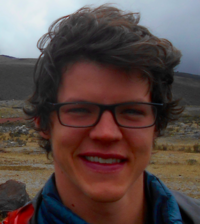 The Wandering Climber. Often seen at world class climbing destinations from around the world!