Today you're going to find out everything you need to know about rock climbing Taiwan. 
(In less than 15 minutes)
And you know what?
This guide is the result of weeks of on the ground experience with Taiwan's rock climbing. 
Not to mention, most of this information doesn't exist anywhere else online. 
Rest assured, you've stumbled upon the internet's best guide for Taiwan's rock climbing! 
In this guide you will find:
Intro Rock Climbing in Taiwan
There are a number of places to rock climb in Taiwan. The vast majority being near Taiwan's largest city and capital of Taipei. 
The largest, most developed and highest quality climbing area in Taiwan is without a doubt Long Dong. 
Long Dong (Dragon Cave) is a series of sandstone crags located on Taipei's northern coast, about an hour drive from Taipei.
Long Dong Is About a One Hour Drive From Taipei
The rock is a very high quality sandstone, which is not only strong enough for bolts but also easily accepts trad gear. 
The first routes at Long Dong started going up in the 90's, and since then over 600 sport and trad lines have been developed. 
If you're looking to find climbers, head on over to our BRAND NEW FB GROUP and drop a post with your dates! 
Long Dong is split up into 8 different sectors of various exposures and styles. 
The area uses the Yosemite grading system and there are routes from 5. easy all the way up to 5.14. There is a big concentration of "moderate" routes in the 5.10-5.11 range. 
There is something at Long Dong for everyone to climb!
In addition to the climbing, the setting of Long Dong itself is super beautiful. 
Hugging the coastline, the cliffs are surrounded by crystal clear blue water. For this reason, Long Dong is also popular for hikers, swimmers, fishermen and scuba divers. 
Climbing at Long Dong is a rare experience which I highly suggest you try out for yourself! 
When To Go Rock Climbing in Taiwan
Taiwan has what is referred to as a "monsoon influenced humid tropical subclimate". 
That means that summers are long, hot, humid, and rainy. Daily highs in Jun-Aug generally range between 30-35 degrees centigrade. 
During the winter months the temperatures drop to around 15-20 degrees centigrade, but rain and fog is also common this time of year. 
The best time of year in terms of temperature and rain for climbing are the fall and spring. 
Bear in mind that at any time of year you might get unlucky and get hit with a long stretch of rain or humidity which will make climbing difficult. 
If you're determined, you can climb here year round in just about any weather, as Long Dong offers a mix of exposures and caves to hide from the sun or the rain. 
Where is Long Dong and How to Get There From Taipei
To get to Long Dong, first you'll have to arrive in Taipei. 
Luckily, Taipei is a major transport hub, and there are international flights which arrive there from around the world. 
Once in Taipei, Long Dong is located about a 1 hour drive from the city, with the closest town being the fishing village of Hemei. 
Taiwan has great public transportation, and is very safe. I have provided a range of options to arrive at Long Dong depending on your budget and resources. 
By Car:
From Taiwan hop on the highway 62 towards Keelung City. Take the 62 north all the way until you reach the Pacific Coast. 
Take a right onto the coastal Highway 2. Once you hit Highway 2, stay on the road for another 20 minutes until you reach Long Dong. 
By Bus
To reach Long Dong by bus, first head to the Taipei Railway Station. 
From here, walk to the Taipei West Bus Station Terminal A, and look for a ticket window with signs for Luodong or Yilan. 
Tell the ticket attendant that you want to go to Long Dong. 
The bus ride takes about an hour depending on traffic. 
Have the bus driver let you off in the town of Hemei, which is about a ten minute walk from the northern entrance to the climbing. 
I've also been told that there is now a bus which drops you off directly in front of the school at Hemei, saving you the walk. I don't have more info then this at the moment, but keep your ears open! 
Train/ Taxi/ Hitchhike
It is also possible to take a train part of the way to Long Dong, then take the bus, get a cab or hitchhike the rest of the way. 
To do so, first take the train from Taipei to Keelung or the Ruifang stations. 
From here you can either take a taxi the rest of the way to Long Dong (about $500 TWD or $15 USD), hitchhike or attempt to flag down the same bus mentioned earlier (will say "Yilan or Luodong").
Hitchhiking is actually quite easy in this part of Taiwan, so if you're not pressed for time and looking to save some money, it is a reasonable option. 
Long Dong's Approaches 
There are three different access routes to Long Dong's crags. 
If you are heading to the more northern crags such as Schoolgate or the Clocktower, you'll want to enter at the northern trailhead near the Hemei Elementary School. 
This is a good place to go to if you need to stock up on food and water for the day, as there are a few shops close by. 
From here follow the obvious trail which follows the shore. 
If you plan on going to the centrally located crags such as the First Cave or Grand Auditorium, you will want to park at the central parking area. 
This gives you access to a series of trails which skirt the cliffs. 
If you are heading to the southernmost crags such as the Back Door, you will want to enter from the southern parking area near the Buddhist Temple. 
The three parking areas are all connected by a well maintained trail system from above, you'll just have to choose which small side trail to break off on. 
It is pretty easy to get lost the first time you head to a new trail, so I'd suggest picking up a copy of the guide book before you go, as it has detailed pictures and topos for you to follow. 
Suggested Gear List For Climbing Long Dong
Check Price and Reviews On Amazon
It is definitely worth bringing a helmet with you to Long Dong, especially if you're trad climbing. 
Though Long Dong's rocks are super bomber, things still do break or fall from the cliffs above. 
Check Price and Reviews On Amazon
A lot of Long Dong's climbs are single pitch, but there are also a fair amount of multi-pitches as well. 
I suggest bringing an assisted braking device with multi-pitching reverso features such as the Mammut Smart Alpine. 
It is perfect for cragging, top rope belaying or multi-pitches. It might be the last belay device you ever buy. 
Check Price and Reviews On Amazon
Long Dong has a mix of climbing styles, so you will want something that can handle everything. 
For this I suggest a good all around shoe like the Anasazi Moccasym or the La Sportiva Miura. 
The main downside of the Moccasym is that they're terrible for heel hooking, however that isn't too much of a problem around Long Dong. 
The Miura is one of the best edging shoes ever made, and is also great for smearing and toeing. This of course comes with reduced comfort and a higher price point.
That being said, both shoes edge and toe very well, and will get you up anything Long Dong throws at you. 
Check Price and Reviews On Amazon
The routes around Long Dong are mostly all under 30m, many in the 10-15m range. 
A set of 14 quickdraws with something for the anchor will be suitable for the large majority of the climbs.
If you're trad climbing, make sure to bring a few extendable draws with you!

Check Price and Reviews On Amazon
A big percentage of Long Dong's climbs are trad, so if you're keen, it is definitely worth bringing some gear along. 
Your rack will depend slightly on what you want to climb, but a full rack to #4 with wires and doubles from .3 to #1 will get you up most of the routes. 
If you're planning on trad climbing, take a look at the guide book beforehand to hone in exactly what you need to bring. 
Check Price and Reviews On Amazon
The routes at Long Dong have been bolted for a 60m rope. 
Because Long Dong is located on the coast, I highly suggest bringing a high quality rope with double dry technology. 
Dry ropes not only keep out the salt and dirt, but they also make ropes much more abrasion resistant. 
Pretty much any double-dry rope will work, but my pick is the Sterling Rope Evolution Velocity. 
It is one of the most resilient ropes on the market, and will keep you safe fall after fall. 
Check Price and Reviews On Amazon
Before heading to Long Dong, make sure to pick up a copy of Matt Robertson's beautifully put together guide book. 
The guide includes hundreds of images and topos for all the areas. 
It also has detailed information on the approaches and how to arrive at each area, a history of the climbing at Long Dong and detailed route description and grades. 
The guide book can be found in climbing shops around Taipei, but if you're not feeling like searching around the city I'd suggest buying it before you start your adventure.. 
*Also note that the guide book should be used in unison with the community driven Guildebook Plus, which has updated bolting information. 
For those of your coming from the US, be aware that most of your health insurance plans will not cover you in Taiwan. 
Couple this with adventurous activities like rock climbing, risk of lost baggage or theft, and the all too common food and waterborne illnesses, makes a recipe for disaster. 
Furthermore, many travel insurance say that they cover "adventure" sports like climbing, only to discover that once you read the fine print they add in special inclusions like requiring you to climb with a certified guide to be covered.
The fastest, easiest and most respected travel insurance in the world which covers rock climbing is World Nomads. 
Be sure to select the "Explorer Plan" on the next page so that you'll be covered for outdoor rock climbing! 
Go here to read more about travel insurance and you can't travel without it!
Long Dong Rock Climbing Overview
Long Dong is split up into 9 different crags across the same stretch of coastline. 
The rock is a super strong sandstone, perfect for taking both bolts and trad gear. 
There are a great mix of styles and grades at Long Dong, ranging from beginner grades and going all the way up to 5.14. 
In addition, many of the crags have both beginner and advanced routes right next to each other. 
This, coupled with large and flat belay stations, makes Long Dong a great "social" day out. 
If you're looking to find climbers, head on over to our BRAND NEW FB GROUP and drop a post with your dates! 
That being said, one of the things that struck me when I visited Long Dong was the lack of climbers there. 
For a crag that arguably matches Tonsai and other SE Asian climbing destinations in quality of routes, there are relatively very few climbers. 
During the weekdays, expect to have the crag to yourself, but, on the weekends, there will sometimes be lines for the classic moderate routes. 
I've included a quick overview of the more popular crags to get you started, but for a full list, I highly suggest checking out Matt Robertson's beautifully done "Rock Climbing Taiwan" guidebook.
Mountain Project and The Crag also have a lot of information on Long Dong's climbing, including up to date bolting info. 
Back Door
Long Dong's most southern crag, one of Long Dong's highest concentration of sport climbs and one of my favorites. 
Back door has a ton of 5.10 – 5.12, well bolted climbs packed in right next to each other. 
There is also a ton of space to hang out and watch people climb. 
This coupled with a relatively easy approach makes Back Door one of the most popular crags in Long Dong. 
During the week, expect to find other climbers (though I would hardly say that it gets "busy"). 
The rock at the Back Door is also different from the other climbing areas at Long Dong. 
Here the rock is less juggy, and the moves are less obvious, turning the climbs more technical than powerful and making onsighting more tricky. 
All this is to say, the Back Door is one of Long Dong's premier crags and is a must visit. 
Golden Valley
Named for the golden tint the rocks have, the Golden Valley is both one of the most scenic areas of Long Dong and offers some of the best climbing. 
The climbing is broken up into three main areas: The Dragon Boat Wall, the Legend Wall, and the Black Wall.
The areas offer different exposures, meaning that you can easily chase the shade all day. 
In addition, the Golden Valley has a few shaded and grassy patches to provide some much needed relief from the climbing. 
Music Hall
The Music Hall has a good range of moderate climbs (most in the 5.7 to 5.11 range) spread across various sectors. 
Though there are some very good sport climbs to be had at the Music Hall, its real claim to fame are its mega-classic trad lines. 
The Music Hall has has one of the highest concentration of high quality, moderate trad climbs to be had at Long Dong. 
Though the sport climbs are completely worth doing, the Music Hall has a relatively long approach, so I'd say only head there if you're looking to run laps on 4 star trad lines. 
Clocktower
One of the most northern crags, the Clocktower, has a nice range of moderate trad climbs. 
Though the overwhelming majority of the climbs here are trad, there are a few sport climbs in addition to the iconic DWS route: "Crystal Blue Temptation", which is a must do during those hot summer days!
The Clocktower itself is a large seemingly free-standing feature, riddled with deep fissures. 
Absolutely perfect for taking trad gear! 
Bolting Around Long Dong
As with most sea cliff crags, bolt quality is always a concern. 
Long Dong has had constant issues with bolt quality over the years, and in years past there have been numerous reports of bolts failing. 
Though Long Dong's guide book did a great job of documenting the bolt condition at the time of writing, it was published in 2012 and is now out of date. 
As of time of writing, almost all of the popular routes have been re-bolted. 
If you climb a route that has not been equipped with Titanium Glue-ins, you should use extreme caution.
For updated bolting information, check the guidebook supplement Guidebook Plus if you are unsure of the bolt quality. 
Accommodations Around Long Dong
Due to its close proximity to Taipei, there are a huge number of accommodation options available for those of you looking to climb at Long Dong. 
However, if you have the time and are looking to escape the rat race of the city for a while, there are a few good options very close to the crag that you can check out!
Crack House
The Crack House is Long Dong's brand new climbing hostel. 
Thank god. 
Take one step into the Crack House and you'll know that this is THE PLACE to stay if you're a climber in Long Dong. 
Taking it further than I've seen at just about any climbing hostel, the Crack House has installed their very own Moon Board for their guest's use. 
Say no more, I'm sold. 
The Moon Board aside, the accommodations are very comfortable, with a full kitchen, washing machine, good wifi, a nice selection of guide books, and a friendly staff to help you with anything you might need. 
Located in the small town of Hemei (the same town where the bus drops you off to go climb), the hostel is only about a 15 minute walk to the entrance to Long Dong. 
They have private rooms and dorm rooms available at reasonable prices. 
They also offer equipment rentals and a guiding service if you need some gear of if you're traveling alone. 
Not to mention, this is probably one of the best places to go find local climbers or other travelers, as most of the hostel's clients are there to climb. 
The Bivy
Opened in 2015 by Singaporean climbers, Qx and Kelly, The Bivy is another climbers focused hostel located in the town on Hemei
The Bivy is smaller than the Crack House, but also more economically priced. 
The price for bunk bed at the Bivy is about 15$ USD, or about 40% less than the crack house. 
The Bivy is located about a 30 minute walk from the elementary school crag. 
You could also walk to the main road, then take the bus which would take you about 15-20 minutes to get to the entrance to the climbing. 
The Bivy also offers full gear rental and a guiding service. 
If you're looking for super comfort and convenience, stay at hte 4-star crackhouse. 
If you're more budget oriented, stay at the 2-star Bivy. 
I recommend making reservations ahead of time rather than just showing up, as the hosts are not always around especially if there are no other guests booked for the day. 
Camping
If you're looking for the true dirtbag experience, Long Dong does not disappoint, as there are a range of camping sites available for those looking to save pennies and enjoy mother nature to its fullest. 
It is allowed to camp in the parking areas of Long Dong (or perhaps, the rules forbidding it just aren't enforced), the most quiet of which is the middle parking lot. 
You can also carry your gear down to the cliffs themselves and camp in one of Long Dong's many caves. 
There are also a few paid campsites around the area that I've heard of, but I've been told that they cater more to the "glamping" crowd as they have great amenities but are as expensive if not more than a bed at a hostel. 
Food, Restaurants and Water
Long Dong's nearest town of Hemei has a few small grocery stores and restaurants where you can get enough basic supplies to survive. 
I'd suggest either packing in a few day's worth if you're coming from Taipei, or plan on making the occasional supply run on your rest days. 
The closer you get to Keelung, the more you'll find. A great option is to head south towards the popular tourist town of Fulong. 
Fulong is about 20 minutes from Hemei, and had a good range of stores and a ton of great restaurants to choose from. 
If you're looking to find climbers, head on over to our BRAND NEW FB GROUP and drop a post with your dates! 
The specialty in the area is seafood. The quality is very good and the prices are great. 
I should also mention, the tap water in Taiwan shouldn't be drank without being boiled or filtered first. 
Bottled water can be found everywhere, however it is quite expensive. To not use plastic I'd suggest bringing some sort of lightweight filtration device. 
There is a huge number of options and price points, but some systems like the LifeStraw cost under $20 (all I used on my 8 month solo trip through South America!). 
If you have a bit more space in your bag, I'd bring a hand pumped setup like the MSR MiniWorks, as it is way faster when you're trying to fill up your water bottles. 
Whatever you buy, it will pretty much pay for itself by the end of your trip and save a plastic bottle or two. 
Rest Day Activities Around Long Dong
A pretty cool thing about Long Dong, is that there are a nice range of rest activities to keep you busy, especially in the summer, as most are water sports. 
Scuba Diving
Long Dong bay is one of the most popular places in Taiwan for scuba diving.
If you're certified, it makes for a perfect rest day activity! 
In the small town of Hemei there are 3 or 4 different diving centers to choose from such as 52LD or Suiila. 
The dives don't have a huge amount of marine life, but do offer some great views of the same dynamic rock features which we climb on from above. 
Fulong Beach
Located only 15km south of Long Dong is Fulong Beach, one of Taiwan's most popular beach destinations. 
The beach boasts a 3km stretch of soft golden yellow sand, which is quite uncommon in Taiwan. 
Due to this, its close proximity to Taiwan and its easy accessibility Fulong is popular and can become very crowded during the peak weekends. 
In addition, Fulong has a number of yearly attractions such as the sand sculpture art festival and Hohaiyan Rock Festival which brings thousands of people to the town. 
For all of you active rock climbers, Fulong also has a host of outdoor activities to keep you busy such as surfing, kayaking, biking and hiking. 
They also have some great restaurants, large-ish grocery stores and other amenities that you can't find in Hemei. 
All this is to say that it is worth checking out for a day or two for sure! 
Snorkeling/ Swimming/ Cliff Jumping 
Besides the scuba diving, Long Dong has great swimming, snorkeling and cliff diving options. 
On the weekends it can actually get quite busy with locals spending the day out on the water. 
Though there are a lot of places to swim near Long Dong.
But my favorite spot was near the northern entrance near the School Gate sector (pictured above). 
Power, Internet and Wifi Around Long Dong
Taiwan has the same 110V, 60Hz AC standard as the US/Canada. 
Taiwan is a well "developed" country, and power and wifi can be found just about everywhere in the country. 
In the context of the town of Hemei, the internet there isn't blazing fast but is certainly good enough to get some work done if needed. 
Taiwan also has very good cell signal, and so in Hemei you can always get a SIM card if you're in need. 
It's a great spot for all those digital nomads out there. 
Other Resources
I've included a few other websites and information which you should use in combination with this resource. 
Taiwan Climbing Calendar – FB group of local climbers in the area. Good place to get beta and find partners. 
Long Dong Mountain Project – Mountain Project has a very complete page of all the climbing areas around Long Dong. 
ClimbStone – Where you can buy the guidebook before you arrive. 
GuideBook Plus – A community driven project which has all of the up to date bolting and new route information since the printing of the 2012 guidebook. 
And don't forget to purchase travel insurance for Taiwan to protect you against illness, injury, and theft. This is a super important thing to have on hand. I use and recommend World Nomads Travel Insurance and you can get your custom quote here:
Last Thoughts on Taiwan's Climbing
So there you have it, the unbelievable complete guide to rock climbing Taiwan. 
You now have the tools needed to go rock climbing in Taiwan today. 
So I have a question to ask.
Did you find this guide useful? 
Or am I missing something that you're just dying to know?
I want to hear it. 
Drop me a comment below, and I'll get back to you right away. 
Climb on. 
For further reading see our guides on rock climbing HK and rock climbing Laos.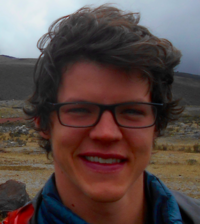 The Wandering Climber. Often seen at world class climbing destinations from around the world!