Generally speaking Colombia isn't considered a rock climbing destination. Many people (especially Americans) get all of their images of the country from shows like Narcos.
Luckily the days of drug violence have come and gone and Colombia is quickly becoming a popular tourist destination.
It is an amazing, beautiful country with a lot to offer, even to the world of climbing.
Columbia holds an abundance of climbing, with only a very small percentage having been developed. As time goes on and the popularity of climbing grows, we will start to see more and more crags and climbers start to pop up out of Colombia.
But in the meantime there are few areas which are ready now for your enjoyment.
In this guide you will find:
3: Rock Climbing at La Mojarra (Mesa de Los Santos) Colombia
La Mojarra is a sport climber's' paradise to be sure. Hundreds of perfect sandstone routes, a beautiful setting, cheap living, and great vibes. What's not to like?
Why Go To La Mojarra (La Mesa):
La Mojarra is without a doubt the premier sport climbing destination in Colombia. Although it has a relatively small number of climbs (~200) ranging from 5.7-5.14 both traditional and sport, the rock quality is bomber sandstone and is super fun to climb.
The climbing generally is vertical and and overhung with a lot of flat ledges of different angles and sizes.
The climbing overlooks the Chicamocha canyon, and the setting is stunningly beautiful. It is located in one of the driest parts of Colombia, giving it a bit of a desert feel (in contrast with most of the country!).
You could easy spend a few months here without getting bored. With new routes being put up constantly and a lifetime of potential in the area, look forward to this being a worldwide climbing destination in no time.
Where Is La Mojarra (La Mesa de Los Santos)
Located in the Department of Santander, near to Bucaramanga, the area where the climbing is located is stunningly beautiful. The area itself is very dry for Colombia, the driest month of the year only receiving less than 60mm (2in) of rain. Located on the equator the temperature sits around a comfortable 21 degrees (70F) year-round. Perfect for climbing!
The climbing is centered around the hostel: Refugio la Roca. Most of the climbing is owned by the Refugio and because of that if you are not staying there you will have to pay about $3 a day to climb.
The climbing starts only about a 5 min walk from the hostel. There are a few other places to stay nearby but almost everyone, especially the climbers, stay at the Refugio. The Refugio has both dorm beds and places to camp, showers, a kitchen, a bar, and hang out area (try the empanadas!)
How to Get To El Refugio de Roca (La Mojrarra) By Bus 
It is easy to arrive at the refugio by bus or car. A map showing different paths to take with explanations (in English and Spanish) can be found here.
From Bucaramunga, take a bus or cab to the town of Pidecuesta. If you are coming from the airport, I suggest taking a cab to Pidecuesta since the buses to arrive are a mess (the cost from the airport to Pidecusta is 30,000-35,000COP).
From there you can take a bus towards Los Santos (they leave every 30 min or so). From Piedecuesta it will take 1.5-2 hours to arrive at the Refugio (seen here).
If you're coming from Bogota, you can either get off in Pidecuesta, and then backtrack a bit towards the Refugio, or tell the driver to let you off at entrada Los Curos, which is about 12km before Pidecuesta. From Los Curos you can wave a bus down that will take you towards Los Santos.
For a full guide to the climbing at La Mojarra, see: "Rock Climbing Guide – La Mesa de Los Santos".
2: Rock Climbing Suesca Colombia
Suesca: the epicentre of Colombian climbers. It is considered by many to be the birthplace of climbing in the country. Only an hour from Bogota, the weekends are crowded with friendly locals willing to give you a belay or share a beer with, while midweek is chill with mostly other travelers climbing.
Why Go Climbing At Suesca
Suesca has over 400 routes, about half trad and half sport. There is something for everyone, ranging from easy 5.8-5.14+. There are some great multi-pitches as well, relativity short (3-4 pitches) but full value giving you a lot of exposure for the height. The beautiful view of the surroundings are an added bonus.
The rock quality here is very good. The routes receive a lot of traffic and the popular ones are all clean and easy to find. There is a printed guidebook, but it is so poorly written that it is hardly usable. Topos can be found online here.
One of the best things about Suesca is the local climbing community. Every weekend hundreds of local Bogota residents come to visit the town, which makes it the best place to meet local climbers. Colombians are extremely friendly, and are likely to invite you to join them climbing.
Where Is Suesca Colombia 
Located in the Department of Cundinamarca 60k north of Bogota, it is an easy place to get to from the city.
The climbing is located on the edge of town, about 10 minutes' walk from the town center. A small group of buildings on the road serves the climbing community and here you will find the local Monodedo gear shop, a few restaurants, and the hostels (such as El Nomada) which cater to climbers.
How Do I Get To Suesca by Bus? 
Suesca is easy to reach via bus or car.
If you are coming by bus from Bogota take the Transmilenio bus system to the station Terminal Norte. From there exit the station and go to where you see a line of buses heading north on the main road.
There will be busses every 30min or so heading to Suesca (they will say Suesca on the windshield). Usually the bus ticket guys will be hanging outside the bus yelling destinations at the crowds. The bus fair as of 2016 was 5-7,000 COP depending on the day and your Spanish skills.
The bus will take about one hour or so depending on traffic. The roads are in good condition.
If you want to go straight to the climbing tell the driver to drop you off when you pass the hostels. They are the first set of buildings. Walk down the alley next to the Monodedo climbing shop and turn left. Take a look on googlemaps here.
For a full guide to the climbing at Suesca, see: "Rock Climbing Guide – Suesca"
1: Rock Climbing Florian Colombia
Florian is Colombia's hidden climbing gem. Located high in the mountains and only accessible by 4×4 jeep, this is the ultimate adventure seekers destination. What you will find after making the long journey is a surreal experience. The town is seemingly secluded from the outside world and rarely visited by outsiders. The surrounding nature is all but untouched and its beauty is unparalleled.
This location was frst discovered by foreign climbers only about five years ago when a 5.10 climber travelled to the town to put up some king lines through the stalactite cave.
Why Go Climbing at Florian?
I can't say it enough, this is the ultimate adventure climbing experience. The town of Florian is only a few thousand people, and is rarely travelled by foreigners. For years the land was controlled by the drug cartels, so any traveller venturing this way would've been in serious danger of kidnaping or worse.
Luckily the times have changed, and the area is now safe for travelers. What you can find now is nearly untouched landscapes and limestone cave climbing which will make you think you're in Thailand!
There are four main climbing areas around Florian, but by far the best climbs can be found in the cave: Ventanas del Tizquizoque. Here you will find steep 3D stalactite climbing and long pitches, some over 30m long. The rock quality is good, but because the climbs don't receive a lot of traffic they can sometimes be a bit dirty.
Also note that there are few beginner climbs here in the 5.10-11 range, but most start at 5.12. Don't let that dissuade you if you are a beginner because there is plenty to keep you busy for a few days, and there is easier climbing outside of the caves.
How to Get To Florian Colombia By Bus
Florian is in a remote area of Colombia and it can be reached by bus/car. To get there, first you must take a bus to Tunja. From here at the small bus terminal you can catch either a bus (only a few each day) or hire a 4×4 Jeep to get you there. The cost is around 19,000COP and takes 2-3 hours. Get ready for a bumpy ride!
Where Do You Climb at Florian?
Florian holds four craigs. Ventanas del Tizquizoque, Los Nogales, La Cueva de Los Chimbalos and El Porton.
There is no guide book, and topo information is limited. Some of the routes can be found on the Crag here, and there also is a Facebook group put together by some locals here.
There is no climbing shop in town, however, if you have Spanish skills you most likely will be able to inquire into getting a guide or finding a topo from someone. It wouldn't be an adventure if it was easy!
There are a few hotels and apartments for hire in town near the town centre where the soccer field is located. Next to the soccer field you will find the restaurant 'El Charquito Americano'. Try the slow roasted chicken breast (pechugo de pollo), you won't be disappointed.
For further reading like this see: "The Top Rock Climbing Towns in South America" and "Cuba Climbing: A Rock Climber's Perspective on the Best the County Has to Offer".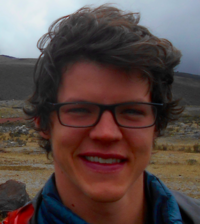 The Wandering Climber. Often seen at world class climbing destinations from around the world!